Crazy, crazier, Delhi. Words can hardly describe this metropolis in northern India. Over 28 million people live in the metropolis area of Delhi. Delhi is unbelievably loud, unbelievably chaotic and unbelievably dirty. Delhi is a sensory overload, that we can promise.
In our opinion, Delhi simply needs to be seen if you are on a trip through northern India. In this travel guide we show you the most beautiful sights and best things to do and of course, as always, we reveal our personal travel tips.
1. Crazy Delhi: Initial travel tips
The madness has a name: Delhi. We have really never seen a city more crazy than Delhi. Between cows and rickshaws, horns and car alarms, deep poverty and wealth, it is difficult to shake the feeling of being overwhelmed.
Delhi is one of the largest metropolises in the world. The largest airport in northern India is located here, which is why Delhi is the starting point for many travellers. Of course, you could skip Delhi and travel straight onwards, but we would really recommend you experience the chaos with your own eyes.
Delhi includes both New Delhi (the capital of India today) and Old Delhi (the historic part of the city and the old capital during the Mughal rule). Old Delhi, with its narrow, lively streets, is the part of the city that most tourists visit first: this is where the most famous sights await you, including the Red Fort and the gigantic Friday Mosque.
How much time should I allow for Delhi?
We ourselves stayed two nights in Delhi and therefore only had one full day for sightseeing. You can visit Delhi's main attractions and highlights during this time. However, it isn't enough time for more than an initial glimpse.
Personally, we would recommend three nights. That way you have enough time to arrive and get used to the country. The jetlag and the climate can be fairly relentless at the start of the journey. That is without the fact that India is quite a strenuous country to travel to and you are always very thankful for one or two pauses in a quiet hotel room.
Travel guide for India: Our Tip
Does your trip take you through Delhi and Rajasthan? Then we have a tip for you: the Lonely Planet Rajasthan, Delhi & Agra is very well laid out and attractively designed. Clearly recommend!
2. Delhi Travel Guide: Top Sights and Things to Do
Jama Masjid: the Friday Mosque
Jama Masjid – also known as the Friday Mosque – is the largest mosque in India and not to be missed in this travel guide. The dimensions are astounding: there is space for 25,000 people here. The mosque is located in the centre of old Delhi and is one of the city's main attractions.
With its characteristic red sandstone and white marble construction, the mosque is a masterpiece of Mughal architecture. The two 40 metre high minarets are also eye-catching. You can climb one of these and enjoy a panorama view of Delhi from above.
We can highly recommend visiting the mosque first thing in the morning. We were there shortly after opening and other than us, there were only a few people there who had come to pray. Perfect lighting, perfect atmosphere!
Info for visiting Jama Masjid
Entrance: officially free, but you pay 300 Indian rupees per person to be able to take photographs (on your phone/camera). (It is not so easy to get around this feel)
Opening times: 7am until 6:30pm (lunch break between 12pm and 1:30pm)
Clothing: garments for concealment are handed out on site. You have to take off your shoes and the floor is – as you would expect in India – anything but clean. It is best to take a pair of socks with you, because the floor can also get very hot.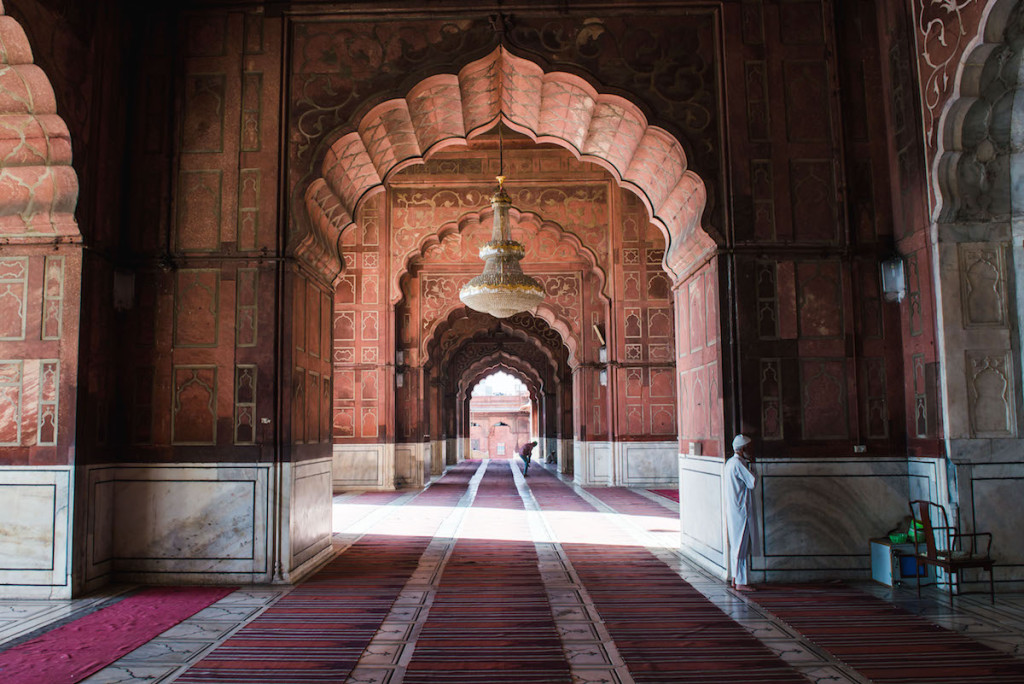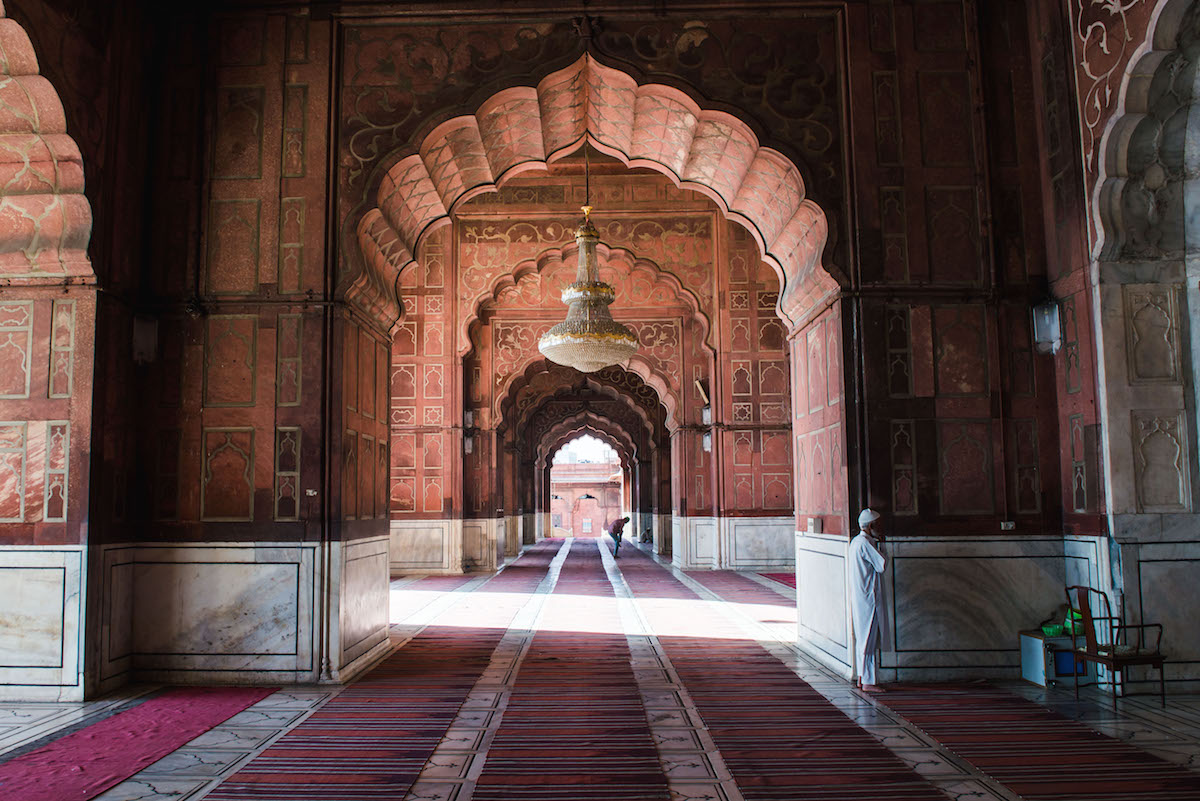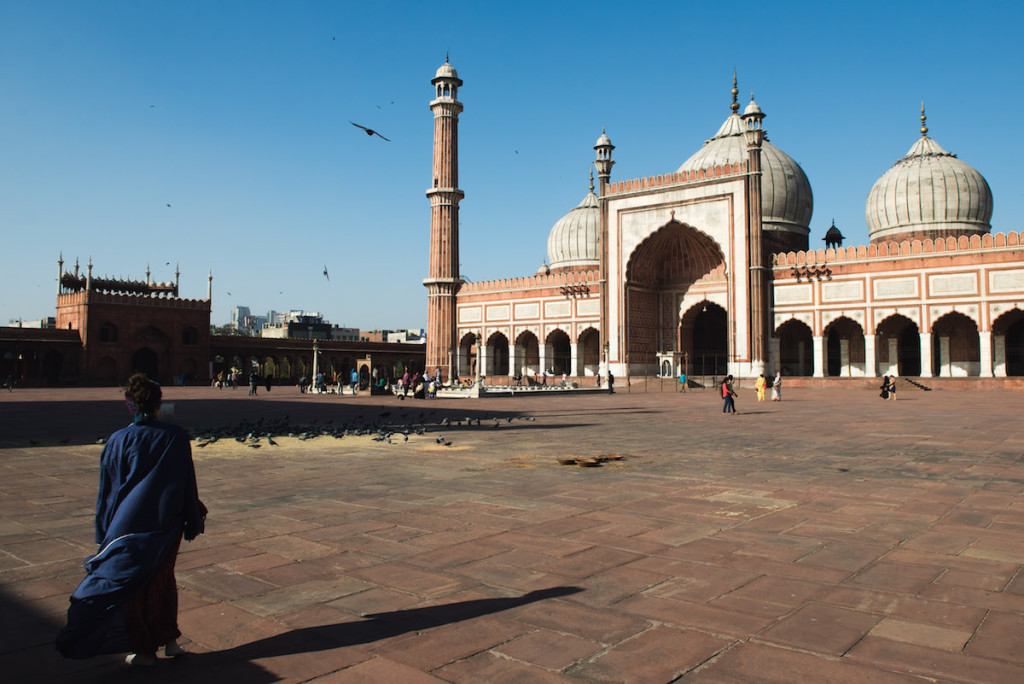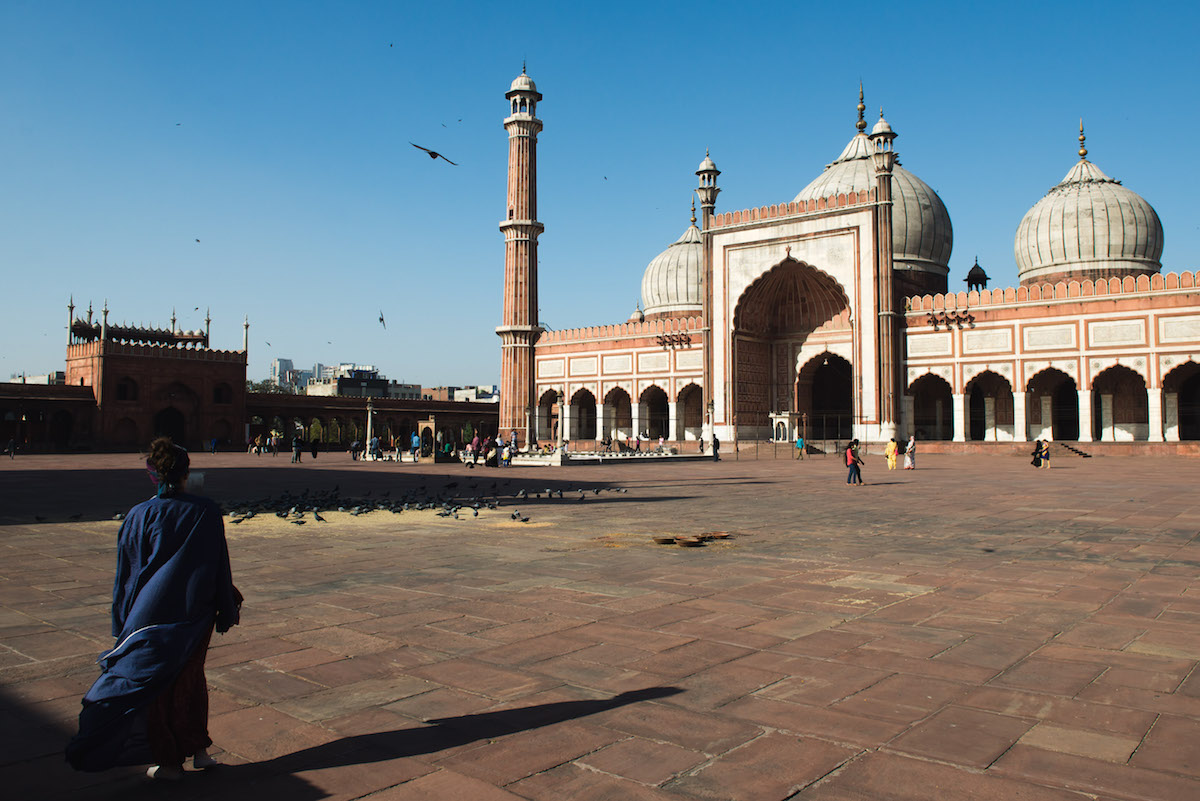 Red Fort (Lal Qila)
Delhi's landmark and the most famous sight in Old Delhi is the Red Fort. It is located just a stone's throw away from the Jama Masjid. The name says it all: this fortress was building using red standstone. The Red Fort has been a UNESCO World Heritage Site since 2007.
The entire area is very extensive and of course worth seeing, but we think that something more could be done with it. Perhaps it was the midday heat that dampened our spirits a little.
Info for visiting the Red Fort
Entrance: 600 Indian rupees
Opening times: 9:30am until 4:30pm (closed Mondays)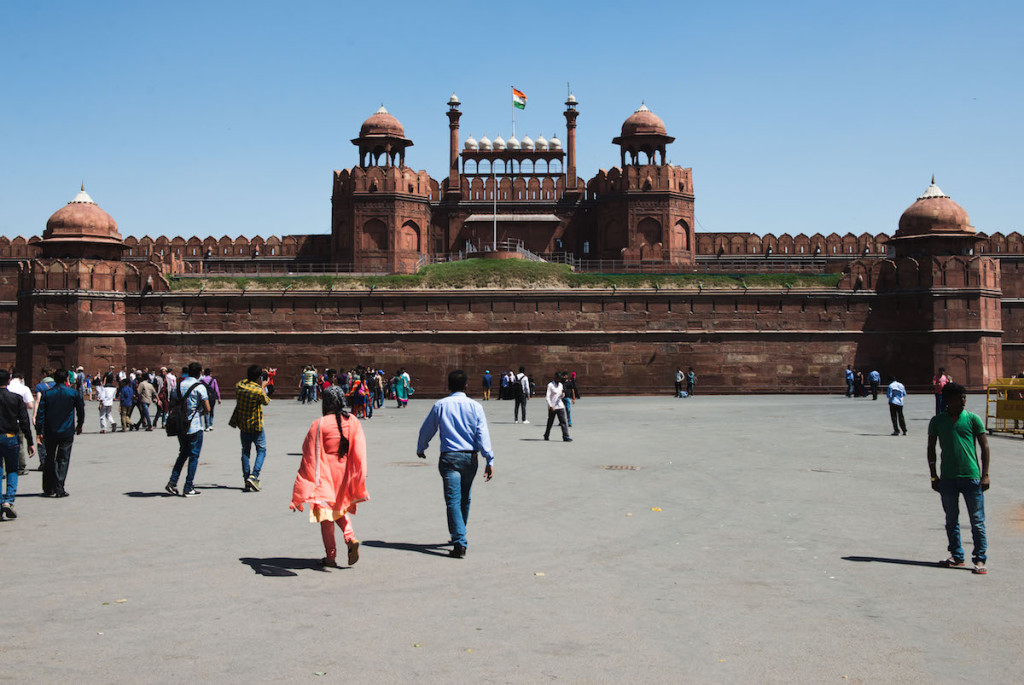 Additional Sights and Things to See in Delhi
Qutb Minar
This mighty five-level victory tower is also a minaret and with a hight of 73 metres it is, more precisely, the highest minaret in India. It is made of marble and red sandstone and stretches up out of the ruins of the Quwwat-ul-Islam Mosque. Unfortunately, it's no longer possible to climb up the tower.
Entrance: 550 Indian rupees
Humayun Mausoleum
The Humayun Mausoleum is a little reminiscent of the Taj Mahal and is said to have even served as its template. The mausoleum is considered one of the oldest Mughal tombs in Delhi and one of the most magnificent buildings in the city.
Entrance: 600 Indian rupees
Lodi Garden
This spacious garden setting is a lovely retreat in an otherwise chaotic Delhi. Here you stroll past old mausoleums, temples, water features and bridges. If you are looking to escape the hustle and bustle of the old town: you're in the right place! We can especially recommend visiting in the late afternoon. Then there is an especially beautiful light for taking photos.
Entrance: free
3. Our Personal Tip: A City Tour
Taking a tour of the city with the non-profit organisation Salaam Baalak Trust is an experience that we can only warmly recommend for you. (Thanks to Marianna for the tip!)
The concept: former street kids guide guests through their city – through alleyways that you otherwise wouldn't enter. Past hidden temples that you would have never known about. In addition you have a break with chai tea and Indian biscuits.
The two boys Lalid and Khursheed came along with us. They watched out for us, guided us through the turbulent old town, made us laugh, but also made us pause and think. It was completely silent all around us as Khursheed told his us story. The tour ended in his former home. He once lived here – now he earns his own money as a guide and can afford a room in Delhi from his wages.
Our conclusion: what an incredible, special experience! This tour was without a doubt our highlight in Delhi. We could have never dreamed of a better start to India.
Info for the city tour ("Old City Walk") with Salaam Baalak Trust
Price: approx. 600 Indian rupees per person
Duration: 3 hours (daily apart from Sunday from 9am until 12pm)
Booking: per email to walk@streetconnections.co.uk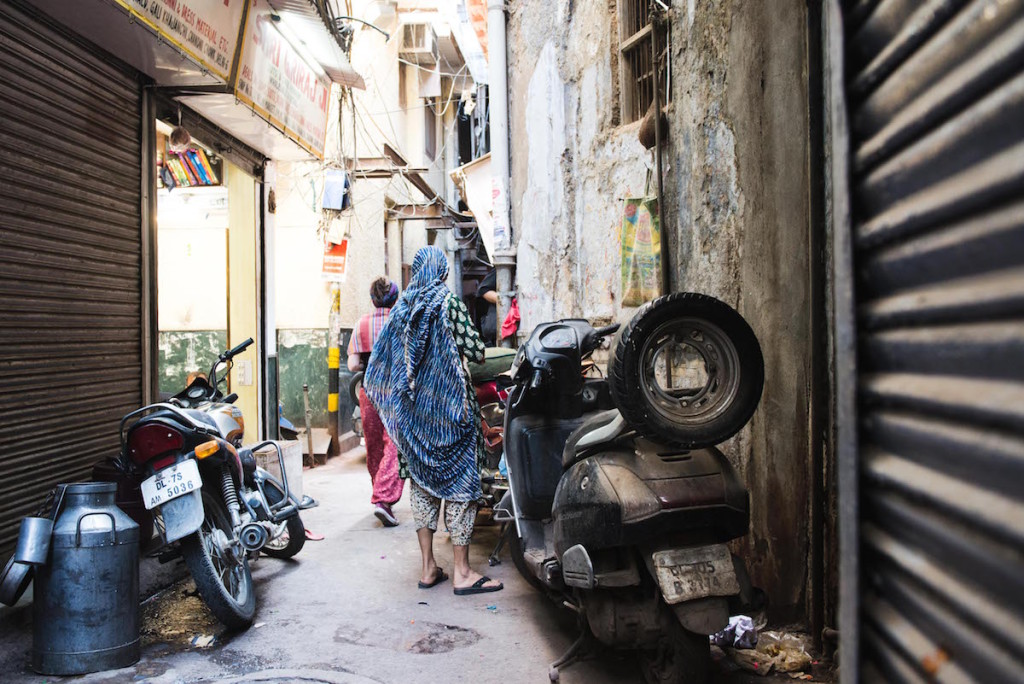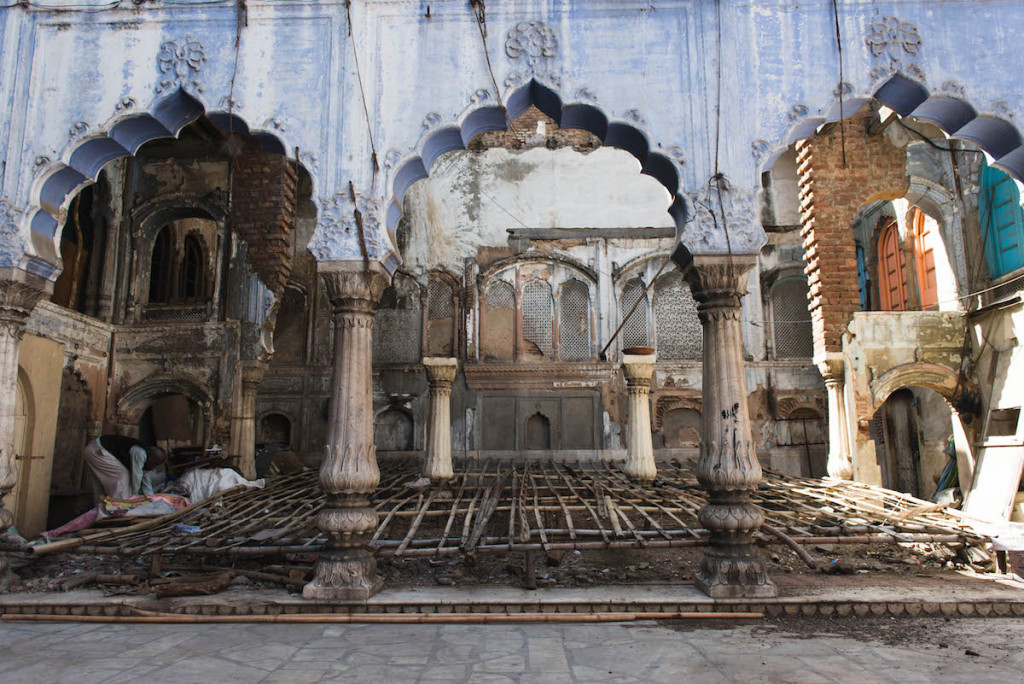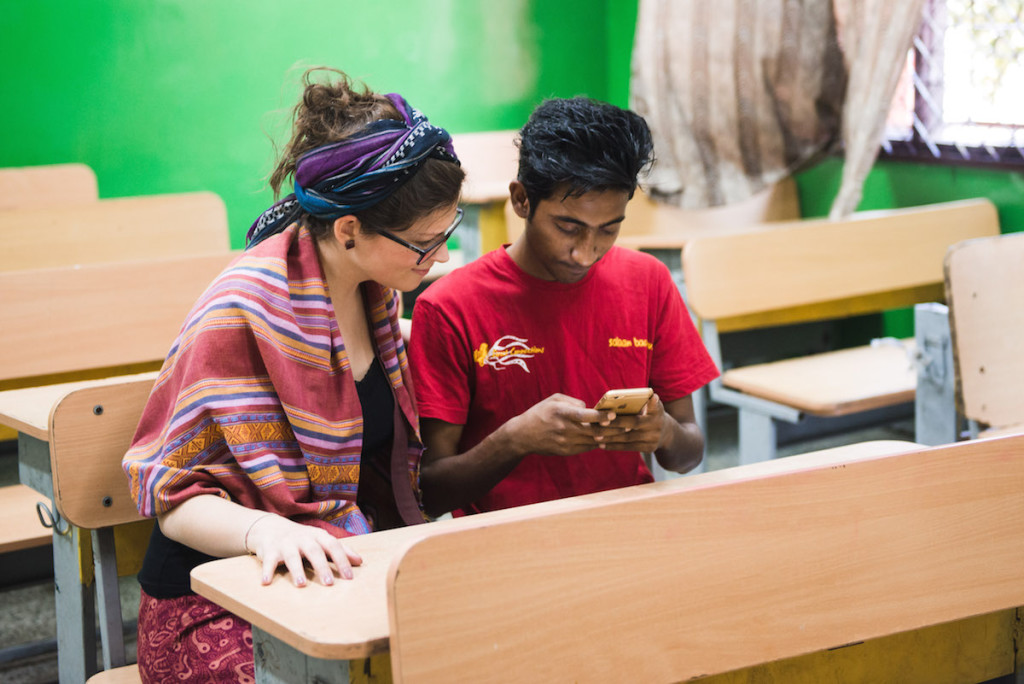 4. Eating and Drinking in Delhi: Culinary Travel Guide
Delhi is massive and the selection of restaurants is even bigger. If you are searching for a restaurant, then we recommend you always look in the area around your accommodation (and the sights). You can find great vegetarian restaurants using the HappyCow app. Here are a few specific restaurant tips:
Kitchen With A Cause: Very good food & a great concept. Former street kids work in this restaurant. They serve international fusion cuisine.
Karim's: Quite simple but delicious restaurant, which the locals also frequent. Altogether, we paid approx. 300 Indian rupees per person for our lunch (incl. drinks).
Travel Yoga Cafe: A relaxing, vegan café, to escape the hustle and bustle of India's streets.
Would you like to try street food but don't quite trust yourself? Then we whole-heartedly recommend a Food Tour for you. Accompanied by an experienced guide, you get to discover many culinary specialties from several street food stands in around four hours.
5. Transport Guide in Delhi: How to get from A to B
The traffic in India and especially in Delhi is pure chaos! You definitely need to prepare yourself for the fact that it often takes a lot longer to get from a to b than you think. That especially goes for rush hour when the traffic is hair-raising. The following three transport options are the most common:
Metro
What you perhaps would not expect at all at the start: there is a really well-established metro network in Delhi with several lines, some of which are underground and some above ground. The metro in Delhi is great from getting from a to b as quickly as possible. You can use it to avoid the chaotic traffic. Although the metro can get extremely overcrowded, especially at peak times.
For a single trip, you need to buy a token at the counter before your trip. The price depends on the distance. You pay 10 Indian rupees for short trips, up to 70 for longer trips.
There is also a metro card as an alternative to tokens, which you can load up (like a prepaid car). That is the better option if you use the metro more often in Delhi. That way you save waiting at the counter before every trip. The price starts at 150 Indian rupees (50 rupees of which are a deposit).
You can get unlimited rides with a Tourist Card. That is the most expensive option at 500 rupees for 3 days (50 rupees of which are a deposit).
Rickshaw
There are motorised rickshaws (tuktuks) on every corner. You usually recognise them from afar from their yellow-green paintwork. Rickshaws usually equipped with a taxi meter but most drivers refuse to turn them on. So you need to negotiate the price in advance.
Bargaining is necessary here: you can be quite safely assume that the driver will try to charge you an excessive price at first. We usually paid around 50 Indian rupees per trip (depending on distance also 100 or more). You need to allow for a surcharge at night.
In some city districts there are also bike rickshaws, which are just used for shorter distances. Here you usually pay between 20 and 50 Indian rupees.
Taxi
Last but not least: you can also take taxis in Delhi. One trip costs about twice as much as a ride in a rickshaw. We always ordered the taxi through the hotel or the restaurant when we could. That seemed the safest option to us.
6. Staying the Night in Delhi: Our Tip
We can highly recommend Hotel Bungalow 99 in Delhi. This modern, very stylish boutique hotel is really a small oasis of wellbeing in the hustle and bustle of Delhi's streets. It is located in a quiet side street in the New Delhi district.
The rooms are very stylish and finished with a lot of love for detail. They are also very comfortable and well furnished. The breakfast is fresh prepared and is very delicious. You can also find some good restaurants around the hotel.
Our conclusion: great value for money are highly recommendable! You feel really welcome here, which is not least due to the helpful and courteous staff.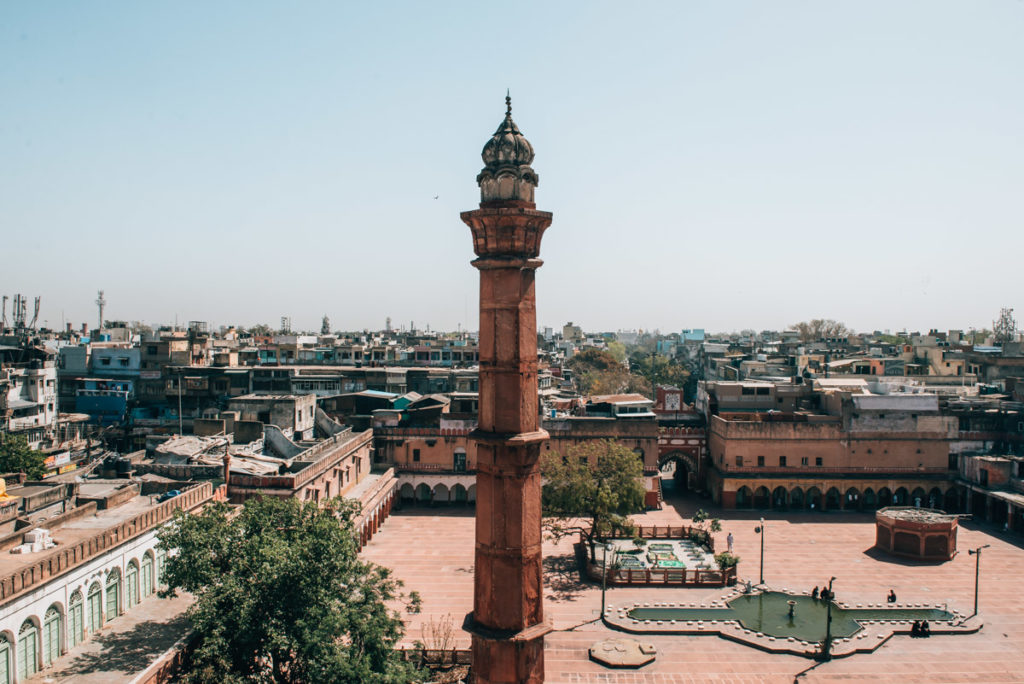 ---
Disclaimer: Invitation & Affiliate Links
The German tour operator erlebe covered most of the costs while there (accommodation and transport). We paid for the flights and some of the activities ourselves.
This travel guide contains our personal recommendations in the form of affiliate links. If you book or buy something via the links, we will receive a small commission. This will not change the price for you at all. A million thanks from the both of us!
Have you already been to Delhi and do you have some additional travel tips? Leave us a comment with your experiences below this travel guide – we look forward to it!