There is simply no skipping Jaipur on a trip through northern India. Jaipur is the capital of the State of Rajasthan and is one of the most famous travel destinations in India. The city is also known as the Pink City and for good reason: all the buildings in Jaipur's old town are a glowing pink colour.
Jaipur is one of the youngest States in India, but is still very rich in history. You can find some really special and unusual sights in Jaipur. In this travel guide, we show you the top things to do and see in the pink city. Of course, we also let you in on all of our personal travel tips for your trip.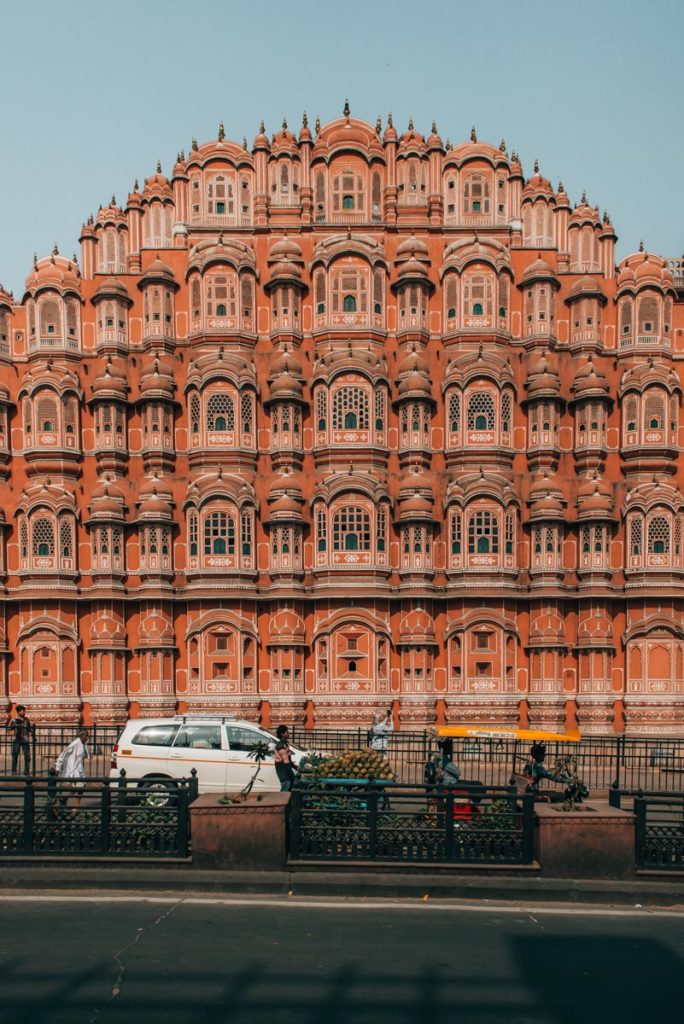 1. Jaipur in India: Overview & Initial Travel Tips
Three million people live in Jaipur, the capital of the State of Rajasthan. So if you have any romantic notions of a "fairytale" city, as it is often described, you should throw these ideas overboard as soon as possible.
Jaipur is loud, smoggy, chaotic – a large Indian city. Poverty is (as unfortunately often is the case in India) all around. Good to know: Jaipur is relatively touristy. Or better said: You won't stand out as a tourist in Jaipur. It also means you can look forward to really great infrastructure (nice hotels and restaurants).
Jaipur has one very special attraction. The house façades in Jaipur's old town light up in a pink-orange colour. There is a story behind this: in honour of the visit of the Prince of Wales at the end of the 19th century all of the buildings in Jaipur were painted pink. Since then, the old town has shone this special shade. The inhabitants are even required to preserve the cityscape.
How many days should I stay in Jaipur?
We ourselves stayed two nights in Jaipur and honestly found this to be a little too short. Although we could visit all the main attractions, we had to make some compromises.
Therefore, we recommend you allow three nights for Jaipur. That way you have two full days for sightseeing. If you prefer a more relaxing visit, you could stay even longer – there are plenty sights. And aside from that, we found it very exciting just to stroll a bit aimlessly in Jaipur and observe the hustle and bustle of the streets.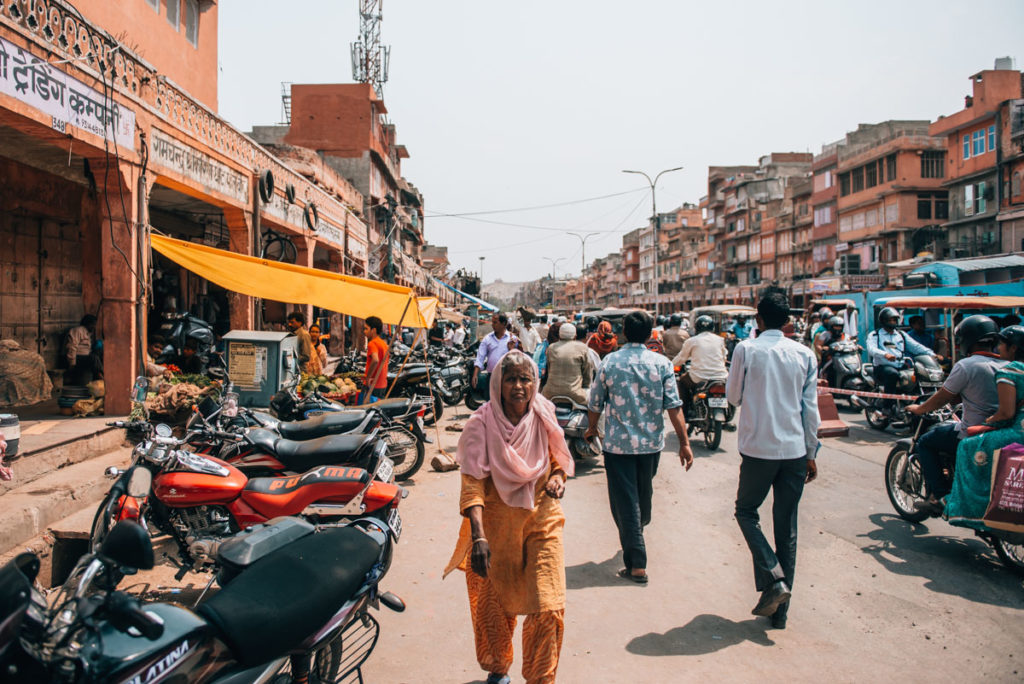 2. Jaipur Travel Guide: Top Things to Do
The Palace of Breeze (Hawa Mahal)
Probably the most famous building in Jaipur and the city's landmark goes by the name the Palace of Breeze. Its architecture is unparalleled: the Palace of Breeze is built of red sandstone and stretches itself over five stories. The curious part: the building is more accurately just a façade with staircase entrances on the back.
There is of course a story behind the bizarre architecture: the many windows (953 in total) were once used to give the harem ladies a glimpse of the public.
The Palace of Breeze is located directly on a busy street. So as romantic and enchanting as it looks in the photos: in reality the view is unfortunately accompanied by exhaust fumes and car horns. You can also visit the interior of the Palace of Breeze, however most just stop for a photo and then keep driving.
Our tip: you get the best view of the Palace of Breeze from the rooftop of the cafés directly opposite (Wind View Café, the Tattoo Café & Lounge). We would not go there to eat but the view is of course fantastic. Because you are positioned towards the west from here, you can also see the sunset from the cafés – perfect for capturing a photo of the Hawa Mahal!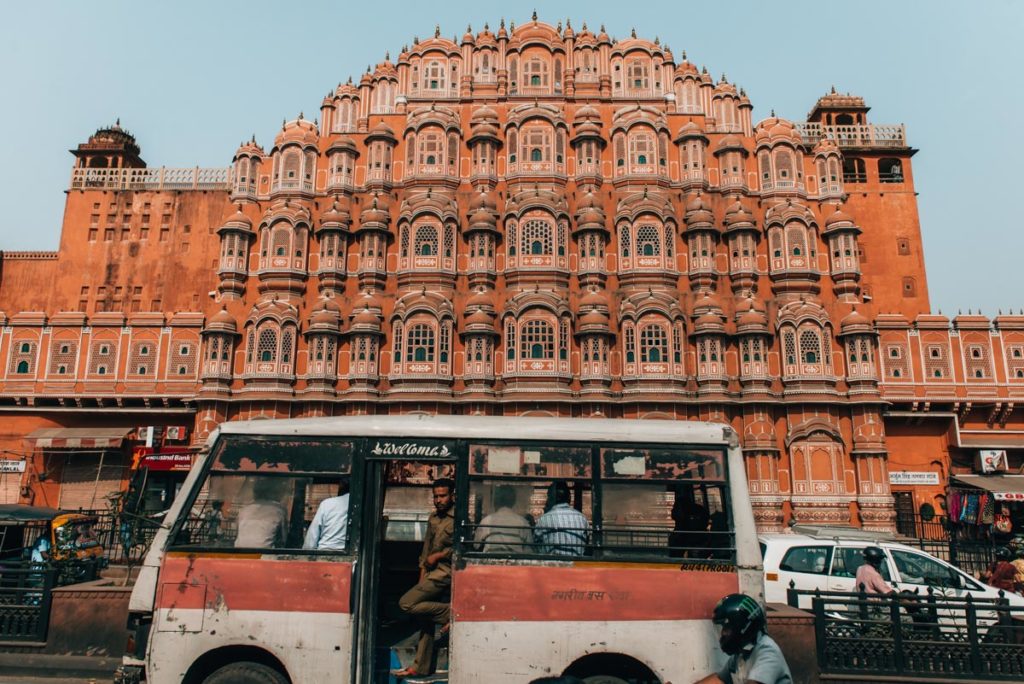 Jantar Mantar
This observatory dates back to the 18th century and really impressed us. It is the largest and best preserved of a total of five historical observatories in India and has therefore rightfully been a UNESCO world heritage site for several years.
You will find 14 buildings altogether located in this very spacious area, which all serve different purposes. And now here is our tip: You should be sure to visit the observatory in the company of an experienced guide. We wouldn't have been even half as excited by it all without our guide.
You can book a guide here: Jaipur City Guides (incl. Jantar Mantar)
Info for visiting Jantar Mantar
Entrance: 200 Indian rupees
Opening hours: daily from 9am until 5pm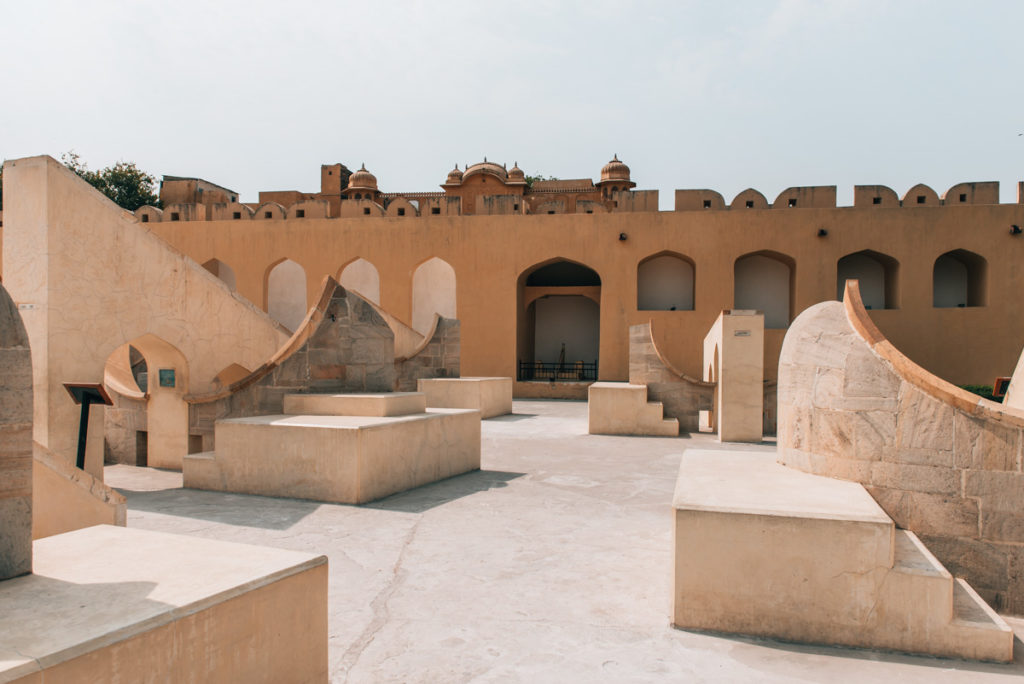 City Palace of Jaipur
The City Palace is a sprawling palace grounds in the centre of Jaipur. You stroll through countless courtyards and buildings here. Some of the relics on display are from the time of the Maharajas, such as weapons, paintings and clothing.
Personally, we find the City Palace to be one of the sights in Jaipur that you can skip if you don't have enough time. Of course the palace is worth seeing, but in our eyes it isn't one of the main highlights.
Info for visiting the City Palace
Entrance: 700 Indian rupees
Opening hours: 9:30am until 5pm
Amber Fort
A few kilometres outside of the city centre is the Amber Fort, situated majestically on a ridge. The gigantic fortress complex is made of sandstone and marble and is considered one of the most famous forts in Rajasthan.
The Amber Fort is terraced. A pathway snakes it's way from the bottom up to the entrance. At this point we request: please don't take a ride up on the back of an elephant. It really isn't necessary!
On a visit to Amber Fort you stroll through countless buildings, courtyards and gardens. The fort is fairly spacious. So make sure you allow enough time for your visit. The Amber Fort is very well-visited during the day (sometimes overcrowded depending on the time of year). Therefore, we recommend coming early.
In addition: it is worth taking a stop off on the way to the Amber Fort at the moated castle called Jal Mahal, which rises majestically out of the lake. It cannot be visited, but is a great photo opportunity.
Info for visiting the Amber Fort
Entrance: 500 Indian rupees
Opening hours: 8am until 5:30pm
3. Our Restaurant Tip for Jaipur
When we travel we rarely visit restaurants more than once. Not in Jaipur. We visited our favourite restaurant in the city, the Peacock Rooftop Restaurant, three times because we enjoyed the food so much and also really liked the atmosphere.
As the name suggests, this restaurant is located on a rooftop terrace with a nice view. The best part is the fantastic kitchen: all the dishes that we ordered were delicious. The vegetarian thali in particular is poetry. And: they have incredibly good coffee.
If you want to come in the evening, you are best to make a reservation. During the day you can normally find a table without booking. The best tables are on the top level of the rooftop terrace.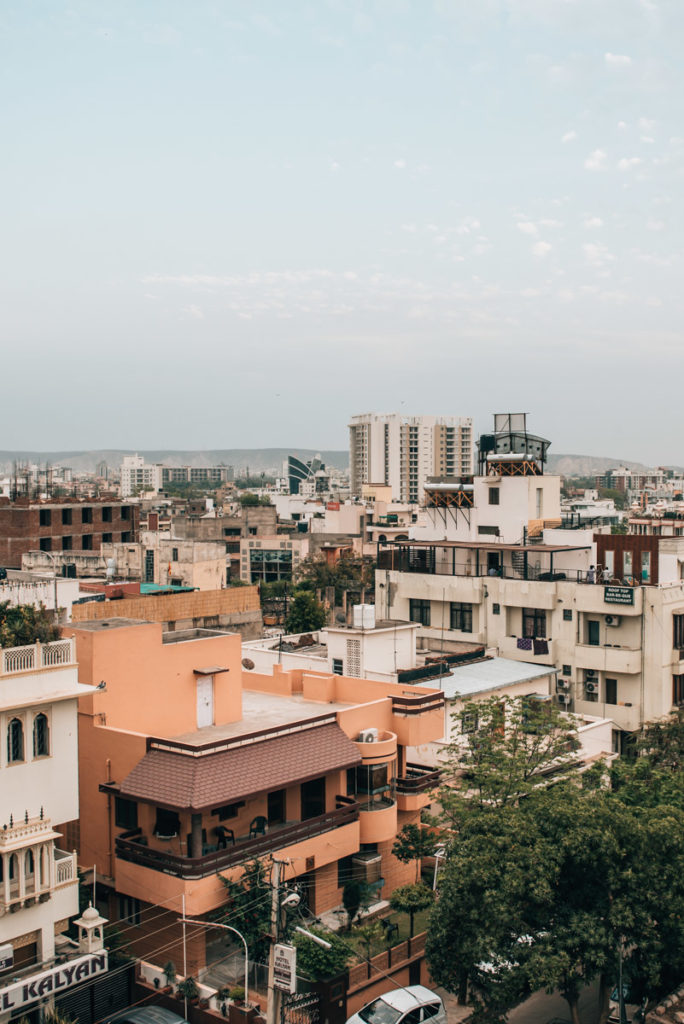 4. Hotel Tip for Jaipur
If you would like to stay the night in a typical heritage hotel during your trip in India, then the Pearl Palace Heritage – The Boutique Guesthouse is the right place for you. Most heritage hotels have a very authentic, often even kitschy charm – as does this hotel.
The rooms in the Hotel Pearl Palace Heritage look like they are straight out of an oriental fairy tale: rather cluttered and kitschy, but really unique and decorated with great attention to detail. The facilities and cleanliness are top quality. In addition, the staff are incredibly accommodating and friendly.  
Breakfast is served at the Peacock Rooftop Restaurant we mentioned earlier, which is located just a short tuk tuk ride away. The free shuttle also works well. Our conclusion: highly recommend!
You can book the hotel here: Pearl Palace Heritage – The Boutique Guesthouse
5. More Travel Tips: Arrival and Transport while in Jaipur
Getting there from Agra (Taj Mahal) or Delhi
You will probably either travel to Jaipur from Agra (Taj Mahal) or from Delhi. It is most common to travel by train or with a private driver.
Train travel in India is cheap and quite an experience. You travel for about four hours on the train from Agra to Jaipur. It is close to five hours from Delhi.
We ourselves went from Agra to Jaipur and had a private driver, which is of course the most comfortable option.
We like to use 12go.asia to book train tickets as well as private transfers. Unfortunately it is not very easy to book a ticket for India while in Europe, because you often need an Indian telephone number to book. However, with 12go.asia you can do it without a problem.
You can book your transport here: Travel to Jaipur via 12go.asia
Getting around in Jaipur
You can reach many of the sights inside Jaipur's old city on foot. We recommend using motorised rickshaws for longer distances. We usually paid around 50 Indian rupees per ride – don't forget to negotiate upfront! You can find further information on transport in our more detailed travel guide: Travel Tips for the Golden Triangle.
---
Disclaimer: Invitation & Affiliate Links
The German tour operator erlebe covered most of the costs while there (accommodation, transport). We paid for the flights and some activities ourselves. This travel guide contains our personal recommendations in the form of affiliate links. If you book or buy something via the links, we will receive a small commission. This will not change the price for you at all. A million thanks from the both of us! 
Have you already been to Jaipur? Leave us a comment with your tips and experiences. We look forward to it!