Mérida, the capital of the Mexican State of Yucatán, is vibrant, lively and colourful. But above all… it was much bigger than we had anticipated! We expected a cozy village like Campeche, so were rather surprised when we saw how big Mérida actually is. Of course, that does not change the fact that we found the colonial charm of Mérida's centre rather pleasant.
In this blog article, we'll tell you which sights and highlights await you in Mérida. We will also show you the most beautiful destinations around Mérida, especially the impressive Mayan ruins of Uxmal.
1. Mérida: Yucatán's Capital at a Glance
Mérida is the largest city on the Yucatan peninsula and is ranked No. 13 on the list of the largest cities in Mexico. If someone had told us that before, then we would have been able to mentally prepare ourselves to adapt to the hustle and bustle here much quicker.
Public buses, crowds, shopping streets – this was the result of poor research. We squeeze past stalls at the Mercado Lucas de Gálvez. The main square of Mérida ("Plaza Grande") welcomes us with a traditional dance event, where hundreds of spectators gather. And overall, the centre of Mérida was definitely more touristic than we had anticipated.
But we can reassure you that Mérida also has some very cozy corners, where you can admire and appreciate the colonial flair in peace. For example, you can find a spot at one of our favourite cafés, the Latte Quattro Sette (more information can be found later in this blog article).
How long should I stay in Mérida?
The historic centre of Mérida is easily explored in a day, but there are numerous destinations around Mérida, which are worth sticking around to explore. We stayed three nights in Mérida and had absolutely no problem filling our days with adventure and experiences.
You should plan at least half a day to explore the impressive Mayan ruins of Uxmal. (We visited the ruins on our way from Campeche to Mérida and would do exactly the same route again.) Another popular trip is the Boat Tours from Celestún to see the flamingos, and also the Yellow City of Izamal. We'll share with you more detailed tips below in this blog article, about the most beautiful destinations around Mérida.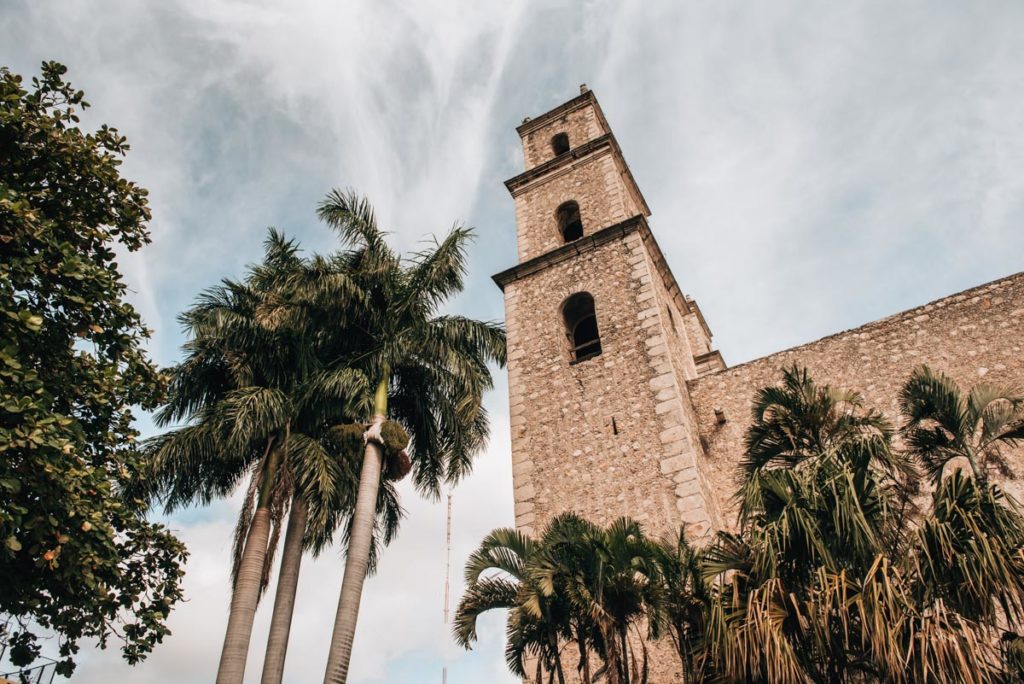 2. Sights in Mérida: Top things to do
Although Mérida is rather large, there are actually not many attractions that we consider an absolute must-see. In other words: we didn't do the classic sightseeing in Mérida, but opted instead to spend our time enjoying the vibrant flair of the city.
Plaza Grande
The centrepiece of Mérida is the large Main Square ("Plaza Grande"). Here are some of the most important monuments of the city, such as the Cathedral of Mérida ("Catedral de San Ildefonso").
On the west side of the square is the rusty-red "Palacio Municipal", which happens to be the Town Hall. If you are lucky enough to find yourself in Mérida on a Monday then we have a tip for you. In the evening, countless dancers and musicians gather together on the square in front of the Town Hall for the so-called Vaqueria. This Mexican dance event is a deafening spectacle and is loved by both locals and tourists alike. Just drop by – it's completely free.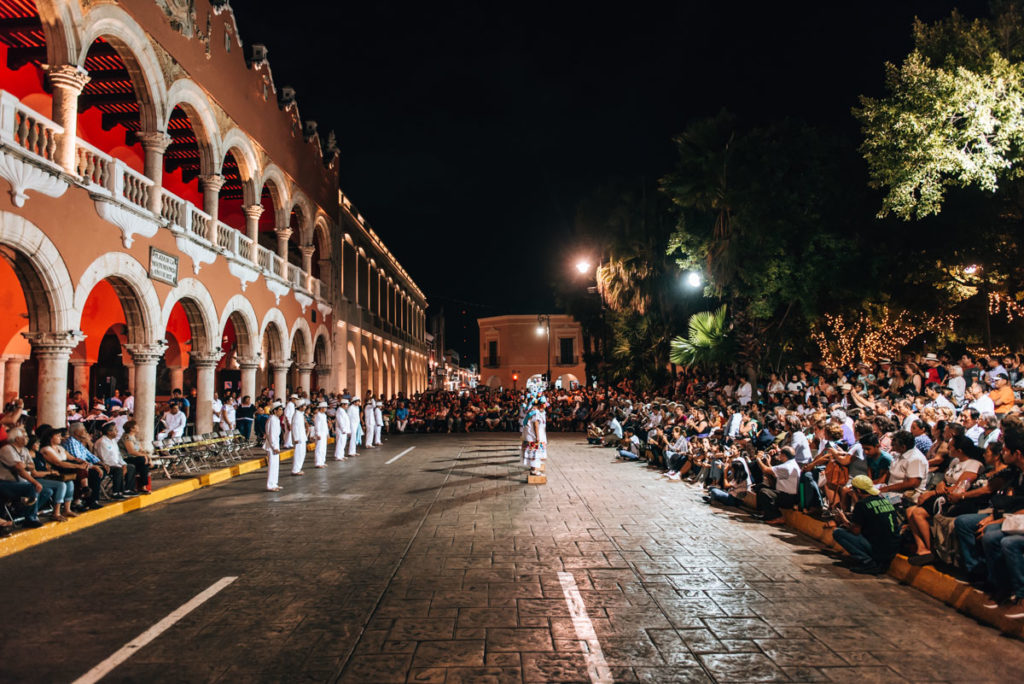 Mercado Lucas de Gálvez
What a place! The central market of Mérida called "Mercado Lucas de Gálvez" is definitely worth a visit. If you like markets, then you will love strolling down the middle of these market place stalls. But we totally understand that some people might find the hustle and bustle a bit too overwhelming.
In addition to fruit, vegetables and Mexican specialties, there exists a darker side of live animals being sold at these markets. We could not believe our eyes when the puppies howled in front of us and the birds fluttered in their prison cages. We were absolutely lost for words. This happened to mark the point where we stopped and turned around.
Address: Calle 56A (between Calle 67 and 69), 97000 Mérida
Paseo de Montejo
The boulevard in the north of the old town does not really fit in with the rest of Mérida. It is wider than all other streets in the city and is lined with some magnificent colonial style buildings on both sides.
Once upon a time, the Paseo de Montejo was apparently a noble residential area, but now it has become more and more of a corporate district. This also explains why the Paseo de Montejo seemed much more abandoned during our visit than we had expected. Therefore, in our opinion, we think that a walk along the boulevard is not an absolute highlight in Mérida.
However, if you find yourself in the area, then we have a shopping tip for you: The Casa T'hō is a combination of several boutiques. The architecture alone is worth a visit, not to mention the range of things on offer. We were blown away and wanted to buy the entire store. Unfortunately, shopping in the Casa T'hō is quite a pricey experience.
Address Casa T'hō: Paseo de Montejo 498, 97000 Mérida
3. Day trips and Excursions around Mérida
We strongly recommend that you spend your time in Mérida not only in the centre, but also have a few excursions planned as there is a lot to see and do around Mérida. Our tip: If you are travelling by car, then some destinations can also be combined in conjunction with your previous or onward journey.
Mayan Ruins Uxmal
You should definitely plan a stopover at the Mayan Ruins of Uxmal. Uxmal is actually one of the most impressive Mayan sites that we visited on our road trip to Yucatán.
We ourselves visited Uxmal after 3 pm in the afternoon (on the way from Campeche to Mérida). We hesitated for a long time whether or not we should actually leave the car so fully loaded in the car park (for us, it was a security dilemma). But in the end we finally decided to go through with it and we can honestly say that we didn't regret it for a second.
First of all, we had the feeling that comparatively fewer visitors came to visit this area. Secondly, the light just got better and better, the later it became and was not as stark bright as at midday. We recommend that you plan about two hours to visit the Mayan site of Uxmal.
The Main Ruins of Uxmal
Immediately after the entrance to the archaeological zone, the most striking highlight of Uxmal awaits you: the Adivino Pyramid ("Pirámide del Adivino"). Due to its several construction phases, it now encompasses somewhat of a slight oval shape, which makes it pretty eye-catching. Unfortunately, the Adivino Pyramid can not be entered, but you can walk around it in a circle.
You also get a great view of the Adivino Pyramid from the Governor's Palace ("Palacio del Gobernador"). The long structure at over 100 metres in length is rather impressive on its own. The view over the ruins of Uxmal is then, so to speak, simply the icing on the cake.
Information about visiting Uxmal:
Admission: 460 Pesos per person
Parking: 80 Pesos (with gates)
Camera fee: 45 Pesos
Opening hours: 8am to 5pm
Getting here from Mérida: approx. 1 hour by car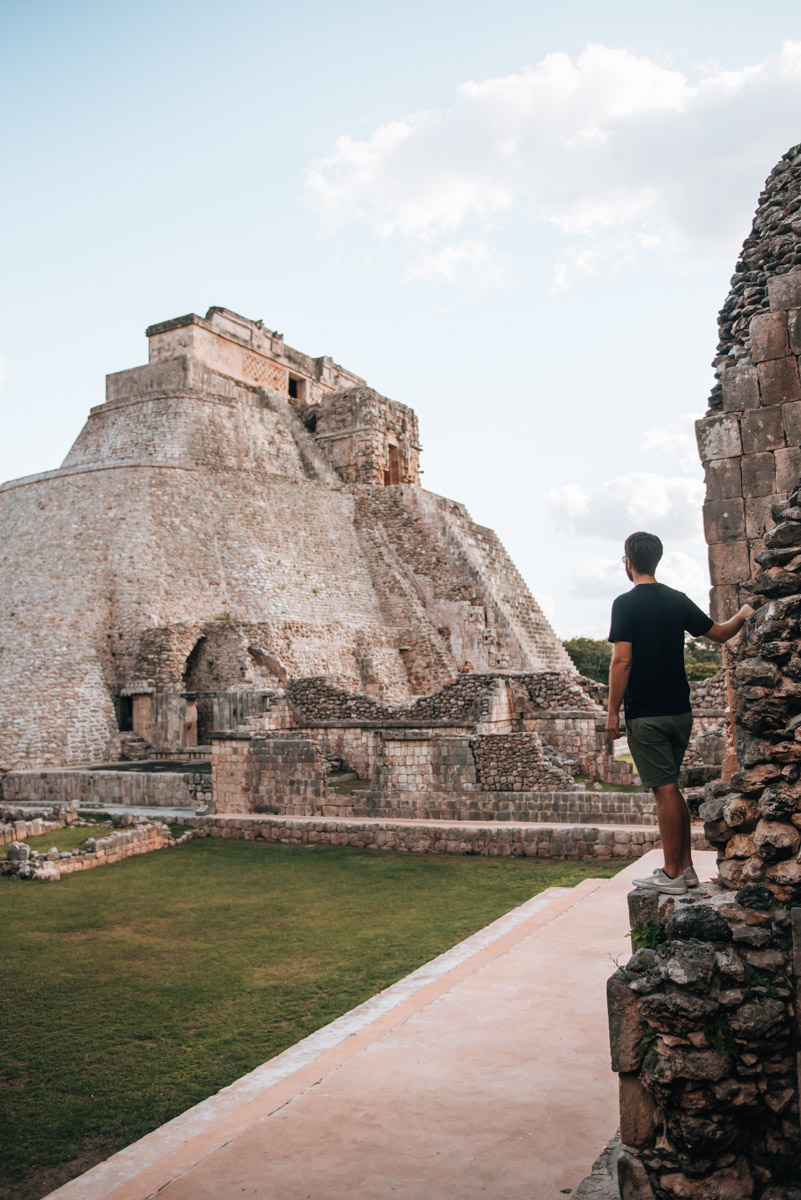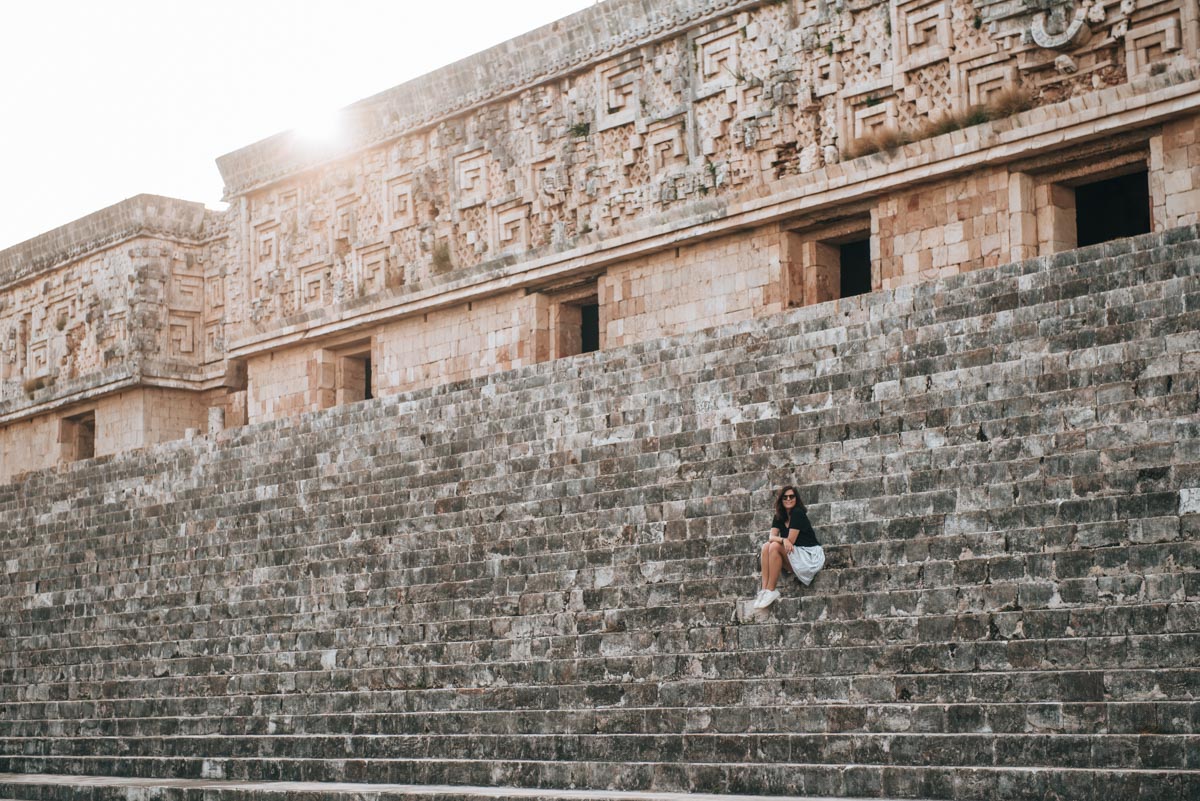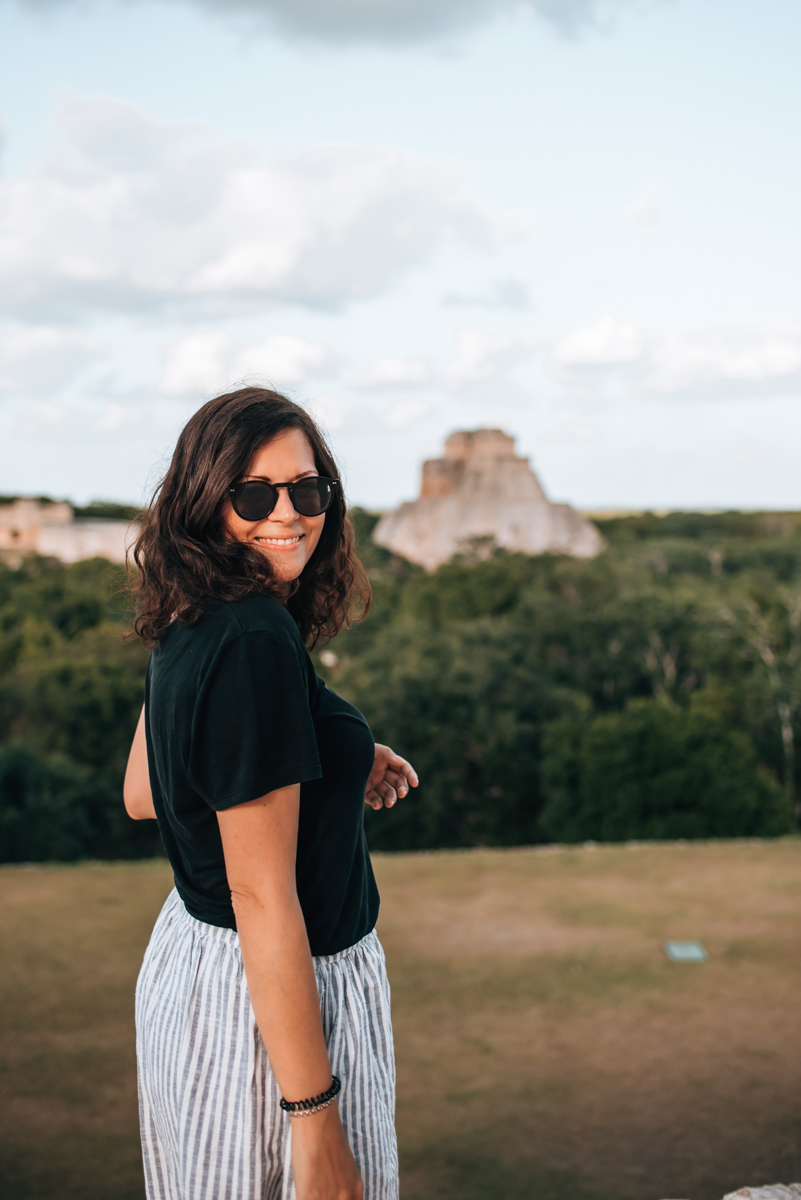 Flamingos in Celestún
The lagoon near Celestún in western Mérida is known for its flamingo colonies. You can see these fascinating pink birds in their natural habitats practically all year round. The best months for flamingo observation are from November to March, which is when you will also see many other species around the lagoon. In September and October, however, fewer flamingos tend to be seen.
To really see the animals, you have to go by boat to the lagoon. These days, animal watching has become a small business. The boats leave from the pier just before you enter Celestún (but after the bridge). Since six people fit in each boat, they wait until the boat is full. If you want to leave earlier or have fewer people on the boat, then you have to pay the full price of the boat (1,800 Pesos per boat). Regular boat tour costs 300 Pesos per person (if full 6 person occupation).
A boat trip takes about 1.5 hours and once set off, heads towards the first flamingo colony. From the boat, you can watch the flamingos and take pictures of course. The driver then steers the boat through the mangroves. With a little luck you might even see a crocodile here! Lastly, you visit some kind of spring source before returning back.
Information about the Flamingo Boat Tour:
Price: 300 Pesos per person (for a fully occupied boat with 6 people; alternatively you can have a private boat tour for 1,800 Pesos per boat)
Duration: 1.5 hours
Best period: November to March
Arrival from Mérida: approx. 1.5 hours by car. If you do not have your own rental car, you might like to look into this tour: Tour to Celestún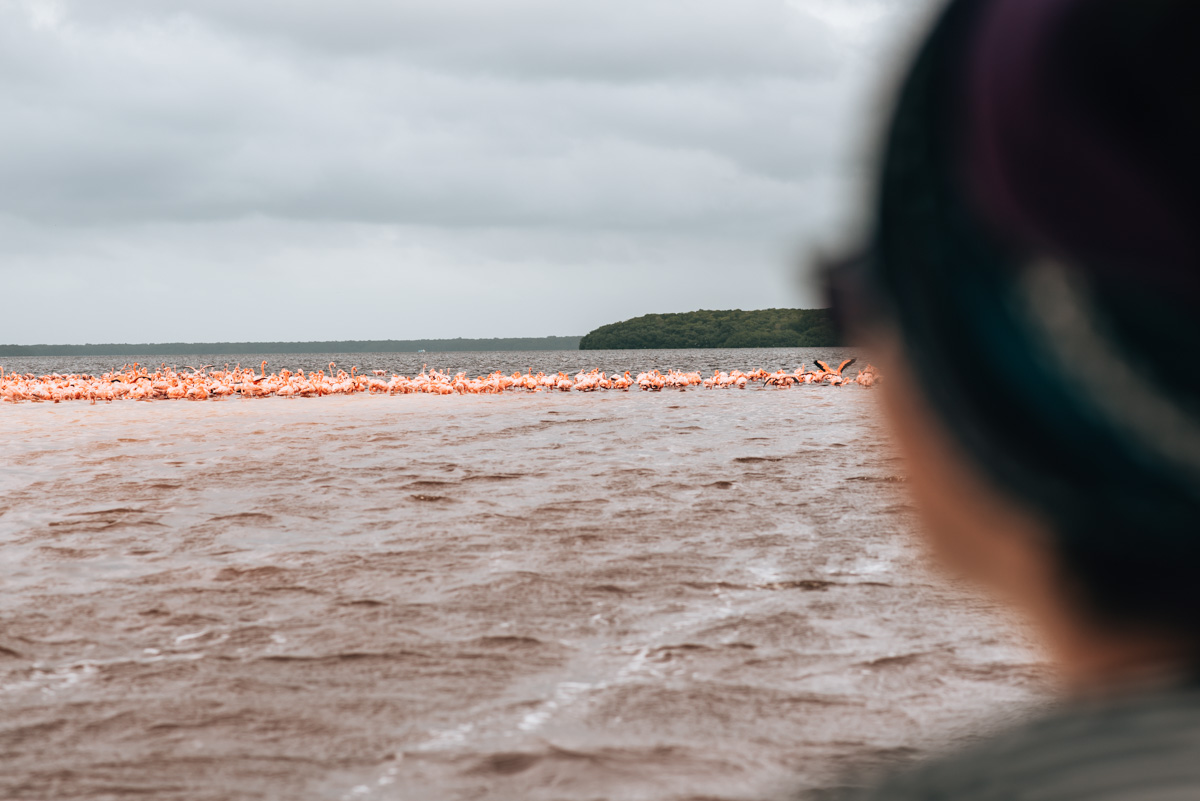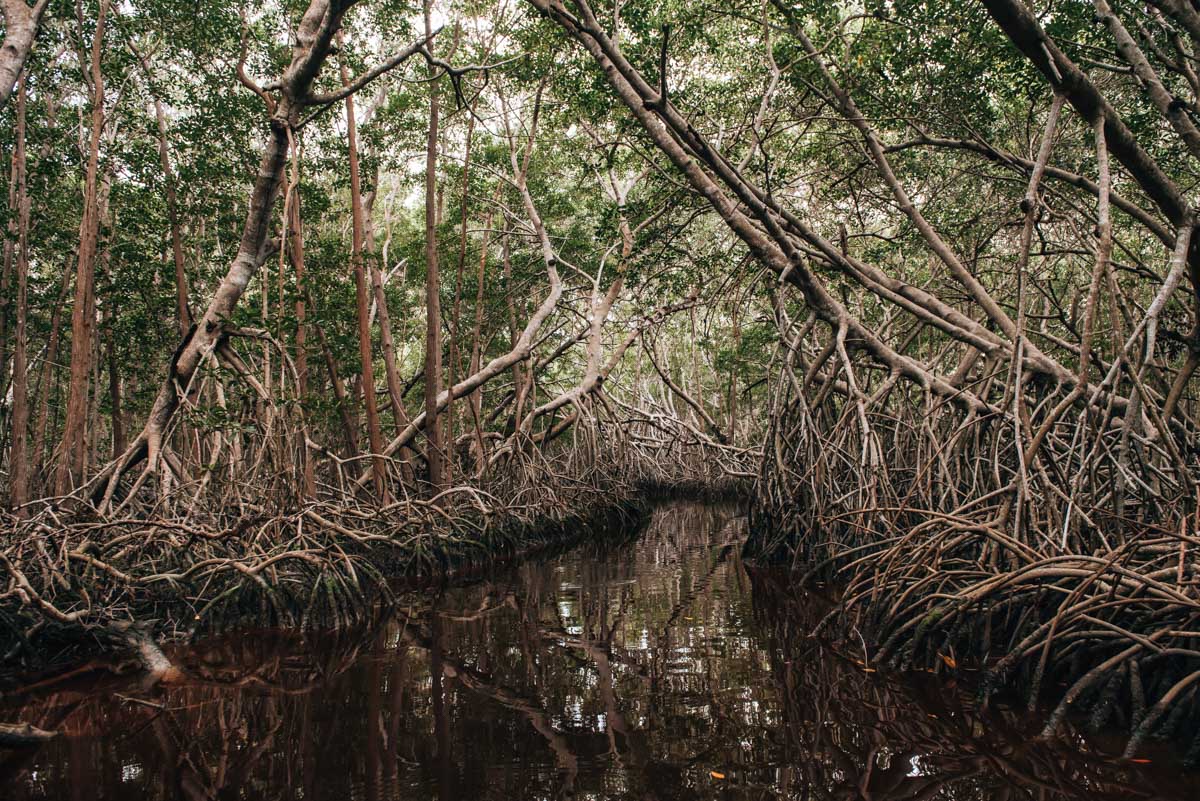 Izamal
Izamal is a very unusual and small colonial town, unique for its yellow painted walls on all the buildings found in the centre. This particular colour scheme was actually due to the visit of Pope John Paul II in the 90's. In honour of his arrival, the entire city was painted in the colours of the Vatican: yellow and white. Since then, the city has now been nicknamed "Yellow City".
Izamal exudes a very special light mood and in our opinion is very photogenic. However, there are not many attractions, so the centre is explored rather quickly. We would plan about 2 to 3 hours. A worthwhile stopover would be at the Franciscan Monastery called Convento de San Antonio de Padua.
If you get hungry: you can have lunch at the Restaurant Zamna, where we had a really nice meal. Note: In order to save time, we visited Izamal on the way to our next destination, Valladolid. Of course, if you want to do a half-day excursion to Izamal from Mérida, then by all means.
Getting here from Mérida: about 1.5 Hours by car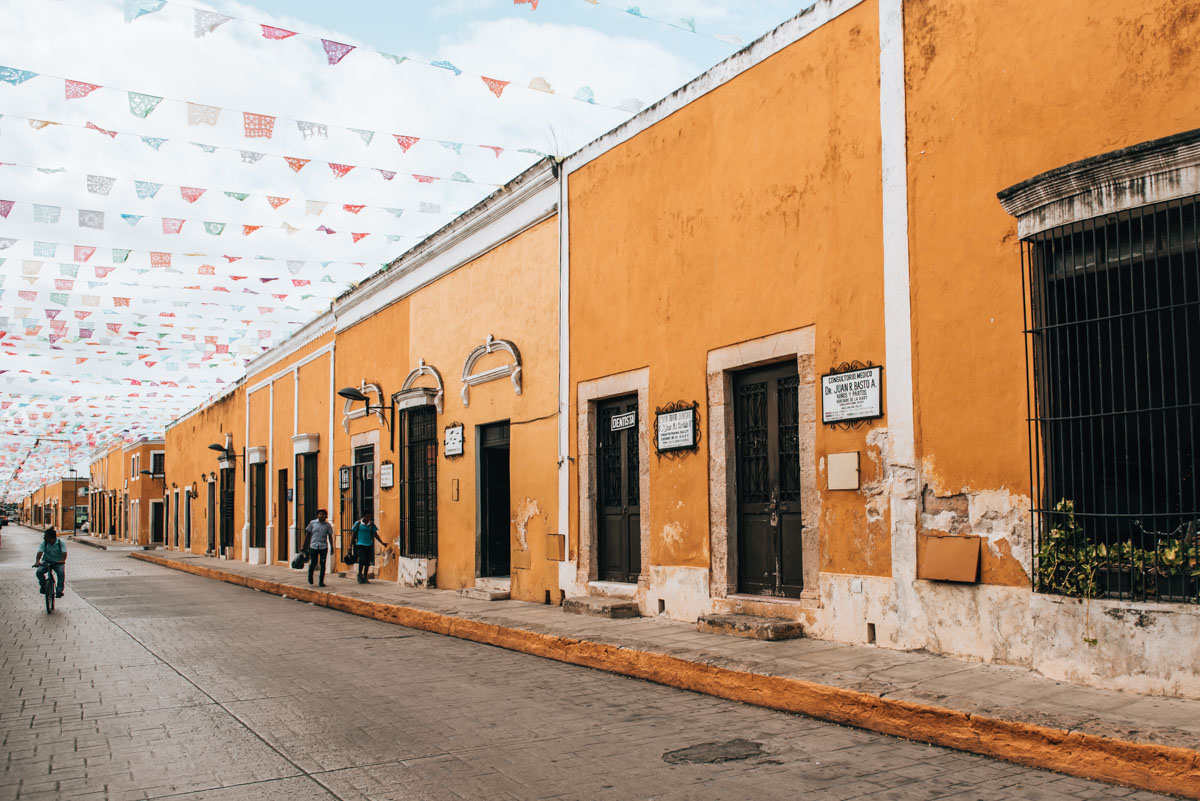 4. Eating & Drinking in Mérida: Our Tips for Restaurants and Cafes
In Mérida, we were once again overwhelmed by the large selection of restaurants and cafes (just like our first time in Tulum). So that you can better and more efficiently find your way around the restaurant jungle of Mérida, we present to you our favourites places.
Apoala Mexican Cuisine
Here at Apoala, we had an excellent meal of creative, Mexican cuisine at a very high level. There were not too many vegetarian dishes on the menu to select from, but the ones they had were really delicious. We ordered several dishes for two, and our favourite was the "Ensalada verde" – a salad with mixed vegetables and very good dressing.
The Apoala is located in the centre of Mérida and seems to be very popular with tourists. At least on the evening of our visit, all the tables were taken – and most of them were non-Spanish speaking guests. For Mexican standards, the restaurant is rather expensive, but considering the high quality of food, we found the prices reasonable.
Address: Calle 60 471 Local 2 X 55 (next to the Parque de Santa Lucía), 97000 Mérida
Prices: Dinner for two people including Drinks about 600 Pesos
Manifesto
We sourced our daily dose of caffeine from the Manifesto, which was only a few steps from our hotel – more about that later. The Manifesto is one of those hip cafes in Mérida and thanks to the many wooden designs and high ceilings – it makes you feel very cozy and comfortable.
The atmosphere is very relaxed and quiet, and you find many people coming to Manifesto with their laptop to do some digital work. This is something we understand all too well. This cafe makes for a great workspace, as they also provide fast and free internet.
The espresso macchiato tasted very good and the cookie we tried was delicious. However, they don't serve the usual breakfast dishes. Conclusion: If you want to relax with an espresso and tuck yourself away from the bustle of Mérida, then you have found the right place here.
Address: Calle 59 (between Calle 66 and 68), 97000 Mérida
Prices: Espresso Macchiato about 35 Pesos
Latte Quattro Sette
The Latte Quattro Sette is one of our favourite cafes in Mérida. With its bright marble tables and white wooden chairs, the sweet café is more reminiscent of Paris than Mexico. But sometimes a little variety does a place good, right?
From the first moment, you feel so comfortable in your cozy spot. The avocado toast tastes delicious (but you have to like sweet bread) and the cake selection had won us over – so we enjoyed a delicious small tart on the side. Conclusion: would gladly come back again any time!
Address: Calle 47 (between Calle 54 and 56), 97000 Mérida
Prices: Espresso Macchiato about 40 Pesos, Avocado Toast about 75 Pesos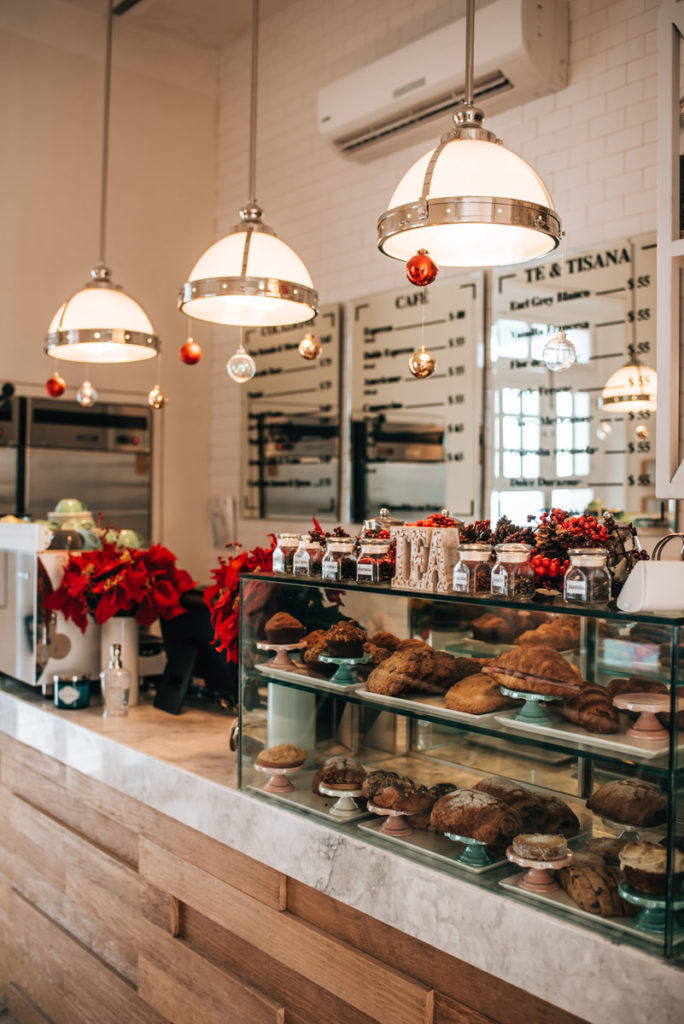 POLA Gelato Shop
If you fancy ice cream, there is no one that can top the POLA Gelato Shop. We are pretty sure that the best ice cream in Mérida is found here.
The vast majority of ice creams are rather unusual. Amongst others, the following variety was featured on our ice cream menu: "Yucatean Sweet Pumpkin", "Coconut Cream Pie", "Eggnog" or "Sour Orange with Cherries". If you prefer the more classic flavours, they also have Chocolate and Vanilla ice cream as well.
The ice cream parlour itself is really pretty. Especially the beautiful floor tiles, which had us swooning. The staff was very accommodating as well. Great recommendation!
Address: Calle 55 (between Calle 62 and 64), 97000 Mérida (There is also a second shop just north of the centre.)
Prizes: 1 Scoop = 30 Pesos. 2 Scoops = 50 Pesos
Lo Que Hay Cafe
A vegan restaurant in the middle of Mérida – of course we had to stop by. Two different multi-course vegan menus are served every evening at the Lo Que Hay Cafe. Initially, the menu is a bit confusing (you can either choose one of the two menus altogether or only certain dishes). But the staff were super friendly and happy to help. They also serve breakfast and lunch.
You definitely notice, that the meals here are cooked with a lot of love and we both found the food very good. Although the Lo Que Hay Cafe is not quite at the top of our favourite restaurants in Mérida, it still comes highly recommended in our opinion. You can find yourself a very comfortable spot in the courtyard or in the arcades of the building.
Address: Calle 55 (between Calle 64 and 66), 97000 Mérida
Prices: 200 Pesos for a 4-Course Menu
5. Hotel Tip: Our Accommodation in Mérida
We spent three nights at Hotel Viva Mérida, which we can highly recommend. It is located in an Old Colonial House, so the architecture is therefore really something special. The courtyard alone (where you also have breakfast) is simply a dream.
The rooms (of which there are only 10 in total) are accessed through the courtyard. They are two-storey rooms: so on the ground floor of our room were the bed and sofa, and on the upper floor was the bathroom. Light could only stream through over the roof hatch and over the door into the room. At first we were a bit worried that it would be too dark, but in the end it did not bother us as much as we thought. There are also rooms with windows facing the street, but then you get more noise. Our room was really nice and quiet. The bed was a bit too narrow for both of us, but we still slept very well in it.
Breakfast is served in the courtyard. You choose from several dishes the day before and also get a few extra extras such as fruit, sweets, juices and of course coffee or tea. The staff were extremely courteous and we felt very comfortable during our stay.
Here you can book the hotel: Viva Mérida
---
Disclaimer: Affiliate Links
This blog article contains our personal recommendations in the form of so-called affiliate links. If you book or buy something through these links, we will receive a small commission. For you, this does not change the price at all. A million thanks from the both of us!
Have you ever been to Mérida? We would love to hear about your experiences and if you have any further tips or recommendations, we would be very grateful if you could share them in the comments below! Thank you so much!