Valladolid is a cozy, colonial town on the Yucatan peninsula. Many travellers pass this place by in favour of Mérida – which is such a pity in our opinion because we personally really like Valladolid and actually felt more comfortable here than in Mérida.
Valladolid is very relaxed. The town is also an ideal starting point for visiting the Mayan ruins of Ek Balam. In this blog article, we share with you the best places to discover in Valladolid and our personal tips.
1. Valladolid in the Yucatán: the Charming Colonial Mexican City
If you ask us: Valladolid brings together the best of Campeche and Mérida. Valladolid is as comfortable as Campeche, but also has something of the liveliness of Mérida. What we really appreciate about Valladolid is the authentic Mexican feel you get when you arrive here.
Valladolid is the third largest city in the state of Yucatán, but feels very small and manageable. The street scene of Valladolid comes quite close to the idea of ​​a typical Mexican town: pastel-coloured colonial houses, old VW Beetles, colourful flag chains and a small Cathedral that is simply beautiful to admire.
On the Sunday evening after we arrived, we got to witness a special dance event in the main square. So much zest for life in one place and across all ages – it's something we have rarely experienced.
Another (somewhat unusual) tip: When you travel through Yucatán, you soon realise how important hammocks are to the Mexicans. You can buy them in every imaginable variation across the peninsula. But the best place for that is the tiny village of Ebtún – right in front of the prison. The inmates make these during their detention and earn some money doing so. The hammocks are not cheap, but are of very high quality.
How long should I stay in Valladolid?
We spent three nights in Valladolid and personally found that to be just right. In addition to the centre, also had plenty of time to explore some other destinations outside of Valladolid. If you have less time, then two nights would also be enough. At the end of this blog article, we will share with you our highly recommended accommodation (La Flor Casa Boutique).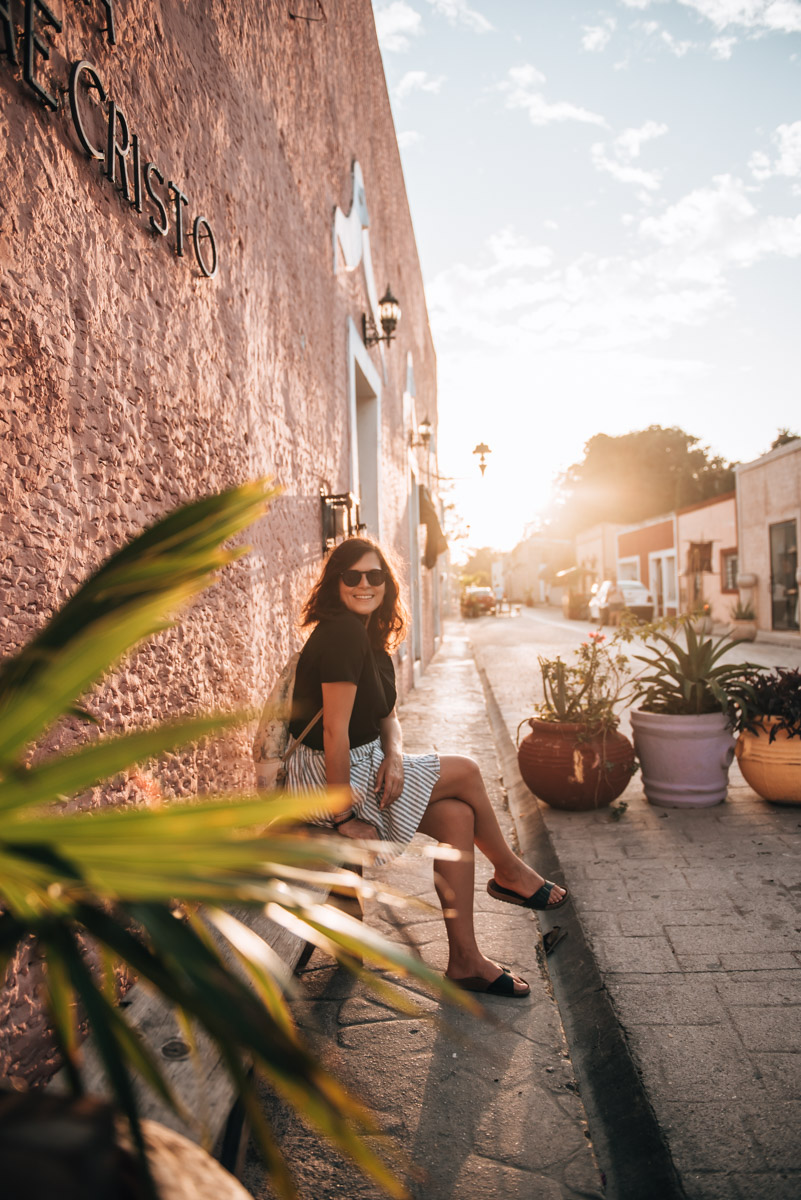 2. The Most Beautiful Sights: Top things to see in Valladolid
Actually, the main attractions in Valladolid can be explored in one afternoon. Even though in our opinion, Valladolid is much more than simply the main highlights in town, we would still like to introduce you to the most important sights and attractions.
Cathedral & Main Square
The centre piece of Valladolid is the beautiful Main Square ("Plaza e Parque Francisco Canton") and the Cathedral ("Catedral de San Servasio"). During our visit, the Cathedral was a particularly great photo opportunity thanks to the many colourful flag chains.
Should you be in Valladolid on a Sunday, then we have a tip for you: In the evening, the young and old gather to dance on the main square. We've never seen anything like it before: retirees and students dance together to traditional Mexican music. There's no way you can't help but be in high spirits – we promise!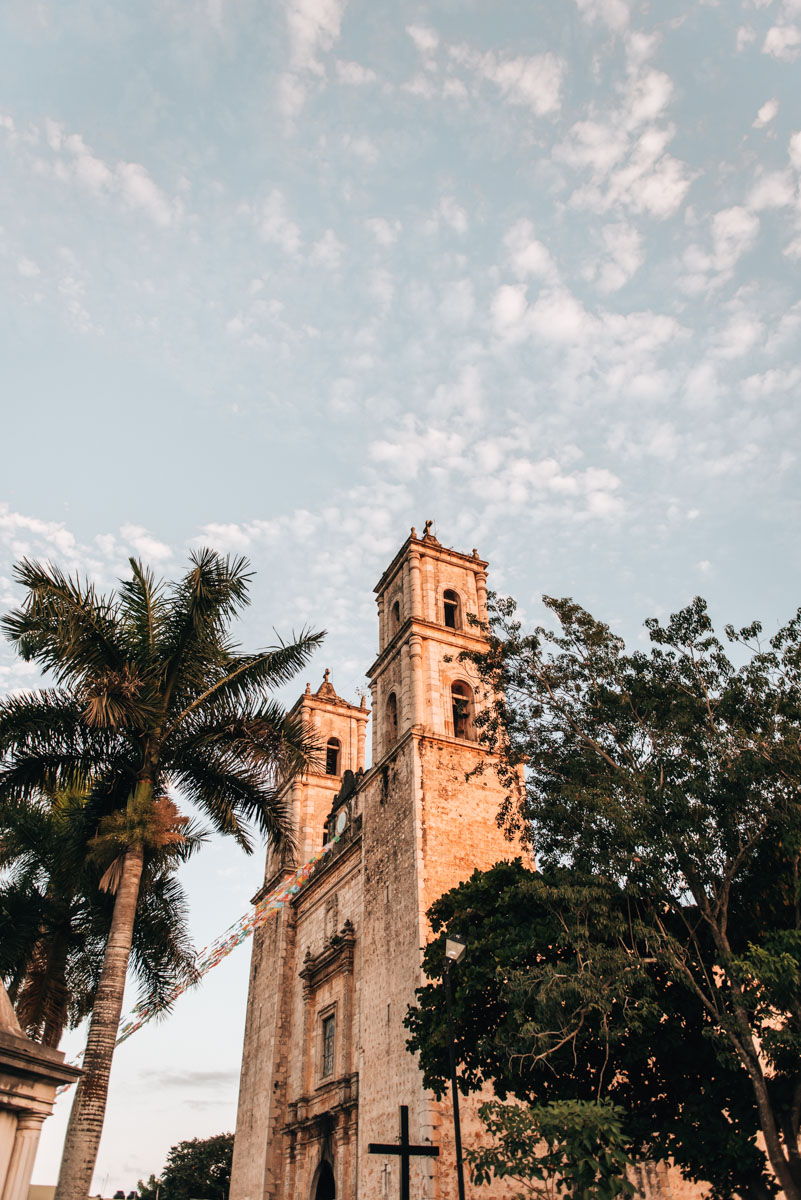 Ex-convent of San Bernardino de Siena
This monastery is probably the best known building away from the city centre of Valladolid. It is about a 15-minute walk from the main square, but worth the detour as we find. You can visit the San Bernardino de Siena Convent from the inside (entrance fee: 40 Pesos per person), but we just appreciated it from the outside.
On some evenings, there is also a light show, which comes highly recommended. Unfortunately we missed this due to time constraints, but it's always at 9pm (for Spanish) and 9:20 pm (in English) from Wednesday to Sunday. (It is best to double check the exact time beforehand.)
Our tip: on the way to the monastery, take Calle 41A. This street is definitely the prettiest shopping street in Valladolid.
Calle 41A = Calzada de los Frailes
The best (and most expensive) boutiques in Valladolid are located along Calle 41A. The street is also known as Calzada de los Frailes and is something like the shopping street of Valladolid. For example, here you will find the shop of a famous perfumery Coqui Coqui.
But even if you don't come here for the shopping, you'll still like Calle 41A. We found this place is very photogenic and there are also some nice restaurants and cafes along Calle 41A. We wanted to go to Tresvanbien, but unfortunately it was closed during our visit. Maybe you will have a bit more luck. (As always, we'll share our restaurant tips at the end of this article.)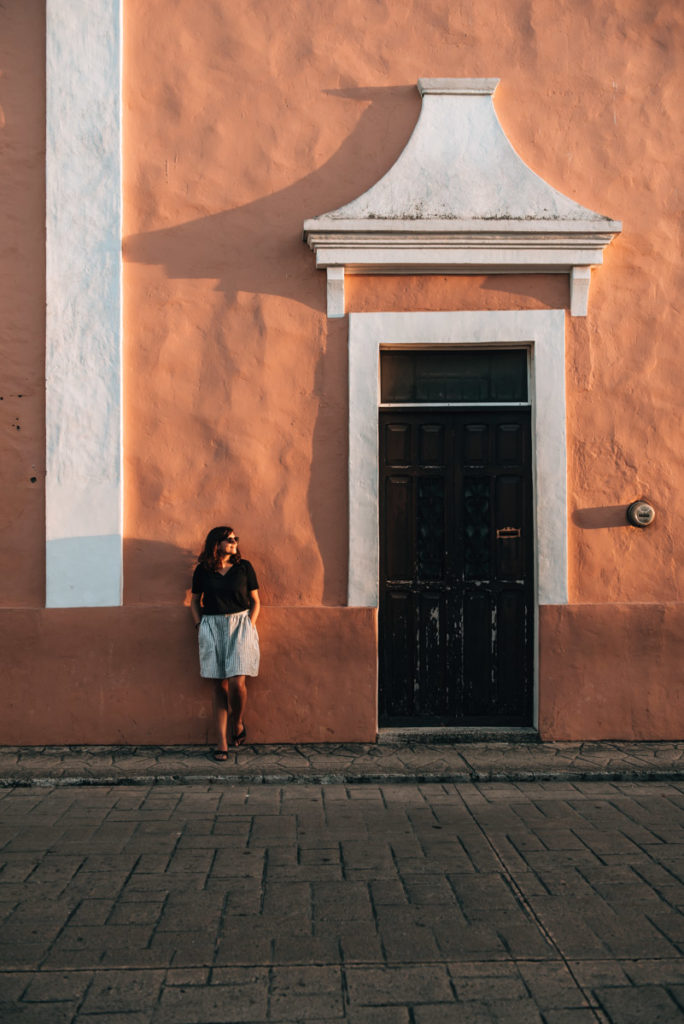 Cenote Zaci
A Cenote in the middle of the city centre? Sounds strange, but it's true! Just a few streets away from the main square is the rather impressive Cenote Zaci. The Cenote is bigger than expected, considering how close it's located to the city. So if you have little time left or you are not travelling by car, then we can highly recommend you visit this Cenote.
We came here in the afternoon, at which point the Cenote was quite crowded, but still less crowded than we had expected. A cool aspect: you can jump into the depths from one of the high surrounding ledges.
Admission: 30 Pesos per person
Address: At the intersection of Calle 36 and Calle 37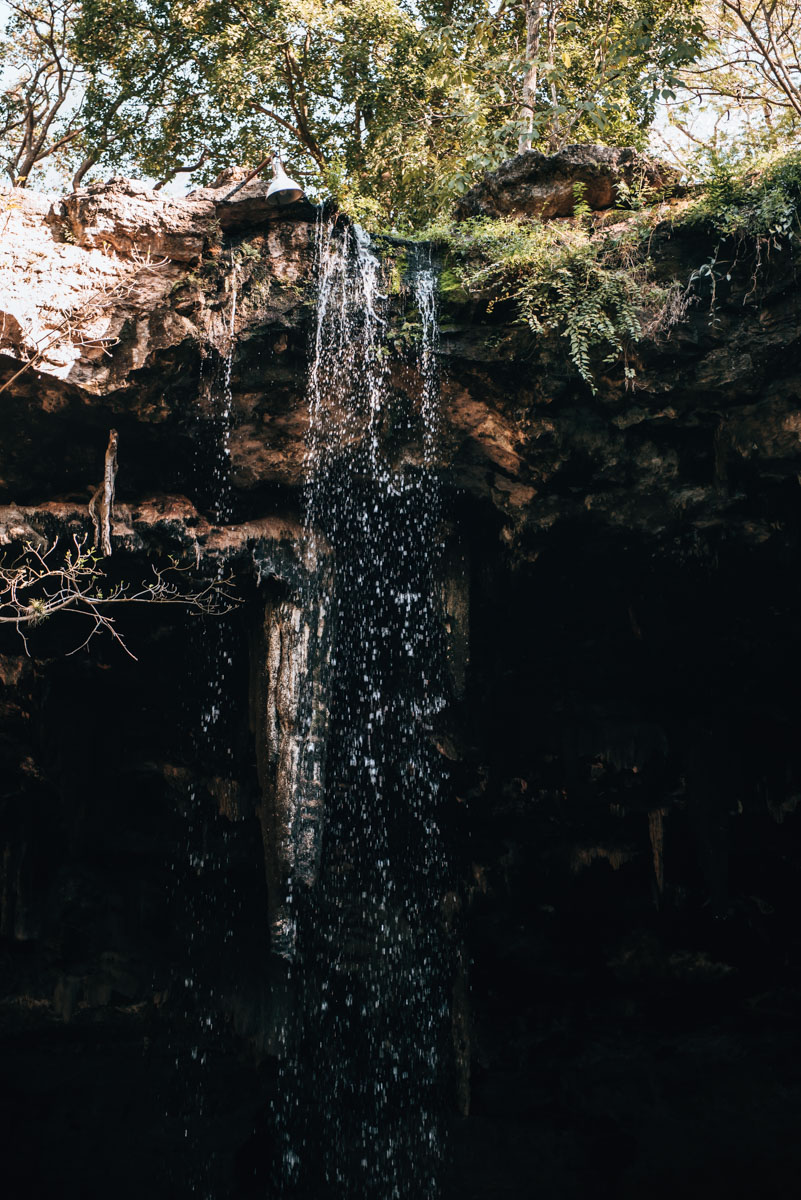 3. Excursions & Cenotes around Valladolid: Our tips
Valladolid serves as a starting point for a visit to Chichén Itzá. But this World Wonder is far from the only Mayan ruin to be discovered around Valladolid. Valladolid is also known to be surrounded by many Cenotes (underground freshwater pools).
Generally we would recommend you to set aside at least one full day to explore some of the amazing destinations this area has to offer. If you drive north, for example, you can combine Ek Balam, Las Coloradas (and possibly Río Lagartos) in one day.
Mayan Ruins of Ek Balam
The Mayan ruins of Ek Balam are still a bit of an insider tip here in the Yucatán. You can almost imagine just how the people here used to live, and more so here at Ek Balam than any other ruins, because it's surrounded by jungle, which makes the atmosphere so special.
Fortunately the ruins at Ek Balam can still be entered. One of the highlights is to climb the tallest building (the so-called Acropolis). From the 31 metre high platform, you have an impressive view over the city ruins and the jungle.
However, Ek Balam is far from being a secret like Calakmul is. This is evident in the line of souvenir shops at the entrance and exit. Ek Balam is also smaller than expected but the area is quite straight-forward to get around. We recommend that you plan about 1-1.5 hours on site.
Admission: about 450 Pesos per person
Getting here from Valladolid: about 30 minutes by car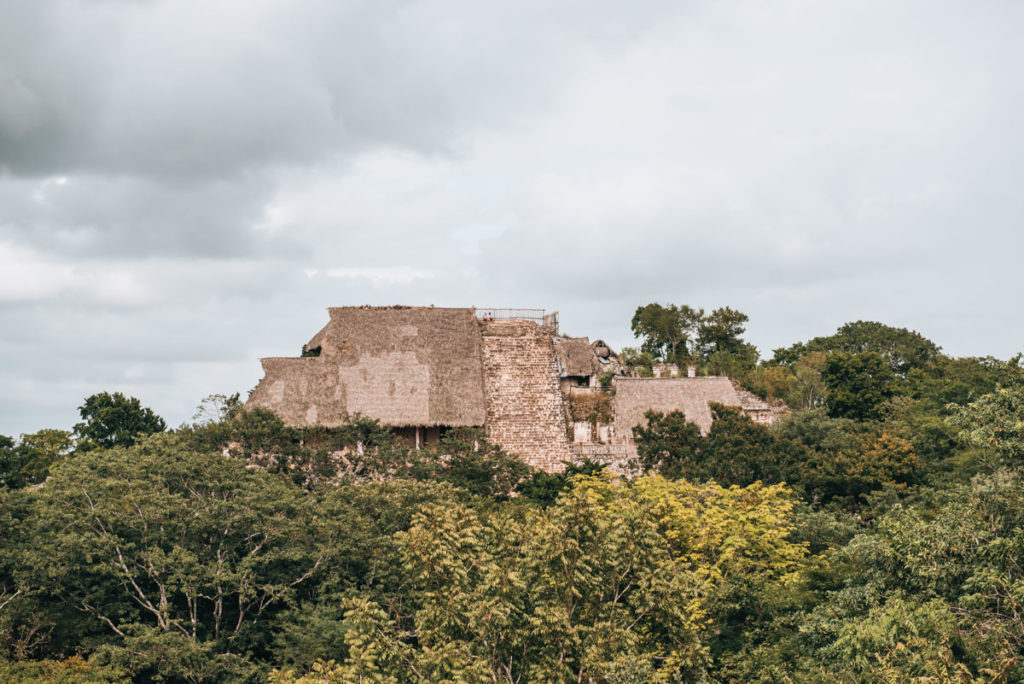 Las Coloradas
Las Coloradas is the name of a small fishing village on the north coast of Yucatán. If you've ever seen photos of pink lakes on Yucatán, then most likely it was taken here. In Las Coloradas there are some salt fields where the water is actually pink.
Granted, this trip is a little time-consuming. After all, it is two hours by car from Valladolid to Las Coloradas. However, we believe that the journey is still worth it.
Once in Las Coloradas, you will almost certainly be approached by one of those self-proclaimed guides. The good thing is that they can bring you very up-close to the salt lakes for just a very small fee. When we were there, we noticed there was a barrier – so without accompaniment, it's likely you won't be able to get through. Our guide also told us some interesting details about the salt production, so in our opinion, the money was well invested.
The best time to see the pink colour of the salt lakes glowing is at lunchtime. When we visited in the late afternoon, the pink colour was still clearly visible, but definitely weaker than during the day. However, the mood of the late afternoon light was beautiful.
Incidentally, there are also some flamingos living in Las Coloradas. Depending on the season (and luck) you can observe these birds. Good to know: the flamingos are never in the salt basin, but in the waters next to it.
Our tip: If you really want to see a lot of flamingos, then maybe you should consider doing a boat trip in the nearby Río Lagartos. There is actually a boat tour, which starts from here and leads you to the flamingo colonies.
Price for Guide / Admission: 200 Pesos per person (plus 70 pesos for the view point)
Travelling from Valladolid: about 2 hours by car (note: there are quite a few pot holes along the way, take special care when driving in the dark.)
Cenote Samula & Cenote X'keken
The two cave-like Cenotes Samula & X'keken are located in the same area and can either be visited individually or as part of a combined ticket.
Purely from an architectural standpoint, both caves are extremely spectacular: they resemble that of giant caves. The stalactites that protrude down from the ceiling are such an impressive sight. The only light entering the Cenotes, stream through a small hole from the cave ceiling. Therefore, both Cenotes give off a very dark, mystical impression. You reach the Cenotes via a staircase that leads down into the depths.
Unfortunately we could not shake off the feeling that tourism is developing in a disconcerting way (and we are not just talking about the mass number of souvenir shops here). For example, at the entrance there was a parrot being abused for photo opportunities – as if the only thing that matters is that the tourists are happy to get some funny souvenir photos. Unfortunately this left a rather negative impression.
Update 2021: A life jacket is now required. (It wasn't required when we visited the Cenotes.)
Admission: 80 Pesos per person (one of the two Cenotes), 125 Pesos per person (combined ticket for both Cenotes), 20 Pesos for a life jacket (40 for both Cenotes)
Getting here from Valladolid: about 15 minutes by car
Cenote Suytun
The Cenote Suytun is perhaps the "most instagrammable" Cenote around Valladolid. In other words, the circular concrete platform along with the azure blue water, is one of those typical postcard motifs that you will see on Instagram over and over again. What you hardly see in the photos, is that the cave-like Cenote is actually super pitch black.
We made the mistake of not going earlier and by the time we arrived there at 4 pm, the daylight was already starting to fade. Unfortunately, we missed the light passing through the hole, which at certain times during the day illuminates the platform, creating a beautiful effect. On the up-side, there were very few people here during the time of our visit.
If you want to swim here, then you have to wear a life jacket. But somehow we get the feeling that most people (including ourselves) – primarily come here to take photos.
Admission: 150 Pesos per person
Address: Carretera Ticuch Km 8 s/n, 97780 Valladolid (about 15 minutes by car from the centre of Valladolid)
4. Tips for Restaurants and Cafes in Valladolid: Where to eat
Yerbabuena del Sisal
Our favourite restaurant in Valladolid! We came here twice and would have liked to have come a few more times! The Yerbabuena is not a purely vegetarian restaurant, but the selection of meatless and healthy dishes is fantastic. The menu includes burgers and vegetarian lasagne as well as a selection of Mexican dishes. Oh and delicious homemade lemonades – Bonus!
The atmosphere is very cozy: you can either sit at the wooden tables in the entrance area at the bar or in the green courtyard. The hospitality from the staff were amazing, we rarely come across such a place as friendly as this. All in all, highly recommended.
Prices: Lemonade 40 Pesos, Burger 100 Pesos, Espresso 40 Pesos
Address: Calle 54A 217, 97784 Valladolid (next to the Convento de San Bernardino de Siena)
Trattoria San Giovanni
Looking for a change from Mexican cuisine? Then we can highly recommend the Trattoria San Giovanni. They serve some surprisingly good pasta dishes and pizza at reasonably fair prices. The green courtyard is also really nice and the staff is very friendly.
Prices: Pizza (medium size) about 150 Pesos, Pasta Pomodoro – 100 Pesos
Address: Calle 40 215A, 97783 Valladolid
Wabi Gelato
The best ice cream in Valladolid is found at Wabi Gelato. The selection is small, but of very high quality: during our visit, there were only 5 flavours to choose from. They are homemade with a lot of love and taste absolutely delicious.
Our positive impression was certainly also due in part to the very friendly owner. He gave us a little sample before making a choice of any kind, which we really appreciated as it made the decision much easier.
Address: Calle 39, 196 (next to the corner of Calle 38), 97780 Valladolid
5. Our Hotel Tip: La Flor Casa Boutique
The La Flor Casa Boutique was our home for three nights – and it truly did feel like home. We felt so comfortable here that we simply cannot recommend this place enough to you. The hosts are a lovely couple (she is Austrian and he is half Swiss/half Peruvian) and they do everything in their power to make sure you have a great time and an enjoyable stay. They created this place from their own ideas and with their own hands – so there is a lot of love and hard work behind this beautiful place, which you notice immediately.
There are only two rooms, so there is a very close and intimate feel to the place. The decor is incredibly on-point. They have thought of everything to make your stay as pleasant as possible: from fresh fruit, to water from the carafe, and natural mosquito repellent – it's all there.
The breakfast is by far the best we had on our trip to Yucatán. It is prepared with so much love by the host couple. They try to source as many ingredients from their own place as they can and everything is freshly made, baked or produced. We were left speechless every morning.
Conclusion: If you are looking for a personally managed, beautifully decorated accommodation, you are in good hands here.
You can book the hotel through this link: La Flor Casa Boutique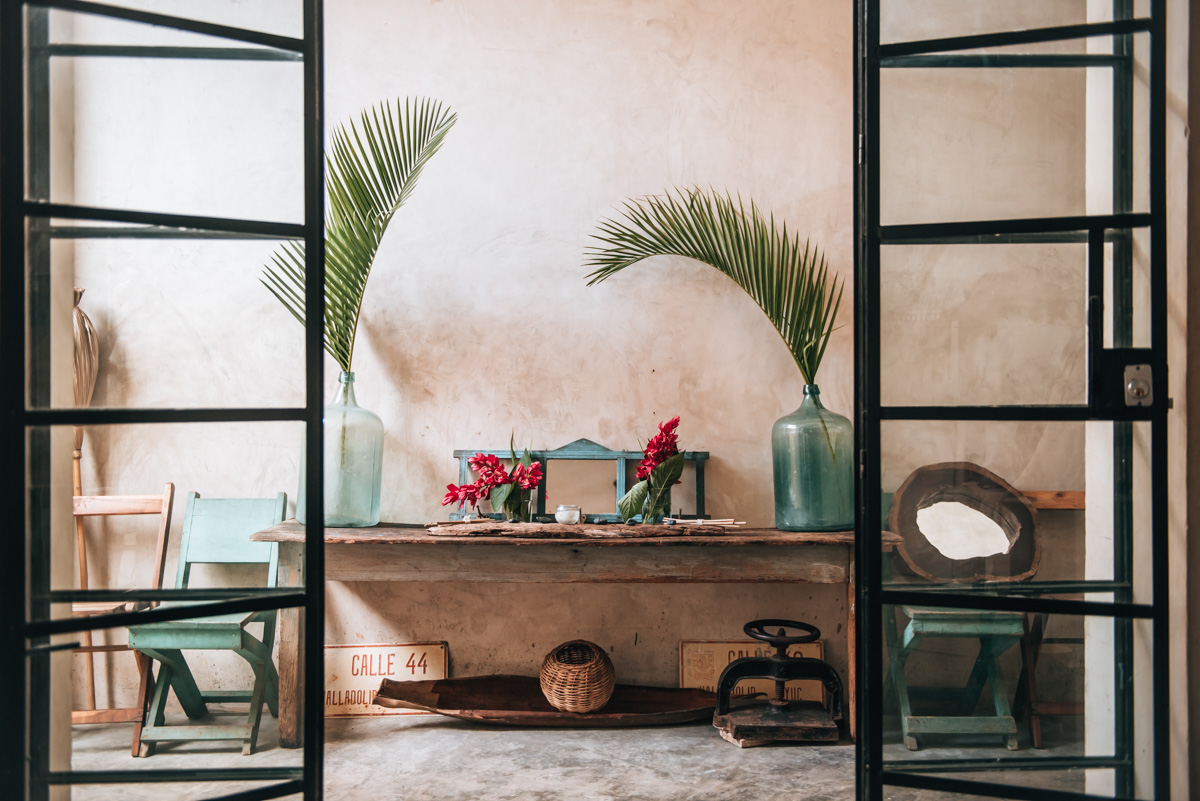 ---
Disclaimer: Affiliate Links
This blog article contains our personal recommendations in the form of so-called affiliate links. If you book or buy something through these links, we will receive a small commission. For you, this does not change the price at all. A million thanks from the both of us!
Have you ever been to Valladolid, Ek Balam or Las Coloradas? How did you like it? If you have any further tips or a recommendations, then we would love to hear about it in the comments below! Thank you so much!