Osaka – isn't it basically like Tokyo? Well, yes in the sense that Osaka is a modern Japanese city, but the mentality of the people and the city vibes are vastly different to that of Tokyo. You could say that Osaka is perhaps a little less organised and tidy than in Tokyo.
In Osaka, there are not nearly as many attractions as in the traditional city of Kyoto or in the capital of Tokyo. However, we believe that a few days in Osaka is simply a must when in Japan. In this blog article, we will share with you our highlights and tips in the crazy city of Osaka.
1. Osaka in Japan: What can you expect?
Beauty is not necessarily Osaka's strength. There is not a place here that can even remotely compare to the traditional Japanese charm you find in Kyoto. If you would rather go temple hopping, then Kyoto is the place for you. Osaka, on the other hand, is the complete opposite. As a modern city, there are concrete blocks everywhere you look.
Osaka is a paradise for street food fans. Food in general, is a big deal in Japan, but Osaka is considered the culinary capital of the country. There are a few Japanese culinary specialties that originated from Osaka, such as the Okonomiyaki and Takoyaki. (We will tell you more about what they are exactly and why you should try it further in this blog article.)
The inhabitants of Osaka have the reputation of being "more rebellious" – if you could say that about the Japanese people at all. And yes, we have to admit that you do notice this when walking through the streets of Osaka. The city of Osaka is pretty crazy and you'll definitely notice this when standing in front of the oversized neon signs at Dōtonbori.
How much time should I plan for Osaka?
We would recommend: Two nights – if you would like to get to know the main attractions of Osaka. Three nights – if you prefer to take it easy. But you don't need as much time in Osaka as you would in Tokyo.
Our tip: Stay three nights in Osaka and plan a day trip to Nara during that time. That's what we ended up doing and can highly recommend it.
2. Sights and Activities in Osaka
Unlike Tokyo or Kyoto, the number of sights and activities in Osaka is not as extensive. You can easily cover all the main highlights and attractions of Osaka in just two days.
Dōtonbori: Ebisu Bridge & Glico Sign
Let's start with the most important tourist district in Osaka: Dōtonbori. The hotspot of this area is Dōtonbori Street, which runs parallel to the Dōtonbori river. Just beware that Dōtonbori Street is crazy busy at (almost) any time of the day. Flashing neon signs, countless restaurants and so many people. If you are looking for peace and quiet, you certainly won't find it here.  
Just a stone's throw away from Dōtonbori Street is the Ebisu Bridge. From this bridge you have a direct view of the most famous illuminated sign in Osaka: the Glico Sign. Those unfamiliar with the Glico company might think that this neon sign is a sports advertisement, but it's actually quite the opposite. The athlete is a symbol of the Glico company, which produces the Japanese candy 'Pocky' – you might know it better as Mikado.
A good time to visit Dōtonbori is either in the late afternoon or early evening, because then you get to see the district in both daylight and at night. The flashing neon signs seem even more impressive in the dark.
Getting here: There are several possibilities. For example, you can hop off at the JR station Namba or the Osaka Namba station (several lines).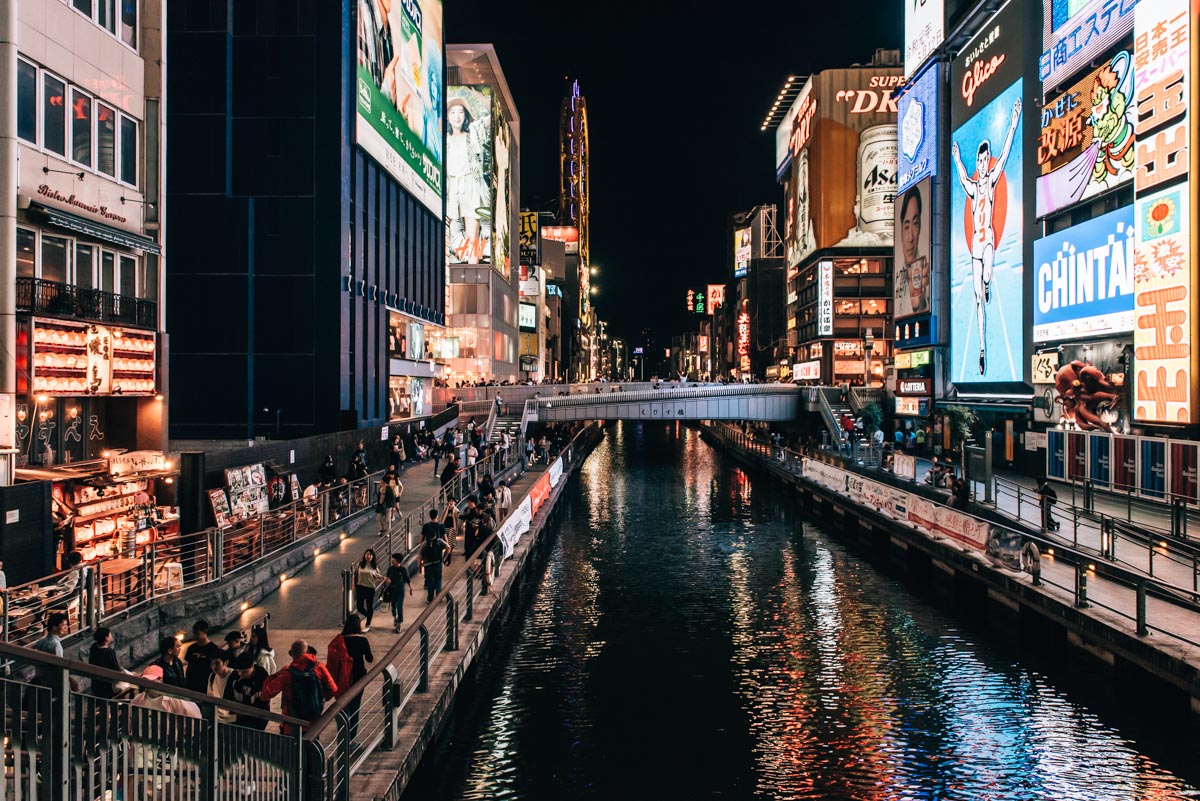 Osaka Castle
The most important historical sight in Osaka is the Osaka Castle. While Osaka is not exactly known for its multitude of cultural gems, this is certainly an exception. With its beautiful architecture and green tiered roofs, the Osaka Castle certainly catches your eye. 
Good to know: the Osaka Castle actually covers a rather large area. The main building ("Tenshu") that you see on most photos, makes up just a small part of it. There are also other towers, walls, gardens and moats.
The main tower houses a museum and in our opinion, the most exciting thing about the tour is the view from the last floor. From up here, you have a stunning view in all directions. If you want, you can also admire the castle of Osaka from the exterior – which is also possible outside the opening hours of the castle.
There is another great view of the Osaka Castle from the adjacent Castle Park (Nishinomaru Garden). However, it will cost a separate entry fee of 200 Yen.
Information about visiting the Osaka Castle
Getting There: The nearest station is Tanimachi Yonchome Station (via Chuo Line, or Tanimachi Line). From the Osakajokoen Station (via Osaka Loop Line), you are also within walking distance of the castle.
Admission: 600 Yen (main building of Osaka Castle), 200 Yen (Nishinomaru Garden)
Opening hours: Daily from 9 am to 5 pm (with last entry at 4:30 pm, but sometimes later depending on the seasons)


Kuromon Ichiba Market
The most famous market in Osaka is the roof-sheltered Kuromon Ichiba Market. It consists of more or less just one street, with mostly fish and seafood stands. So if you want to see or try some really unusual fish specialties, you're in the right place.
You can also try an Osaka specialty here called Takoyaki. (We will explain what it actually is in the food section of this blog article.) The Kuromon Ichiba Market was indeed more touristic than we thought, but still worth a visit – and not just on rainy days.
Information about visiting the Kuromon Ichiba Market
Getting there: The Nippombashi Station (via the Sakaisuji Line, or Sen-Nichimae Line) and the Kintetsu-Nippombashi Station (via Kintetsu-Nara Line) – are both within walking distances.
Opening hours: daily from 9am to 6pm (the majority of shops are open during this time period)


America-mura & Orange Street
America-mura is one of the hotspot districts of Osaka and the name certainly isn't coincidental. The many small shops will blast loud hip-hop music, which really reminds us of USA. Also, random but interesting: there exists a replica of the Statue of Liberty perched on a roof.
In America-mura you will also find some cafes and bars. Our tip for coffee lovers: we enjoyed very good coffee in Streamer Coffee. This hipster café is perfect for a little break.
From America-mura, it's just a short walk away from the Orange Street. The contrast could hardly be more opposing. In the quiet lane of Orange Street you will find some great boutiques (especially furniture and interiors) and stylish cafes. For example, Biotop is a well-known concept store – it's a café and interior shop all in one.
The Orange Street is more relaxed and easier to get around than we expected. If you aren't feeling like shopping, then you will pass by this street rather quickly.
Getting here: There are several station where you can hop off at. For example, you are just a short 5-10 mins walk from the following stations: JR Namba Station, Osaka Namba Station (via several lines) or Shinsaibashi Station (via Midosuji Line, Nagahori Tsurumi-ryokuchi Line).


3. Tips for the Best View over Osaka
Osaka is a sea of ​​skyscrapers and there are many viewpoints you can visit in Osaka. We will introduce you to two of the most well-known view points, each located in different parts of the city. Meaning that you get two different perspectives of the city, which is exciting.
Umeda Sky Building (Kuchu Teien Observatory)
The observation deck on the Umeda Sky Building is probably the best known in Osaka. We were not surprised because from a height of 170 metres, you really have a fantastic view over Osaka and in all directions.
But it's not just the view – the architecture is equally as spectacular. After the lift ride (only then do you buy your tickets), you come to a glazed escalator to the observation deck.
The interior of the Kuchu Teien Observatory is already quite impressive, but it gets even more exciting as you go one floor higher: There is an outdoor rooftop platform waiting for you. This observation deck's outdoor area is more of a round skywalk with no windows to interfere with photos.
If the weather is on your side, then the best time to visit is during sunset of course! However, it's also the busiest during this time of day. Due to our time constraints, we visited the Umeda Sky Building in the late morning and have no regrets about that.
Information about the viewpoint from the Umeda Sky Building
Getting there: The Umeda Station (via Midosuji Line) and Osaka Station (via JR) are both about a 10 minute walk from the Umeda Sky Building.
Admission: 1,500 Yen
Opening hours: 9:30 am to 10:30 pm (last entry 10 pm)


Tsūtkaku Tower
In the middle of the crazy night district of Shinsekai, you'll find the Tsūtenkaku Tower. The tower itself is not so beautiful, but the view from the top is really impressive.
We were at the Tower just before sunset, but unfortunately, the outdoor platform was no longer accessible during this time (as they close at 7 pm). However, the view from the inside was great despite the glass panes.
The atmosphere within the tower is actually quite bizarre. For example, one of the two indoor levels will turn into a kind of disco at night (with loud music and disco balls). On top of that, you will find a particular Billiken figure (which is reminiscent of a Buddha statue) throughout the tower. You can actually buy this Billiken figure, just like the many other souvenirs. Overall, you will find yourself puzzled on more than one occasion, at what the real concept is (if there is one) behind the Tsūtenkaku Tower. But hey, that's Japan for you!
Information about the view from Tsūtenkaku Tower
Getting There: The following three stations take about 5-10 minutes to walk from: Dobutsuen-Mae Station (via Sakaisuji Line, or Midosuji Line), Shin-Imamiya Station (via JR Trains and others), Ebisucho Station (via Sakaisuji Line, or Hankai line).
Admission: 800 Yen
Opening hours: 9 am to 9 pm (last entry 8:30 pm)


4. Food & Drink: Culinary Specialties in Osaka
Osaka is one of the culinary hotspots of Japan. Many of the country's specialties have originated from this city – therefore, Osaka is also called the "Kitchen of Japan". The two specialties that you must try in Osaka are Okonomiyaki and Takoyaki. We will now tell you what these delicacies are exactly, and where you can try them.
Okonomiyaki
Okonomiyaki is often referred to as a Japanese omelette, but we think it has very little in common. The basic ingredients of this Japanese specialty are eggs, cabbage and flour. Depending on your preference, other vegetables, meat or fish can also be added.
The Okonomiyaki is then grilled on an iron plate. Usually, the cook will do that in front of your eyes – or even better, right at your table. There are special Okonomiyaki restaurants, whose tables are equipped with grill plates. The dish is rounded off with mayonnaise and a special Okonomiyaki sauce, which is similar to a barbecue sauce.
You should definitely taste Okonomiyaki at least once before you leave Osaka! One of the places we can recommend for this, is the restaurant Mizuno in Dôtonbori. Good to know: They also offer a vegetarian option, which is not always the case in other places.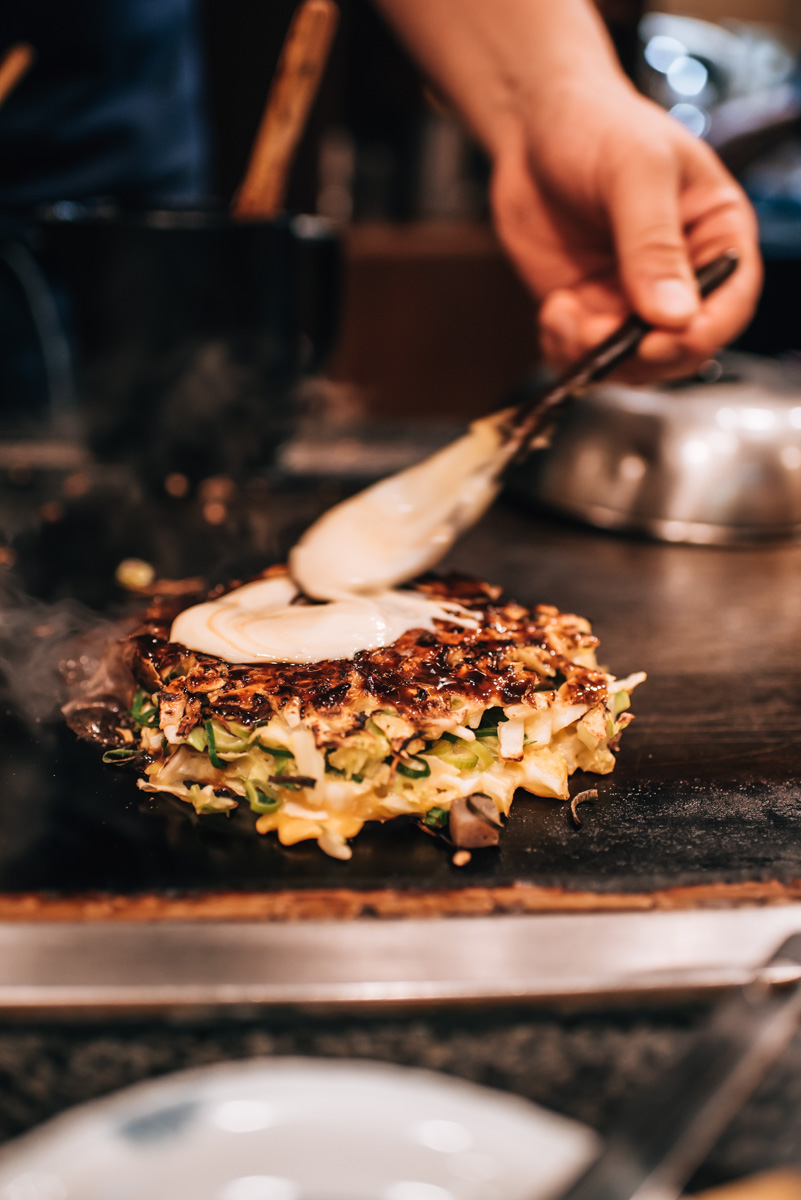 Takoyaki
A typical street food in Osaka are the Takoyaki Balls. You can find them being sold in many markets and stalls. Takoyaki are small balls of dough that are baked in a special round mould and in each ball of dough, they place a small piece of octopus.
Before serving, the balls are sprinkled with a sauce and wafer-thin fish flakes called Katsuobushi. The whole thing actually doesn't taste as fishy as you might expect.
At Dōtonbori Street you will find countless pubs and street stalls selling Takoyaki before your eyes. Alternatively, the Kuromon Ichiba Market is also a good place to try Takoyaki.


5. Hotel Recommendation for Osaka
We spent three nights at Hotel Moxy Osaka, which we can highly recommend if you are looking for a hotel with a more youthful vibe. The rooms are quite small (as almost always in Japan), but very comfortable and the decor has a very modern hipster feel – the bed is very comfortable and we slept really well.
The hotel is just over a 5 minute walk from the underground station. Two stations away, you arrive very quickly in Dōtonbori. The breakfast is not necessarily a highlight, as is the case in Japan – so we would recommend eating out in a café instead. Breakfasts in Japan tend to cater mostly to the Asian palate and western dishes are very limited.
A small tip: Make sure when booking that you reserve a room with windows (available at Booking.com). There are some rooms in the Moxy Osaka without windows, but we need daylight for sure! If you get the right room, then we can definitely recommended this hotel.
You can view/book the hotel here: Moxy Osaka


---
Transparency: Invitation & Affiliate Links
This trip to Japan was a collaborative invitation by All Nippon Airways (ANA) – thank you so much for this amazing opportunity! For full disclosure of this collaboration: ANA covered the financial costs for our return flights, plus the first five days worth of activities and accommodation (in Tokyo, Hakone, Osaka). However, we had the freedom of designing our own program and schedule. Since we were also travelling on our own the whole time, we decided to extend our stay in Japan at our own expense – after the collaboration period.  
This blog article contains our personal recommendations in the form of so-called affiliate links. If you book or buy something through these links, then we will receive a small commission. For you, this does not change the price at all. A million thanks from the both of us!
Have you been to Osaka before? What are some of the things you absolutely must do here? Are there any other places or highlights you would recommend? If you have any tips for Osaka – we look forward to reading your experiences and suggestions below!