Japan. Shinto shrines and temples, skyscrapers and Shinkansen high-speed trains, sushi and ramen. Also known as the land of the rising sun, Japan is hard to describe in words. It's different, yet mysterious, sometimes strange or even disturbing, often surprising and always fascinating.
In this blog article, we will share with you our itinerary through Japan. This route is perfect for those who are travelling to Japan for the first time and want to get a glimpse of the best highlights in the country. We use the word "glimpse", because Japan is so diverse that not even a lifetime would be enough to see and know everything there is to offer.
Our itinerary for Japan took us a good two weeks. Give or take a few days, it would also take you roughly 14 days to do this route. Our flight to Japan was thanks to a collaborative invitation by All Nippon Airways (ANA). You'll find our detailed review further down in this article.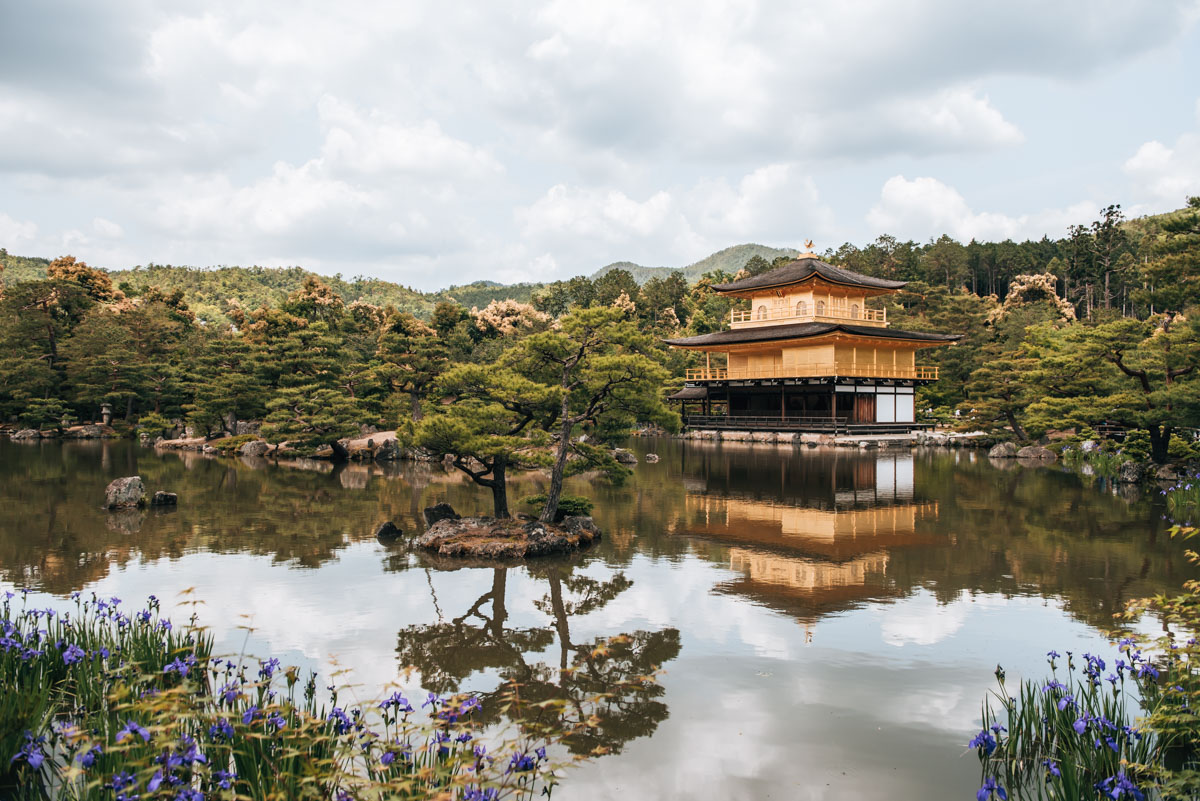 1. Top Destinations for Two Weeks in Japan: Our Itinerary
Our travel route will take you right through Japan's largest and most significant island – Honshu. On this island, you will find the capital of Tokyo, as well as Mount Fuji. We spent 14 days travelling around Honshu, which is just one of four large main islands in Japan. Harbouring thousands of smaller islands around the country, it just goes to show how incredibly diverse and vast this seemingly small country is.
In order to get around between the cities, we took advantage of Japan's well-developed train network. We will share more information about the Railway and Train passes further down in this blog article.
Tokyo
Let's go to the City of all Cities: Tokyo. This city simply has so much to offer that there's no way you can see everything – in fact, you hardly scratch the surface. But the good news is that there is nothing this city does not have. In Tokyo, you can find everything you can think of – plus the crazy, unimaginable things you never knew existed.
Tokyo city was the perfect first stop for us in terms of adjusting to the new culture and to the time difference after our long flight. Although, what we found most surprising, was how most of the districts in Tokyo were actually much cosier and quieter than we had expected. 
Speaking of districts, the main city attractions or highlights in Tokyo are not your typical touristic landmarks, but rather the collection of the numerous diverse districts within the city. For example: Akihabara – the crazy electronics district; or Harajuku – the main district of Japan's cosplay scene. On top of that, there are also the classic tourist highlights, such as: The Tokyo Skytree – the second tallest building in the world; the Sensō-ji Temple; and of course the Shibuya Crossing – one of the most famous intersections in the world. There are endless things to keep you on your feet in Tokyo.
We decided to split our time in Tokyo with 2 nights at the beginning and another 4 nights at the end of our Japan trip. Definitely an arrangement we would do again.
Our detailed blog article: Tokyo Travel Tips
Our accommodation in Tokyo: OMO5 Tokyo Otsuka
Recommended stay: 5-6 nights in total (we stayed 2 at the beginning and 4 at the end of our trip to Japan)


Hakone (Lake Ashi)
About 100 kilometres west of Tokyo, located on the Lake of Ashi is the town of Hakone. This region is well known for two reasons: firstly, Hakone is one of the most popular places in Japan to bathe in the hot springs (the so-called Onsen); secondly, you get a nice view of Mount Fuji from Hakone when the weather is good.
Unfortunately, it's not always the case that you get good weather and during our visit, Mount Fuji was hidden behind clouds. The opportunity to actually see Mt Fuji is less than you think, so if you are only coming here to get a view of Mt Fuji, then we would rather recommend a trip to Kawaguchi Lake. However, it appears that visibility is supposedly better in winter than in summer.
Fortunately, Hakone has much more to offer than the distant view of Mount Fuji – such as the Onsen Hot Pools, which we mentioned before. Perhaps the most popular photo spot in Hakone is the famous Red Torii down by the lake shore. It belongs to the Hakone Shrine, which is the main Shinto shrine in this region.
Our detailed blog article: Hakone Travel Guide
Our accommodation in Hakone: Yoshimatsu
Recommended stay: 1-2 nights (we stayed 1 night)


Osaka
Modern Osaka is the next stop on our travel route through Japan. Upon first impressions, the third largest city of Japan reminded us of Tokyo with its skyline. But in reality, they couldn't be more different. You'll find that Osaka is less organised, people are more relaxed and you don't run into as many business people wearing suits, as you would do in Tokyo.
One place that you should absolutely visit is the lively district of Dōtonbori. At night, there are so many flashing neon lights and neon signs, that you don't even know where to look. The most important historical attraction in Osaka is the photogenic Osaka Castle.
Our tip: We did a little day trip from Osaka to Nara, which fit perfectly with our travel plans. You will find our tips and highlights for Nara in the next section below!
Our detailed blog article: Osaka Travel Tips
Our accommodation: Moxy Osaka
Recommended stay: 3 nights (same length of stay as us)


Nara
Ever seen photos of those deers in front of a Japanese Temple, that just seem completely at ease being in front of cameras and people? Those photos will most likely have been taken in Nara, where there are more than 1,000 sika deer roaming around freely.
However, the deer are actually not the main nor the most important attraction in Nara. That title goes to the countless temples and shrines scattered around the city. Nara was the capital of Japan in the 8th century and is home to an abundance of cultural gems. The highlight of Nara is the gigantic Tōdai-ji Temple, which is the largest wooden building in the world. Our personal favourite out of all the attractions in Nara is the Shinto Shrine by the name of Kasuga-Taisha.
Nara is perfect for a day trip and can be reached in about an hour from both Osaka or Kyoto. We ourselves decided to visited Nara as a day trip from Osaka and felt like we came way with a good feel for the place. Of course, there's also nothing wrong with spending a night or two in Nara.
Our detailed blog article: Day trip to Nara
Recommended Stay: Day trip from Osaka or Kyoto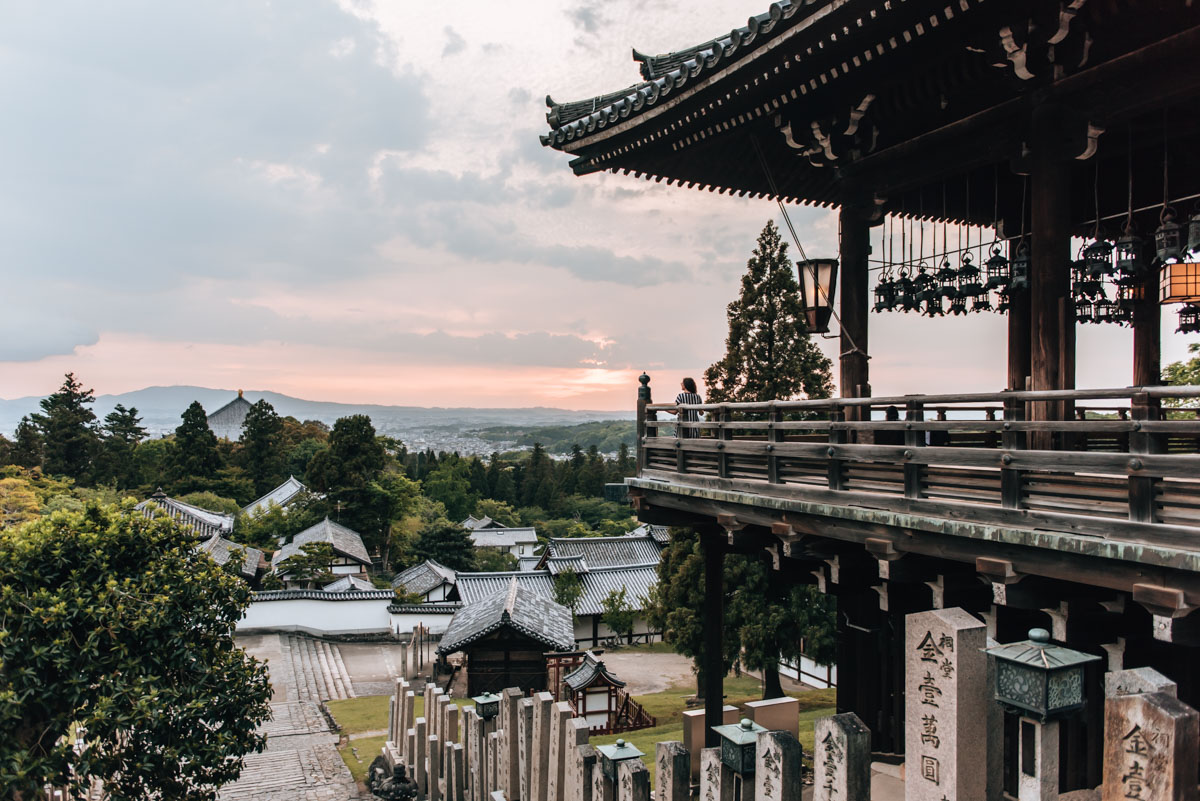 Kyoto
The traditional and charming city of Kyoto is the highlight of Japan for many people. The city is a temple hopping paradise: there are so many temples and shrines, it's hard to get around them all!
Kyoto is unbelievably photogenic and many of the places are exactly how you'd imagine Japan to look like. The district closest to that ideal sense would be Gion, also known as the Geisha Quarter. The name is no coincidence: the chances of seeing a real geisha is certainly up there. (We lucky people can confirm that such an encounter is truly so unique!)
One of the absolute highlights and a place that nobody should miss when it comes to Kyoto is the Fushimi Inari-Taisha: the reward of hundreds, if not thousands, of Red Torii will make your hike up that mountain very worthwhile. We have never seen anything like it before. Kyoto also has the famous bamboo forest, which is very popular on Instagram – all in all, there is so much to discover in Kyoto.
Our detailed blog article: Kyoto Travel Tips
Our accommodation: The General Takatsuji Tominokoji
Recommended stay: 4-5 nights (we stayed 4 nights)


Tokyo
At the end of our trip to Japan we spent another 4 nights in the crazy city of Tokyo, which made it a total of 6 nights in Tokyo. As we mentioned before, we found this break worked really well for us.
If you want to do some day trips from Tokyo, then the last few days of your travels would be the perfect time to do it. Some well known and popular places for day trips are Kamakura, Nikko or Yokohama. Originally, we had also considered doing a day trip somewhere, but decided to put all our energy and time in truly exploring what Tokyo had to offer.
Our detailed blog article: Tokyo Travel Tips
Our accommodation: OMO5 Tokyo Otsuka
Recommended stay: 5-6 nights in total (we stayed 2 at the beginning and 4 at the end of our trip to Japan)


2. Map Overview: Our 14 Days Itinerary in Japan
To give you a better geographical sense of ​​all our destinations in Japan, we have pinned the exact locations of our stops on the map below. If you're wondering now how long the distances actually are, you'd be surprised to find that it's much shorter than you think! For example, Kyoto and Tokyo are just 2.5 hours apart by train – that's impressive! 
3. Flying with ANA: Direct to Tokyo, Japan
On the flight from Vienna to Tokyo, we kicked back and let ourselves relax in the Dreamliner (Boeing 787-9) with All Nippon Airways (aka. ANA). Some of you will know how much we love non-stop flights! Especially when you have a long journey ahead of you there is nothing better than getting on a plane in your hometown and arriving directly at your final destination. Therefore, when All Nippon Airway reached out to us, we were thrilled to receive an invitation to test out their new Vienna-Tokyo direct flight.
As of February this year, All Nippon Airways flies the Dreamliner (Boeing 787-9) direct from Vienna to Tokyo daily. One of the biggest advantages of flying with All Nippon Airways is arriving at the Haneda airport. It would be useful to note that there are two airports in Tokyo – Haneda and Narita. Since the Haneda airport is much closer to Tokyo, its location makes it the more favourable option.
By the way, the flight from Vienna to Tokyo takes about 11 hours. That sounds like a lot, but time passes much faster than you think. And for those of you who are coming from Germany, All Nippon Airways also flies to Japan from Frankfurt, Munich and Dusseldorf.




4. Transport in Japan: The Japan Rail Pass
There are several ways to get around Japan and this is something we cover more of in our other article here: Japan Travel Tips. For us, we decided to travel by train, more specifically with the Japan Rail Pass.
What is the Japan Rail Pass?
The Japan Rail Pass is a train ticket that allows unlimited use of Japan National Railway (JR) trains within a set period of time. One great thing about this pass is that you can literally travel across the entire country without having to fuss about further costs or buying last minute train tickets. The Rail Pass is available for 7, 14 or 21 days.
Does the Rail Pass mean I can travel with ANY train?
Unfortunately no, there are a few restrictions as to the 'type' of trains you can take with the Rail Pass. It goes without saying that the world famous Shinkasen high-speed trains, such as the "Nozomi" (which operates between Tokyo and Osaka) and the "Mizuho", are excluded from the Rail Pass. However, other ("normal") Shinkansen trains also run along the same routes as the Nozomi and Mizuho – the slower trains simply make a few more stops, therefore extending the journey a little longer.
You should perhaps also note that this Japan Rail Pass is a special deal offered by Japan Railways (JR) themselves. This means that the pass only entitles you to travel with trains operated by Japan Railways – we say this because there are also quite a few private rails in Japan. However, JR has a huge network and in addition to the Shinkansen trains (aka. "Bullet Trains") you can also use the Express and Local Trains run by JR.
Can I also use the City Subways with this Rail Pass?
No. The city subways (or metro) are excluded, since they are not operated by Japan Railways. However, there does exist a few JR lines within the city of Tokyo, as well as in Kyoto and Osaka, which you can use. In Tokyo, there is something called the Yamanote Line, which does a loop around the city and passes by some important tourist highlights.
The whole thing sounds a little complicated at first, but don't worry –  once you get there, you'll find your way around rather quickly.
How much does the Japan Rail Pass cost?
As of April 2020, the prices for a standard Japan Rail Pass are:
7 days:

29,650

Yen (about 251 Euros)
14 days:

47,250

Yen (about 400 Euros)
21 days:

60,450

Yen (about 512 Euros)
Important to know: The actual price in your home currency depends on the current exchange rate. So the prices quoted in Euros are only estimates.
The listed prices are valid only if you apply for the Rail Pass in your home country. If you buy the passport in Japan, then an extra 10% will be added on. We will tell you a more about this below.
Where can I buy the Japan Rail Pass?
You have two options, either: 
In your home country through one of the partner websites; or
Directly in Japan upon your arrival.
Did you know: Until recently, you couldn't actually buy a Japan Rail Pass in the country of Japan itself! However, as of June 2019, you now have the option of buying the Rail Pass directly from many of the airports and train stations in Japan. We ourselves took advantage of this opportunity and bought our Rail Pass when we arrived at Haneda Airport in Tokyo.
The disadvantage of buying the Japan Rail Pass in Japan, is that it will cost you 10% more. Therefore, we would strongly recommend you order the Rail Pass in your home country if possible. What happens, is that they will send you a voucher/slip, which you will then hold on to and exchange for the real Pass when you arrive in Japan.
You can order your Rail Pass (or voucher) here: www.jrailpass.com
Is it worth getting the Japan Rail Pass?
The Japan Rail Pass is definitely worth it if you're wanting to travel and see a lot of the country in a relatively short time (max 3 weeks).
Our tip: You can work out for yourself, whether or not the Rail Pass is worthwhile getting for your trip. Hyperdia is a great website you can use to search for train connections and their prices.
However, you should also take into consideration the additional benefits such as: getting around for free in cities that have JR connections. You can also take advantage of the rather expensive Narita Express, which runs between Narita Airport and Tokyo, if you have the Japan Rail Pass.
Was the Japan Rail Pass worth it for us? Yes and no. If we had bought it in advance, then yes. But since we bought the pass in Japan, the extra 10% we paid actually worked out to be a little more expensive than it would have been to travel without the Japan Rail Pass (and just bought each individual ticket). But we do have to say, that it's really nice not having to think about the price and the stress of buying individual tickets every time you want to go somewhere. It certainly makes the travelling experience smoother and more pleasant. 
How do I use the Japan Rail Pass?
Super straightforward! At the platform entrance by the train tracks, there are usually a number of electronic barriers and switches, where you will find a staff/controller. Just go to them, show your pass and you can go on through. Same procedure when you arrive at your destination.
Seat reservations with the Japan Rail Pass is free, so we recommend you make the most of this benefit because having seat reservations just makes the journey that little more pleasant, especially as you will know which section you're on and can rest assured that you actually have a seat.
Seating reservation is very easy: Just go to a ticket counter and tell them your destination. They will search up the train connection and you will receive your reservation in the form of a ticket. We always did our seat reservations pretty late – about half an hour before departure and it worked pretty well for us.


---
Transparency: Invitation & Affiliate Links
This trip to Japan was a collaborative invitation by All Nippon Airways (ANA) – thank you so much for this amazing opportunity! For full disclosure of this collaboration: ANA covered the financial costs for our return flights, plus the first five days worth of activities and accommodation (in Tokyo, Hakone, Osaka). However, we had the freedom to design our own program and schedule. Since we were also travelling on our own the whole time, we decided to extend our stay in Japan at our own expense – after the collaboration period.  
This blog article contains our personal recommendations in the form of so-called affiliate links. If you book or buy something through these links, we will receive a small commission. For you, this does not change the price at all. A million thanks from the both of us!
Have you been to Japan before? Which places did you visit and what were some of your highlights? We look forward to reading about your experiences in the comments below!