There are cities, there are big cities… and then there is Tokyo. Brace yourselves because a trip to Tokyo will overwhelm you, to say the least. In fact, this feeling of being overwhelmed doesn't ever really stop. There is so much diversity and endless places to discover. Being the most populated city in the world, you can imagine it to be a little crazy!
Rest assured though, it does get better with every day you spend in Tokyo and you will come to understand this cosmopolitan city and how to navigate yourself around much better. Before our trip, we were just as overwhelmed and had absolutely no idea what to expect.
To help you understand this crazy city a little better, we have split the main sights of this Tokyo travel guide into two parts: the first part in Section 2 introduces you to (what we consider) the top attractions in the city. The second part of this travel guide, presented in Section 3, will cover extra places worth visiting and our insider tips – we promise, there are so many goodies here! Let's dive into the crazy world of Tokyo city.
1. Tokyo Info: What to know & What to expect
38 million inhabitants live in the metropolitan area of ​​Tokyo. This number is just as surreal as the city itself. However, we'll tell you something that most people (who have never been to Tokyo) find hard to believe: Apart from a few particular districts, Tokyo is actually surprisingly quiet and it's so unexpected. What's more, is how crazy organised everything here is and life in general. Personally, we would consider a city like Bangkok to be more exhausting than Tokyo.
Another absolutely unexpected but pleasant surprise, was how much there is to see, do and explore in Tokyo. On first impressions, you might get the feeling that there are only a few tourist highlights, but once you start doing your research, the list never stops growing.
Hence, our best advice would be this: you cannot visit Tokyo with the intention of seeing everything. Even if you had an entire lifetime, it would not be enough to explore every corner of Tokyo.
Tokyo: The City Districts are Attractions in themselves
One of the main points we'd like to emphasise is: Yes, Tokyo has your classic tourist attractions. However, you'll find that most of them are not single buildings or temples, but rather whole districts – and that is exactly what makes sightseeing (and pre-trip research) so confusing.
Tokyo is like a giant puzzle. There is no one place that holds the answer to understanding this city. It can only be explored little by little, and with every district you discover, you can piece together the dimensions of this gigantic city.
How long should you stay in Tokyo?
We had a look around for recommendations before our trip and rarely have we received such unified answers: the baseline was usually "one week", we were told that this should be the minimum amount of time to stay in Tokyo. We definitely agree with that but let's break it down like this:
Our recommendation on length of stay:
3 nights: if you dislike big cities and really just want to get a quick look and feel for Tokyo.
6-7 nights: if you want to see the main attractions and have some extra time to explore the less touristic attractions.
10 nights or more: if you also want to do some day trips outside of the city and/or prefer to explore slowly and thoroughly.
We ourselves spent 6 nights in Tokyo, but we had almost a whole extra day in the city due to our flight times. (Reason: We arrived early in the morning and spent the whole day exploring; while our return flight did not depart until well past midnight.)
Our time in Tokyo was split in two. We stayed 2 nights at the beginning and 4 nights at the end of our Japan trip – which we can highly recommend in hindsight. We found it refreshing to have a break in between.
Travel Guide for Tokyo
Prior to our Japan trip, we were faced with the dilemma of either buying a 'Comprehensive all in one Travel Guide to Japan' or a more 'Detailed Guide to each Individual Destination'. We ended up deciding on the latter because the Comprehensive Guides covered so many places in Japan and we were only going to be visiting a tiny fraction of that. Not to mention the huge weight, which we did not fancy carrying around with us. Also it made more sense to have a guide with more depth and detail, especially for a city like Tokyo. Our conclusion: We would recommend getting the detailed individual guides over the comprehensive travel guides.
We travelled with Lonely Planet's Travel Guide to Tokyo and it's one we highly recommend. In our opinion, the travel guide is exactly the right amount of length and detail. It is light enough to travel with on a daily basis but it's also rather extensive.
Some day trips (to Fuji, Hakone, Nikko and Kamakura) are also mentioned in the guide, which is currently only available in English.
2. Tokyo Travel Guide: TOP 6 Attractions in Tokyo
Where to start? In this section of our travel guide, we have summarised our highlights in Tokyo for those first timers. If you are travelling to Tokyo for Cherry Blossom then you should definitely add a park or cherry blossom hotspot to this list too.
Shibuya Crossing
The most famous intersection in Japan is located in the Shibuya district, hence the name the Shibuya Crossing. What's so special about this intersection is the stampede of human ants crossing the streets when all the pedestrian lights simultaneously switch to green.
The busiest period for the Shibuya Crossing is said to be between 5 pm and 7 pm. This is also when we took our photos. To be completely honest, we actually imagined the intersection to be a little bigger and more impressive, but of course it is still a unique attraction in itself.
We definitely recommend not only to cross the intersection yourselves, but also to watch the commotion from above. Many people recommend the often overcrowded Starbucks, but you can get a much better view from the observation deck of the shopping centre Magnet by Shibuya 109.
You can find more information about the lookout point in this travel guide: Tokyo: Best Viewpoints
Information about visiting Shibuya Crossing
Getting There: The nearest station is the Shibuya Station (adjoining several subways and JR trains). From the train station you can already see the famous intersection.
Admission Observatory Magnet by Shibuya 109: 600 Yen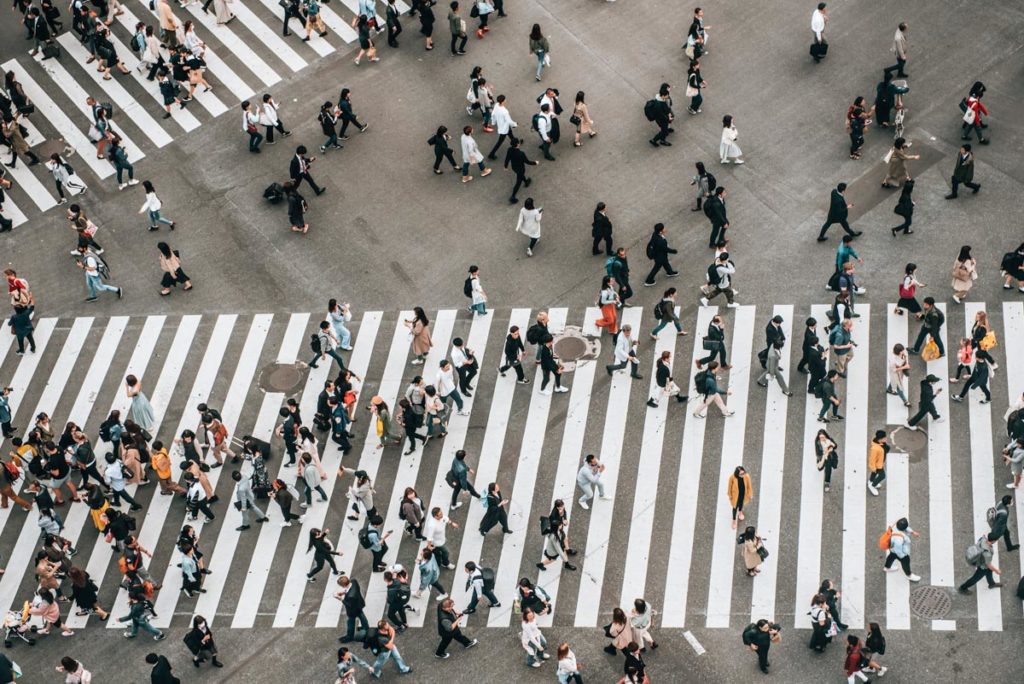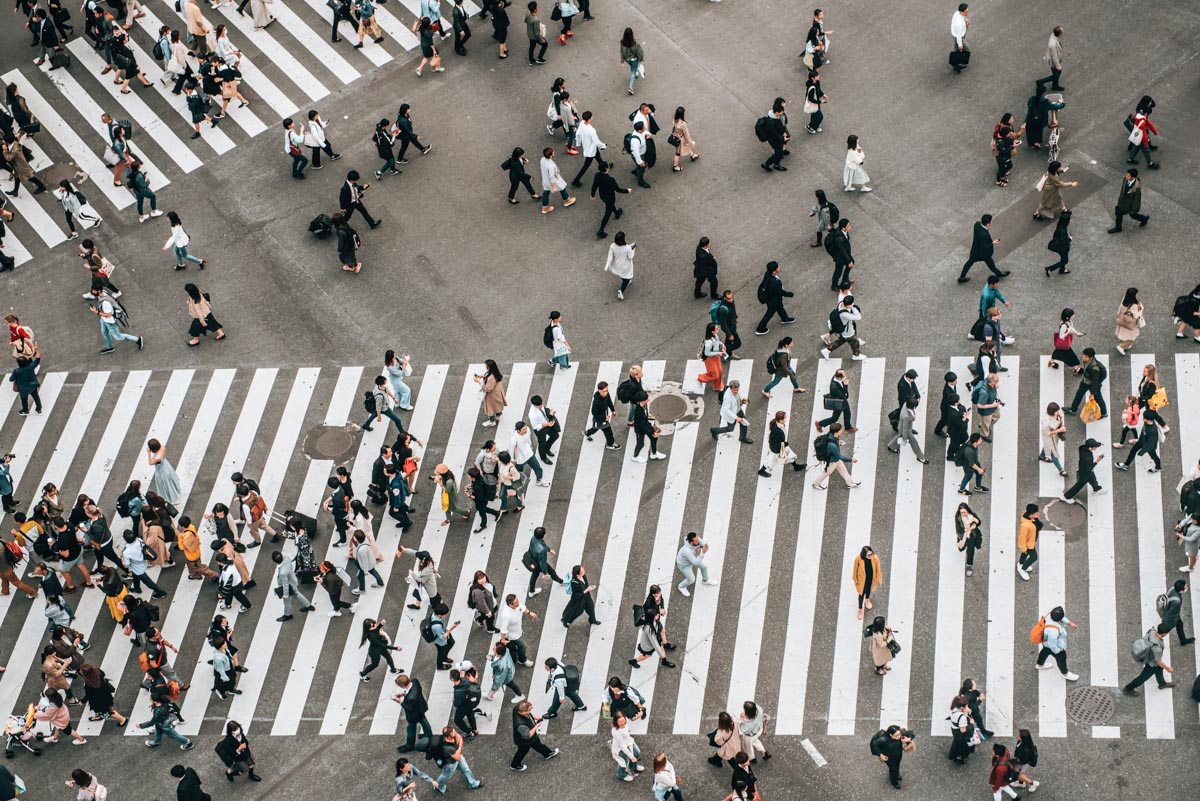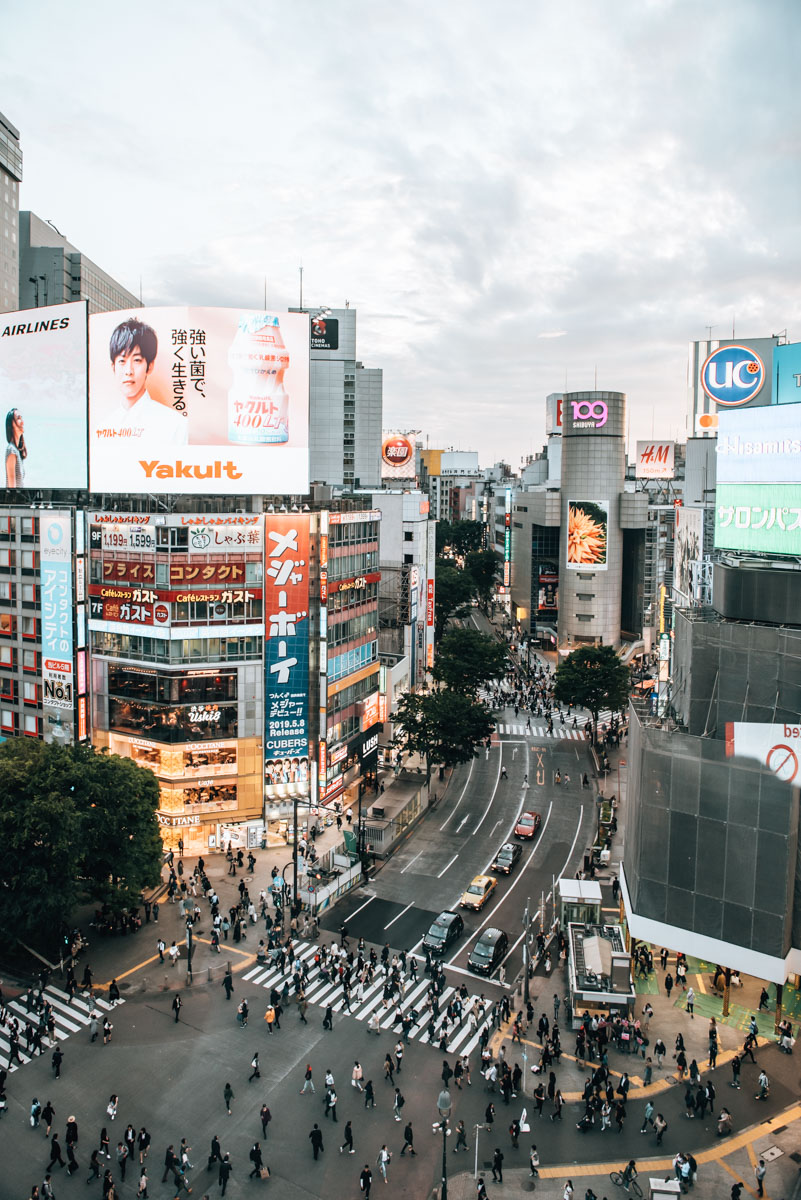 Senso-ji Temple
The most famous Buddhist temple in the whole of Tokyo is the Senso-ji. It is located in the district of Asakusa, which is probably the most touristic and at the same time also the most traditional district in the otherwise modern Tokyo.
The Sensō-ji consists of several temple halls and buildings with the Main Hall undoubtedly being the most famous and visited attraction. The first photo you see below was taken from the Main Hall overlooking Hozomon Gate. Also worth seeing is the five-story Pagoda.
As you can probably see from our photos, the Sensō-ji temple is extremely busy during the day (to the point where you could say it's overcrowded) – so you should definitely not expect a quiet or calm place. However, our tip would be to visit in the evening (when it's dark). The downside is that the Main Hall would be closed, but because of that, the ambience becomes a lot more relaxed than during the day.
We will share more about what you can experience and see in the district of Asakusa – apart from the Sensō-ji Temple – later in this travel guide.
Information about visiting the Sensō-ji temple
Getting there: The nearest station is Asakusa (accessible via the Ginza, Asakusa and Tobu Line). It is only a 5-minute walk from there.
Admission: Free
Opening hours: 24/7 access to the grounds, main hall only between 6 am (or 6:30 am between March and October) and 5 pm.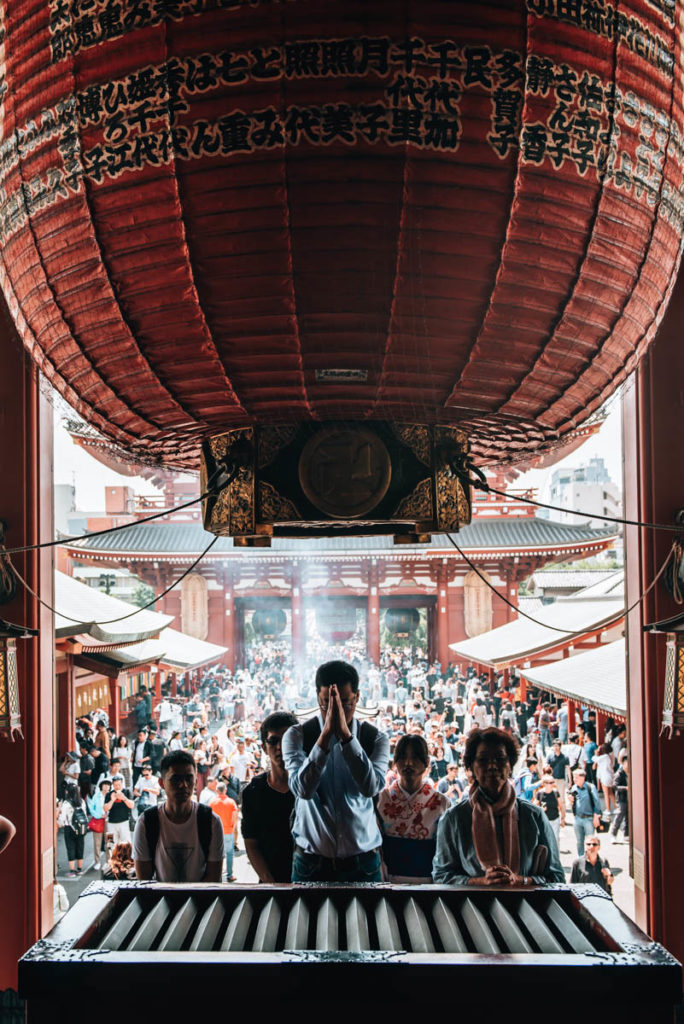 Boulevard Takeshita-dōri in the Harajuku District
The biggest contrast to the historic district of Asakusa is the Harajuku district. If we had to describe Harajuku in one word, it would be "colourful". This young district is eccentric, colourful and different.
In the centre of Harajuku, you will find the Takeshita-dōri boulevard. If you are someone who finds 'alternative' fashion intriguing, or fancy the idea of seeing colourful crepes and rainbow cotton candy on every street corner – then you know you're in the right place. This area is especially full on Sundays due to the cosplay scene meet ups.
What on earth is cosplay, you're probably wondering? Honestly, we only recently just found out ourselves, so we will explain briefly: Cosplay (derived from the English words "costume" and "play") is a Japanese costume trend. They mostly represent fictional characters with full on costumes and action gear. Sounds weird? Welcome to the strange world of Japanese cultural differences… and we're only just getting started!
Harajuku also merges into the shopping and the Omotesando district (which is one of our favourite parts of Tokyo by the way). We will share some more cool places to see and visit around the Harajuku and Omotesandō area in the next section of this travel guide.
Getting there: At the western end of the Takeshita-dōri is the JR station Harajuku (accessible via the Yamanote Line). Alternatively, you can take the subway to the Meiji-jingumae Station (Chiyoda and Fukutoshin Line).
Akihabara – the Electronics District
The electronics and gaming district of Akihabara is just as crazy as Harajuku. You could also refer to Akihabara as the "nerd district" – in Japan they say Otaku. An Otaku is a fan, so someone who gets particularly excited or is really into something (usually anime or manga).
Therefore, Akihabara does not only have countless gaming arcades, but also stores that sell comics, figurines and other merchandise. Akihabara is the absolute paradise for anime and manga fans. The Radio Kaikan is a popular shop, where you can immerse yourself with over 10 floors in this Japanese fan culture.
Another bizarre thing Akihabara is well-known for are Maid cafes. Yes, that's right: Maid. In these cafes, the waitresses (mostly very young women) wear a maid outfit. The Maids will pay very special attention to visitors, but the rules are very clear: Physical contact is forbidden.
If you're like us and have never been exposed to Japanese Fan Culture, then be prepared for many internal question marks as you walk the streets of Akihabara. Seriously, we were just as fascinated as we were surprised.
Our personal tip: Dare to enter an arcade. We ended up going to a games room and played Mario Kart at one of the machines. Releasing your inner child-spirit is a part of Tokyo.
Getting there: Akihabara Station (via several JR trains and Subways)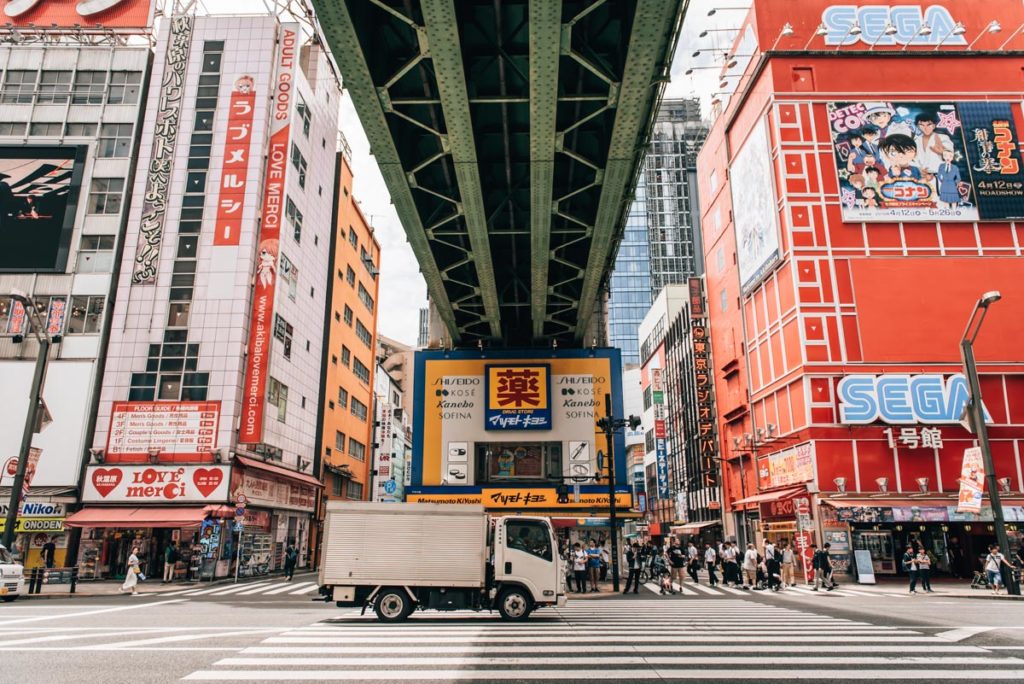 Shinjuku – the Amusement District
Shinjuku at night comes closest to our imagination of Tokyo before our Japan trip. Everywhere you go, there are bright colourful lights, flashing neon signs, black taxis and lots of people.
From the Shinjuku Station (which is so huge that it's easy to get lost), you will come across the Yasukuni-dōri (with neon lights as far as the eye can see) into the red-light district of Kabukichō. Here you will also find the notorious Robot Restaurant.
Just a stone's throw away from there you will reach Golden Gai – where the word "Golden" is totally out of place in our opinion. Golden Gai is a bar or pub district. There is nowhere else in Tokyo where you can find so many bars and eateries in one place as you do in this block. Low houses, smoke from the restaurants and dark, sometimes very run-down lanes – the charm of Golden Gai is rather special, we must admit.
Our favourite alley in Shinjuku is on the other side of the train tracks and it's called Omoide Yokocho. For some crazy reason, it is also known as the "Piss Alley". The Omoide Yokocho reminds us a bit of Golden Gai, but gives off a nicer impression and we find it's one of the more photogenic places in Tokyo during the day. In case you are wondering how there are cherry blossoms when it's not in season: they are unfortunately made of plastic.
Getting There: Station Shinjuku (via several JR trains and subways)
Best Views in Tokyo: Skytree, Tokyo Tower & more
One thing we cannot leave out when talking about attractions in Tokyo and that is: Tokyo from above. You just have to see it for yourself.
There are some fantastic lookout points in Tokyo and they are all very different in a way. The most famous is the gigantic Skytree – the tallest building in Japan and currently the second tallest building in the world.
Our personal favourite is the observation deck on the roof of Mori Tower in Roppongi Hills. The main reason being that you are not separated by a window up on the Sky Deck, so you can enjoy the bird's eye view that much more. The view at sunset is definitely the most incredible.
Want to know more? You can find our more detailed travel guide here: The Most Beautiful View Points in Tokyo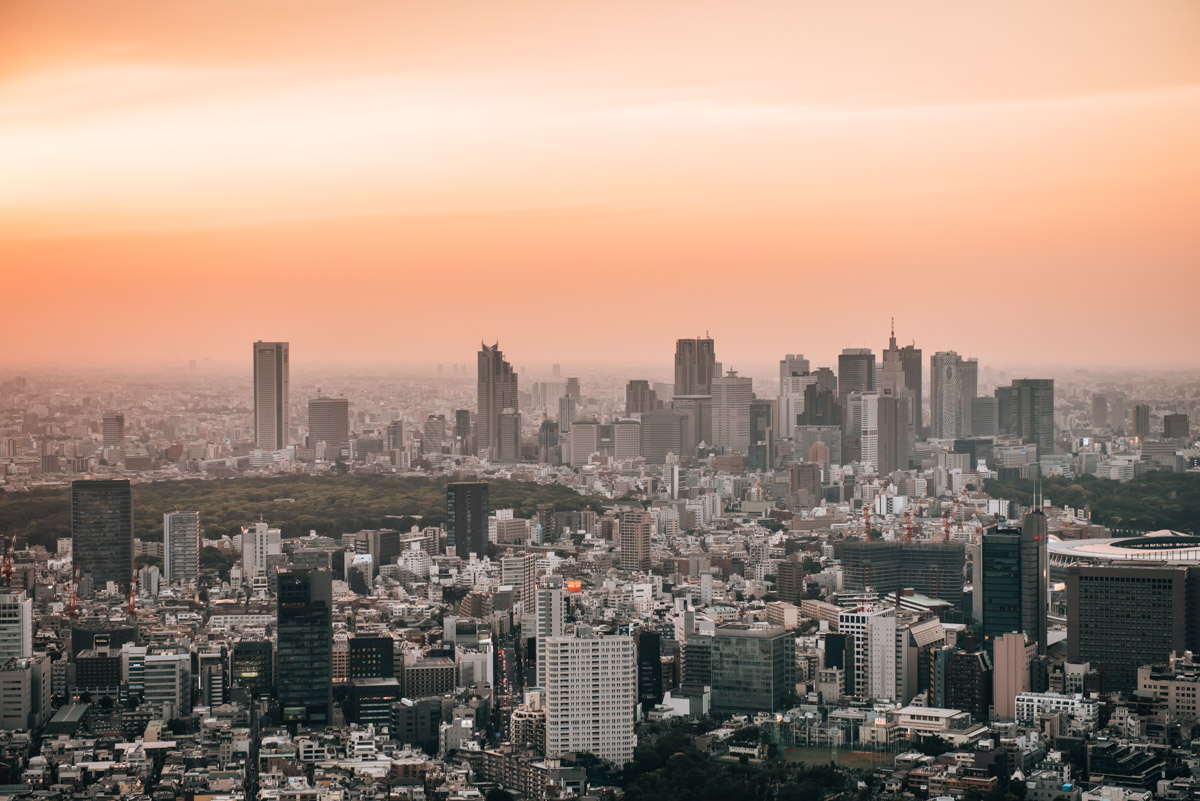 3. Extra Highlights: Insider' Travel Guide and Tips for Tokyo
That did not even scratch the surface of what Tokyo has to offer. You may have noticed that there is a huge variety in Tokyo and the focus in the previous section was more on the different districts and the big city vibes than the classical sights.
In this section of our travel guide, we share with you which districts and places we visited in Tokyo, and which ones we particularly liked.
Daikanyama & Nakameguro: Trendy District with Concept Stores & Boutiques
If you're looking for laid-back, trendy districts, then Daikanyama and the neighbouring district of Nakameguro is a good place to be. You will find lovely concept stores, boutiques and cafés.
Fashion and style are quite prominent in these districts, even though the Japanese people are generally always very well dressed. Daikanyama & Nakameguro are within walking distance of each other and are also relatively similar, which is why we grouped them together for the summary in this travel guide.
Daikanyama
Let's start in Daikanyama: One of the most famous shops is the huge bookstore called Tsutaya Books Daikanyama, which is worth a visit for its unusual, modern architecture. It consists of a total of three structures. Directly adjacent you will find a building complex with other shops – for example, dog groomers because this district has a particularly high number of (small) four-legged-creatures.
In Daikanyama, you will also find the Hillside Terrace, which looks like a mini-city made of concrete. Shops and galleries are also housed in this building complex.
If you are not planning to visit Kyoto but would still like to immerse yourself in the traditional Japan, then you can stop by the Kyu Asakura House. This beautiful wooden house and garden gives a nice insight into Japanese tradition and history.
A little tip for your coffee break: In the concept store Saturdays NYC, you will find fantastic coffee, to which you can enjoy on the terrace at the back of the store.
Getting there: Daikan-yama Station (on the Tokyu Toyoko Line) or the busier Ebisu Station (via several JR trains and Hibiya Line)
Nakameguro
Just a five minute walk away and you find yourself in the next district of Nakameguro, which is located by a river. On either side of the rives, you will find one store next to the other: cafés, boutiques, interior stores – some shops are prettier than others. Incidentally, Nakameguro is a very popular place during cherry blossom season as the trees form a very photogenic tunnel over the river.
In Nakameguro you will also find another building that does not quite fit in with the rest: the world's largest and perfectly styled Starbucks Reserve Rostery, which stretches over four levels. What is actually "just" a coffee house, is more like a walk-through experience.
Getting there: Station Naka-Meguro (via Tokyu Toyoko and Hibiya Line)
Harajuku & Omotesando: Shopping & Cool Spots
We have already told you about the colourful and crazy boulevard lane of the Takeshita-dōri in our Top 6 Attractions List. Now, we are going to share with you all the other wonderful things you can discover in the Harajuku district and the neighbouring Omotesandō district. Since the two are so close by, we will summarise them both in this section.
Getting there: Station Omotesando (several subways), JR station Harajuku (Yamanote Line) or Station Meiji-jingumae (Chiyoda and Fukutoshin Line)
Our favourite area: The side streets of Omotesando
Omotesandō is quite stylish compared to Harajuku. Our favourite area in Omotesando is located in the side lanes, north of the fancy shopping boulevard Omotesando-dōri (which we will describe more in detail below). If you like strolling for hours, discovering cool shops and hipster cafés, then this is the place for you.
For good coffee, check out the hipster coffee shop called Koffee Mameya. The entrance is easily overlooked, unless there is a line outside. Quite an experience.
Another culinary tip: A really stylish patisserie in the area is PASTEL Omotesandō. Here you can try their specialty, a kind of pudding.
In general, the selection of cafes and shops in this area is huge – for example, Mr. Farmer is also very popular for lunch. The best thing you can do is just wander around. Tip for orientation: the closer you get to the Takeshita-dōri, the crazier or more trashy the shops become.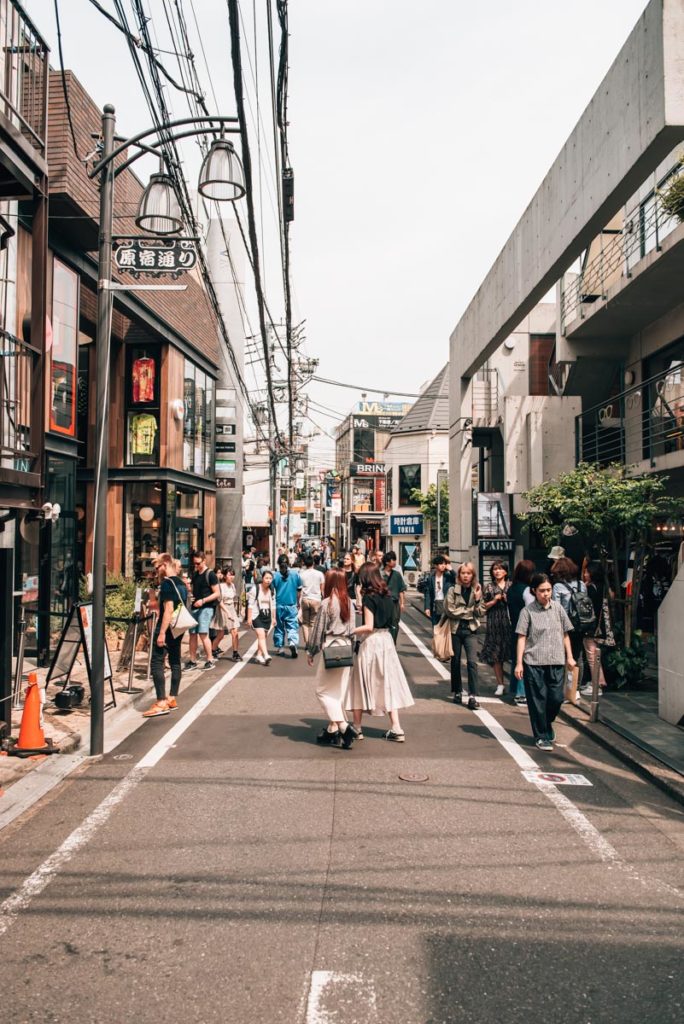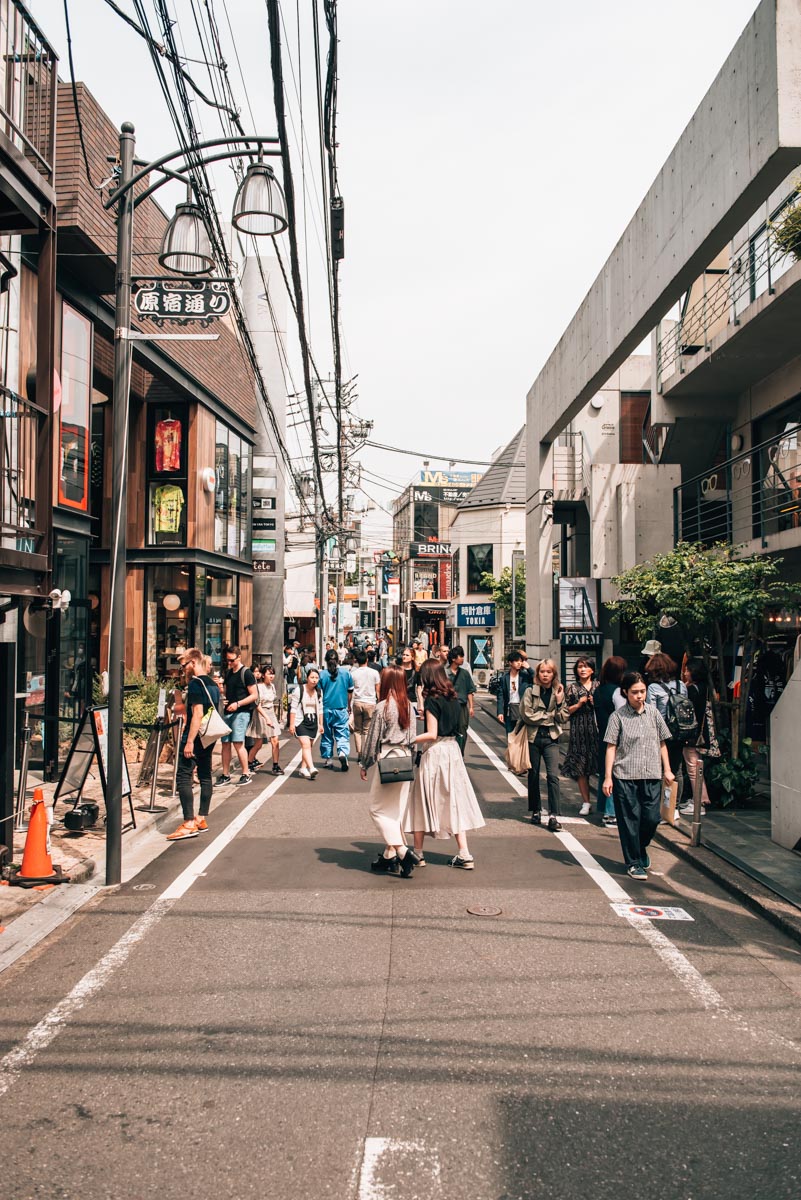 Fancy Shopping Boulevard: Omotesandō Avenue
In the south of this cozy district you will reach the most famous shopping street of Omotesandō, the Omotesandō-dōri, also called Omotesandō Avenue. All the luxury brands like Gucci and Prada can be founded along this wide tree-lined boulevard.
Normally, this is not something we would consider spending much time in but with Louis Vuitton, we made an exception. The main reason was that they were hosting a permanent (free) art exhibition on the top floor called "Espace Louis Vuitton". Although limited to just one room, it was really worth a quick stopover, and not just because of the views.
At the northern end of the Omotesandō-dōri you reach a well-known photo spot, which is the mirrored entrance area of ​​the Tokyo Plaza and it really reminds you of a kaleidoscope.
Cozy Cat Street
South of Omotesandō Avenue you will reach another very relaxed district, in which the centre is known as Cat Street. Again, you will find a lot of shops, including all the major well-known outdoor and sports brands such as Patagonia. The Roastery by Nozy Coffee makes for a nice coffee break.
Tomigaya: Pleasantly calm district with hipster cafes
Although the quiet Tomigaya is part of the Shibuya district, it is the complete opposite of the hustle and bustle felt at the world famous intersection. Tomigaya is a pleasantly laid-back residential area, so if you want to immerse yourself in the authentic local life of Tokyo or would like to visit some cool cafes, then this is the place for you.
One of our favourite spots is the Path Cafe, which we can highly recommend for breakfast. The menu is good and the portions rather small, but our granola (featured in the photo) was really delicious. Also worth a visit is the Fuglen, which is a café during the day and a cocktail bar in the evening.
Getting there: Station Yoyogi-Hachiman (Odakyu Odawara Line)
Shimokitazawa: The Brooklyn of Tokyo
Shimokitazawa is like the Brooklyn of Tokyo and is what Williamsburg is in New York. Located far from the tourist bustle, you can find lots of record shops, second-hand and vintage stores.
Among locals and expats, the Shimokitazawa Cage – an outdoor eatery next to the train tracks – is a popular meeting place in the evenings.
Getting there: Shimo-kitazawa station (Odakyu Odawara or Inokashira Line)
Asakusa: Tokyo's historic district
We have already told you in section 2 about the famous Sensō-ji Temple, located in the Asakusa district. Now, we will share what you can see and do outside the temple.
First, there is the shopping street Nakamise-dōri, which is located just outside the gates of Sensō-ji temple. Here you will find plenty of snacks, but also many souvenirs. Around the corner of the Nakamise-dōri we also have a local tip for you: we had an excellent lunch in the tiny but very lovely restaurant called Misojyu. They even offer vegetarian alternatives here.
After lunch it's time for something sweet and this took us over to Suzuki Asakusa, where you can try the most intense matcha ice cream in the world. You can choose from seven different Matcha intensity levels here.
Getting there: Asakusa (via the Ginza, Asakusa and Tobu Line)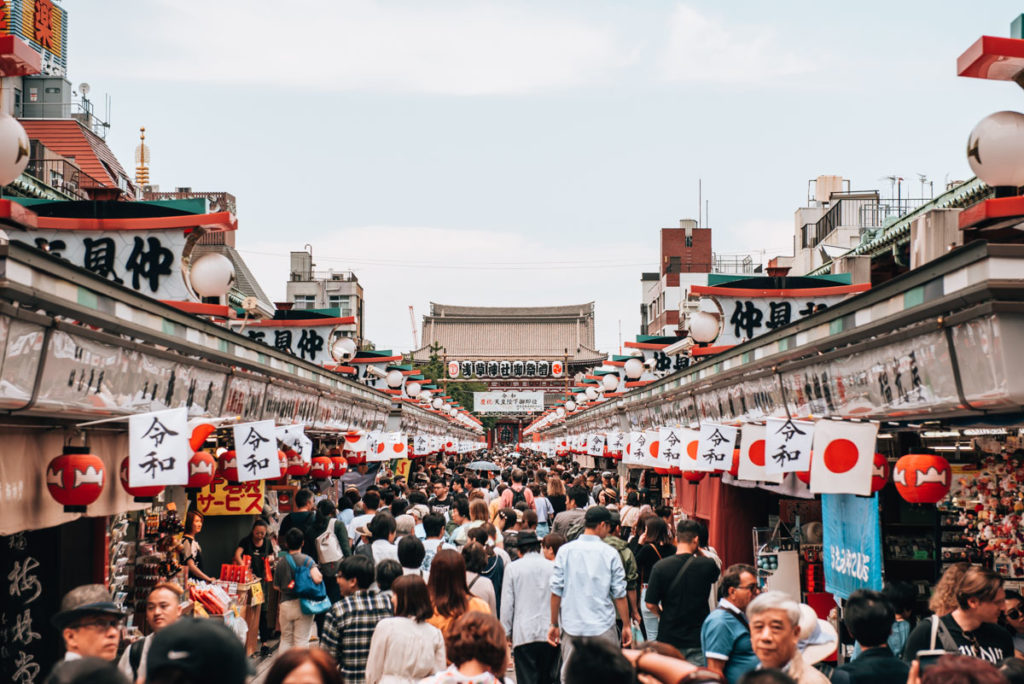 teamLab Borderless: Tokyo's digital art exhibition
There has been quite a hype surrounding the Digital Art Museum, which opened in 2018. The exhibition called "teamLab Borderless" is a three-dimensional experience world that integrates sound, light and sensor technology. Walking through the museum feels a bit like being in a dream – also because you often can not believe how many people are here at the same time, but more about that soon.
The museum is divided into five zones. But there is no fixed tour – so basically, you can enter any room as often as you like. The most famous room is called the "Forest of Resonating Lamps" – it feels like a sea of ​​light from the thousands of individual lights. When you come close to one of them, they will change colour.
However (and now we come to the big but): As impressive and spectacular as the exhibition is (and it really is) – the hype doesn't come without disadvantages. In order to get into the exhibition in the first place, we had to stand outside for an hour (in the pouring rain) – despite having bought our tickets in advance.
Unfortunately, the waiting does not stop once you finally make it into the exhibition. Some rooms are very popular, so you often have to wait 30 minutes or even longer before you can finally see them with your own eyes. There is even a time limit in the Forest of Resonating Lamps: you have 2 minutes before you have to leave the room
Conclusion: Insanely impressive, but unfortunately also incredibly crowded. We would really recommend you come as early as possible.
Important information: The location of the exhibition changes from time to time. It will be on shown at the Azabudai Hills location from February 2024. Until then, you can also check out the "sister" exhibition called "teamLab Planets".
Meiji Shrine in Yoyogi Park: Tokyo's most famous shrine
Let's come to a classic tourist highlight, called the Meiji Shrine or Meiji-Jingu – the most famous Shinto shrine in Tokyo, located in the massive Yoyogi Park.
To get to the shrine, you first pass through some large, wooden torii – that's what the entrance gates of a Shinto shrine are called. A forest path leads you to the actual shrine, but you will also come across a long wall of sake barrels donated by individuals or companies along the way. The shrine itself is unfortunately very crowded during the day – we strongly recommend that you come as early as possible.
Afterwards, it might be nice to have a walk through the Yoyogi Park. (Small hint: You'll have to leave the shrine grounds first – there's no direct access to the shrine itself.) Yoyogi Park is a large green oasis where locals enjoy jogging, sports, and picnicking.
Information about visiting the Meiji shrine:
Getting there: JR Station Harajuku (Yamanote Line)
Admission: Free
Hours: sunrise to sunset
4. Transport Travel Guide in Tokyo
You simply cannot get by this gigantic city without (public) transport. While you can do a lot of walking within each district, you ultimately rely on the subway (or JR trains) to get between the districts.
Subway and JR trains in Tokyo
The subway system in Tokyo has an extremely extensive network, so don't worry if you're confused at first – that's probably the case for most people. It is important to know that in addition to the classic subway, there are also many other lines that travel through Tokyo, including the state-owned rail: Japan Railways (aka. JR).
This means that as a passenger, you will find yourself travelling with a mix of subways and other trains (like the JR). Think of it as being similar to the subways vs. S-Bahn trains in German-speaking cities. But honestly, if you weren't paying attention, you would hardly notice the difference. In reality, it's very easy and straightforward to use the subway and train networks, due to the existence of the Suica Card. (FYI: The Pasmo card is exactly the same, just a different provider.)
The Suica Card is a rechargeable chip card that allows you to use all subways, JR trains and private lines in Tokyo. You simply scan it on the electronic card reader when entering and leaving the train station – and the respective amount for the route will be deducted automatically.
You can find more information about the Suica Card in this travel guide: Japan Travel Tips
If you have the Japan Rail Pass
There is a little special arrangement for those who are travelling with a Japan Rail Pass. This particular pass is your ticket to travel across the country to your heart's desire. (You can find more information and tips about the Japan Rail Pass and travelling by train train in this travel guide here: Japan Itinerary). If you have the pass, then you can also use the JR trains within Tokyo free of charge. For example, the Yamanote Line is a great one, which circulates around the city and goes past the most important tourist attractions.
Basically, you can go everywhere and anywhere for free, as long as it is within the network of the Japan Rail Pass. This means, you only need to use your Suica Card for the classic subway routes.
It is not worthwhile, however, to get the Japan Rail Pass solely for visiting Tokyo. But it is a fantastic option to consider if you intend on travelling to more places around Japan.
Practical Tips for using the Subway in Tokyo
The markings at the bottom of the platforms show you where the trains will stop and thus, where the doors can be found. You'll soon realise that the Japanese have perfected the art of queueing. Pushing in front or skipping the line is taboo.
The individual subways all have names (eg. Asakusa Line) and have their own distinctive colour. So even if you forget the name, you just need to remember the colour.
There are some wagons reserved just for women. You can spot them with the sign: "Women only".
Taxi in Tokyo
Taxis can get you very comfortably from A to B, but they are quite expensive. Therefore, we recommend taxis only for short distances. You can find more information on getting around by taxi in Japan in this travel guide here: Japan Travel Tips.
Transport: Tokyo Airport to Tokyo City
There are two international airports: Narita and Haneda. Narita has the most international flights, but Haneda is closer and more convenient to reach. We cover more in-depth information about how to get to the city from both airports in this travel guide here: Japan Travel Tips.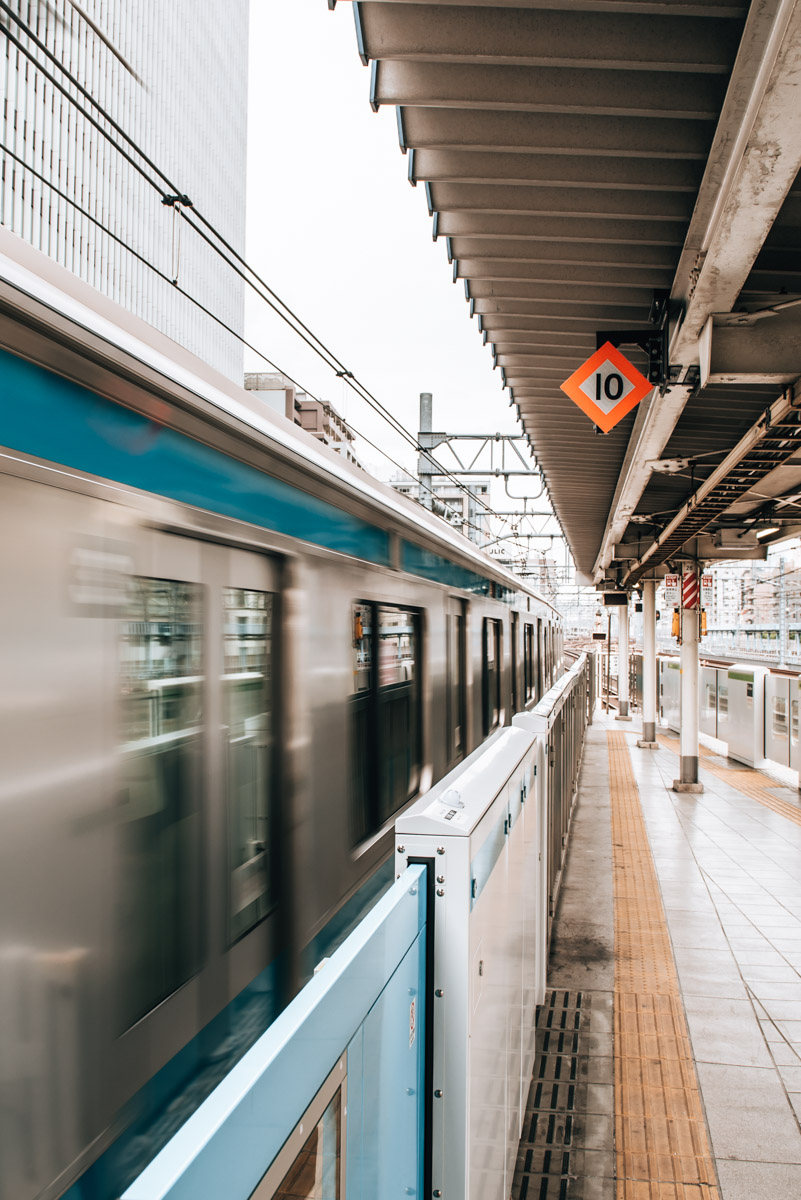 5. Hotel Recommendations in Tokyo
Hotel rooms in Tokyo are said to be tiny and very expensive, but that's because space is very limited in Tokyo. We have two hotel recommendations for you, which we personally stayed in ourselves.
Recommendation 1: OMO5 Tokyo Otsuka
We spent our first nights in Tokyo at the OMO5 Tokyo Otsuka and were very satisfied with our stay. The rooms have a maisonette-like design with very comfortable and cozy mattresses placed on a kind loft bed. Down below, you will find a sofa. Taller people might struggle to stand straight, but all in all, the space has been utilised very well.
We felt very comfortable in this hotel, not just because of the amazing view from our room, but we also slept very well, despite the time-zone differences.
Breakfast didn't win us over, unfortunately. But we have to say that it's quite hard to find (good) Western breakfast in Japan. In most hotels here in Japan, the breakfasts are catered more towards the Asian cuisine.
The hotel location might seem a bit far away from the main attractions, but we thought it was great because you are only a 2 min walk away from a JR station on the Yamanote Line, which connects you to many places around Tokyo very quickly.
Recommendation 2: Hotel 1899 Tokyo
For the last few nights of our Tokyo trip, we decided to stay in another district, which meant a different hotel and this is how we ended up at Hotel 1899 Tokyo. Also recommendable, but if we were to choose between the two, the winner would go to the OMO5 Tokyo Otsuka hotel mentioned above. However, both hotels have their advantages and disadvantages.
Hotel 1899 Tokyo was opened at the end of 2018. The rooms are very small, but like we said, this is the norm and you have to just get used to tight spaces here in Tokyo. Nevertheless, we felt comfortable and slept well. We found the free Tea Ceremony in the lobby fantastic. You can get a perfectly fresh-made matcha tea at any time of the day.
The breakfast had one major drawback: so much plastic! We were really shocked at how much waste is produced here (disposable dishes, plastic cutlery). That is quite unacceptable and hopefully they are looking at more sustainable solutions for the future.
The hotel is located in a very quiet and unexciting area, but the more lively district of ​​Simbashi is just a short 10 min walk away, and there you can find many restaurants and eateries. To get to the nearest subway station, there are several to choose from, which also take roughly 10 mins to get to from the Hotel.
---
Disclaimer: Invitation & Affiliate Links
This trip to Japan was a collaborative invitation by All Nippon Airways (ANA) – thank you so much for this amazing opportunity! For full disclosure of this collaboration: ANA covered the financial costs for our return flights, plus the first five days worth of activities and accommodation (in Tokyo, Hakone, Osaka). However, we had the freedom of designing our own program and schedule. Since we were also travelling on our own the whole time, we decided to extend our stay in Japan at our own expense – after the collaboration period.
This travel guide contains our personal recommendations in the form of so-called affiliate links. If you book or buy something through these links, then we will receive a small commission. For you, this does not change the price at all. A million thanks from the both of us!
Have you been to Tokyo before? In your opinion, what are some of the things or highlights that you absolutely cannot miss? Do you have any extra travel tips or recommendations for Tokyo? We look forward to reading your comments and suggestions below!