Kyoto is like Japan in perfection. No other place on our entire journey through Japan made us feel as immersed in the Japanese culture as Kyoto. You can be sure that a trip to Kyoto will result in days of being amazed by geishas and gardens, temples and shrines, history and tradition.
However, it's also easy to feel overwhelmed by Kyoto as there are so many things to see that you have no idea where to start. To help you plan your trip, we'll share our highlights and best tips for Kyoto in this travel guide.
1. Kyoto: Overview of this Traditional City
For many people, Kyoto tends to be the absolute highlight of their trip to Japan. This doesn't come as a surprise once you see the city for yourself: Kyoto is full of tradition and culture, the complete opposite of modern Tokyo or Osaka. There are so many temples and shrines in Kyoto that you can't possibly see them all!
Due to Kyoto's historic richness, you would naturally expect it to be popular with tourists and you can certainly expect a dense crowd at the main attractions, no matter the time of day. Please do not be fooled by those photos without people. These are an exception as they were probably taken either from a favourable perspective or very, very early in the morning… or the humans were simply photoshopped out.
We ourselves belong to the group of tourists, so we do not mean that in a negative way. But it is important to be mentally prepared for crowds of people, so you don't end up disappointed or frustrated. Anyway, Kyoto has such a beautiful atmosphere, you simply have to experience it yourself.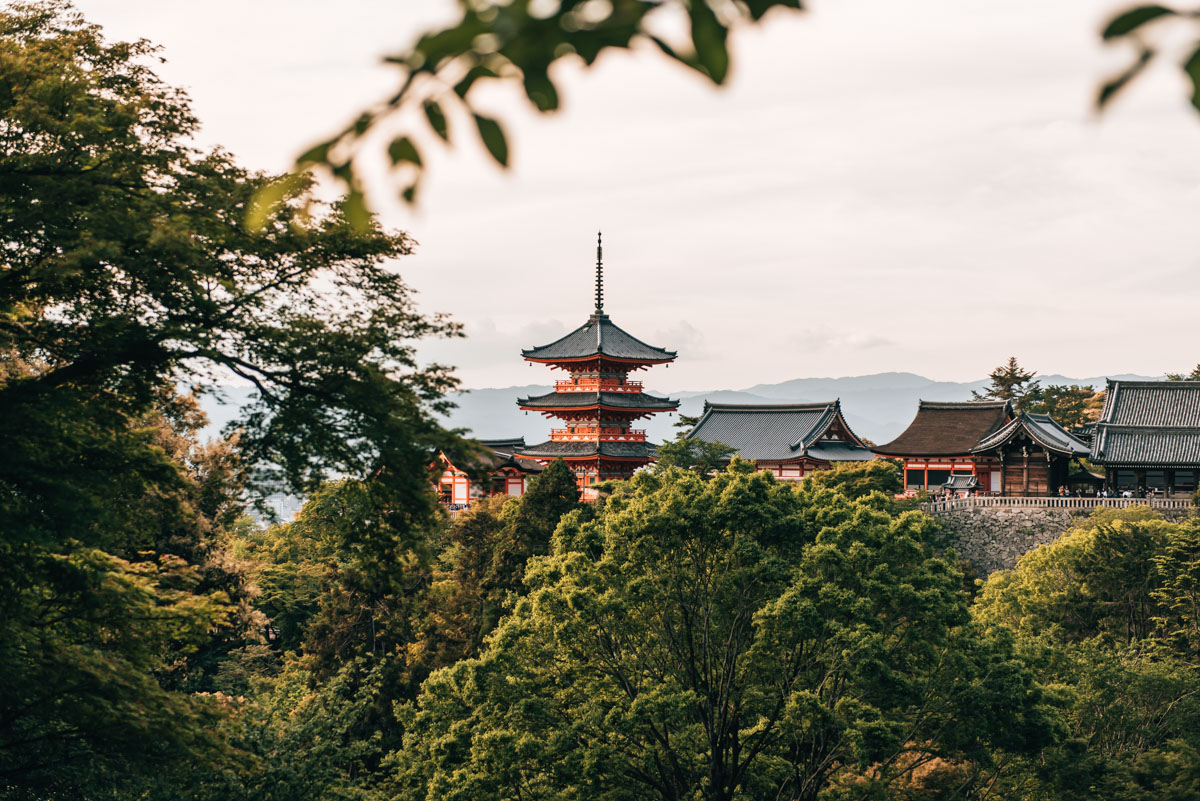 How long should I stay in Kyoto?
Your time in Kyoto will most likely consist of sightseeing and temple hopping from dusk till dawn. However, some people may find this rather monotonous after a few days. We have often read that you should spend at least one week in Kyoto, but in our opinion, that is a little too long.
If you only want to see the main sights and are not into doing a lot of sightseeing, then we would say three nights is enough. Of course, you would have to be okay with leaving out quite a few sights.
On the other hand, you could easily spend an entire week (or even two) in Kyoto if you pair it up with other things to do. There are endless temples, shrines and gardens to discover in Kyoto.
We ourselves managed to visit all the attractions listed in this travel guide in five days (four nights). We were not overly stressed with time, but we do have to say that we were on our feet all day long. We also wouldn't have minded having an extra day in Kyoto.  
Travel Guide for Kyoto
If you're like us, then you would probably prefer to have a guide with you before travelling to Japan. This then brings up the dilemma of: should you buy a comprehensive travel guide to Japan or would you rather have separate individual guides – one for each destination? We chose the latter, as we thought the comprehensive travel guide covered far too many places in Japan, while we would only be travelling to a fraction of them.
Option 1: Lonely Planet Kyoto
This very detailed guide is our recommendation if you spend several days in Kyoto and are also interested in some background information.
Option 2: Lonely Planet Pocket Kyoto & Osaka
This guide is a condensed pocket version and gives an overview of the main attractions in Kyoto and Osaka.
Option 3: Lonely Planet Japan
If you want a travel guide that covers the entire country of Japan, then we would recommend the Lonely Planet.
2. Kyoto Travel Guide: TOP 5 Highlights
You're probably feeling the same way we did before our trip to Japan: just awe struck by the abundance of temples and sights in Kyoto. But don't worry, you're not alone!
To help you get a better overview right from the beginning, we will be listing the Top Five absolute Highlights that you must see in Kyoto in this section of our travel guide. We have chosen a good mix of classic must-sees and attractions that we personally loved very much.
At the end of this travel guide, you can also find an interactive map, pinned with all the sights mentioned in this travel guide. Our tip: It was really easy to navigate from one sight to the next simply by using Google Maps or the iPhone Maps app – which both work really well in Japan.
Kiyomizu-dera Temple
You definitely cannot miss the Kiyomizu-dera temple. It is one of the most important temples in Kyoto and also one of our favourite places. The Kiyomizu-dera Temple is located on a hill, so you can enjoy a stunning view from up here.
Like most temples in Japan, the Kiyomizu-dera temple is made up of numerous buildings, so there is much more than just the main building to discover.
Our tip: for sunset, there is a small viewing platform just after the entrance to the temple (on the right) and would be ideally perfect if the Kiyomizu-dera Temple did not close its doors so punctually at 6pm. So we got to the temple at about 5 pm to enjoy the best time of the day until the very last second. About 15 mins before closing, the staff will most likely ask you to leave in a friendly but somewhat stern manner.
Another tip: Several times a year there are "Special Night Viewing" days when the temple doesn't close until 9:30 p.m.
Information about visiting the Kiyomizu-dera temple
Opening hours and more information: Kiyomizu-dera Temple
Cost: 400 Yen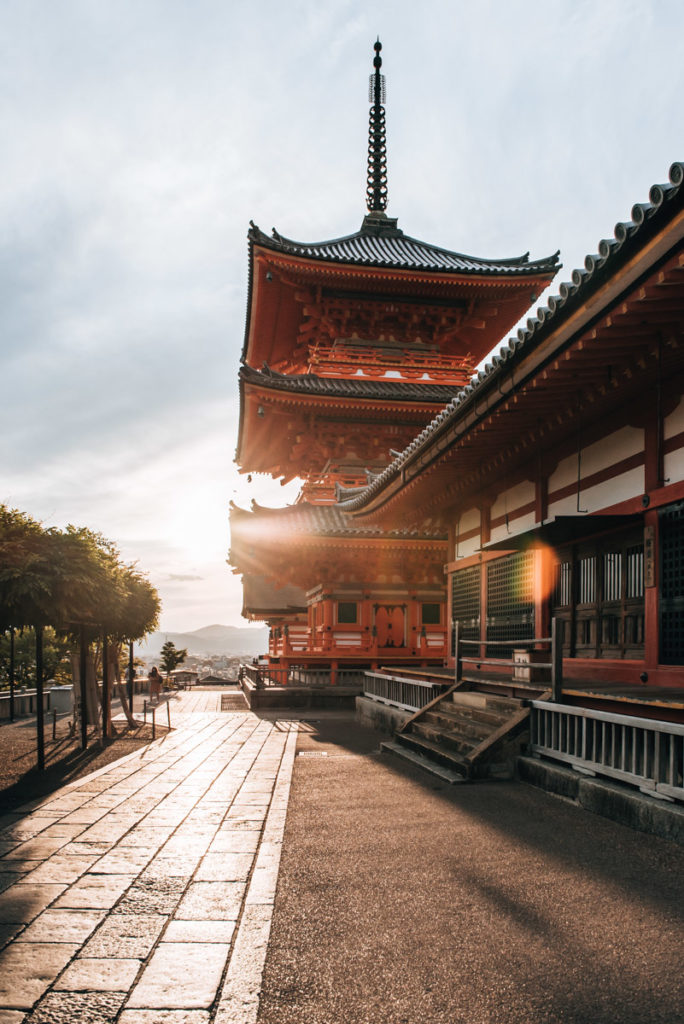 Fushimi Inari-Taisha Shrine
The Fushimi Inari Taisha is probably the most famous Shinto shrine in Kyoto. Not many people would leave Kyoto without visiting this shrine. The highlight here is not so much the main hall of the shrine itself, but the Torii – which are the entrance gates of Shinto shrines. You will find a path layered with thousands of red torii all the way up the mountain.
The rush of crowds is simply baffling, especially at the bottom of the mountain. It's very likely that you feel put off and just want to turn back around! But stick it out: the higher you go, the quieter it gets!
Important to know: If you want to go all the way to the top, then you can easily spend two to three hours on the journey. The best (and the only real nice) view, is found quite early on (about 30-45 minutes in) at the so-called Yotsutsuji junction.
What's the best time of day to visit?
Almost all the travel guides we read pointed us to go at sunrise, and while that means less crowds – we actually decided against this in favour of sunset and don't have any regrets. Reason being: From the viewing platform at the Yotsutsuji intersection, you look to the west and thus towards the sunset.
At sunrise, the shrine certainly has a special atmosphere. But if you want to come in the morning, then you should get there very early. From about 8 am, the shrine is normally super crowded already.
Information about visiting the Fushimi Inari-Taisha
Opening hours: 24/7
Cost: Free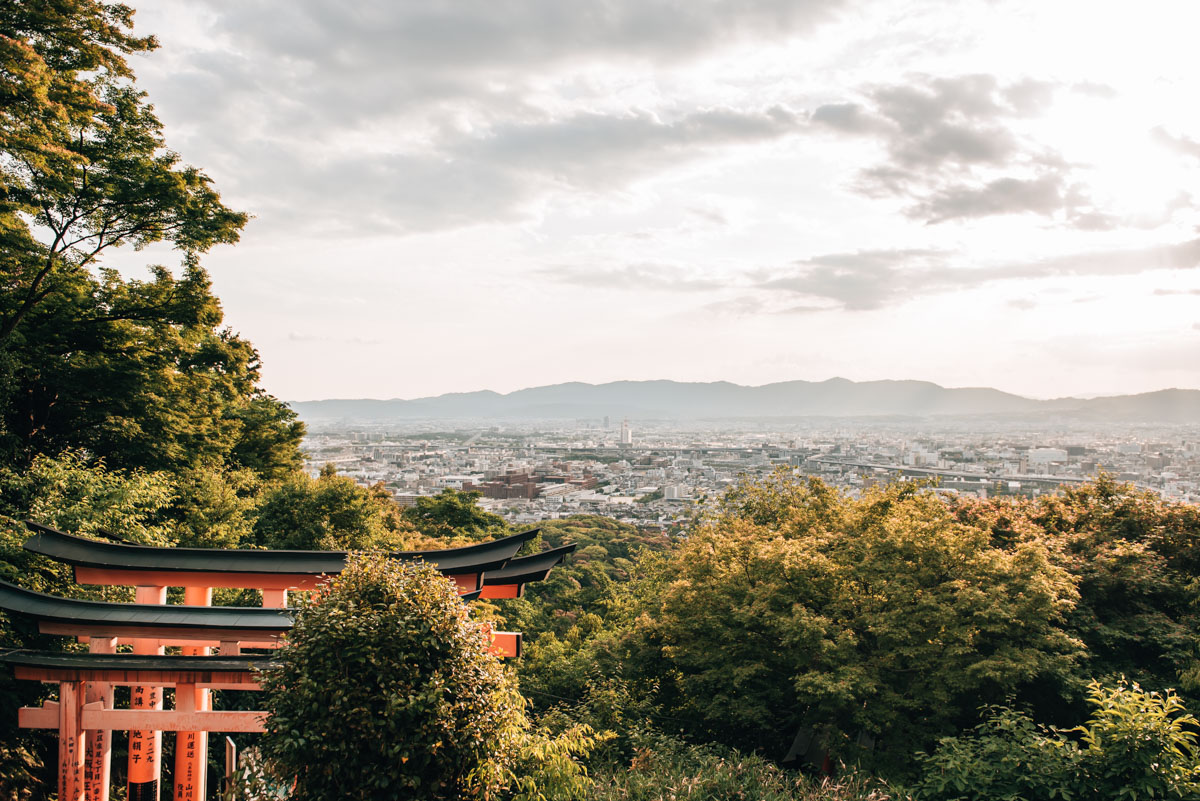 Kinkaku-ji: the Golden Pavilion
The Kinkaku-ji is probably one of the most famous photo opportunities in Kyoto. The upper floors of this temple are covered with gold leaf, which is why it is also called the Golden Pavilion. The sight of the temple reflected in the pond is simply marvellous to look at.
Apparently many others are also drawn to its beauty and the Kinkaku-ji is one of the absolute highlights in Kyoto. No joke: There is such a huge crowd that it makes you want to flee immediately within the first few metres. However, it's also not really worthwhile to come earlier, as the view remains the same and you're not allowed into the temple anyway.
The Kinkaku-ji is probably the temple, which will take you the shortest amount of time to visit. Although there is a garden, you still walk through it pretty quickly. Whether the relatively long journey is actually worth it, is up to you. However, we are glad to have seen it.
Information about visiting the Kinkaku-ji
Opening hours: 9am to 5pm
Cost: 500 Yen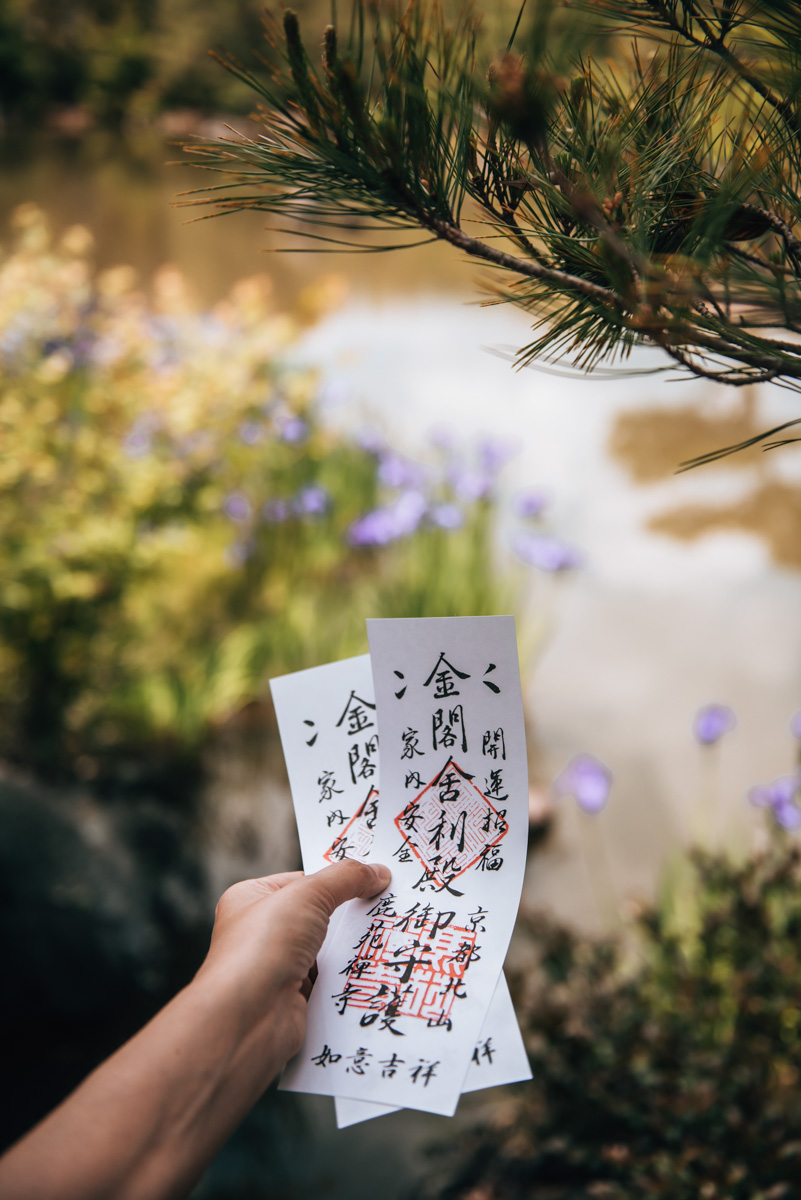 Geishas in the Gion and the Higashiyama District
The traditional area of Gion is the most famous district in Kyoto. Here, you find one wooden house adjoining the next and the atmosphere is indescribably magical. Gion is also known as the geisha district, and with good reason: the chances of meeting a geisha is rather high here.
And what can we say: We lucky children actually walked past a real geisha! Out of respect, we did not take any photos (but normally it's no problem if you ask them).
There is a huge hype about geisha photos in Kyoto and we can certainly attest to this, especially in the Hanamikoji-dori – the street where you have the highest probability of seeing a geisha. The doors were literally besieged in front of the premises where the geishas work. The highest chances of seeing a real geisha is around 5:30 pm on their way to work.
Similar to Gion is the southern part of Higashiyama, more specifically the area around the two streets Ninen-Zaka and Sannen-Zaka, which are on the way to the Kiyomizu-dera temple. In this neighbourhood you will also find the famous view of the Hōkan-ji Temple (also called Yasaka Pagoda).
How we were able to photograph this street with no people is pure luck. We got there at 6:15 pm and some of the photographers had their tripods up so for a short time no-one dared pass them – click, we got the photo.
Kennin-ji Temple
Of all the temples in the historic district, we have particularly fond memories of our visit to Kennin-ji. It is actually the oldest Zen temple in Japan and is just a stone's throw away from the well-known Hanamikoji-dori. It's worthwhile combining this temple with a visit to Gion.
The Kennin-ji is not as overrun as the other temples, especially not when you arrive in the late afternoon (like we did) just before the temple closes. We got to enjoy the Zen atmosphere in peace, without any crowds.
The long corridors with the typical Japanese shōji (the windows) are also great photo opportunities. Many people think so too, which explains why you will see quite a few women wearing kimonos in Kennin-ji. The ceiling of the Dharma Hall is decorated with an impressive dragon painting, which is also worthwhile seeing.
Information about visiting the Kennin-ji temple
Opening hours: 10 am to 5 pm (last entry at 4:30 pm)
Cost: 600 Yen
3. Extra Time: More Temples and Attractions in Kyoto
Of course, all that doesn't even begin to scrape the surface! In this section, we will share with you other worthwhile sights and places we visited in Kyoto. Some are well known, while others are secret gems.
Nijo Castle
The Nijo Castle is one of the most famous attractions in Kyoto, therefore also a popular place to visit. It was built during the Edo period, more specifically in the early 17th century in honour of the Shogun.
Nijo Castle is a huge complex that includes a large park, as well as moats. You can easily spend several hours here and we would recommend you plan at least 1.5 hours to really explore this place.
The main building is called the Ninomaru Palace. You will come across this on your loop walk, where you will pass countless rooms. Do not be surprised: The parquet of the Ninomaru Palace squeaks with every step and is therefore, also known as the "nightingale floor". Unfortunately, photography is prohibited inside.
Information about visiting Nijo Castle
Opening hours: 8am (or 8:45 am) to 5pm (or 6pm) depending on the season (last entry: one hour before closing); The Ninomaru Palace has shorter opening hours and usually closes at 4 pm.
Cost: 1,300 Yen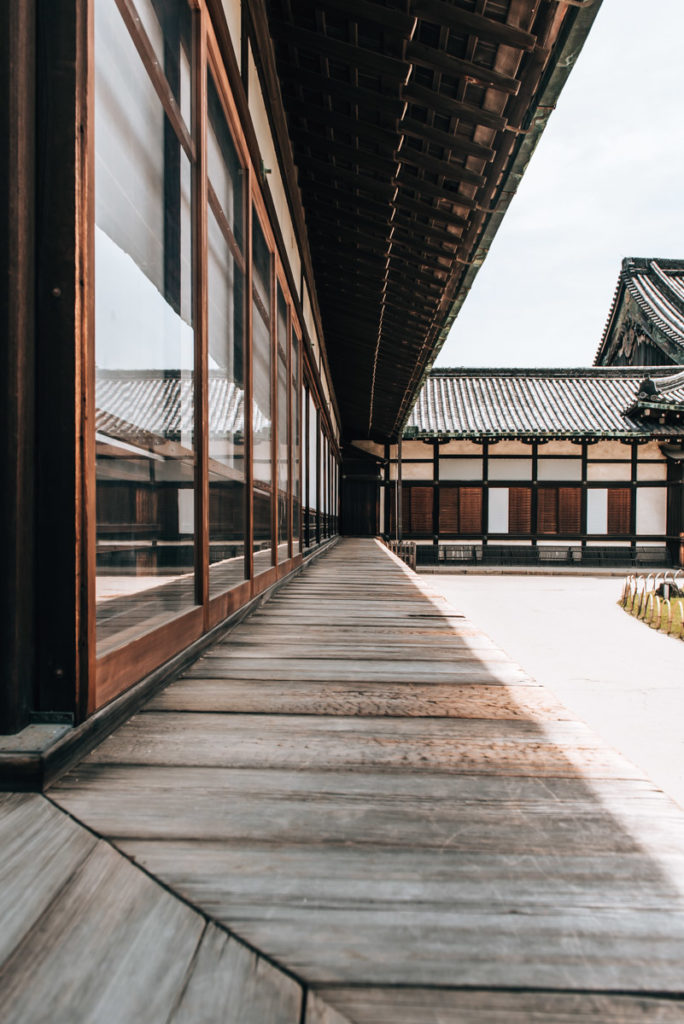 Kodai-ji Temple
This beautiful temple is located away from the hustle and bustle of Higashiyama. The hilly, expansive landscape and the beautifully sculptured Zen gardens are what we remember most about our visit.
In the Kodai-ji, you will also find a bamboo forest, which of course, cannot compare to the size of its famous counterpart in Arashiyama – but it's still worth seeing. Beware: the mosquitoes seem to really like this bamboo forest too.
Our tip: the Kodai-ji is one of the few temples in Kyoto, in which during certain weeks of the year, you can visit even after nightfall (until about 9:30 pm). It's quite special as the temple and gardens are lit up with special light installations.
Information about visiting the Kodai-ji temple
Opening hours: 9 am to 5:30 pm (last entry at 5pm. During some weeks of the year it's open until 9:30 pm)
Cost: 600 Yen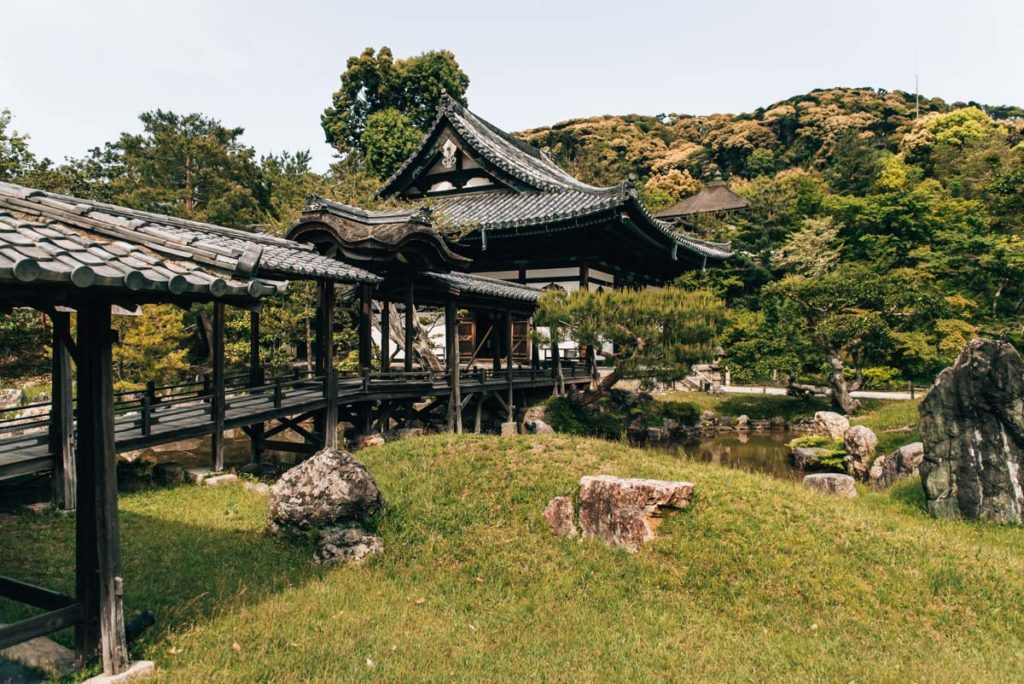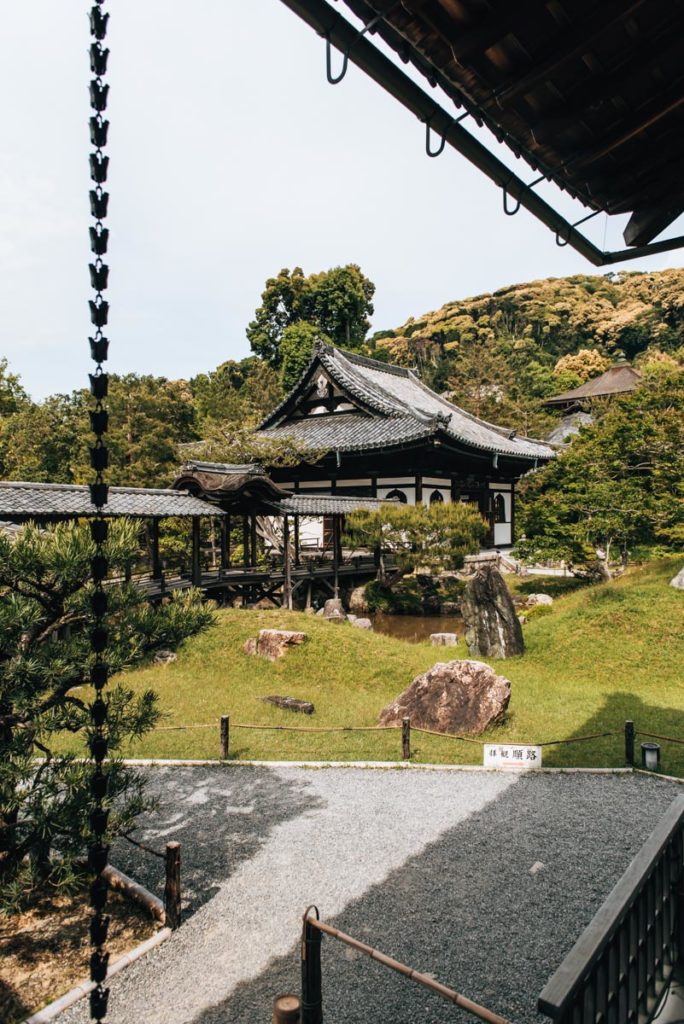 Pontochō Alley
This narrow, atmospheric lane with low wooden houses runs parallel to the riverbank. Here, you will find one restaurant after the another, which is why it gets quite busy in the evenings. During the day the street seems a little deserted, but nevertheless rather photogenic.
There's also a chance you might come across a geisha here in Pontochō Alley. Either way, we think that a stopover is definitely worth it.
Arashiyama Bamboo Forest
In the west of Kyoto, more precisely in the district of Arashiyama, lies the infamous bamboo forest. There is hardly a travel guide about Kyoto where you will not find a photo of this Bamboo Forest. And there is probably no other attraction in Kyoto that is as hyped up as this.
But what exactly is this Bamboo Forest? Not that we want to disappoint you, but to be completely transparent: the word "Forest" is unfortunately not a good representation of reality. The Bamboo Forest is actually a 100 metre lane. So, you are not wandering in some expansive forest, but rather a Bamboo Forest that takes just a few minutes to walk through.
It is also important to know that this bamboo forest is hopelessly overrun. In order to photograph this place without a crowd, most people will come for the sunrise. So we did it the other way around and went there in the late afternoon. Do we regret it? Not a second. Although it was probably a bit busier than it would have been for sunrise. Overall, the bamboo forest didn't exactly have us enraptured.
Information about visiting the Bamboo Forest
Opening hours: around the clock
Cost: Free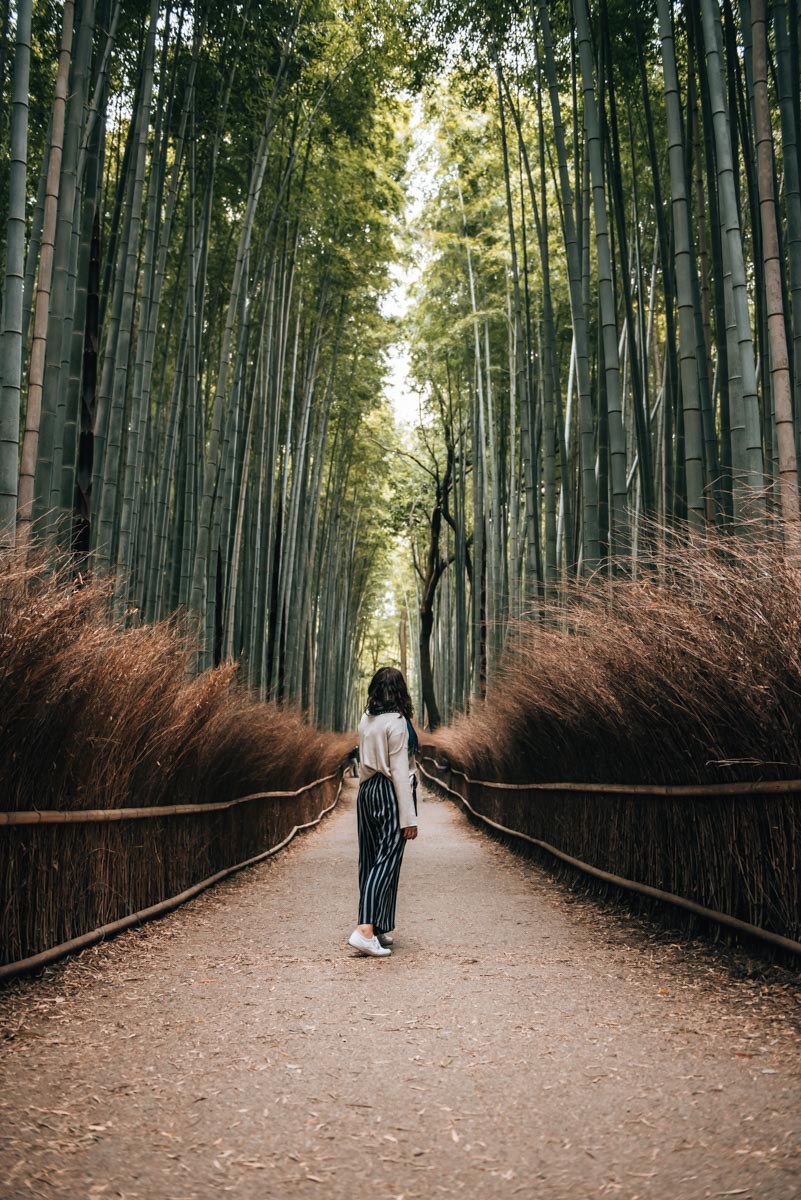 Otagi Nenbutsu-ji Temple
Let's come to one of our personal highlights in Kyoto, the Otagi Nenbutsu-ji. When we saw photos of these moss-covered stone figures, we knew we had to go there.
The Otagi Nenbutsu-ji is located in the western district of Arashiyama, about half an hour's walk from the famous Bamboo Forest. It only takes a few minutes by taxi. If you find you have some extra time to explore, then we can warmly recommend a trip to this temple.
Hundreds, if not thousands of weathered stone figures stand here within this area. Apart from us, there were only a few other visitors wandering around. The Otagi Nenbutsu-ji would be considered an insider tip, not just because of its secluded location, but also for its calmness.
Our tip: Just a few minutes from the Otagi Nenbutsu-ji lies the Adashino Nenbutsu-ji. We can highly recommend this too and we'll tell you more about that next.
Information about visiting the Otagi Nenbutsu-ji temple
Opening hours: 8am to 5pm (last entry at 4:45 pm)
Cost: 300 Yen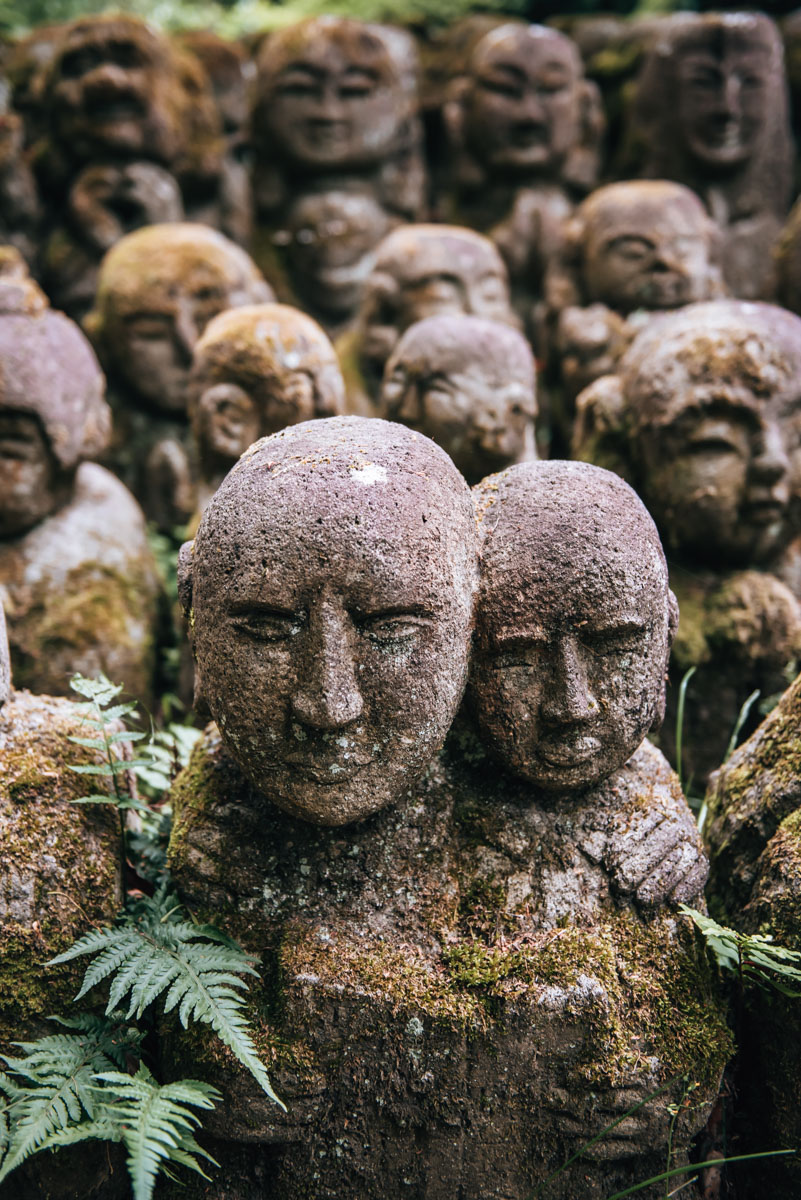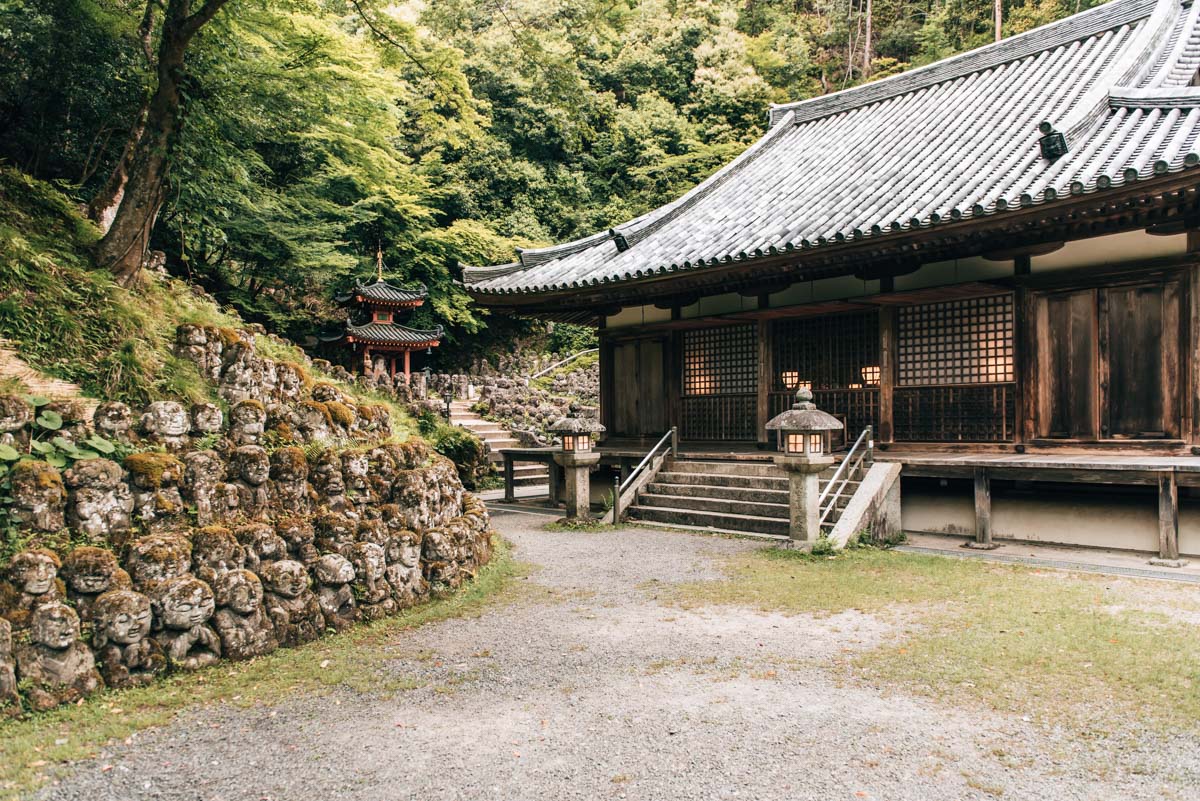 Adashino Nenbutsu-ji Temple
If you've made it to the Otagi Nenbutsu-ji, then you should also consider stopping by the Adashino Nenbutsu-ji. This is actually on the way back to the centre of Arashiyama and we found it very worthwhile.
Again, you will find a sea of ​​stone figures – Buddha figures to be precise. We just could not stop taking pictures because the temple is so photogenic.
Adashino Nenbutsu-ji also has a small bamboo forest. Not that you can compare its size with the well-known Bamboo Forest, but here you get to enjoy this forest (almost) all to yourself.
Information about visiting the Adashino Nenbutsu-ji temple
Opening hours: 9 am to 4:30 pm (in winter, supposedly only until 3:30 pm)
Cost: 500 Yen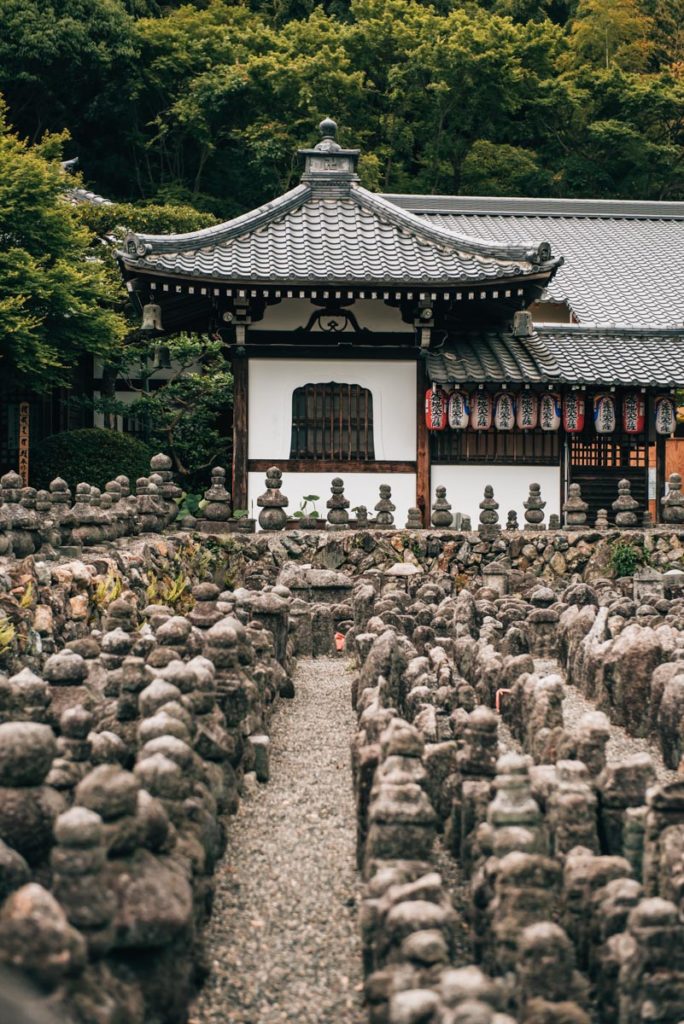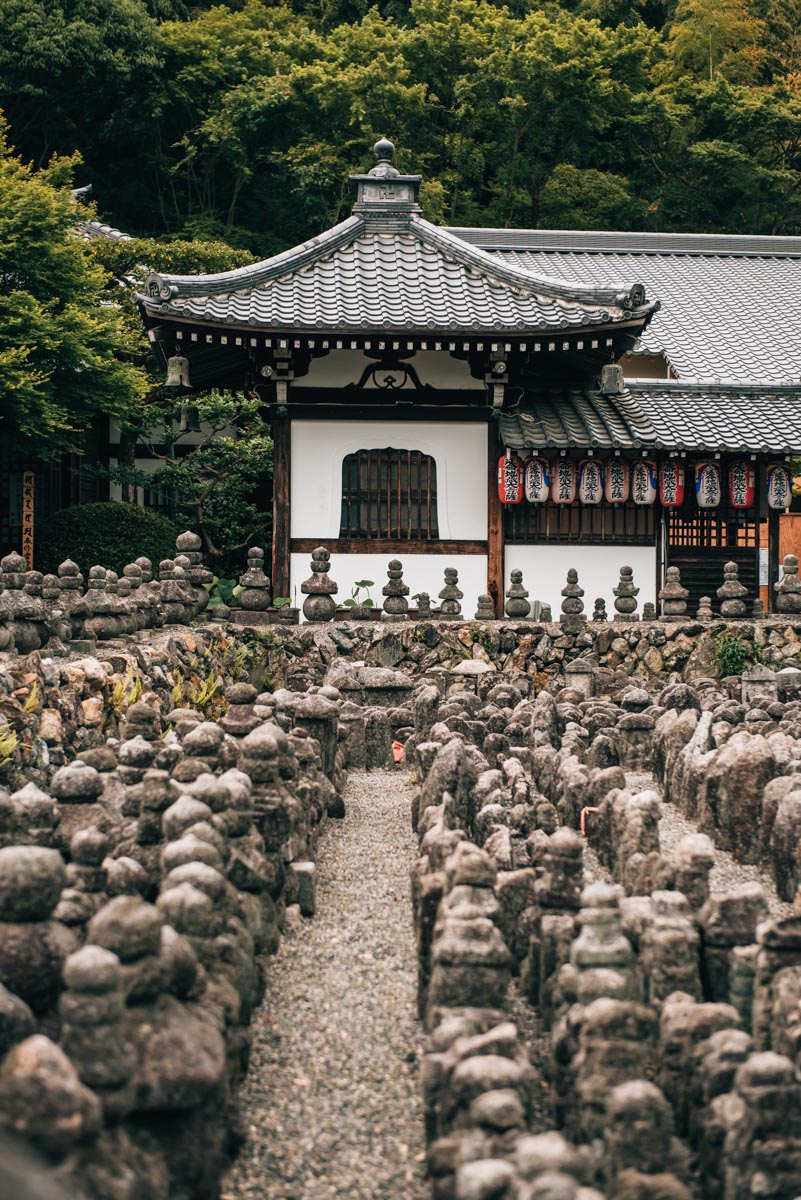 Tenryu-ji Temple
The Tenryu-ji is the most famous temple in the district of Arashiyama. From the Bamboo Forest, this temple is just a few minutes away by foot.
Depending on which ticket you bought, you can either visit the garden or both the garden and the interior of the temple. We chose to do the latter. Although the temple's interior is not as spectacular as some others, we liked the minimalist style with the tatami mats.
The circular path through the garden also loops around the temple, so even without a ticket, you can take a peep inside the temple rooms. The lake garden is really beautiful. We liked it here very much!
Information about the visit of the Tenryu-ji
Opening hours: 8:30 am to 5:30 pm (or 5pm in winter); last entry half an hour before closing.
Cost: 500 Yen (Garden only), 800 Yen (Garden and Temple)
Ginkaku-ji temple
The Ginkaku-ji (not to be confused with the Kinkaku-ji) is also known as the Silver Pavilion. Contrary to its name, you won't actually find much silver here. But that does not matter, because in our opinion, the spotlight should be on the magnificent Zen garden anyway.
Luckily, the temple is not overly crowded, so you can enjoy the garden in relative peace and quiet. (We say "relative", as it can also be quite busy here too.) In the sand garden, you will find a massive sand cone, which certainly catches your eye. The garden of Ginkaku-ji is located on a slope, which you can also climb up. There's a path that leads past the moss gardens to a small hill, where you can enjoy a nice view.
Information about visiting the Ginkaku-ji temple
Opening hours: 8:30 am to 5 pm // or 9 am to 4:30 pm (in winter)
Cost: 500 Yen
The Philosopher's Walk
Probably the most famous promenade in Kyoto is The Philosopher's Walk. It leads you along a small stream for about two kilometres and connects the Ginkaku-ji with the district around Nanzen-ji. On the way you will pass some other sights as well.
The Philosopher's Walk is especially popular during the cherry blossom season, because then the Philosopher's Walk turns into a lane of hundreds of blossoming cherry trees. Outside the cherry blossom season, this walk was not one of the greatest highlights of Kyoto, in our opinion.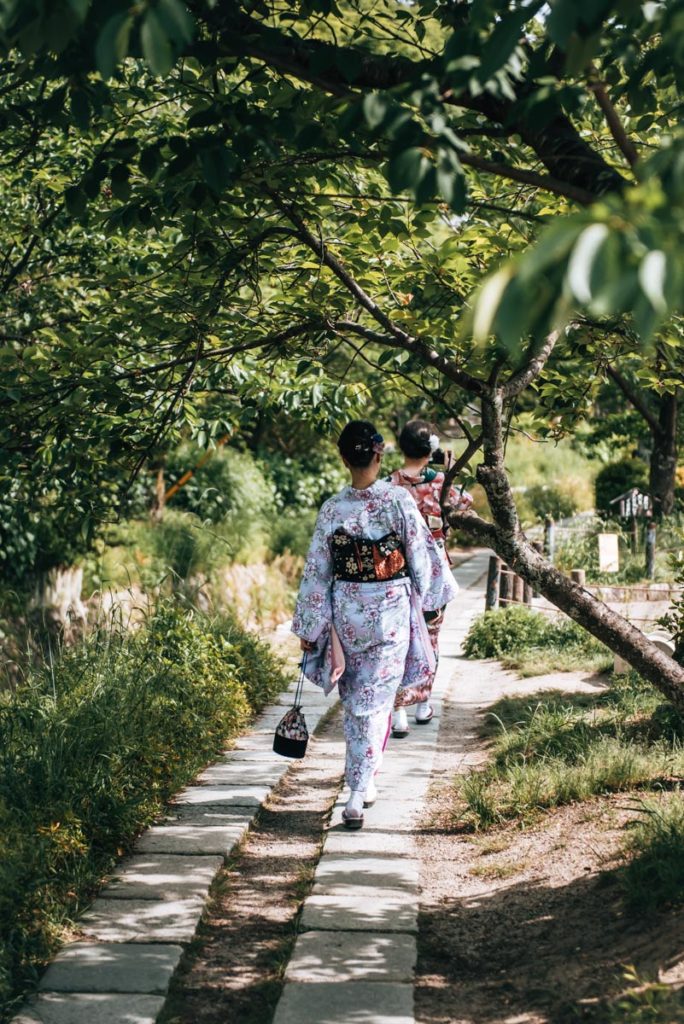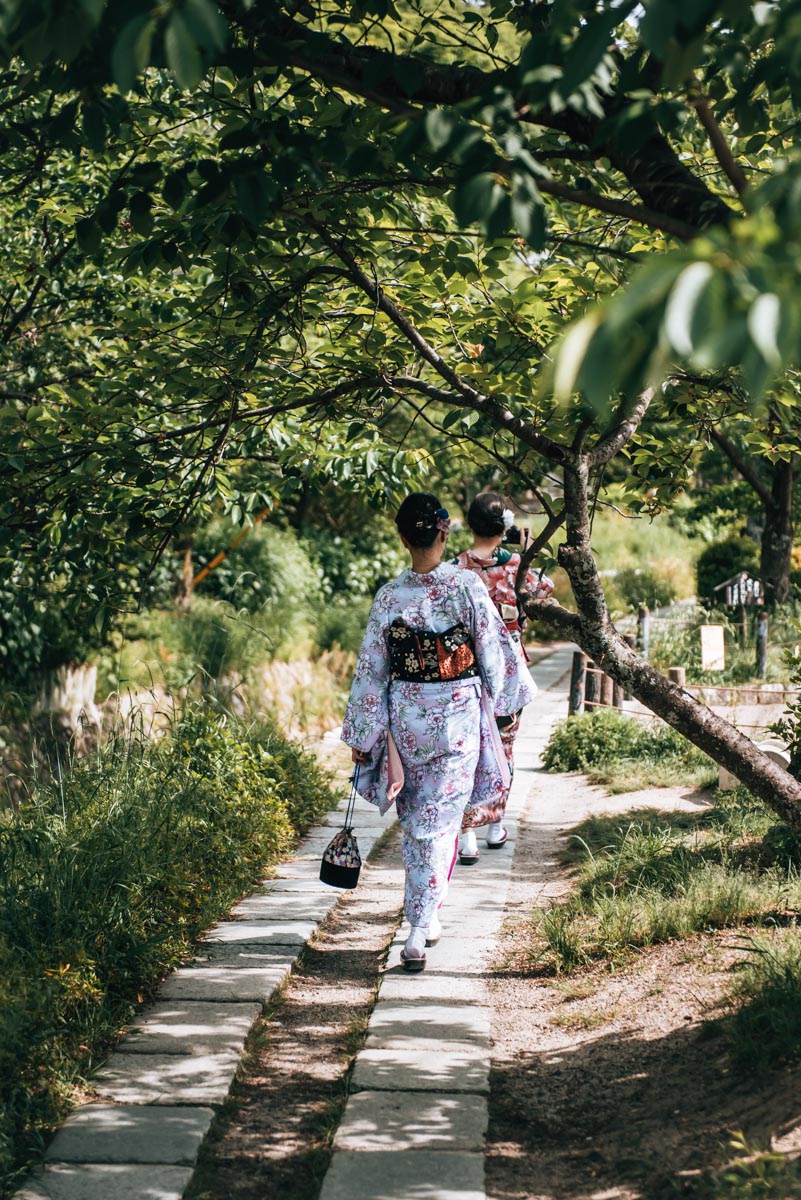 Tofuku-ji Temple
If you are near Fushimi Inari-Taisha and want to visit another temple, we can recommend Tofuku-ji. This can be reached in about 10 minutes by foot.
Tofuku-ji is one of the largest and most openly spacious temples we have visited in Kyoto. You will find several attractions there, including the impressive Sammon Gate, which is considered the oldest Zen gate in Japan. Also worth seeing is the Hojo Garden, which is a beautiful Zen garden.
The Tofuku-ji is also known for the Tsutenkyo Bridge, a 100 metre long, wooden covered bridge. In autumn, we can imagine the view from the bridge overlooking the golden trees to be especially beautiful.
Information about visiting Tofuku-ji
Opening hours: 9 am to 4.30 pm or until 4 pm in winter; last entry is 30 minutes before closing
Cost: 500 Yen for the Hojo Garden, 600 Yen for the Tsutenkyo Bridge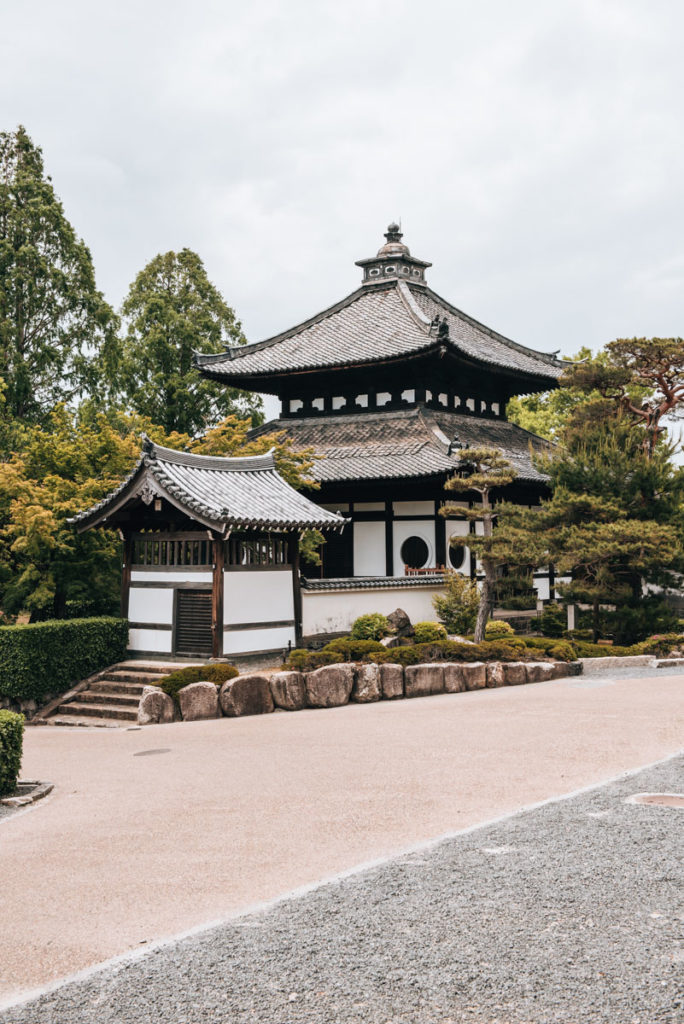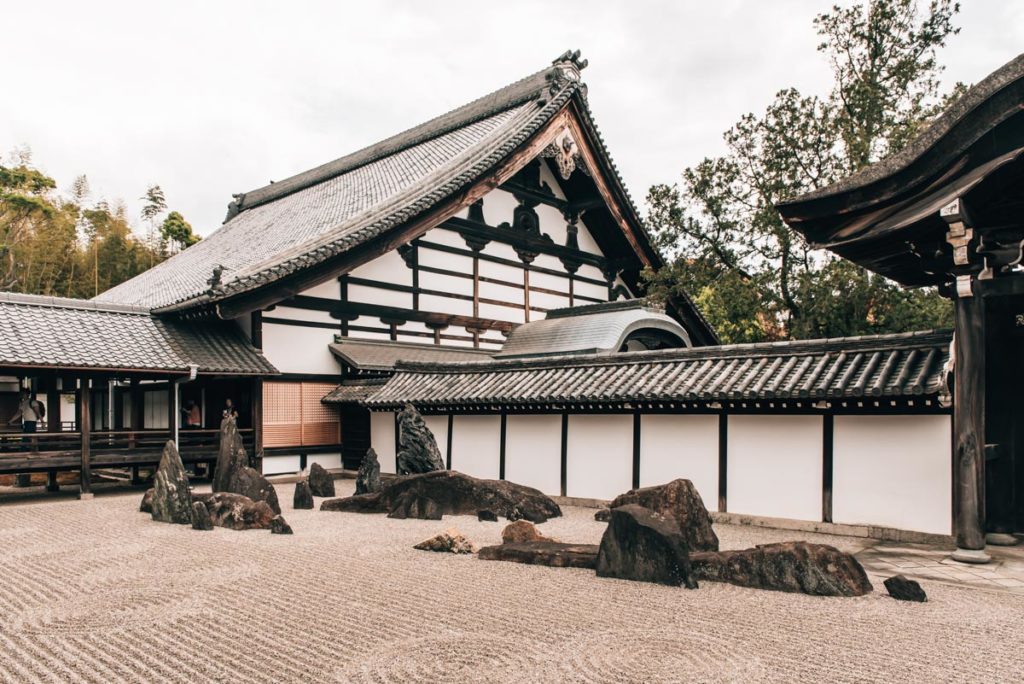 Kyoto Tower
Kyoto is not necessarily a city well-known for its abundance of lookout points, such as Tokyo. However, the Kyoto Tower is an exception: from up here you have a fantastic 360 degree view over Kyoto.
The viewing platform is at about 100 meters elevation and since Kyoto is anything but a sea of ​​skyscrapers, that already feels quite high. Many temples can be seen in the distance, such as the Kiyomizu-dera.
Our tip: If you are short on time, then we would way say this is a place you could skip. Not that it wouldn't be worth going up, just that the allure and fascination of Kyoto is much more on exploring the culture and traditional temples. The panoramic view of Kyoto is definitely not what we remember most about our time in Kyoto.
Information about visiting the Kyoto Tower
Opening hours: 7am to 9pm (last entry 30 minutes before closing)
Cost: 900 Yen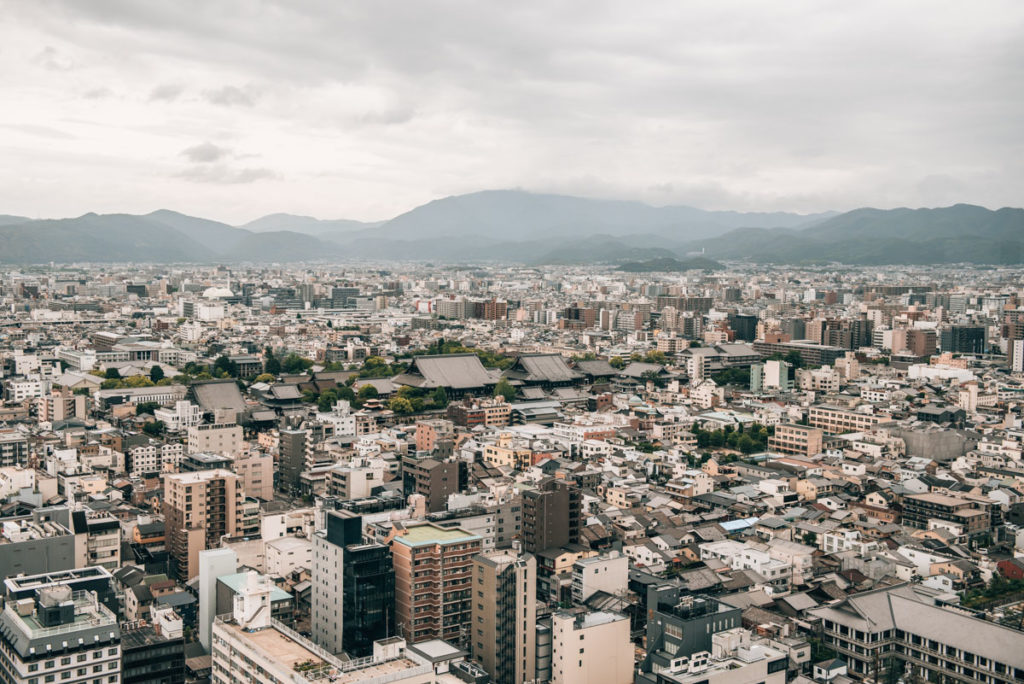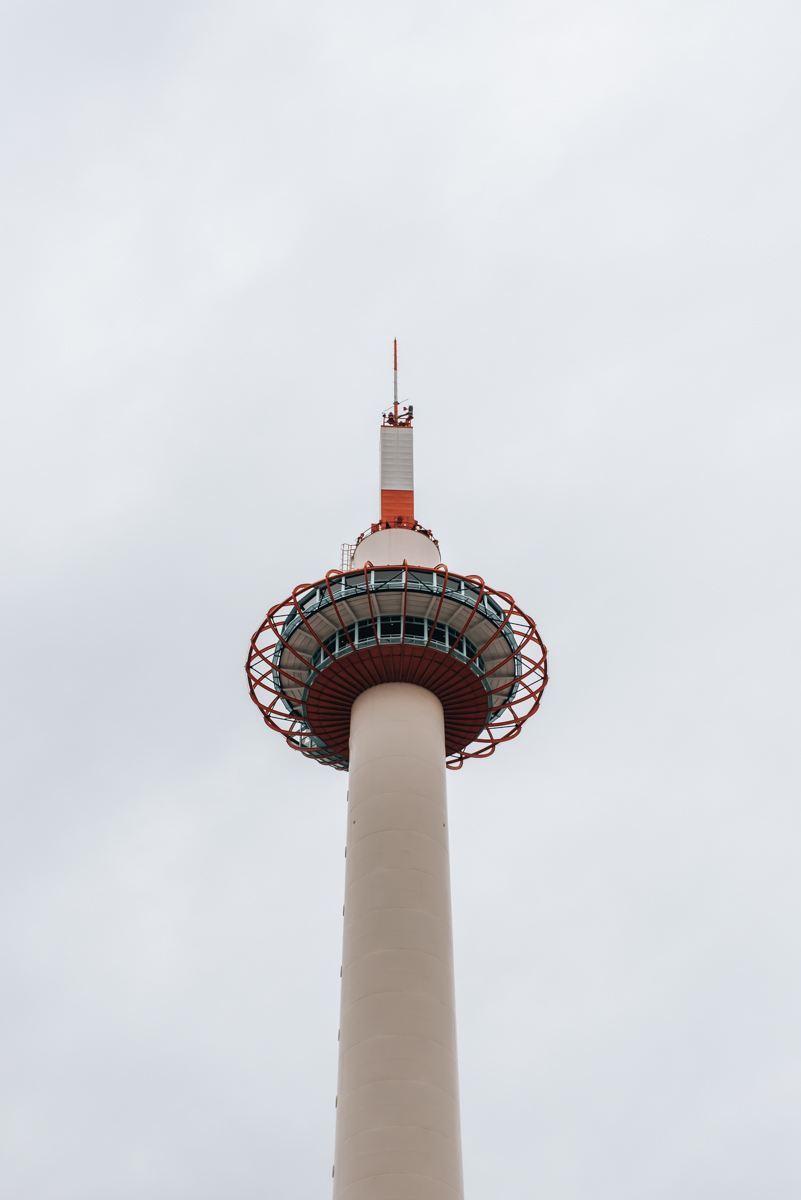 4. Food & Drinks Guide: Our Favourite Restaurants and Cafes in Kyoto
Engine Ramen
As is the case everywhere in Japan, finding vegetarian food is not easy in Kyoto. Luckily, we did our research in advance and found this place: Engine Ramen – which serves delicious vegetarian and vegan ramen at fair prices. With the atmosphere of typical Japanese ramen bars, we found it very pleasant and would certainly come back!
Stardust
Wow – was our thought as we entered this concept store. It has such a calm and chill vibe, that you could easily spend hours here. The Stardust also serves vegan dishes – if you want to eat more than just a midday snack, you must make a reservation in advance. (We arrived without a reservation and had to settle for soup of the day, which was also very good.) Highly recommended!
Vermillion
If you are near the Fushimi Inari-Taisha shrine and feel like having a coffee, then you should definitely stop by here. The Vermillion serves excellent espresso – just the way you like it.
% Arabica
Another great coffee recommendation is the % Arabica, which now has several branches throughout Kyoto. You can find great coffee here and the Iced Cappuccino was our saviour on a hot day!
5. Transport Travel Guide: How to get around Kyoto
In the "Old City" part of Kyoto (i.e. in Gion or Higashiyama) you can get to many places by foot, but some attractions (such as the Bamboo Forest or the Golden Pavilion) are a little too far away. To get to these places, you will need public transport. Subways and trains are common, but there are also many bus lines to choose from.
A general tip: You can check (using Google Maps or iPhone maps app) what your fastest connection will be from from A to B in Kyoto. These work surprisingly well in Japan!
Subway and JR trains in Kyoto
We ourselves travelled around mostly by subway or JR trains. The network is not as well developed as the one in Tokyo, but you can get quite close to most of the sights and most importantly – fast.
If you have a Japan Rail Pass, you can use the JR trains for free. For more information and tips, see this travel guide here: Japan Itinerary & Travelling by Train.
For the subways, we recommend using the Suica Card, which you can also use in other big cities (like Tokyo and Osaka). For more information, see this travel guide here: Japan Travel Tips.
Buses in Kyoto
Kyoto has a well-developed bus network, but we ourselves only used buses for destinations that were not so far away, mainly because travelling by bus is much slower than with subways or trains.
There is a special day ticket offer (600 Yen), which allows you to use all the bus routes in Kyoto for a whole day. You can also buy this ticket at the Kyoto Station or at most subway stations. A day ticket is only worthwhile if you plan to do three or more bus trips. If you hardly use the bus, then we would advise you to buy the single tickets separately (either in cash or by scanning your Suica Card).
Taxis in Kyoto
We also took a taxi every now and again. And while this is definitely the most expensive mode of transportation, it's also the most comfortable. We can recommend it especially for shorter distances (5-10 minutes), which are less convenient to reach by public transport.
You can just wave a taxi from the roadside. If the sign is lit then the taxi is free. Caution: The doors always open and close automatically.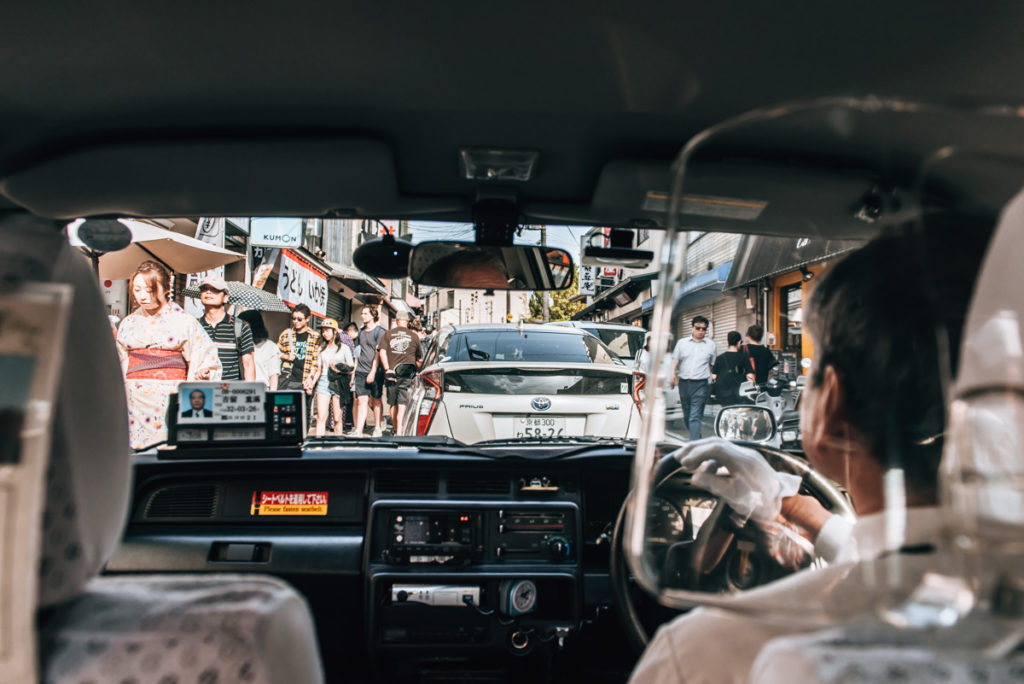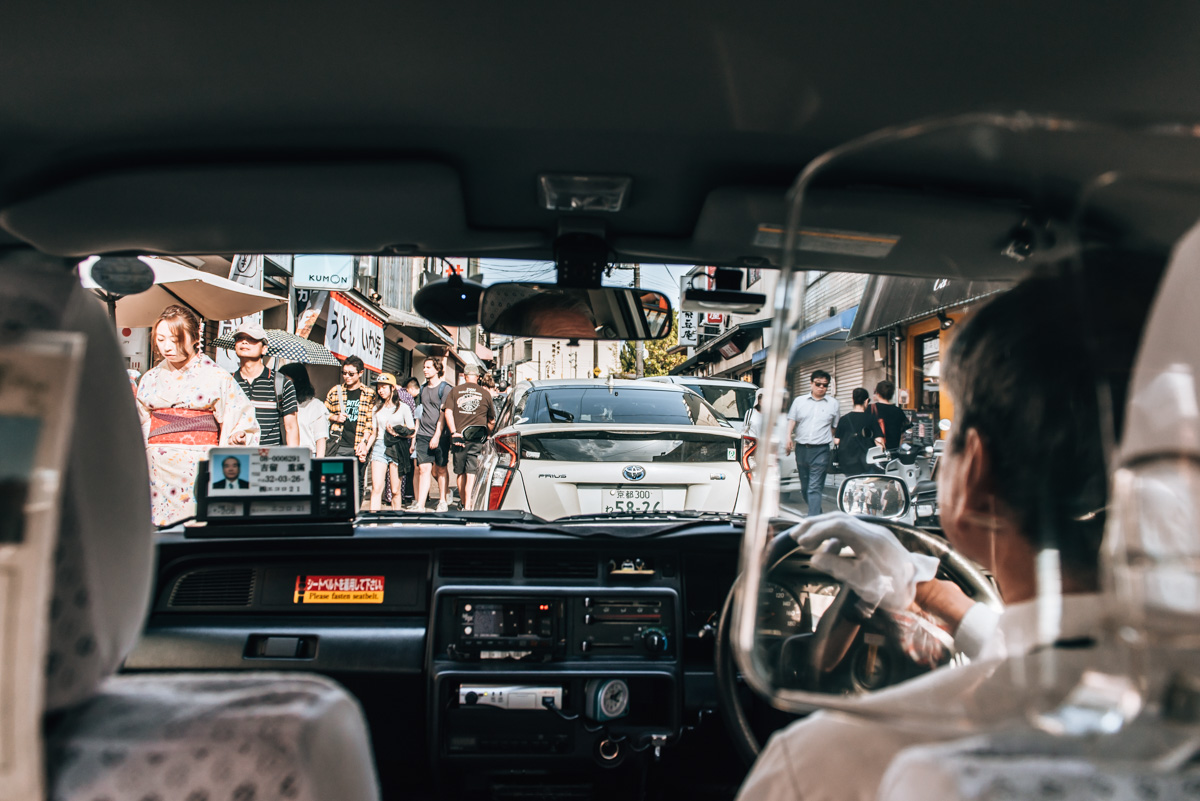 6. Our Hotel Recommendation for Kyoto
For Kyoto we can highly recommend the wonderful The General Kyoto Bukkouji Shinmachi. This small boutique hotel is located on a quiet alley in central Kyoto.
The rooms are relatively spacious by Japanese standards and definitely feel good. Our conclusion: A really nice hotel in Kyoto with great value for money. Big plus: there are free snacks and drinks in the lounge during the day.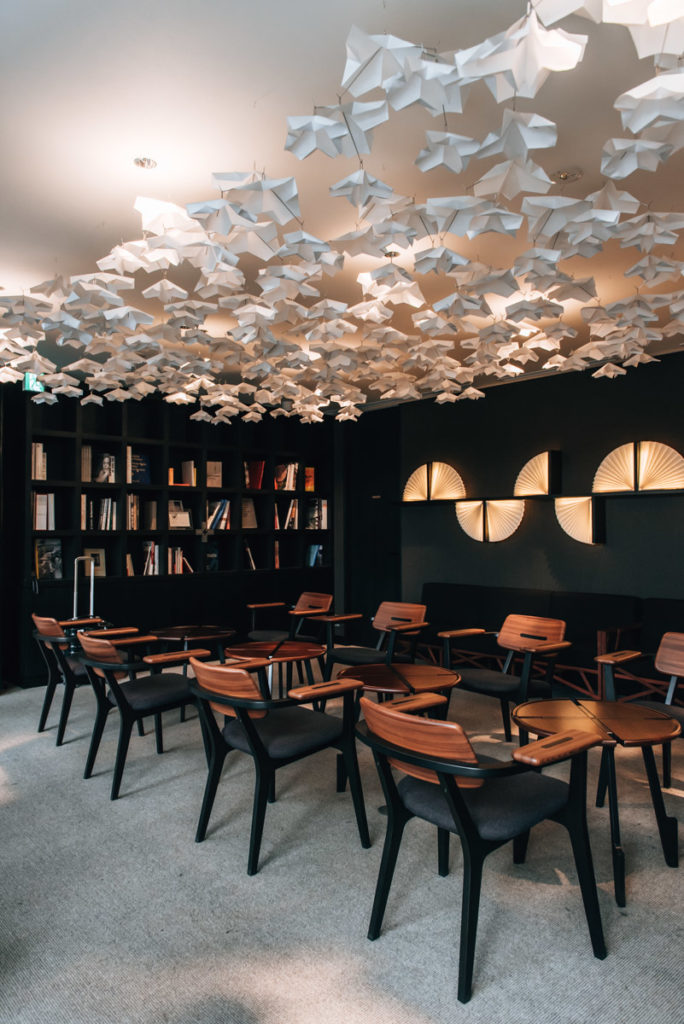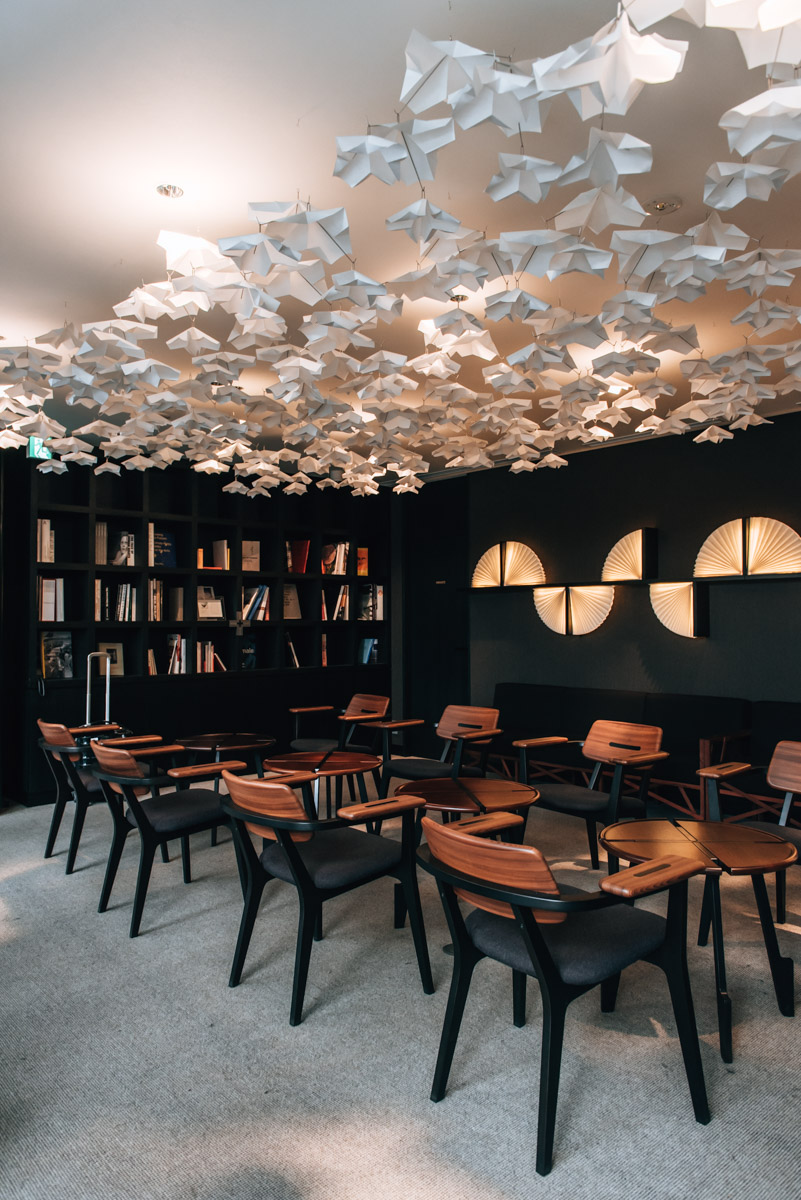 ---
Disclaimer: Invitation & Affiliate Links
This travel guide contains our personal recommendations in the form of so-called affiliate links. If you book or buy something through these links, then we will receive a small commission. For you, this does not change the price at all. A million thanks from the both of us!
This trip to Japan was a collaborative invitation by All Nippon Airways (ANA). For full disclosure of this collaboration: ANA covered the financial costs for our return flights, plus the first five days worth of activities and accommodation (in Tokyo, Hakone, Osaka). We decided to extend our stay in Japan at our own expense and travel to Kyoto.
Have you been to Kyoto before? Which temples and shrines were your favourites? Perhaps you have some more tips for Kyoto? We look forward to reading your experiences below our travel guide!