The Yucatán Peninsula is probably the most popular destination in Mexico but this doesn't exactly come as a surprise to us. Why? Because there, you can find the perfect combination of those dreamy Caribbean beaches, charming colonial cities and discover the intriguing Mayan culture. For three weeks we travelled all over the Yucatán Peninsula, falling in love with Mexico.
In this blog article, we'll tell you all you need to know about travelling through Mexico, including: Planning and Travel Preparation Tips for your trip to Mexico, Information about the Yucatán Highlights, Safety, and of course, the food culture and culinary experiences that await you.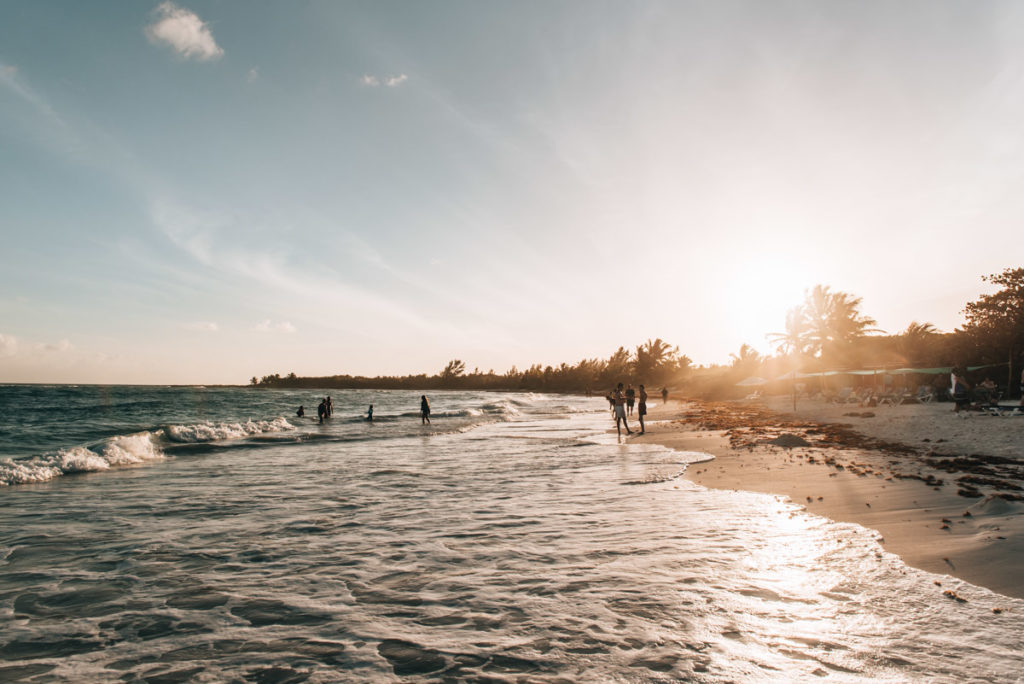 1. Preparation: Before Your Yucatán Trip
What to expect on the Yucatán Peninsula: First Impressions & Overview
Mexico – the land of the Mayas, the snow-white beaches, mystical Cenotes, tacos and Margaritas. If you have these ideas of Yucatán, then you are not far off because all these things are indeed waiting for you on your tour of the Yucatán Peninsula.
However, the Yucatán is anything but untouched in terms of tourism. We are talking mainly about the East Coast, the so-called Riviera Maya, which is still a lot more touristy than we could have ever expected. This means that you really have to search deep for the authentic Mexico in Yucatán. But we can reassure you, that you will still love it because there are still many places in the Yucatán untouched by mass tourism.
By the way, when people say "Yucatán", then they are usually referring to the peninsula of the same name, which is actually home to a total of three states: Yucatán, Quintana Roo and Campeche.
Yucatán is, in our opinion, the perfect combination of culture, beaches and cities.
Culture: because of the abundance of Mayan Ruins, which you simply cannot help but be astounded and fascinated by them. There are countless Mayan ruins in Yucatán and some are more impressive than others.
Beaches: because along the Riviera Maya and on the Mexican islands, you'll find dreamy beaches that look as if they came straight out of a picture book. We were speechless in the face of snow-white sand and azure blue waters.
Cities: because Yucatán is blessed with some beautiful, authentic colonial towns. We loved getting lost in the urban streets of Campeche, Mérida and Valladolid.
Who is Yucatán suitable for?
If this is going to be your first time in Mexico, then the Yucatán Peninsula is the ideal destination for you. There are several reasons why Yucatán is so well-suited to newcomers in Mexico:
Yucatán is Mexico's most touristic region, yet there are places that are still untouched by mass tourism. Anyone who has security concerns can rest assured: the Yucatán Peninsula is not only the most touristic, but also one of the safest regions in Mexico. (We'll tell you more about safety at the end of this article.)

The distances between destinations in the Yucatán are not huge: we never had to sit in the car for more than 4 hours on our road trip. All in all, we certainly had the feeling that Yucatán was the perfect introduction and welcome into Mexico.
Families with children: we can also highly recommend the peninsula to those travelling as families. There are plenty of great beach resorts along the Riviera Maya with beautiful beaches (for example in Tulum). If you want to do one or more side trips, you will find an abundance of choices – including the great Cenotes or the Mayan Ruins.
Duration of the journey: How long should I stay in the Yucatán?
Difficult question, because it depends on how much you want to experience and how much time you want to stay at each stop. We ourselves spent three weeks in Yucatán and found this time period to be just perfect. We felt that we were able to see a lot of the peninsula without being too stressed with time constraints.
But you can do a nice road trip even in just two weeks. And of course, you can also easily fill four weeks or more with memorable experiences.
The best travel time on the Yucatán Peninsula
Dry Season = High Season
Between November/December and April/May there is a dry season on the Yucatán Peninsula. This means that comparatively little precipitation falls and the temperatures are pleasantly warm (not too hot), although it can be a bit fresh in the evenings. It is during the dry season that most of the tourists flock to the Yucatán Peninsula.
Tourism experiences a huge spike during Christmas and Easter, where many visitors from the USA and Europe escape the cold and travel to Mexico. Around spring break, when college students from America have their semester breaks, things start to get a bit rowdy along the Riviera Maya. So we would recommend that you avoid these specific periods if possible.
Rainy season
The rainy season begins from May and runs until October/November. In these months, the Yucatán experiences very high precipitation falls. The amount of rain is quite unpredictable: anywhere from day-long steady rain to a few showers in two weeks is possible. Coincidentally, the hurricane season also happens to fall in the same period. Dramatic hurricanes, however, are very rare in Mexico.
If there was no other choice than to travel Mexico during the rainy season, we personally would still do it. Be prepared, however, for certain plans to be washed away (sometimes quite literally).
Our travel period and our climate experience
We toured Yucatán between late November and mid-December. Our trip was a good example of how the weather does not always stay true to its forecasts. We got some rainy days even during the main dry season. During our time on Holbox, there was an unusually strong low over the region.
What you should take away from this: Even though you're travelling to the tropics, you have to be ready and prepared to adapt to changes in the weather no matter the season. It's best not to plan the trip too rigidly, so that you can still be flexible and can reschedule if necessary.
Entering Mexico
German and Austrian nationals may enter Mexico without a visa and stay there for 180 days. This is actually the case for citizens of most EU countries as well as for citizens of UK, Australia, New Zealand, Canada, Japan and the USA (ie. 180 Day Visa Free Stay). You don't have to worry about anything in advance, just make sure that your passport is still valid for six months upon entry.
On the plane, you will receive two forms: an entry form and a Customs form – you have to complete both, so having a ballpoint pen is a good idea. When you enter, simply show the forms and that's it. Important: The entry form remains in your passport and is used as the the exit form when you leave. Therefore, you should take good care of it, because you have to hand it in upon your exit from the country. If you lose it, you will have to pay a fee.
Attention: If you have a stopover in the US, you must apply for an ESTA visa. Best to apply for this as soon as you can.
Power/Travel Adaptor: Do I need an adaptor for Mexico?
It depends on where you come from. In Mexico you use completely different sockets than you would in the Euro Zone. More specifically, it uses sockets of type A and B. These have flat contacts.
Another important note: The grid voltage in Mexico is only 110 or 120 Volts and the grid frequency 60 Hertz. In Europe, the supply voltage is 230 Volts. You should therefore check all your devices to see if they are suitable for Mexico. You can usually find the necessary information directly on the device or on the charging cable.
For example: The MacBook Pro 13" may be charged between 100 and 240 Volts and between 50 and 60 Hertz, according to the charging cable. So you don't have to worry about that in Mexico, although it might be the case that the charging time takes longer. Devices also usually run at half the power compared to what we are used to at home – this concerns, for example, the hair dryer, which quickly becomes unusable at 110 Volts.
This adaptor is the correct one: Travel Adaptor Mexico (we had three pieces.)
Travel Guide for Yucatán
We would never travel to a new country without a printed travel guide – and this was also the case with Mexico. We did a lot of research in advance and finally decided on the English-speaking Lonely Planet.
The advantage of this guide is that it is very compact. You do not carry unnecessary weight, as the guide is limited to the Yucatán Peninsula (and a few nearby destinations). The most important points and locations are well described, although in some places, we would have liked to have had more detailed information. Nevertheless, we would recommend this guide.
Here is the link where you can buy the travel guide: Lonely Planet Cancún, Cozumel & the Yucatán (July 2019 Edition)
2. Getting Around the Yucatán Region
Option 1 (Our Recommended Choice): By Rental Car
The fastest and most convenient way to get around is by rental car. It's also very easy to travel Yucatán on your own – even though the initial thought might seem a bit far fetched. We have summarised all our tips for driving in Mexico and booking a rental car – in this particular blog article: Yucatán Road Trip.
We ourselves booked our rental car for Mexico via Sunny Cars (not surprising as we always book through them). But the main reason is that when you book via Sunny Cars, all major insurance policies for Mexico are already included, which is why we would choose it again any time.
Option 2: By Bus
Travelling by bus through Yucatán is also very popular. The best-known, most modern and most popular tourist bus company is called ADO. The ADO route network is very well developed. You can easily search for specific connections on the ADO website. Although there is no English version, you can find your way around the website relatively well, even without much Spanish knowledge.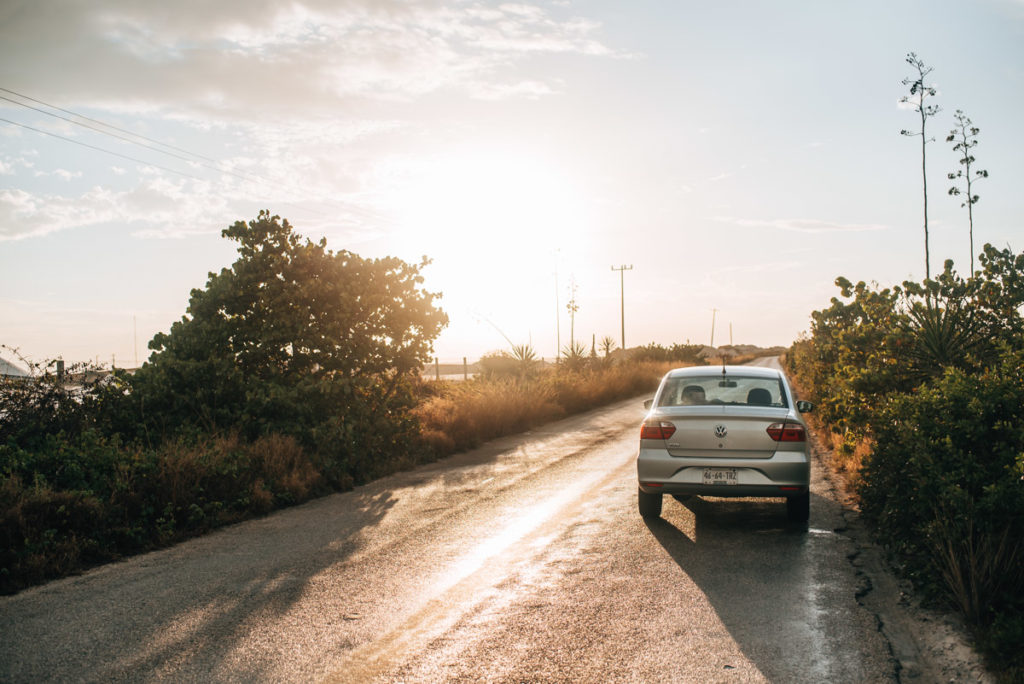 Getting Around a Town/City
If you have a rental car, then you can of course also use it to get around within the town or city. This works great in places like Bacalar, for example. But the bigger the city, the more impractical it usually becomes to get around within a city by rental car – the main reason being that the parking situation becomes a hassle, more expensive and more time consuming (eg. along the Beach Road in Tulum).
Uber & Taxi are good alternatives in this case. We used Uber ourselves to get around Mérida – it worked without any hiccups.
Most cities (Valladolid, Campeche and the majority of Mérida) are small enough that the distances are walkable. In other destinations, bicycle proves to be the best mode of transport (eg. in Tulum and Holbox).
3. Highlights & Itinerary on the Yucatán Peninsula
You are probably interested in what there is to experience on the Yucatán Peninsula and which highlights you should not miss. Therefore, we can recommend you this blog article in which we describe our itinerary:
Detailed blog article: Our Yucatán Road Trip Itinerary
You will find an extensive description of the exact stops we took on our round trip. So if you're interested in what the Yucatán has to offer, then you will find this article very interesting and helpful. Of course there are also detailed blog articles for each of the Yucatán destinations we outlined, along with our personal insider tips for you.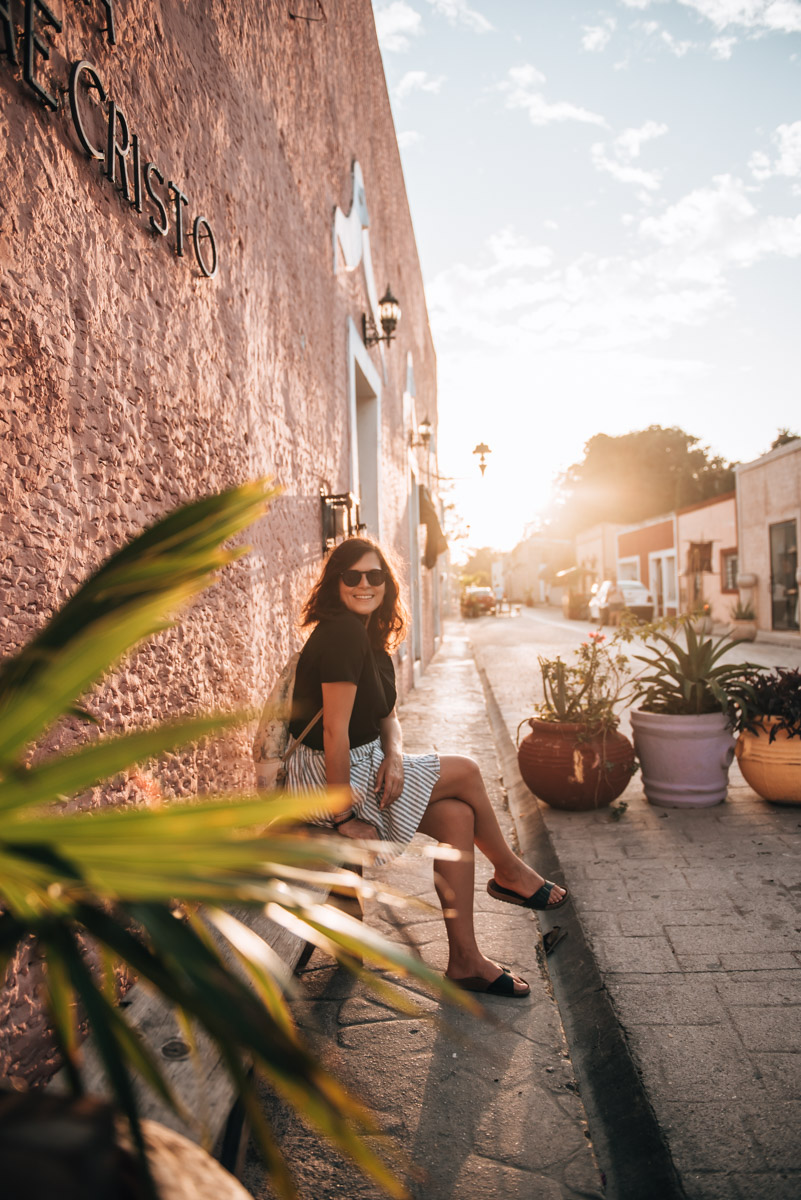 4. Food & Drink: The Mexican Cuisine
To be honest: The Mexican Cuisine did not exactly knock our socks off. But that doesn't mean we didn't like it – quite the contrary actually. We ate very well and never once had a 'bad' meal. However, we did find the Mexican dishes to be rather monotonous by the end and this is mainly because we, as (mostly) vegetarians, could not enjoy the whole range of Mexican cuisine due to the heavy meat presence in the majority of dishes. Most of the dishes also happen to include tortillas and it got to a point where we just could not even look at them any more.
Classics & Specialties in Yucatán
The absolute classic in Mexico are the tacos: Soft corn tortillas are served in a variety of ways. Most are filled with meat, but there are often vegetarian alternatives. The best place for authentic tacos is the so-called Taquería. Tacos are usually very cheap – often you pay just a few Pesos per taco. Plus, you can choose to add several dips on top. Attention: some of them (mostly the green ones) are hella spicy!
In the deep-fried form, tacos are called Salbutes. This also applies to the so-called Quesadillas (stuffed and cheese-topped Maistortillas), Burritos (rolled corn tortillas) or Enchiladas (filled and sauce-spilled corn tortillas). You can also get excellent guacamole everywhere on the Yucatán – plus, you can tell that the avocados are locally sourced.
Let's take a look at the lesser-known dishes, which unfortunately are reserved almost exclusively for meat eaters: Sopa de Lima is a chicken-lime soup with tortilla strips. Those who order Cochinita Pibil, will be served stewed pork. On the coast there are often fish specialties. The Peruvian classic Ceviche has also made it to the Yucatán.
The national drink of Mexico is the so-called Mezcal, the most famous tequila in Mexico. Tequila-based cocktails can be found throughout the country. The best known is the Margarita, which is offered in multiple variations. Beer ("Cerveza") is also drunk, including Sol or Corona.
Often there are freshly squeezed fruit juices, but you see the locals mainly with soft-drinks instead: The Mexicans have one of the highest rates worldwide for the consumption of soft-drinks! We found the Agua de Jamaica very delicious -it's a hibiscus flower tea, which is served ice cold. Water Tip: It's best to stay away from drinking tap water in Mexico.
Vegetarian Options in Yucatán
Let's put it this way: There are definitely countries where it's much easier to eat a balanced vegetarian diet than in Mexico. Traditional Mexican cuisine is heavily meat dominated.
The Yucatán Peninsula is a bit of an exception, though. With tourism firmly anchored, in many places (especially along the Riviera Maya) there is an incredible supply of meat-free food. It's no longer a rare sight to see purely vegetarian or vegan restaurants.
The further you get away from the tourist hotspots, the harder it is to find creative vegetarian food. But not once, did we have a problem finding something delicious to eat in our three weeks of travel. We just thought it was a shame that we seldom dined in the really authentic shops, but having the same food (eg. Tacos everyday) would certainly get boring for us in the long run.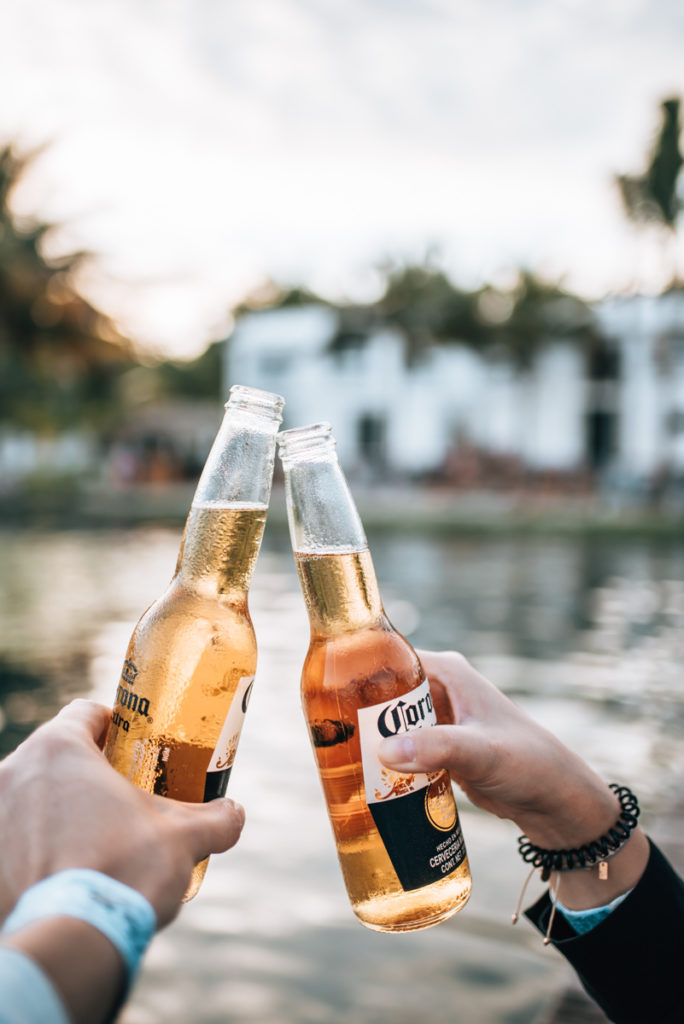 5. Accommodations in the Yucatán Region: Where to stay
The bigger the town/city, the more overnight accommodation there is on offer. In the hotspots like Playa del Carmen and Tulum, you have the choice from a very extensive list of accommodations: from the cheap dorm beds to the sinfully expensive luxury resort – there is everything.
The less touristic a place, the less accommodations options you'll find. For example, when visiting Calakmul, we could only choose from a handful of accommodations.
Important to know: The price level for accommodation in Mexico is higher than expected – at least if you want to have a certain standard. We ourselves, mostly lodged in small hotels or B&Bs and spent on average around 80 to 90 Euros per night for a room. There are also slight price differences between the towns: while Holbox and Tulum are more expensive, Campeche is cheaper.
You can find out exactly which hotels we stayed at (and which ones we recommend) in this particular blog article: Yucatán Itinerary
6. Travel Costs: How Much Money Do You Need to Travel Mexico?
Currency & Cash in the Yucatán
The currency of Mexico is the Mexican Peso. It is abbreviated either as "MXN" or with the dollar sign $ – which often causes confusion. One Euro is equivalent to roughly 24 Pesos (as of December 2020).
Banknotes are available in 10, 20, 50, 100, 200, 500 and 1000 Pesos, as well as Coins in 1, 2, 5, 10, 20, 50 and 100 Pesos – and most likely you will come across coins with smaller amounts. 1 Peso is further divided into 100 Centavos, in which there are more coins of varying amounts.
ATM Withdrawals
It's usually quite easy to withdraw money from ATMs. However, we would recommend having more than one card, just in case. For example, we always have at least one debit card (EC card) and one credit card per person. (Note on ATM card: Do not forget to disable GeoControl, otherwise the card will not work in Mexico.)
The ATM fee depends on a variety of factors:
How much fee your own bank charges you
How much the third-party (ATM, foreign bank fee) charges. This is usually about 3 € per transaction in the Yucatán region. (Also, depending on your type of credit card, you might be eligible to have these foreign fees refunded upon request.)
Some ATMs on the Yucatán Peninsula will expel out only dollars – such as the ones on Holbox. This is something you should definitely avoid, as you then have to change those dollars into Pesos and you will lose a lot to foreign currency exchange fees and foreign banks.
Exchanging Money
There are plenty of Money Exchange Stalls, especially in the larger towns, where you can exchange Euros (or any other currency) to Mexican Pesos. Sometimes a passport is required.
The exchange rate is usually okay, but we recommend you to compare and do a cost-benefit analysis. Typically the exchange rate set by those Money Exchange Stalls tend to be worse than that of an ATM, but then you save on the ATM withdrawal fee. (Of course, this is obsolete if your bank waves ATM withdrawal fees.) Overall, it always depends on the individual case, whether it is cheaper to exchange money or withdraw from ATMS.
Additional Tip
Big Tip: No matter what your Home Bank Currency is (for us it's Euros), when you withdraw money from ATM's and it prompts you to "pay with your home currency (ie. Euros)" and "accept the ATM conversion rate" – always decline! And always (!) pay in Local Currency (ie. Pesos in Mexico). If you accept, then you give them freedom to bump up the exchange rate in their favour so they take more money from you, without you realising.
It's a very sneaky trick because people are more familiar with their home currency (ie. Euros) and always tend to 'accept' what the ATM says for fear of a cancelled transaction if they decline. But if you decline, the transaction normally still goes through – this time at a more 'fair' exchange rate!
Travel Costs in the Yucatán
Mexico is not an extremely cheap travel destination. Sure, the price level is lower than in Austria or Germany, but higher than, for example, in Southeast Asia. We personally thought that we would need less money.
Of course, the actual costs always depend heavily on your travel style. From cheap Hostel beds to the expensive Eco-Resorts – you'll find everything. Especially in the more touristic places, you can spend an incredible amount of money.
How expensive is Yucatán…?
Cocktail at a restaurant in Tulum (ie. high prices): 170-200 Pesos
Have breakfast in Tulum (cool café): 200 Pesos per person
Meal in a cheap restaurant: 50-100 Pesos
SIM card with 6.5 GB of data: 650 Pesos
Chichén Itzá entrance fee: 530 Pesos
Rental car for 3 weeks: 632 Euro (booked via Sunny Cars)
Gasoline: 20 Pesos per liter
Double room in a nice little hotel: on average between 80 and 90 Euros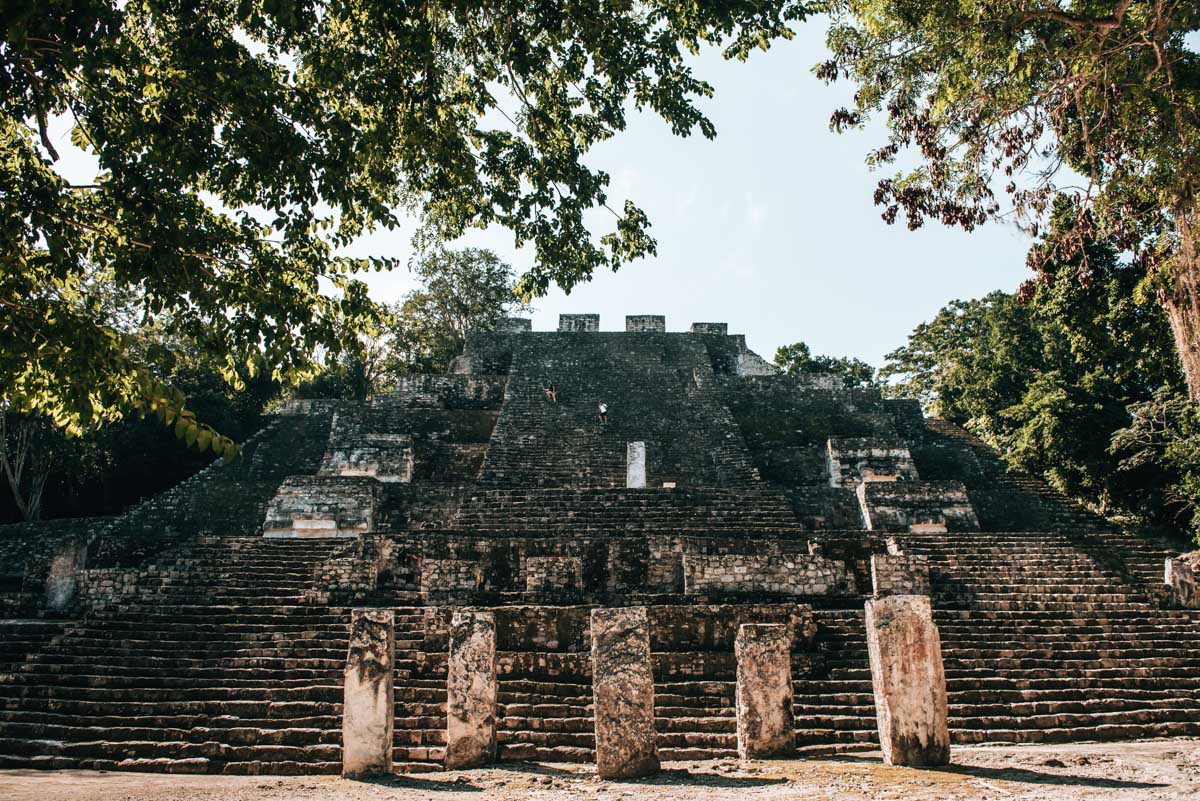 7. Internet on the Yucatán Peninsula
Wi-Fi is available almost everywhere and most hotels offer free Wi-Fi access. The connection is usually fine, but in isolated locations (such as Holbox or Xpujil), it is just enough to get the necessities done.
Personally, we like to always get a local prepaid SIM card immediately after arrival. Having the luxury of being able to do research from anywhere on the smartphone, is something we love to have. The only requirement is that your phone is unlocked. We got our SIM card in Tulum in a small mobile phone shop. The lady also set everything up for us, so we did not have to worry about anything.
Our network operator was Telcel. The network was good in most places (4G), although we had no reception for over half an hour on the more outback trips. Only on Holbox, did reception seemingly vanish, but you shouldn't expect high-speed Internet from an island anyway.
Prices at Telcel (as of December 2018):
1 GB: 100 Pesos (valid for 17 days)
3.5 GB: 300 Pesos (valid for 33 days)
6.5 GB: 500 Pesos (valid for 33 days)
+ one-time fee for SIM card: 150 Pesos
8. Security in the Yucatán Region of Mexico
Safety is always a rather subjective and individual matter: while one person might be lucky enough to have only good and positive experiences, another could be very unlucky and encounter more than one negative misadventure. If the first person, whose positive experience would deem the country to be safe, the other not-so-lucky person would never come back and warn others from visiting. Therefore, we can only speak from our personal experiences and this is our honest impression.
We ourselves did not encounter a single negative experience in all our three weeks through Mexico. Not one. We felt safe the entire time – whether it be in the car during the day or wandering the streets of a city late at night.
However, Mexico is not exactly blessed with a low crime rate. The culprit is primarily the drug war, of which Yucatán is (luckily) largely uninvolved and untouched. The fact is that the murder rates in Mexico is exorbitantly high and abductions are also large. However, this is very rarely the case for innocent tourists.
A few safety tips for travelling through Yucatán
Having said that, there are a few things you should be mindful of and be prepared for in case anything should happen:
Expect to see a high presence of military and police on patrol – especially in larger cities (eg Playa del Carmen, Mérida). With the rental car you will regularly pass by military checkpoints. Thankfully, we were not stopped once, but it's still pretty daunting at first. The military are mostly after smuggled weapons and drugs.
Avoid driving at night – unless there's no other way and you have an obligation to reach your destination. We ourselves did not always succeeded in doing this, but we tried to arrive at our destination before dark. Firstly, driving in the dark with countless random potholes and "topes" is not fun. Secondly, there are some horror stories of raids circulating at night.
Even in the cities, we tried to avoid small, dark side streets at night. It's not that we felt insecure, but you just never know. This applies especially to women travelling alone.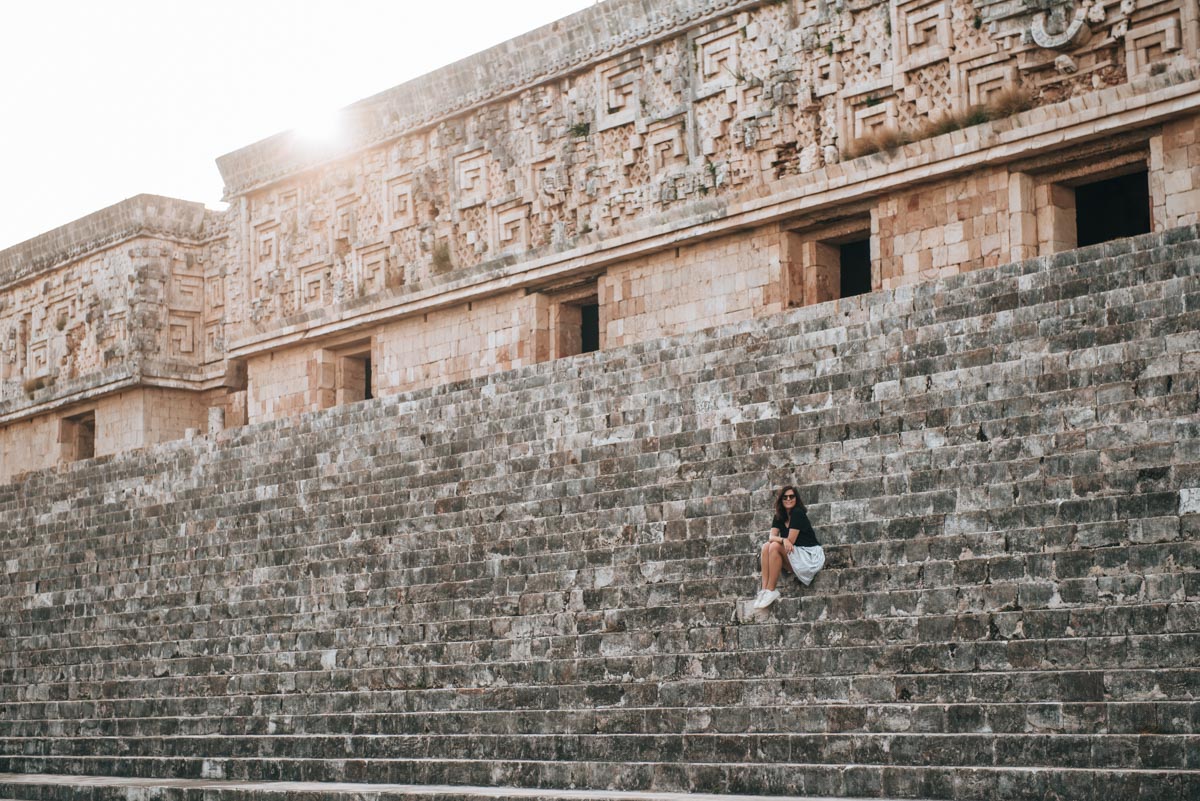 ---
Disclaimer: Affiliate Links
This blog article contains our personal recommendations in the form of so-called affiliate links. If you book or buy something through the links, we will receive a small commission. For you, this does not change the price at all. A million thanks from the both of us!
Have you been to the Yucatán Peninsula in Mexico and would like to share a few more travel tips? Or are you planning a trip there and still have questions? We look forward to receiving and responding to your comments!