When someone is planning a trip to Southeast Asia, Malaysia is not usually the first thought. Malaysia seems to be a bit of an underdog. If you want to see impressive nature, then you're drawn to Indonesia. Those searching for paradise beaches travel to Thailand. Malaysia is often overshadowed by its neighbouring countries.
We would say: Malaysia consists of a bit of everything. It has lovely beaches, lush vegetation with the jungle and tea plantations, as well as modern metropolises. Yet Malaysia is in no way the front runner, if you want to put it like that. Maybe that's why Malaysia is often left off to the side as a travel destination.
What does make Malaysia really unique is the coexistence of different cultures there. Malaysia is a multi-ethnic state and that is reflected in the architecture as well as the culinary art of the country. Speaking of culinary art: We were quite fond of Malaysia's cuisine. You can taste your way through the most wonderful Indian restaurants there – a dream. But we'll come to that later.
In this blog article we let you in on what exactly awaits you on a trip to Malaysia. We've packed all of our tips for planning and preparing your Malaysia trip into this article, so that you're perfectly prepared.
1. Malaysia: What to expect & initial travel tips at a glance
Malaysia is a melting pot of cultures. A variety of nationalities live next door to each other in Malaysia. Next to the Hindu temple is the mosque, you hear the muezzin while you watch a Buddhist temple ceremony and Chinese restaurants are lined up alongside Indian restaurants – in Malaysia this is everyday life. The following three things are what makes Malaysia stand out as a travel destination in our eyes:
Culture: is a multi-ethnic state. You would struggle to find so much cultural diversity in any other country in Southeast Asia as in Malaysia: Approximately half of the population is Muslim Malay. Therefore, Islam is the main religion in Malaysia. In addition to this, immigrants from China and India also make up a large part of the population. The presence of many cultures is reflected in the architecture: from the mosque to the Hindu temple, from colonial buildings right to the skyscrapers of Kuala Lumpur.
Nature: From the jungle of Borneo over white beaches up until the tea plantations in the cooler highlands – Malaysia is blessed with really beautiful nature that is also rich in variety.
Malaysian food: Quite honestly – one of the best things in Malaysia is the delicious, diverse food! It is roughly influenced by three cultures: Malaysian, Chinese and Indian. If you like good food, you will love Malaysia.
The best time to travel to Malaysia
First up, the most important info: The climate in Malaysia is tropical. That means you have to be prepared for rainfall, high temperatures and high humidity all year round. Only some of the more mountainous regions, such as the Cameron Highlands, are an exception to this.
Generally speaking, there are two main seasons in Malaysia (as in other tropical travel destinations): dry season and rainy season. The dry season or rainy season occurs in different months depending on the region. Important: Rain showers are also common in the dry season.
Travel times depending on region in Malaysia
Malay Peninsula, West Coast: The rainy season is not so pronounced here, therefore you can actually travel the West Coast of the Malay Peninsula all year round. You can expect a small spike in rainfall in April and October.
Malay Peninsula, East Coast: Unlike the West Coast, the rainy season is more pronounced in the east. It takes place between October and February. Therefore, we recommend making a trip in the dry season between March and September. The European summer holidays are ideal in terms of climate, although it is of course a busier time then.
Borneo ('East-Malaysia'): Borneo (more precisely, the Malaysian part of Borneo Island) is generally richer in rainfall than the Malay Peninsula. December and January tend to be the months with the most rainfall. The dry season in Borneo usually occurs during the Europe's summer.
Our personal experiences during the ideal travel time for Malaysia
We ourselves were in Malaysia in June and July and can definitely recommend this travel period. We had very little rain and a lot of sunshine. Even though July is considered peak travel season, we didn't really have the feeling that it was that busy. For example, we were able to spontaneously book many of our preferred accommodation options without a problem.
Getting to Malaysia: Do I need a visa?
Good news: In case you have an Austrian, German or Swiss passport, then entering Malaysia is very easy. You are able to enter Malaysia without any fees and without a visa and are allowed to stay up to 90 days in the country. You merely have to give your fingerprints and receive a stamp in your passport – that's it! It couldn't be easier.
Officially you also need to show an onward flight ticket to enter the country, but we personally were not asked. It is important that your passport is still valid for at least another six months.
Travel guides for Malaysia: Our tip
We used the Stefan Loose Malaysia travel guide for our Malaysia trip, which we can highly recommend. The Stefan Loose travel guides are always our first choice for Asia. There are very well researched and just right in terms of scope. In addition, they are primarily directed towards individual travellers.
You can purchase the travel guide here: Lonly Planet Malaysia Travel Guide
2. Highlights in Malaysia: Our Tips
Here we cover one of the most important questions: What can I see and experience in Malaysia? There is a long list of travel destinations in Malaysia.
Malaysia is made up of two regions: 1. The very developed West Malaysia (= the Malay Peninsula south of Thailand) with the capital, Kuala Lumpur. And 2. The more original East Malaysia on the Island of Borneo, which is located about a two-hour flight away. If you only have limited time available (less than two weeks), then we recommend you concentrate your time in just one part of the country.
Well-known travel destinations in Malaysia
Kuala Lumpur: Many people begin (or end) their trip in the country's capital, known as KL for short by those in the know. Kuala Lumpur is a surprisingly modern world metropolis. The busy skyline is characterised by the famous twin towers, the Petronas Towers. The coexistence of the many diverse cultures is exciting: From Little India to China Town, from Hindu temples to the mosques of the city – that's Kuala Lumpur!
Cameron Highlands: Tea plantations as far as the eye can see! For many, the cooler Malaysian highlands is one of the big highlights of their trip. The sprawling landscape, covered in tea fields is breathtakingly beautiful.
Georgetown: The colonial city on the island Penang, connected by bridge to the mainland, is certainly one of the most beautiful in Malaysia. We felt great there right from the start surrounded by the beautiful colonial buildings, the Chinese temples and the wonderful street food.
Islands/Beaches: Of course, taking a beach holiday in Malaysia is also possible. The islands Tioman and Langkawi are among some of the most well-known beach destinations in Malaysia.
Borneo: If you fancy the jungle, then get yourself to Borneo. Borneo is so large that you could easily spend several weeks here alone – especially if you also explore the Indonesian part. In Borneo you can see some of the world's last wild orangutans.
Further Tips: Our Malaysia Travel Itinerary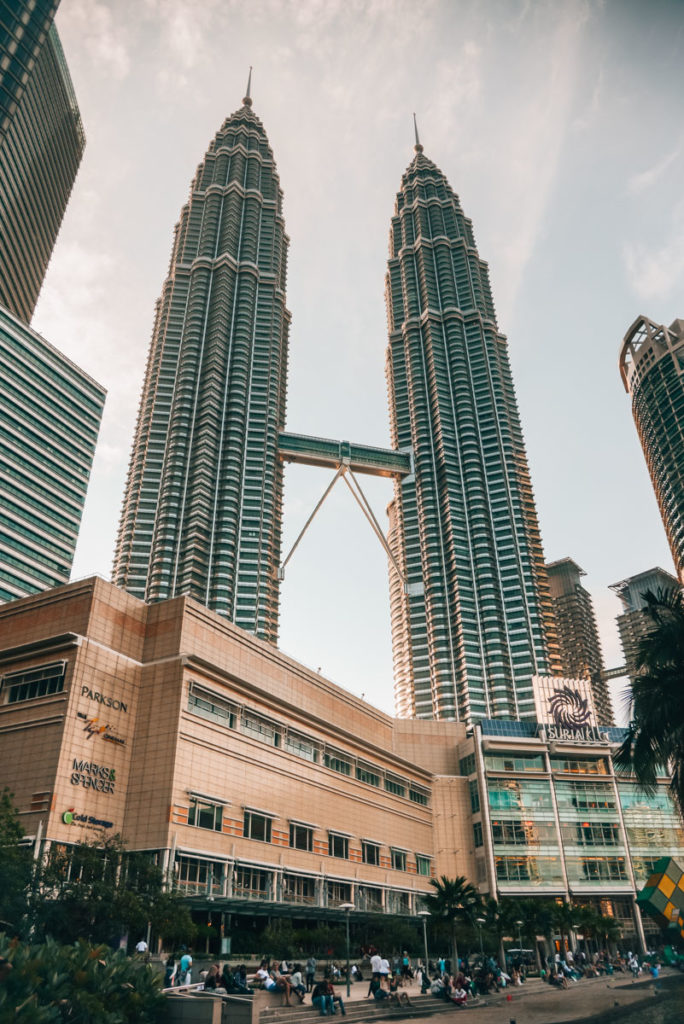 3. Travel tips for getting around Malaysia
Personally, we found it very easy to get from A to B in Malaysia. Particularly on the Malay Peninsula, the infrastructure is very well developed. Also, the distances are quite manageable, so often you don't need to be on the road for too long.
We recommend booking your tickets through 12go.asia. There you can search for buses, trains, ferries and also taxis or even flights and then book your ticket straight away. In a country like Malaysia the possibilities can be pretty overwhelming.
You can book tickets for transport here: 12go.asia
Bus trips in Malaysia
Malaysia has a very well develop bus network. The bus transport is highly organised, and you can reach almost any city in West Malaysia by bus. Some bus stations in Malaysia are so modern that we were genuinely surprised. Most of the buses are also very modern and comparatively cheap.
In addition, there are minibuses in the tourist areas, which are hotly debated among backpackers. We are not big fans of them, but we did for example make our way to the Perhentian Islands by minibus. The benefit: most minibuses will take you door to door (or port in our case). The disadvantage: They are more expensive than the usual long-distance buses. In addition, the driving style of some minibus drivers often put us in a certain state of anxiety.
Taking the train in Malaysia
Some routes in Malaysia are ideal to cover by train. The train network is pretty manageable. Roughly speaking, there are two train lines on the Malay Peninsula: One along the West Coast and one along the East Coast.
The most well-known and most frequented route runs along the West Coast from Pedang Besar in the north (bordering Thailand) to Gemas in the south. Here you will pass by Kuala Lumpur and other cities along the way. Butterworth (the place at the gates of Penang Island) also lies along this route, but not all trains stop here. Otherwise, the train ends in the somewhat inconspicuous town of Gemas, where you can change to the East Coast line and continue in the direction of Singapore.
The route along the East Coast (also known as the jungle train) runs from Tumpat in the north (close to the Thai border) to Johor Bahru in the south on the border to Singapore.
Taking a taxi in Malaysia
Taking a taxi is often a good idea for short distances – for example, to reach you hotel from the train station. You should make sure that the taxi metre is running or alternatively negotiate a price in advance.
Using the app 'Grab' is also very popular now. Grab is similar to Uber. You type your destination straight into the app. It will then show you the price. Then you confirm your details and a driver close to you will accept your request. It usually takes less than five minutes for the car to arrive.
At one point or another we personally also used a taxi to manage a longer trip over land. There were three of us traveling together so we could split the costs between three people. The advantage is that such a taxi trip is probably the most convenient way to travel. The disadvantage: Often it takes a while longer to find a driver that is willing to drive such a long distance for a reasonable price. Naturally, this is also the most expensive way to travel.
Flights within Malaysia
Malaysia has a very dense domestic flight network, and many cities are connected with one another. There are many airlines, such as Malaysian Airlines, Air Asia, Malindo Air and Firefly. Sometimes you can find very cheap flights. Our tip: definitely look for flights on the airline's website as well. You can often (not always) find the lowest prices there.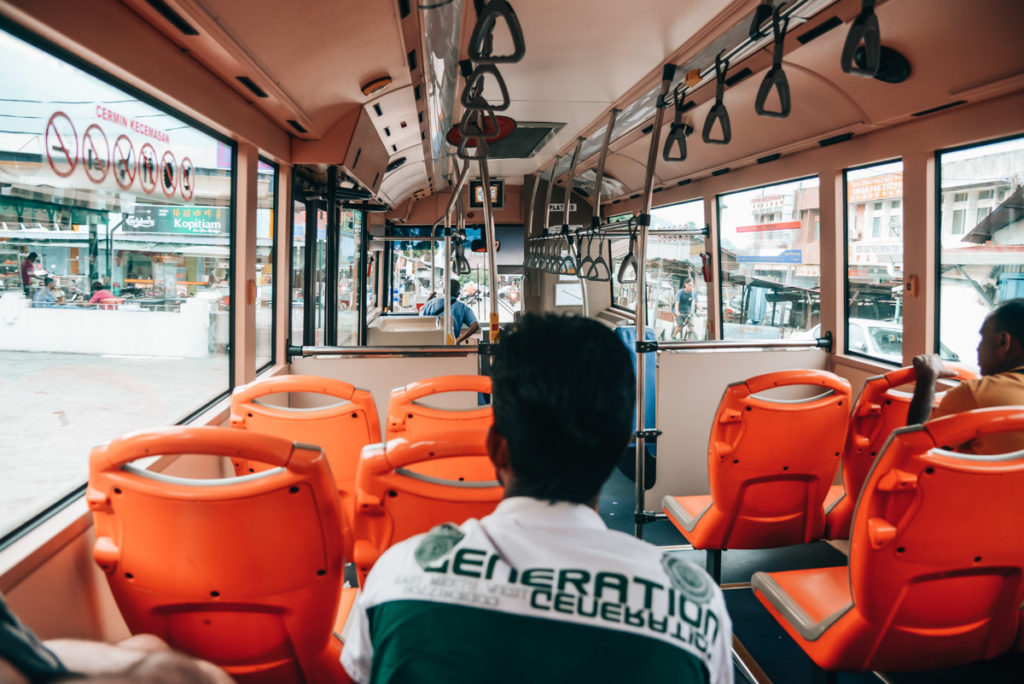 4. Travel costs in Malaysia: How much money will I need?
Currency & Payments in Malaysia
The currency in Malaysia is the Malaysian Ringgit, RM for short, or MYR. You can easily withdraw money at a money machine (ATM). There are countless banks and ATMs in urban areas. However, before travelling to remote islands you should first find out what the situation is like there and then withdraw enough cash in advance if you need to.
If you are from Austria, make sure that the GeoControl function is deactivated at your bank before you leave. You can usually do this online.
The banks in Malaysia usually do not charge a fee to withdraw money, but your bank does charge a fee. Out tip: Always select the option "in local currency" when making a withdrawal, otherwise you will get a very bad rate.
Travel costs in Malaysia: Price level with examples
What does … cost in Malaysia?
A bus trip from Kuala Lumpur to Melaka: from 10 RM (ca. 2 Euro)
A double room in a nice hotel with a private bathroom: around 60 to 70 Euro
A dinner for two, including drinks in a nice Restaurant: 50 RM (ca. 10 Euro)
Entrance fee for the viewing platform up the KL Tower: 49 RM (ca. 10 Euro) or 99 RM for the Sky Deck (ca. 20 Euro)
Taxi trip from the Cameron Highlands to Kuala Lumpur: 350 RM (ca. 75 Euro)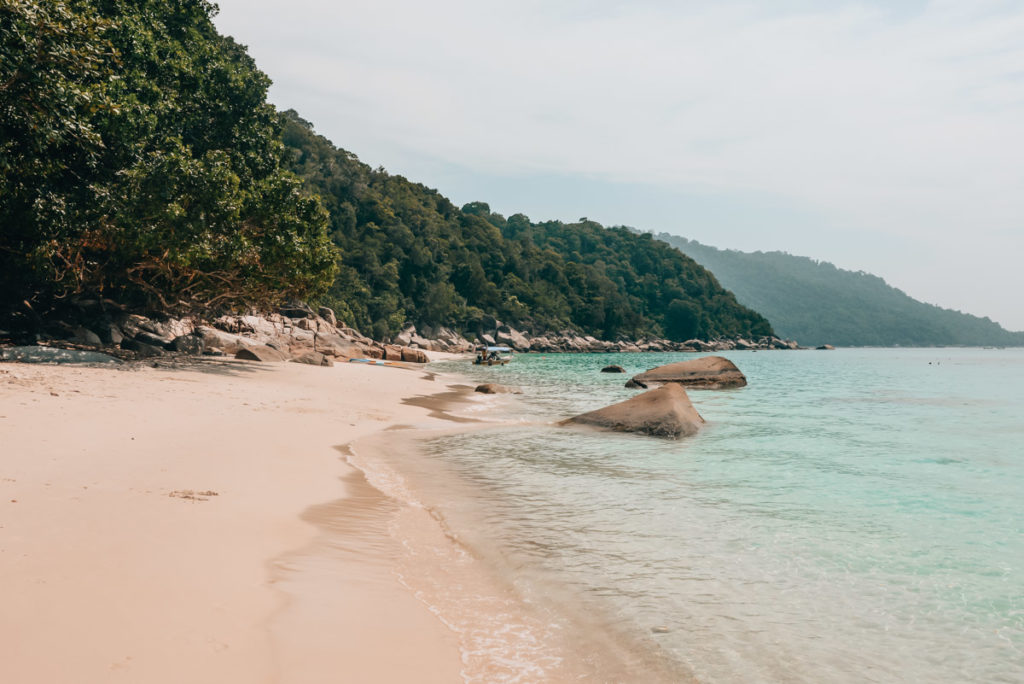 5. Eating and drinking in Malaysia
Malaysia is a paradise for good food! The culinary options are equally as diverse as the people of the country. The food of the country is primarily influenced by three nations or cultures: Malaysia, China and India.
Personally, we were blown away by the Indian-influenced restaurants. You will find these along the West Coast of the Malay Peninsula, for example in Penang. The great thing about the Indian restaurants is that most of them offer a lot of vegetarian dishes.
Malay and Chinese cuisine serve more meat and fish. Examples of typical Malay dishes are Nasi Lemak (rice with coconut milk and other ingredients such as chicken and egg) or Laksa (a coconut curry soup).
Our tip: If you're looking for restaurants which offer a meat-free menu, then we highly recommend the HappyCow app. We use this app almost every day to find restaurants when we travel.
Restaurant-Tips for Malaysia: Our favourite discoveries
Restoran Nagasari Curry House (Kuala Lumpur): Extremely delicious and very authentic Indian restaurant.
Jalan Nagasari, Kuala Lumpur
Pak Putra Tandoori & Naan Restaurant (Melaka): Very popular Indian restaurant with plenty of seating, especially along the street. The dishes are excellent.
Jalan Laksmana 4, Melaka
Street Food in Malaysia
Malaysia is also well known for its superb street food. Usually, the more inconspicuous and smaller the food stall is, the more delicious the food. If you don't dare to navigate the street food stalls alone – no problem, we understand. In this case we whole-heartedly recommend booking a food tour. In the company of a guide, you will get to know all about the specialties of Malaysia's food stalls – an excellent experience!
You can book the tour in Kuala Lumpur here: Kuala Lumpur Food Tour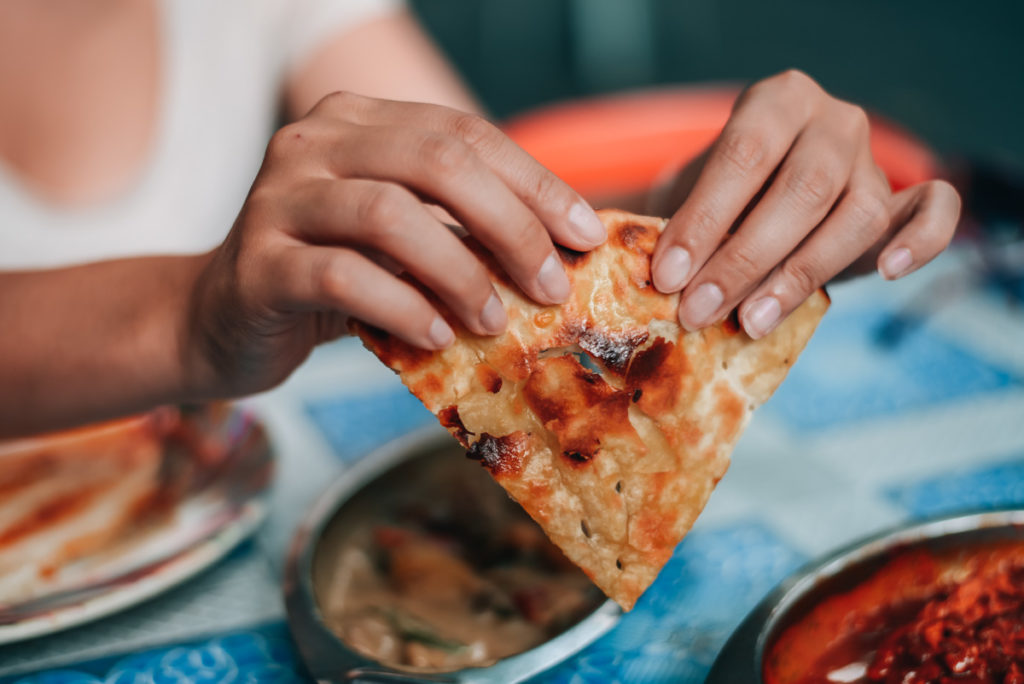 6. Health in Malaysia
Before travelling to Malaysia, you should visit a tropical institute for advice – preferably at least four weeks before your trip. We warmly recommend Traveldoc in Vienna. Traveldoc has been our first point of contact for trips abroad for years now.
At the tropical institute you can also find out exactly what vaccinations you need. It comes down to the individual: Some people just travel with the most necessary vaccinations. Some vaccinate themselves against everything possible (rabies, Japanese encephalitis). We are not going to provide any vaccination recommendations here – that would be fairly dubious. The best thing to do is to find a doctor that you trust.
Is there malaria or dengue fever in Malaysia?
Unfortunately, yes! Both these tropical illnesses are transmitted through mosquito bites. The stupid part about it: There is no vaccination against it. And: The dengue mosquitos are more active during the day, the malaria mosquitos more so at dusk or at night.
There are also other tropical illnesses that are transmitted by mosquitos (Japanese encephalitis). Some places in Malaysia are considered malaria free but there is still the risk of dengue infection. Hence, the most important tip we can provide: Always make sure you have adequate insect repellant.
Tips for mosquito repellant
We personally handle it by wearing long clothing as much as possible in Southeast Asia. In risk areas we impregnate our clothing with Nobite-clothing-spray. (Mosquitos can usually bite through the fabric without a problem).
In addition, you should protect your skin. Here we often use the tried and tested Nobite. This comprises of 50% deet – the active ingredient that should keep the mosquitos away. That's a pretty high percentage, which is why Nobite is so effective. In the less affected areas, we often use local products. We provide more detailed information for you in our packing list
Apart from that we recommend sleeping under a mosquito net at night. A mosquito net provides a pretty safe protection from bites. If necessary, also use the air conditioning in your bedroom. Mosquitos don't like this so much. Many accommodations have mosquito nets attached to the bed, but not all of them. Therefore, many people will travel with a mosquito net. Truth be told, we haven't done this so far – if you are mainly travelling to more remote areas then it's probably worth it.
7. Safety: How safe is a trip to Malaysia?
Just like in the rest of Southeast Asia, we never felt unsafe in Malaysia. Not even at night and also not in more remote areas. Of course, there is always the risk of pick-pockets – even in Malaysia. Therefore, you should be especially cautious in crowds.
We noticed a relatively high police presence in Malaysia, particularly in large cities like Kuala Lumpur. You do get a slight nervous feeling of attacks.
The situation in northeast Borneo is a little different to the rest of Malaysia, because there is a slightly higher risk of terrorist kidnappings there. For up-to-date info, we always recommend looking at the website of the Ministry of Foreign Affairs: Security Malaysia.
8. Internet & Apps in Malaysia: Our tips
Personally, we always like to get a local SIM card. They don't cost very much make travelling around much easier. For example, you can quickly and easily research certain tips (e.g. restaurants) while on the move or, of course, keep in contact with your friends and family.
There are four large network providers in Malaysia, although Maxis apparently offers the best network coverage. However, in general there is not a great difference between the providers. You can easily buy the SIM card in one of the numerous mobile phone shops. Usually, you walk past them all the time, but if in doubt you can simply inquire at your accommodation.
Helpful apps for your Malaysia trip
maps.me or CityMaps2Go (download the Malaysia map so that you can also use it offline): We use these apps to mark individual sights and restaurants.
Happy Cow: You can use this app to find vegetarian and vegan restaurants close to you.
Maps-App (iPhone) or Google Maps: Great for navigating from A to B.
Google Translate: Even though people can get by using English everywhere, we find this translation app to be quite practical. The best thing to do is download the Malaysian package so that you can use it offline.
Grab: You can use this app to order a private taxi or motorcycle taxi. In some regions it's a superb option to get from A to B as comfortably as possible. You usually need a local number to register (i.e. a local SIM card).
---
Disclaimer: Affiliate Links
This blog article contains our personal recommendations in the form of affiliate links. If you book or buy something via the links, we will receive a small commission. This will not change the price for you at all. A million thanks from the both of us!
Do you have more questions for your trip to Malaysia? Or do you have tips or experiences that you would like to share with us? We look forward to your comments!