We basically had the perfect day in Kuala Lumpur. Here is what we did in Malaysia's capital.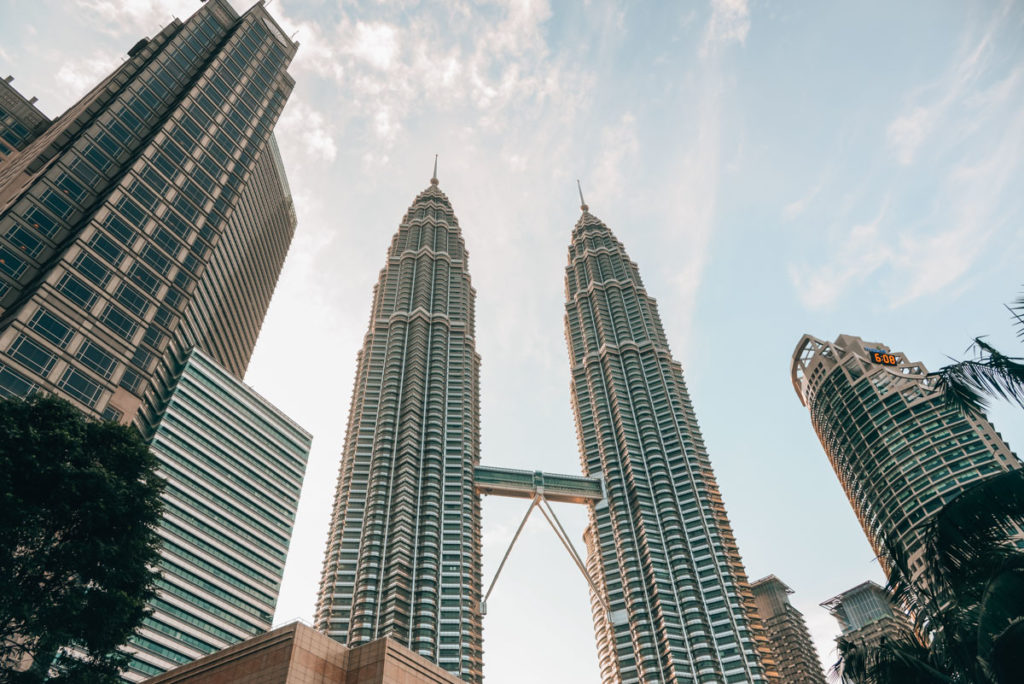 9am Sleep late!
There is honestly no better way to start the day: we sleep as long as we wake up by ourselves – without any alarm. Hello beautiful day, we're looking forward to meeting you.
Location: Parkroyal Serviced Suites, Jalan Nagasari, Kuala Lumpur
10:30am Breakfast at Tous les Jours
We love Asian food but definitely not for breakfast. In the morning, we're really craving for a good cappuccino. Curries and soups are awesome but not for breakfast. We're simply not used to it. We're heading to Tous les Jours and order Eggs Benedict and a cappuccino of course (which is by far the best coffee we've had in a while). By the way: The café also offers some nice cakes and sweets.
Location: Jalan Bukit Bintang/Jalan Sultan Ismail, Kuala Lumpur
12 pm KL Tower
Afterwards, we're heading to the KL tower. The entry fee is fairly expensive: we're paying 52 Ringgit (13 Euro) per person. And: these are not even the most expensive tickets as we're not allowed to enter the open air deck (which costs about the double). However, the view is gorgeous, but note that there are glass panels which can be annoying. To sum it up: We'll probably choose the open air desk on our next visit.
Location: Jalan Puncak, Kuala Lumpur (you can either walk or take the public transport)
2pm Late lunch at Restoran Nagasari Curry House
We're not hungry yet but: no perfect day in Kuala Lumpur without having a snack at this awesome restaurant. They probably serve the best Indian food in the whole city. You better not miss this gem!
Location: Jalan Nagasari, Kuala Lumpur
3:30 pm Petronas Towers
Time to visit the great Petronas Towers. As soon as we're standing in front of them we're definitely impressed of how huge they are. We also love the park nearby. You can also visit the famous Skybridge (which we didn't) but better buy your ticket in advance.
Location: Directly situated in KLCC (you can easily reach it by using the pedestrian walkway).
5pm Swimming with a view
After this long day of sightseeing and walking, we definitely need a refreshment. We're jumping into the pool of our hotel and enjoying gorgeous views on the Petronas towers and the KL tower. Can somebody please stop the march of time?
Location: Parkroyal Servied Suites, Jalan Nagasari, Kuala Lumpur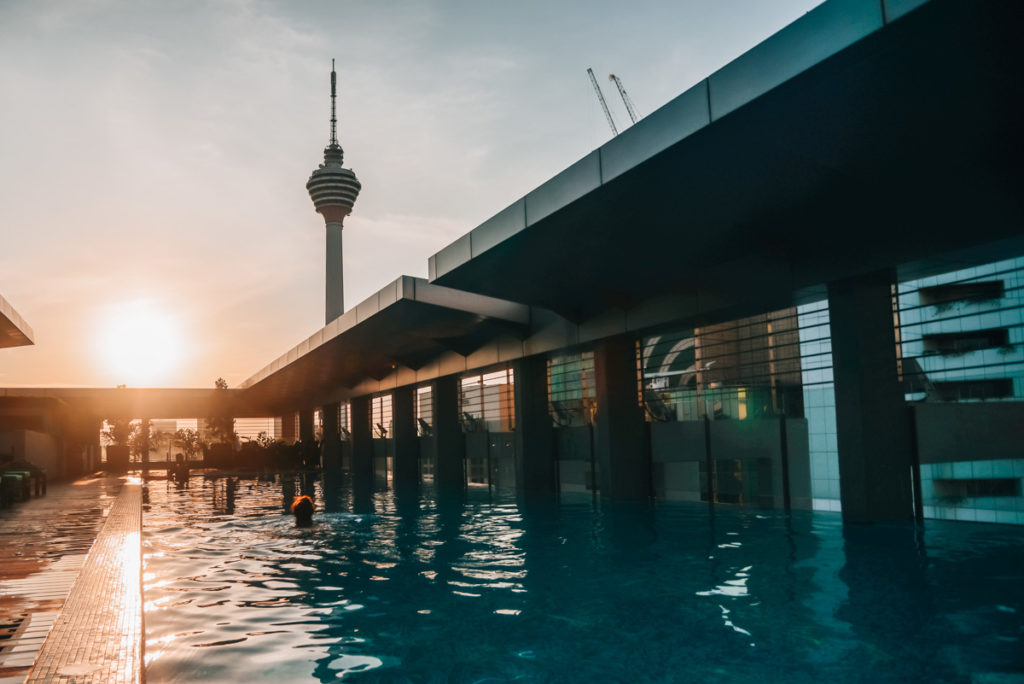 7:30 Dinner at Drift Dining & Bar
After reading all the great reviews on Tripadvisor, we definitely had high expectations. And we must admit: it was EVEN BETTER! You really have to go there, really! The restaurant is owned by an Australian guy. The size of the dishes is small which means that you can order many different dishes – which we did, of course. Every single bit of it was fantastic. Moreover, the staff is incredibly friendly and the drinks are lovely. We really had a perfect evening there.
Location: 38 Jalan Bedara, Kuala Lumpur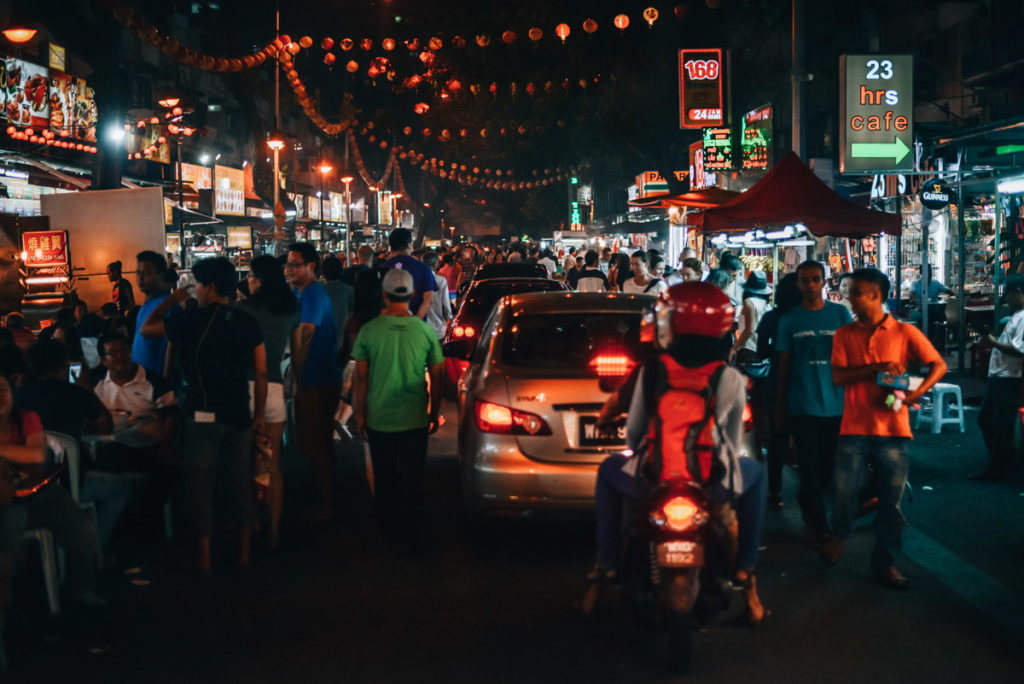 22:30 Skybar of the Traders Hotel
At this point, we would have loved to recommend the Sky Bar of the Traders Hotel but this would have been a lie. Why? Because we didn't enjoy our visit at all! The bar is situated indoor which means that you can only enjoy the view through glass windows. What is even more annoying, is that you can only sit right beside the window if you're consuming drinks or food for at least 550 Ringgit (130 Euro). We visited the bar on Kathi's birthday and half of the tables right beside the window were empty. We asked the waiter if we can have a seat there (as it was Kathi's birthday). No chance! We then had a cocktail (below average) and left soon.
Can you recommend us any other bar in Kuala Lumpur? We're looking forward to your comments!
Havana Bar
Marion: "Great place to have a cocktail in the evening if you're hotel is not far away. There is an outdoor area where you'll be sitting right beside the trees."
---
Many thanks to Parkroyal Serviced Suites for having us!
Merken
Merken