What to do in Chiang Mai? Are you traveling to Chiang Mai and looking for some travel tips? Here you go! We have been to Chiang Mai three times, sometimes even for weeks, and had a great time. Chiang Mai is a lovely city and we're sure you'll have an awesome time there.
1. Massage course
Why not learn how to do a thai massage? We booked a one-day-course at MTM Thai Massage School. Ming, our teacher and the owner of MTM, was super friendly and experienced. Unfortunately, our time was limited – next time we'll definitely choose a three-day-course.
More information about MTM Thai Massage School
Location: Unfortunately Ming closed her Thai Massage School and moved to Germany, but there are numerous other places where you can attend a Thai Massage Course.
Price: approx 1.500 Baht per person for a one-day-course
2. Muay Thai Fight
A night of Muay Thai Fighting is honestly an unforgettable experience. The entrance fee is 400 Baht but we bargained and paid only 300 Baht. There are some bars just around the boxing ring where we drank a beer. As a result, the waitresses let us sit in the first row (those seats are usually 600 Baht). The fights are partly miserable and partly incredibly real.
3. Monk Chat at Wat Chedi Luang
Talking to one of the monks at Wat Chedi Luang is definitely exciting and a great way to learn more about the Thai culture. We stayed there for one hour and asked plenty of questions. There is no fee, but you may donate some money.
More information about the "monk chat" at Wat Chedi Luang:
Location: Adresse: Wat Chedi Luang, 103 Road King Prajadhipok Phra Singh, Chiang Mai
Price: donation
4. Flying Fox in the jungle
Riding a zip line through the jungle is extremely thrilling. We didn't chose the most popular organization ("Flight of the Gibbon"), but booked our tour at Jungle Flight instead. Jungle Flight is a little bit cheaper. The short circuit takes around 5 to 6 hours and costs a little bit more than 50 Euros. Don't forget to bargain with the price.
More information about Chiang Mai's Jungle Flight
Book: in several travel offices or on their website
Prices: around 50 Euro for the short circuit
Backpacks and bags: can be stored in a locker
5. Visiting the Wat Phra That Doi Suthep
Visiting the holy temple on the mountain next to Chiang Mai is very popular among visitors. To get there, you can either join an organized tour or you can also easily reach the temple by a red "Songthaew" (share taxi) or by motorbike. The road is extremely winding. The ride takes around 30 minutes from the city center. A 30 Baht entrance fee is charged for foreigners. From the temple, you'll have an impressive view of the city.
More information about the Wat Phra That Doi Suthep
How to get there: join a group tour or get there on your own (shared taxi oder by motorbike)
Entrance fee: 30 Baht for the temple
6. Doi Inthanon National Park
Doi Inthanon is Thailand's highest mountain and definitely worth a visit. Most visitors join day-tour which includes the area's most popular spots: you'll be visiting a traditional Hmong village, the summit (2565 meters above sea level) and the two popular pagodas of the King and the Queen. Don't forget to bring a warm sweater as it can be quite freezing there.
7. Cooking class
There is no town in Thailand which offers more cooking classes than Chiang Mai. Make sure to join one of them! We chose Sammy's Organic Thai Cooking School and loved it!
More information about Sammys Organic Thai Cooking in Chiang Mai
Price: 1000 Baht for a one-day-class
Book: in several travel offices or on their website
8. Transport: Songthaew
Red Songthaews are cheap, fast and definitely our transport of choice. You'll be paying 20 Baht inside and 40 Baht outside the city.
9. Eating: The House Restaurant
Don't miss an evening there. The atmosphere is amazing, the food is delicious. The prices are definitely above average but you gonna love it.
More information about The House Restaurant
Location: 199 MoonMuang Rd Lane 5, Chiang Mai
Prices: around 300 Baht for main dishes
10. Sunday Night Market
Definitely one of the most amazing night markets ever. The Sunday Night Market (also known as the Walking Street market) is a must. Every Sunday at 4pm, the Ratchadamnoen Road turns into a crowded night bazar where you'll find amazing things to buy. The market closes at midnight.
More information about the Sunday Night Market
Location: along Ratchadamnoen Road
Opening hours: 4pm untill midnight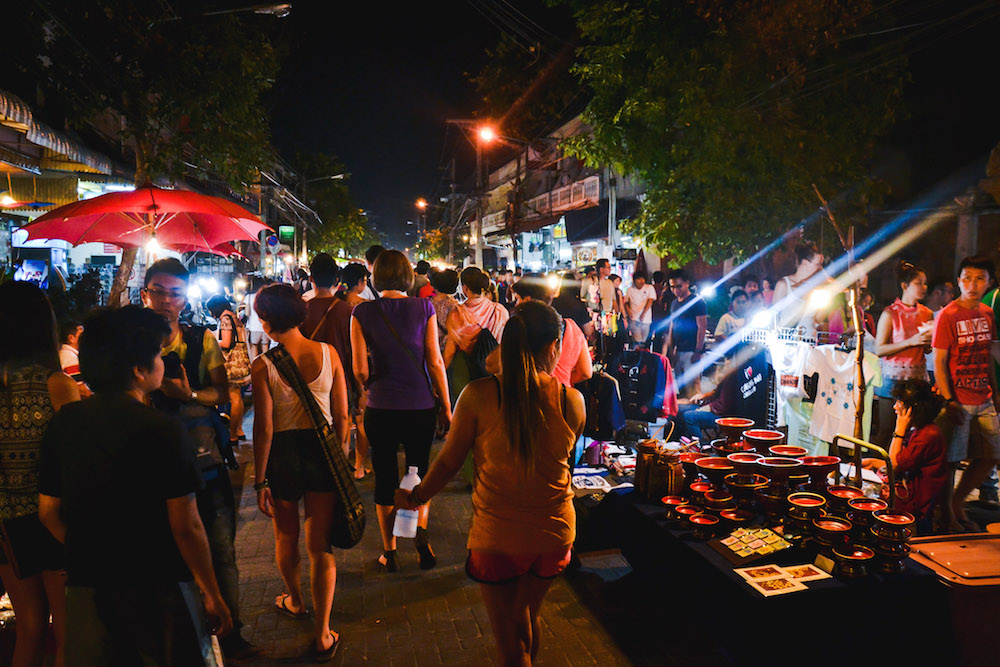 11. Accomodation in Chiang Mai
Low Budget: Siri Guest House
Arrived and stayed there for 10 nights because we really loved it. Jim, the owner, might be a bit reserved at first, but he's definitely a great host! The rooms are simply furnished but very clean. The area is very quiet and lovely. We paid 450 Baht per night which is extremely cheap compared to other guesthouses.
Mid-priced-hotel: Khum Phaya resort & spa
Khum Phaya Resort & Spa is an oasis with beautiful buildings set around a lovely pool. The rooms are comfortable and spacious. Breakfast is delicious.
Link: Khum Phaya Resort & Spa
---
Have you ever been to Chiang Mai? Tell us about your highlights and travel tips – we are looking forward to your comments!
Merken
Merken
Merken
Merken