If you're coming to Thailand, then Chiang Mai should definitely be on your list! This city is like the cultural capital of Thailand. With around 300 temples in the city of Chiang Mai, there are endless corners to explore.
We have found ourselves in Chiang Mai several times now and feel quite at home in the second largest city of Thailand – so much so, we've even spent a few weeks there.
So, if you are looking for tips and top things to do in Chiang Mai, then you've landed in the right place! We will share with you all the best highlights and activities in the city, as well as our list of the most stunning temples. We'll also share some of our favourite cafes and restaurants. There's so much to see and do in Chiang Mai – let's get into it!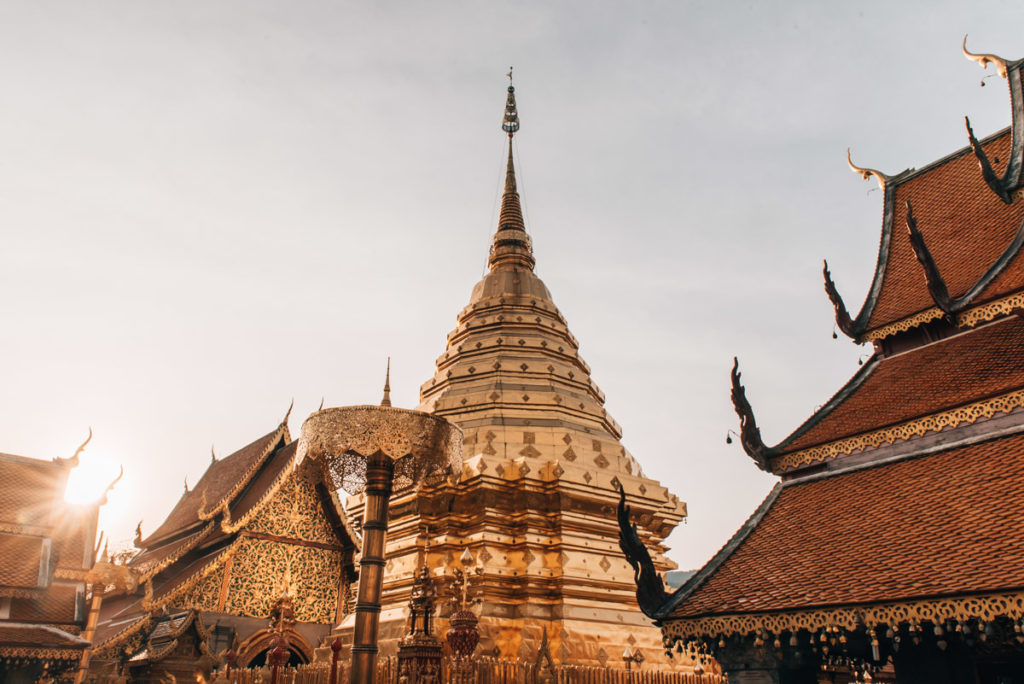 1. Chiang Mai: What to Expect & Travel Info at a Glance
Chiang Mai is the second largest city in Thailand after Bangkok. With this in mind, it is surprising how comfortable Chiang Mai is (as a city), in comparison to Bangkok. In some corners of Chiang Mai you almost feel like you've landed in a small rural town. Although sometimes, it can also feel the opposite, especially during the rush hours.
What makes Chiang Mai so special (apart from the many sacred temples) is its location: As soon as you get out of the city, you are surrounded by beautiful nature. For example, the highest mountain in Thailand, Doi Inthanon, is located just outside of Chiang Mai.
First Impressions of Chiang Mai: Old Town & trendy Nimman district
Chiang Mai makes it fairly easy for you in terms of getting around. The Old Town is located within a large square that is surrounded by the old city wall and a moat. The majority of the important temples in Chiang Mai are all situated within this square, but there are also a few that lie outside the walls.
One of our favourite areas within the Old Town is around Ratvithi Road Soi 2 (in the northeast of the square). It is very cozy here and you will find plenty of nice restaurants and cafés down the streets. In general, the Old Town feels almost village-like in some corners. The best thing is to just start walking and see where you end up – that seems to work a charm in the Old Town of Chiang Mai.
Outside the square, more precisely in the northwest of it, is the trendy district of Nimman (also called Nimmanhaemin). Many hip cafes, restaurants and hotels have established themselves here. Nimman is about a 20 to 30 minutes walk from the Old Town – depending on where you want to go. There are hardly any significant sights in Nimman, but the area is perfect for cafe hopping. 
How long should I stay in Chiang Mai?
The most difficult thing to generalise would be "how long you should stay" –  because the perfect length of time will be different for everyone. However, here are some tips to help you decide:
Stay 3 nights if you only want to visit the most significant sights;
or 5 nights if you like visiting temples and would like to have more time to explore;
or stay for a week (maybe longer) if you would like some time to do a few side trips and sign up for a fun course (e.g. massage course, cooking course).
2. Travel Guide: The Most Beautiful Temples in Chiang Mai & Tips
The city's numerous temples are, without a doubt, the most important sights of Chiang Mai. There are countless temples scattered around the city – roughly 300 they say. Of course, it would be almost impossible to visit them all in one trip! That's why we're going to share with you our list of temples, which we can highly recommend visiting. 
This list we're about to share will include both the top temples in Chiang Mai and our own personal favourites.
Super important tip: Make sure you wear appropriate clothing when visiting the temples. Your knees and shoulders should be well covered. Shorts for men are usually fine, but women in mini skirts would not be allowed in. Kathi's recommendation would be to go with long dresses (extra bonus because they also protect your legs from the sun). In some temples, you can also rent or borrow shawls to cover yourself, just in case you forgot to bring your own. 
Wat Phra That Doi Suthep
Interestingly, the most significant temple in Chiang Mai is actually not even in the city itself. Instead, you'll find this magnificent templed perched on a hill just around the corner from Doi Suthep. The temple is one of the holiest in the region and is also a popular destination for Thai pilgrims. Unsurprisingly, the gigantic golden Chedi (alternative name for Stupa) also attracts large crowds of people. 
We would recommend visiting the temple in the (late) afternoon if possible. For us, it slowly started to calm down around 5 pm and the light was especially beautiful. If you have enough time, stay until after sunset and watch the Chedi light up. Usually, the monks will gather at the temple for prayer at this time of day.
How to get there
The temple is about half an hour's drive from the city center and you have three options for reaching the temple: with your own scooter/moped, with a red shared taxi (Songthaew) or with a private driver.
We would personally recommend you go with the Songthaew. It's pretty cheap and definitely safer than a moped. There is a stop near the University of Chiang Mai where the Songthaews start their trips up the mountain. From here, the price for a one-way trip is 40 Baht. They usually set off as soon as the Songthaew is fully occupied – which can also take a while depending on the time of day.
Entry: 30 Baht
Extra tip: Doi Pui View Point
Wat Phra That Doi Suthep is located in the middle of the beautiful Doi Suthep Pui National Park. However, you don't get to see much of the National Park if you're only visiting the temple. That's why we decided to drive a little further into the National Park and explore more.
About 15 minutes from the temple, you will reach a lookout point called the Doi Pui View Point. From here you have a wonderful view of the hilly landscape. The view at sunset is particularly worth seeing. We rented a private Songthaew for the route (from the temple and back again) and paid a total of 200 Baht for this.
There are also other worthwhile destinations in the national park, including the summit of Doi Pui, which you can only reach by foot. We have saved this sunset hike for our next trip.
Wat Chedi Luang
Our favourite temple in the Old Town of Chiang Mai is Wat Chedi Luang – simply because it really stood out to us. No shining gold temple awaits you here. Instead, it's just an old historical temple ruin – this is what makes the temple so special and why we recommend you to visit it!
Our personal tip: At Wat Chedi Luang you have the opportunity to chat with a monk. They call this the 'Monk Chat' and you can go in daily between 9 am and 6 pm. There was no way we would miss an opportunity like this! You simply take a seat at one of the tables and you can ask the monk all the questions that you've been dying to ask. What a unique experience!
Entry to Wat Chedi Luang: 40 Baht
Monk Chat: Free Donation
Wat Phra Singh
Wat Phra Singh is also one of the most famous temples in Chiang Mai. Wat Phra Singh is said to be the most visited temple in the Old Town of Chiang Mai. The city's main Buddha statue is also located in this premise.
The temple complex is really beautiful and consists of several and some rather distinct buildings. The biggest eye-catcher is the giant golden Chedi – wow! You should definitely not miss Wat Phra Singh when you visit Chiang Mai.
Entry: 40 Baht
Wat Suan Dok
Wat Suan Dok is one of the lesser frequented temples in Chiang Mai, but we personally really love it. Here, you will find countless white Stupa towers pointing towards the sky. In the whitewashed mausoleums, you will also find the tomb of the previous Lanna royal family.
Wat Suan Dok is just outside the Old Town near the airport, which is why you can see a plane in our photo below. We were here in the late afternoon and can say that it's a pretty good time to visit!
Admission: Free
More temples in Chiang Mai
That is definitely not all! If you want to explore more temples in Chiang Mai, then we have a few more awesome recommendations here.
Wat Phan Tao
This somewhat small temple complex in the middle of the Old Town is really worth seeing, especially in the evening, when the Buddha is surrounded by beautiful lights… great photo opportunity!
Wat Chiang Man
Probably the oldest temple in Chiang Mai. The facility is well worth seeing, although there is no real special feature. But if you want to visit a typical Thai temple, this is the place for you.
Wat Umong
A unique temple located in a forest. You get to walk through a kind of tunnel below the Stupa, which is quite special… and a little strange, which is what makes it so worthwhile to visit.
Wat Sri Suphan
The temple is also known as the "Silver Temple". It lives up to its name: the temple is completely covered with glittering silver. Just a pity that women are prohibited from entering the main hall.
3. Extra Tips: Food Tour and Cooking Class in Chiang Mai
Of course, there's a lot more to Chiang Mai than just sightseeing temples! In this section, we share with you some tours and activities in Chiang Mai, which we ourselves have experienced and can personally recommend to you.
Food tour of Chiang Mai
Especially at the beginning of your trip, if you are perhaps not yet familiar with the Thai food culture, then we can highly recommend a food tour. On our particular tour we did a little sightseeing with many culinary locations along the way. We can highly recommend it and you can find the same tour that we did here: Culture Food and Walking Tour.
However, that particular tour is unfortunately rather expensive, so we have found an alternative tour for you that also has excellent reviews. This food tour lasts about 4 hours and also visits very similar locations to the tour we did.
You can book the more affordable tour here: Chiang Mai Food Tour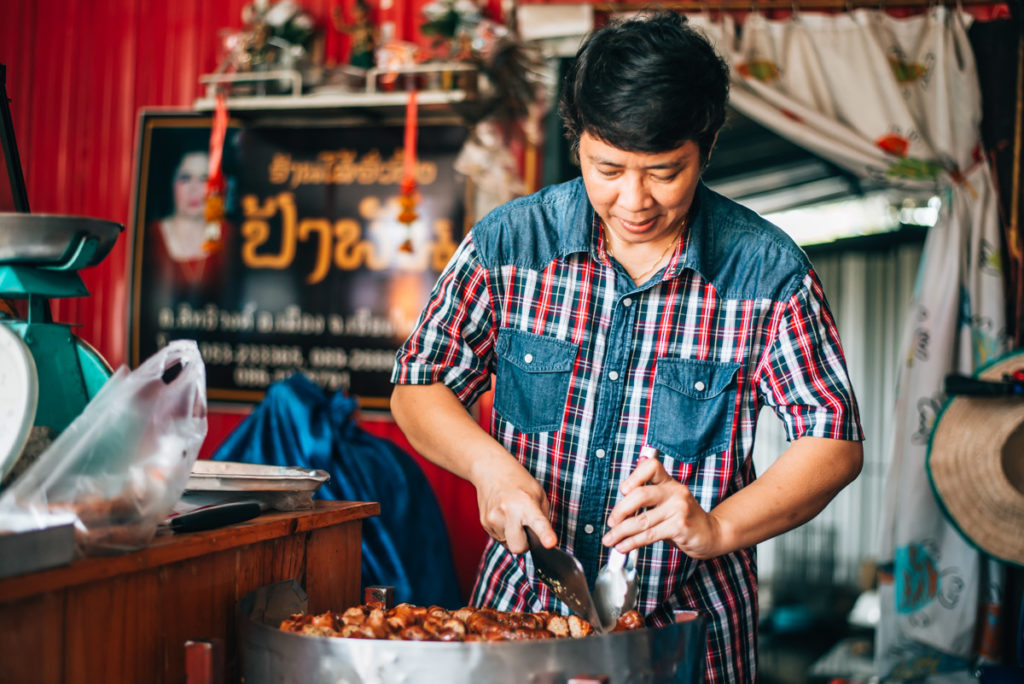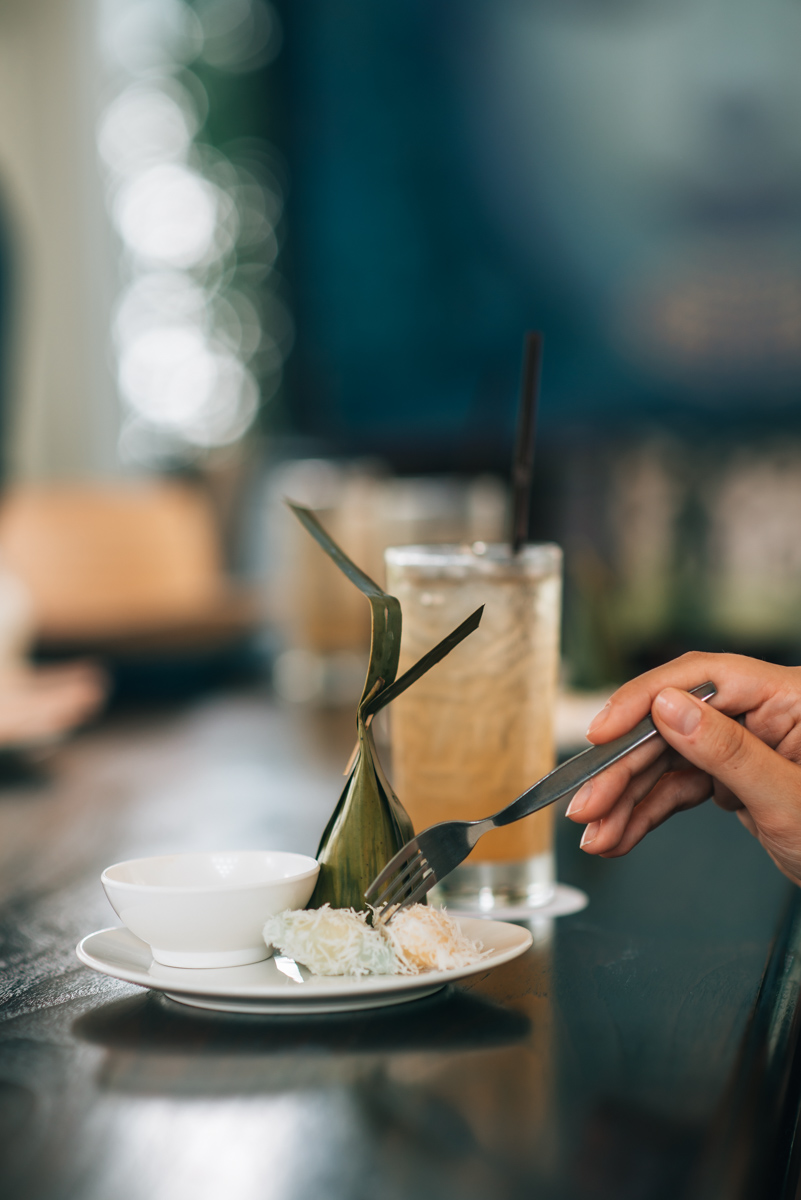 Thai cooking class in Chiang Mai
We have attended many cooking classes in Southeast Asia, but the absolute best still goes to Sammy. The cooking class takes place just outside of Chiang Mai on the Sammy farm, where you will learn how to prepare delicious Thai dishes while surrounded by beautiful nature.
4. Top Markets in Chiang Mai
There are countless markets in Chiang Mai which you can visit. The most well-known amongst tourists are the two famous "walking streets", which take place on weekends. A number of streets in Chiang Mai transform into a lively promenade. In this section, we will share with you, which markets we can highly recommend in Chiang Mai.
Sunday Walking Street
The Sunday market, also known as Sunday Walking Street, is probably the most famous market in Chiang Mai. It takes place every Sunday from around 4 pm to 5 pm in the middle of Chiang Mai's Old Town, more precisely along Ratchadamnoen Road (and a few side streets).
You'll find souvenirs, art, jewellery, clothes, bags and a huge variety of goods being sold here. There are also quite a few food stalls where you can try both popular and (lesser known) local Thai food. Most of the food stalls are located in zones around the temples.
The market is extremely busy, which is why we recommend that you come as early as possible. (Don't be misled by our photo. We took this shot at the very beginning, before it got super crowded!). It is also important to note that the market is quite touristy. Still, it has a great ambience.
Opening times: Every Sunday from 4pm to 5pm until midnight
Saturday Walking Street
The little sister of the Sunday market is the Saturday Walking Street. This market always takes place on a Saturday and is located south of the Old Town on Wualai Road. This market is also incredibly popular and while we got the impression that it is a little less touristy here, it's not by much.
The traders are pretty much the same as those on the Sunday Walking Street. You can also buy souvenirs, art, jewellery, clothes, bags and much more here. Many food stalls are located right along the street. There are also small food courts near the temple.
Opening times: Every Saturday from 4 to 5 pm until around 11 pm
Ploen Ruedee Night Market
This international food night market always takes place in the evening (from Monday to Saturday). If you are looking for an authentic Thai market, then this is not the place for you. 
The Ploen Ruedee Night Market is somewhat reminiscent of an international street food festival. There are stands with dishes from all over the world: From Thai to burgers to kebab and also Mexican and Indian, they have everything here. We had a delicious meal from the vegan stand called "V Secret".
There are lots of tables between the food stalls, so you can usually get a seat without a problem. Tourist or not – the atmosphere is very relaxed and cozy. We would definitely come back again!
Opening times: Monday to Saturday from 6 pm to midnight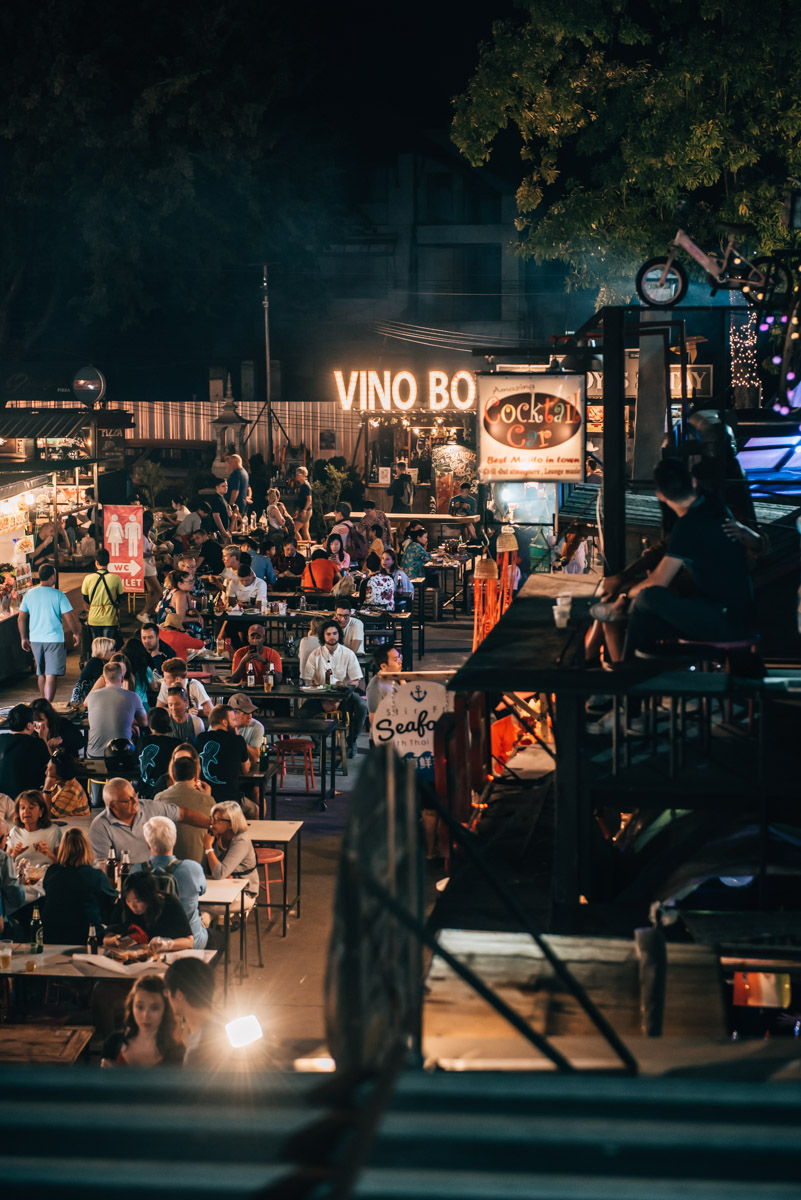 Kad Manee Night Market
Thanks to our accommodation (which we'll tell you about soon) we stumbled across this night market and can highly recommend it! The Kad Manee Night Market is a very authentic night market that is mainly visited by locals.
This is the place to try all the local Thai cuisine your heart desires. Not everything is written in English, but we still managed to communication without a problem. You can then take a seat at one of the low tables around a small artificial pond. The Thai music made the whole experience even more authentic.
Opening times: daily from 5 pm to 10 pm
5. Our Favourite Restaurants and Cafes in Chiang Mai – Vegetarian Options
Chiang Mai is a paradise for foodies. Honestly, there are so many amazing restaurants and cafes, that you can't possibly visit them all! Many of the restaurants are also aimed at tourists and expats – for example, you will find countless vegetarian and vegan restaurants.
Delicious smoothie bowls & juice bars
Snooze: Enjoy your smoothie bowl here, in the middle of a spacious garden in the Old Town. The price levels here are rather high, but nevertheless, a great recommendation for delicious breakfast!
Monkey Bowls: This small café belongs to a hostel and is located outside the Old Town in a very quiet, beautiful alley. They have a great selection, from which we can highly recommend the Mango Smoothie Bowl — it was delicious and rather cheap too. We came here twice because it was just so yummy!
Khun Kha Juice Bar: We drank what was probably the best fruit juice on our entire trip to Thailand in this little hidden juice bar. If you're hungry, they also make smoothie bowls here.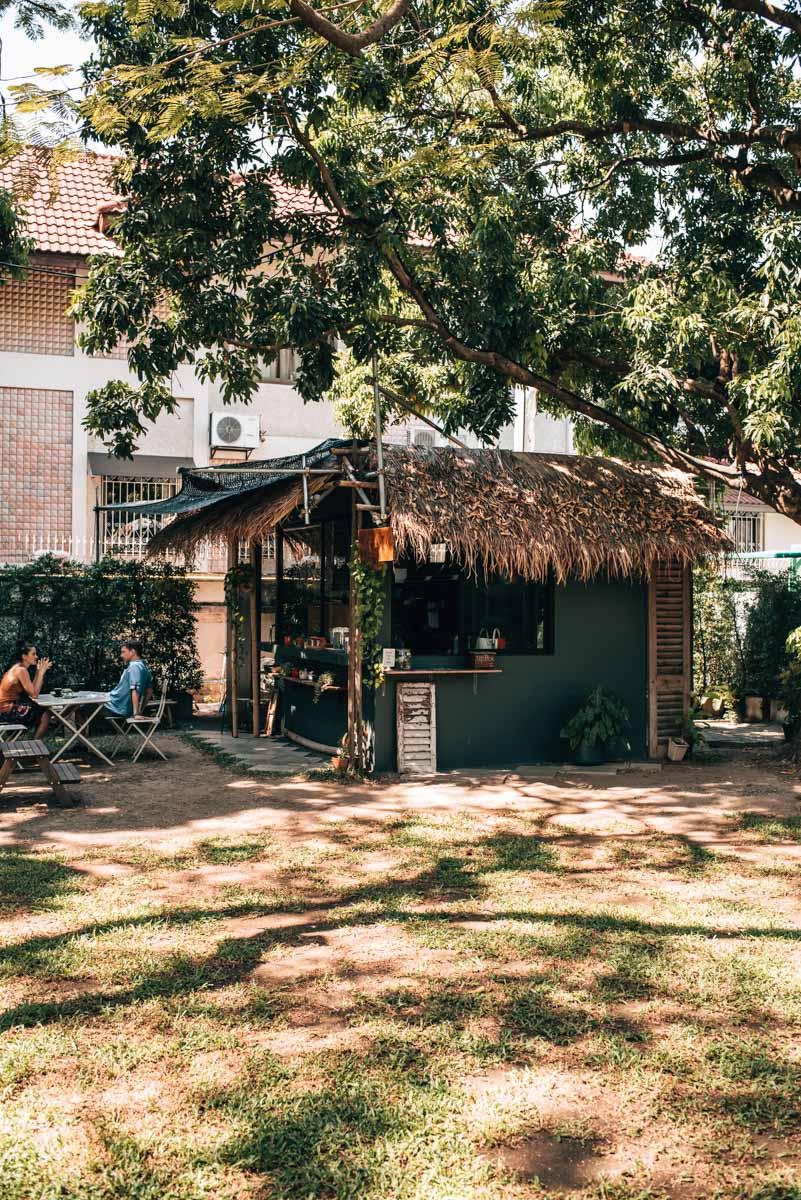 Khao Soi – the Chiang Mai specialty
The specialty dish in northern Thailand is Khao Soi, which is a spicy curry soup. Traditionally, Khao Soi is prepared with meat, but nowadays, there are many vegetarian versions too. What makes Khao Soi unique, is its crispy fried egg noodles, which are placed on the soup just before serving.
You can find Khao Soi on the menu in many restaurants in Chiang Mai. However, there are also Khao Soi restaurants that specialise in this dish.
One of these places is Khao Soi Khun Yai. This very popular and authentic street restaurant is visited by many locals as well as tourists. The Khao Soi tastes delicious here. The only downside is that there are no vegetarian options. Alongside Khao Soi, we can recommend you try the longan juice, which is super refreshing when contrasted with the spicy soup.
Hipster cafes in Chiang Mai
The Baristro at Ping River: The word "Instagram hotspot" takes on a completely new meaning in this café, which is located just a stone's throw away from the Old Town. The restaurant has been purposely designed and styled, with one corner more photogenic than the other. Hardly anyone comes to this café without a camera – interestingly enough, most of the customers are young Thais.
Ristr8to: A little over-hyped, but the coffee tastes good. They have several branches located in the city and it's normally busy, no matter where you go. Therefore, we would rather go somewhere else for a quiet coffee break
upto.coffee: Very nice, hip café in the middle of the Old Town of Chiang Mai. The espresso tastes excellent and we also found the relaxed atmosphere to be exactly our kinda vibe.
Vegan places in Chiang Mai
Goodsouls Kitchen: when it comes to vegan cuisine, this is the well-known, go-to place. They now have two locations, both of which are somewhat reminiscent of an American diner. In the new location (Chang Moi Road, near Thapae Gate) you can sit out in the garden and enjoy the atmosphere. On the menu you will find fusion cuisine from all over the world, including pasta, burgers, but also Thai dishes.
Free Bird Cafe: A very nice, small restaurant who employ refugees from Myanmar. They are trained there and work in the café. The income from their associated shop (where you can find some really great things to buy) also flows into social projects. The menu features very creative Asian inspired dishes and countless breakfast options such as pancakes and smoothie bowls.
Drinks with a view
Would you like to enjoy a beer or a cocktail over the roofs of Chiang Mai? Then the roof terrace of the Maya Shopping Mall is a great place! At the moment, there are two bars up there – both of which unfortunately don't open until around 6 pm, but just in time to catch the sunset!
The view isn't overly spectacular, but it's still very nice. If you prefer to just enjoy the view, no problem: the viewing terrace is also accessible at any time while the shopping mall is open.
6. Where to Stay in Chiang Mai – Our Accommodation Tip
On our last Chiang Mai trip, we stayed in a wonderful hotel that we can highly recommend: The Tippanet. This boutique hotel is housed in a nicely renovated house that spans several floors.
Our room was not only very spacious, but above all incredibly clean and very comfortable. The best thing was the beds: in Thailand, beds can be a hit and miss. But here both the mattress and the bed linen were a dream. By the way, the room category we selected was "Executive". We felt so comfortable in this bright room that we even extended our stay. (Good to know: There are also rooms with just one "hallway window". This will be stated when booking.)
This hotel is just around the corner from the famous Saturday market. You can walk to the Old Town in about 10 minutes. Unfortunately they don't have breakfast, but free coffee, tea and small snacks are offered every morning. On the bright side, we found so many great breakfast restaurants in Chiang Mai that it personally didn't bother us at all.
Our conclusion: a great place with great value for money. The staff are incredibly friendly and courteous. We felt at home from the first moment and would stay here again any time.
You can book the hotel here: The Tippanet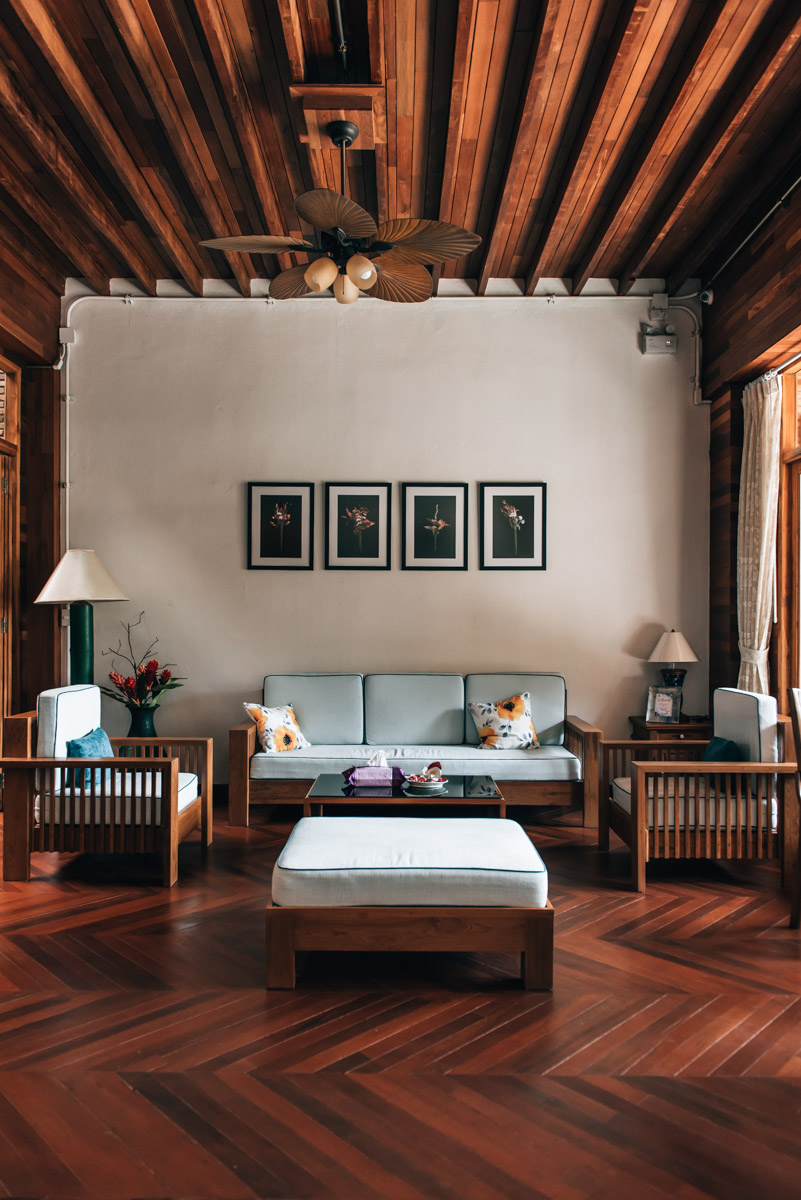 7. Extra Travel Tips for Chiang Mai: Guide & City Transport
Best time to visit Chiang Mai
The best time to visit Chiang Mai is the beginning of the dry season (= the cool dry season), which is between November and February. There is little rain and the temperatures are quite pleasant. (Don't worry: It's still very hot during the day, but cools down a bit more at night.)
The cool dry season is followed by the hot dry season, which in our opinion is the least favorable for a trip to Chiang Mai. We recommend you to avoid this time of the year which is called "burning season" or "smoky season". The reason: At the end of February (often earlier) the farmers in Northern Thailand start to burn their fields. It also gets very hot during those months and there is not much rain so this means the haze in Chiang Mai gets unbearable. The burning season usually lasts until April, often peaking in March.
The rainy season finally brings some rain in May. Usually August and September are the months with the most rain. We ourselves have been to Chiang Mai during the rainy season. As everywhere in Thailand, you can be lucky or unlucky. From short rain showers to days of continuous rain, everything is possible.
Our travel guide recommendation for Thailand
For Southeast Asia, we love having Lonely planet's travel guides with us. They are more aimed at the individual traveller and trusted for their detailed and thoroughly researched information.
Lonely planet's Thailand travel guide has been around for decades. The travel guide covers the entire country very well and you can really feel the experience of the authors. Definitely can't go wrong with this!
You can buy the travel guide here: Lonely planet Thailand
How to get there: From Bangkok to Chiang Mai
Most likely, your trip will go from Bangkok to Chiang Mai and you have three main ways about getting there: the plane, the train and the bus.
Plane: There are numerous flights between Bangkok and Chiang Mai every day. The flight time is less than an hour. The Chiang Mai Airport is also very close to the Old Town, so a one-way taxi ride from the airport to the Old Town will cost you around 150 Baht and takes just 10 to 15 minutes depending on the destination.
Train: If you have enough time, we recommend taking the train. There is both a night train (approx. 13 hours) and an underground train (approx. 11 hours). You can search for connections and book your ticket here: 12go.asia.
Bus: A bus ride tends to be the cheapest option to travel from Bangkok to Chiang Mai. The journey takes approximately 10 hours. We personally would prefer a train ride.
Transport within Chiang Mai: From A to B
Chiang Mai is one of those cities where you can cover several miles a day just walking because most of the sights in the Old Town are so easy to get to by foot. For those further way, it certainly comes in handy to know the different types of transport floating around. Here are two we can personally recommend:
Songthaew – the classic in Chiang Mai
You'll see the famous red shared taxis called Songthaew almost everywhere you go and they remind us a little of oversized Tuk-tuks. With Songthaews you can get from A to B relatively cheaply in Chiang Mai as they are (more or less) the city's public transport.
To all newbies in Thailand who have yet to experience this for the first time, don't worry! It's quite easy and also pretty fun. The Songthaews usually don't have a fixed route, but rather collect guests depending on their route and then let them off at their desired destination.
Here's how it works: You simply put your arm out and wave at an oncoming Songthaew up from the side of the road. Then you give the driver or co-driver your destination. If you are allowed to ride – great, just get in the back and take a seat. If not, then your destination is most likely not on the driver's route and so  you just have to try your luck with the next Songthaew. Within the Old Town, a ride on the Songthaew always costs 30 Baht. Only the longer distance journey will incur in a surcharge. But just in case, we always ask for the final price before we hop on – it helps to avoid any nasty surprises.
Grab – the most convenient option
The most comfortable option for getting around Chiang Mai is Grab. Grab is an app very similar to Uber. You enter your desired destination directly in the app. It will show you the final price to be paid, then you just have to confirm your details and a nearby driver will accept the offer. It usually takes less than five minutes for the car to arrive.
However, while most of the vehicle option on Grab are ordinary, private cars – you can actually choose a Songthaew as well. That's what we did on our way to the airport. The price for a trip with Grab (in a normal car) around Chiang Mai is around 100 Baht – depending on the destination, sometimes a little more.
Our tip: To find your driver, you can easily match your driver with the number plate info given on your Grab App. We used Grab a lot during our time in Chiang Mai and never had any problems.
---
Disclaimer: Affiliate Links
This blog article contains our personal recommendations in the form of affiliate links. If you book or buy something through these links, then we will receive a small commission. This will not change the prices for you at all. A million thanks from the both of us!
Have you ever been to Chiang Mai? Or perhaps you have some other recommendations or tips around the city? Please feel free to leave us a comment. We look forward to reading your additional tips and experiences!
MerkenMerken
Merken