Holiday paradise Thailand! Dense jungle, gold shiny temples, tropical beaches and a metropolis that will take your breath away – all that and much more awaits you in Thailand.
We are not going to keep it a secret: Thailand is one of our absolute favourite travel destinations! We have been countless times – always with different routes and travel destinations in focus. The travel itinerary that we have put together for you is a combination of all the highlights Thailand has to offer.
The practical part: We have also provided route options so that you can easily extend your travel itinerary from 2 to 3 or even 4 weeks. From north to south, from the jungle to the most beautiful beaches – here are our highlights for your trip around Thailand.
1. Our Travel Itinerary through Thailand for 2 to 4 Weeks
If you are taking a flight from Europe, chances are it will land in Bangkok. We personally like to stay in Bangkok at the end of the trip – for many reasons that we will explain later on. Therefore, we usually fly (or drive) straight to Chiang Mai and embark on our travel itinerary from there.
Another note up front: We explain the transport options under each stop along our travel route. Info and tips for booking the individual transport options are provided at the end of this blog article.
Chiang Mai
Our itinerary begins in beautiful northern Thailand, more precisely in the city of Chiang Mai. Chiang Mai is the second largest city in Thailand after Bangkok, although it is comparatively more relaxed and peaceful here.
Chiang Mai is the city of temples! It seems to sparkle and shine on every corner. So you can take a good dive into Thai culture right at the start of your travels. For example, at the gates of the city sits one of the most well-known temples in Thailand, the Wat Phra That Doi Suthep.
Speaking of the gates to the city, there awaits another highlight for you: lovely nature! Chiang Mai is surrounded by wonderfully beautiful landscapes. In just a short while you can leave behind the city noise and are in the mountains, surrounded by rice fields, or at impressive waterfalls – simply wonderful!
You can find our detailed travel tips in this blog article: Chiang Mai
Our hotel tip for Chiang Mai: The Tippanet
Recommended length of stay: 3-5 nights
Getting from Bangkok to Chiang Mai
The fastest and most comfortable way to cover this stretch is by aeroplane. There are countless daily flight connections between Bangkok and Chiang Mai, which are mostly reasonably cheap. The flight takes about an hour. Important to know: There are two airports in Bangkok: Suvarnabhumi and Don Mueang. So if you are flying from Europe and land in Bangkok (almost always in Suvarnabhumi), then you need to make sure the connecting flight leaves from the same airport.
You can search for cheap flights here: Skyscanner
If you have enough time, then we recommend you travel by train. There is even a night train (around 13 hours) as well as a train during the daytime (around 11 hours). It is also possible to take a bus to Chiang Mai (around 10 hours).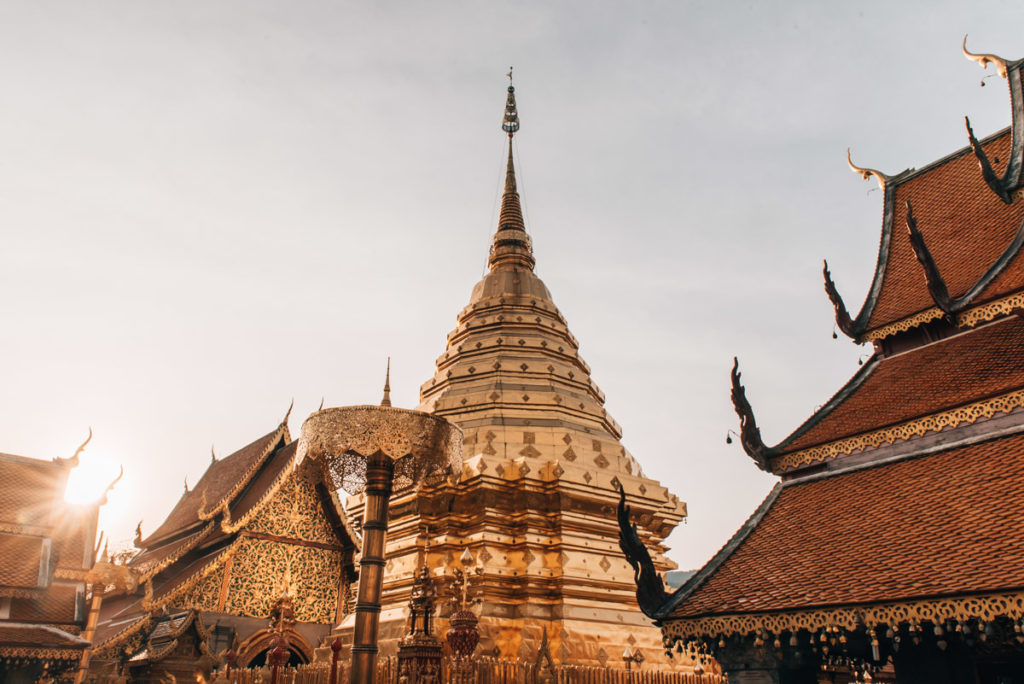 Optional: Pai or Mae Taeng
Many people visit Chiang Mai (and Umland) and then, due to time restraints, rather quickly travel south again to the islands or beaches. But if you're already up in northern Thailand, then it is of course worthwhile to make your way to another (or more) travel destination. Cooler temperatures await you up here, magnificent untouched nature and a (mainly) authentic insight into the daily Thai life.
Not all too authentic, but very popular, is the small "hippie village" of Pai. The little town is beautifully situated and comes with great day trip destinations, however it has developed into a rather touristy spot over the last few years.
If the trip to Pai is too far, then we can highly recommend a stay in Mae Taeng, which is located just one hour north of Chiang Mai. Here an authentic region awaits you off the beaten track. 
You can find more info in this blog article: Mae Taeng (available soon)
Our accommodation tip for Mae Taeng: Lisu Lodge
Recommended length of stay: 2-3 nights
Getting from Chiang Mai to Pai or Mae Taeng
The stretch between Chiang Mai and Pai is primarily serviced by minibus companies. The drive takes around 4 hours. Important: The route has a lot of curves – if you have a woozy stomach, you should take the appropriate precautions. (We always have travel gum with us. You can find more info here: Southeast Asia Packing List.)
You only need around an hour to drive to Mae Taeng. The stretch is a little less frequented, so you will probably need to take private transport. You can find booking info in a later chapter of this blog article. 
Krabi (Railay Peninsula)
Let's head south! Krabi is the first beach destination on our travel route through Thailand. Krabi is a rather vast province on the west coast. When "Krabi" is the topic of conversation, then travelers are mainly referring to the area around the tourist town of Ao Nang or the very famous Railay Peninsula.
We will be honest: Almost nowhere else in Thailand is as beautiful as here. Turquoise blue sea, fine sandy beaches, rugged rock formations – simply breathtaking. However, Krabi (or better said, Ao Nang and the Railay Peninsula) is also one of the most touristy regions in Thailand.
We have already been here a few times and can reassure you: It is very possible to explore Krabi away from the crowds. We reveal how exactly in our detailed blog article.
You can find our travel tips in this blog article: Krabi Insider Tips
Our hotel tip for Krabi: The Pavillons Anana Krabi
Recommended length of stay: 3-4 nights
Getting from Chiang Mai to Krabi
This stretch is the longest on our travel itinerary through Thailand – here you practically need to travel the entire country from north to south in one go. For this reason, we often fly. There are several direct flights daily. The flight time is around two hours.
You can search for cheap flights here: Skyscanner
For anyone who prefers not to fly (and has enough time), you can also make the journey over land. However, this takes some time! Usually you do the journey in two parts with an overnight stay in Bangkok. 
Optional: Koh Yao
As touristy as Krabi is, just a 45-minute boat ride away is an island away from the mass tourism – or better said, two islands: Koh Yao Noi und Koh Yao Yai.
The northern island (Koh Yao Noi) is better developed for tourists, but both islands have preserved their authenticity. Important note: If you are searching for picturesque beaches, these two islands are not quite the right choice. There are other destinations in Thailand that would be more suitable.
You can find more info in our detailed blog article: Koh Yao Noi & Yai
Our hotel tip for Koh Yao: Cape Kudu
Recommended length of stay: 2-4 nights
Getting from Krabi to Koh Yao
Koh Yao is just a stone's throw away from Krabi – or better said, a short boat ride away. There are two piers in Krabi from which boats make their way to Koh Yao. One of these is the Thalane Pier (around 30 minutes outside of Ao Nang). And the other is the Nopparat Thara Pier directly in Ao Nang. The ride across takes around 30 to 45 minutes.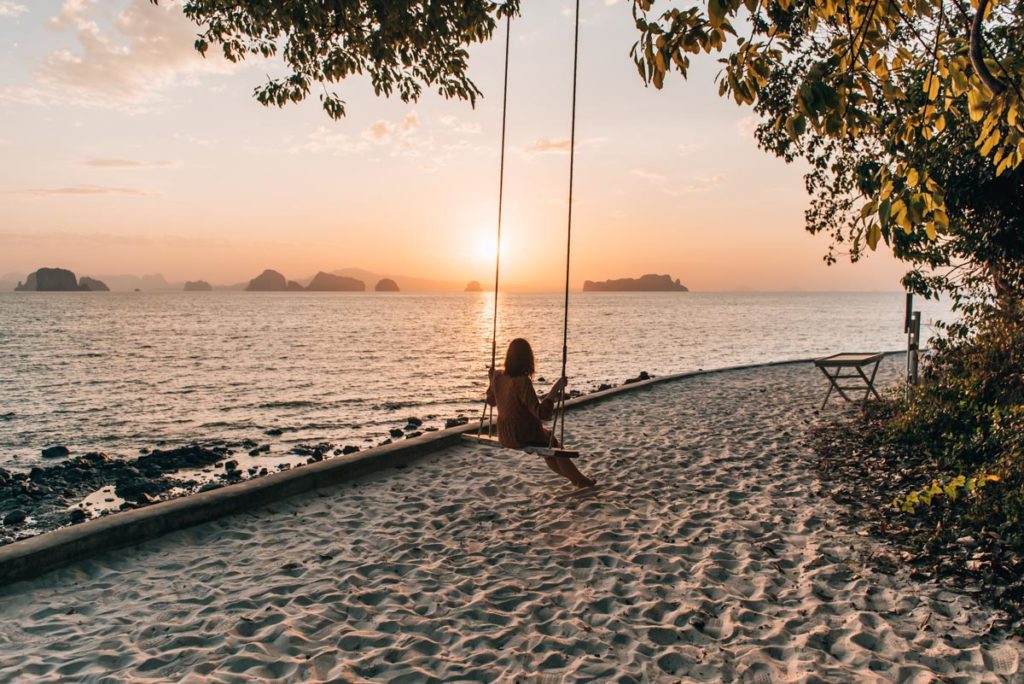 Koh Lanta
Koh Lanta is one of our favourite islands in Thailand! Why? In our opinion it offers something from everything: pretty (yet not breathtaking) beaches, relaxing island flair, a nice old town, beautiful nature, not too big, not too small. In short: A fantastic destination on your travel route through Thailand.
Koh Lanta is relaxing. You will primarily meet (young) couples and families here. Fortunately, party tourism is nowhere to be found. Thanks to the national parks on Koh Lanta, your desires for discovery will also be fulfilled.
More detailed travel article with all the tips: Koh Lanta Island Guide
Our hotel tip for Koh Lanta: Alanta Villa
Recommended length of stay: 3-4 nights
Getting from Krabi to Koh Lanta
You can quite conveniently reach Koh Lanta directly by boat from Ao Nang in Krabi. Both slower boats and faster speedboats operate here. The ride across takes around 2 to 3 hours depending on the boat.  
Koh Phangan
From the west to the east coast of Thailand. The next stop on our travel itinerary is the dreamy island of Koh Phangan. If we needed to spontaneously name a favourite island in Thailand, our choice would land on Koh Phangan. Here you can find, without a doubt, one of the most beautiful beaches in Thailand.
But better still: You just have to love Koh Phangan's flair. Cosy, relaxed – just as you would imagine Thailand. Koh Phangan has now established a rather large yoga scene and with it many hip, vegan eateries.
More detailed island guide: Koh Phangan
Our hotel tip for Koh Phangan: Mangata Boutique Bungalows
Recommended length of stay: 3-4 nights
Getting from Koh Lanta to Koh Phangan
This section of the travel route is one of the longer ones, because you need to travel from the west to the east coast. Koh Lanta is located very close to the mainland, therefore you usually cover the first section by minibus (incl. the car ferry). Then you make your way to the pier at Surat Thani. (Be aware, there are two different piers depending on which boat company you choose to travel across with.)
The trip across to Koh Phangan on the speed catamaran takes around 2.5 hours. Altogether you need to allow an entire day for this stretch. The easiest option is to book at combo-ticket for the entire stretch when you are in Koh Lanta. A pickup directly from your hotel is always included with this.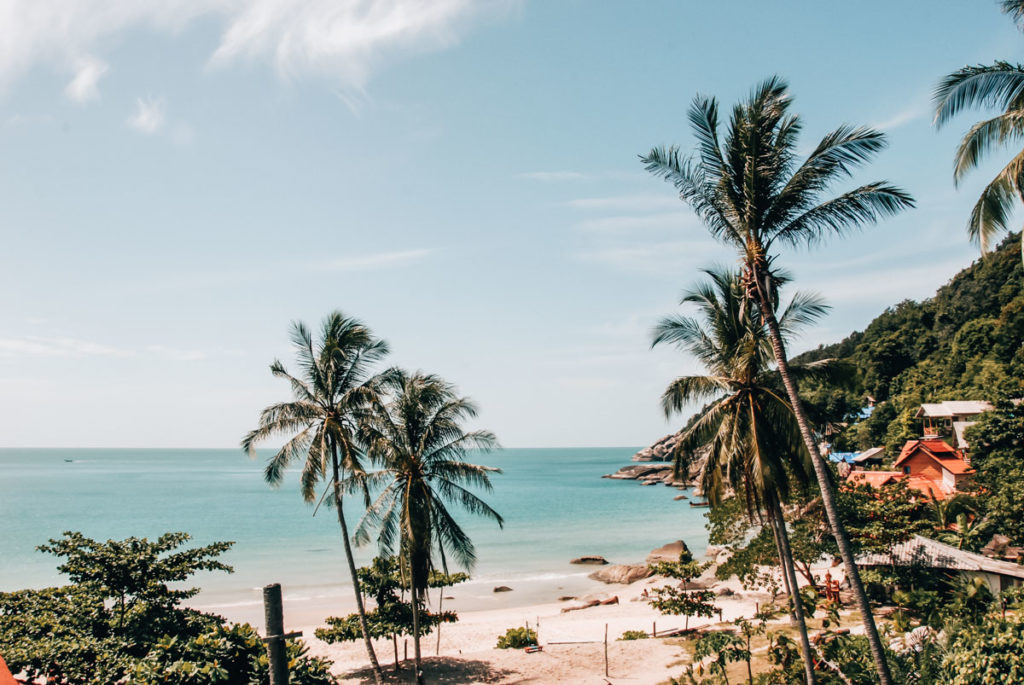 Optional: Koh Samui or Koh Tao
If you are already in Koh Phangan and have more time, then you could of course also pay a visit to the neighbouring island of Koh Samui. Unlike Koh Phangan, the mass tourism is much more evident on Koh Samui. In spite of this, Koh Samui is worth traveling to and there are some really great beaches and places to discover.
You can find our more detailed travel report here: Koh Samui
The third island in the running is located the furthest away, the wee little island of Koh Tao. Do you enjoy diving? Then there is actually no avoiding Koh Tao. The island is the ultimate diving paradise. 
Getting from Koh Phangan to Koh Samui or Koh Tao
Numerous boats travel between the three islands daily (both fast and slow). It's only a stone's throw to Koh Samui (around 30 minutes on a speed catamaran). Koh Tao is located a little further away, therefore the trip takes a little longer from Koh Phangan (around 1 hour on a speed catamaran).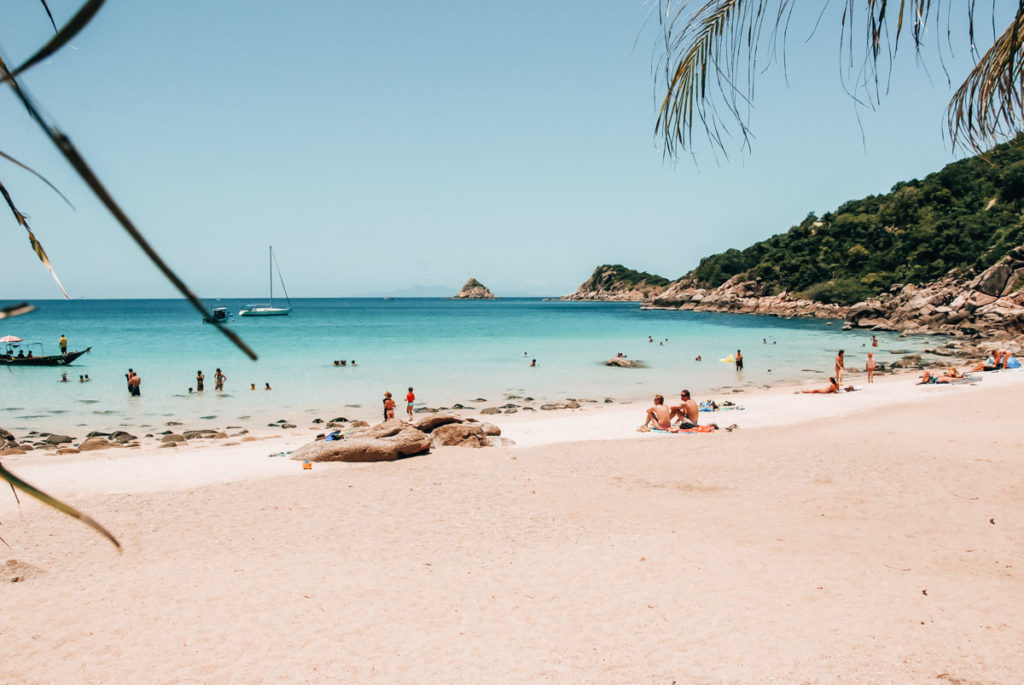 Bangkok
Last but not least: The city of all cities in Thailand. Bangkok! Bangkok is a metropolis that you either love or hate. (Spoiler: We love Bangkok – but only for a few days, then the big city chaos is simply too much for us.)
Bangkok is purely overwhelming: deafening tuktuks, glimmering temples, lively markets, food stalls everywhere. And then there is also another side of Bangkok: Rooftop bars, chic shopping malls, luxury hotels. Bangkok is a city of contrasts.
We always quite intentionally leave Bangkok until the end of our travel route, and there are many reasons for this. Bangkok is simply very overwhelming. The city literally rolls over you. We find smaller cities such as Chiang Mai to be much more pleasant for acclimatising when you have just arrived from Europe.
As well as this, we enjoy using our days in Bangkok to pick up one or two souvenirs. The many markets in Bangkok (especially the legendary Chatuchak market) are practically made for it. Last but not least: There is simply nothing better than celebrating with a toast to your trip in one of the numerous rooftop bars above the rooftops of Bangkok. 
You can find even more info here: Overview of all Bangkok articles
Searching for the perfect place to stay? This way: Our hotel tips for Bangkok
Recommended length of stay: 3-4 nights
Getting from Koh Phangan to Bangkok
Did you include the optional stop in Koh Samui? Then the fastest way back to Bangkok is definitely by aeroplane. There are many direct connections daily from here. The flight time is around one hour.
You cannot fly directly from Koh Phangan, because they do not have an airport there. However, you can travel to Koh Samui (30 minutes on a speed catamaran) and fly to Bangkok from there. Altogether you can complete this stretch in around 3 to 4 hours.
You can search for cheap flights here: Skyscanner
Do you have enough time and would prefer to cover this stretch over land? Then your path takes you over water to the mainland (either direction north to Chumphon or direction south to Surat Thani). From there you can either travel by bus or train to Bangkok. Often you will travel overnight to get there. Altogether you need to allow around 12 to 15 hours travel time.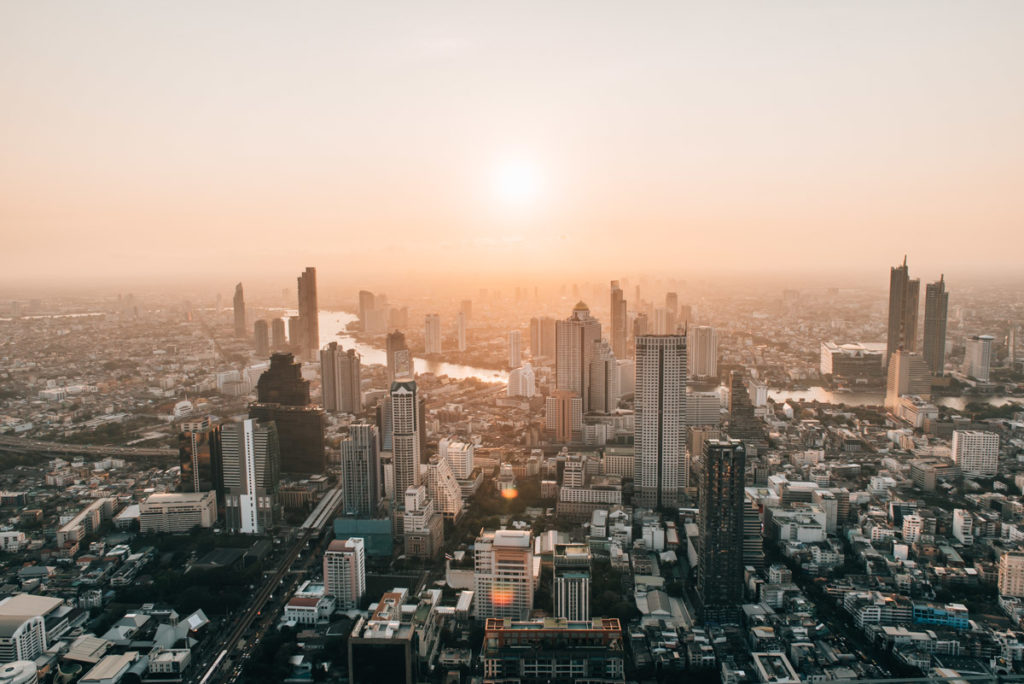 2. Map: Overview of the Thailand Itinerary
We have marked the individual stops on this map so that you can get a better idea of the travel route.
3. FAQs and Additional Info for the Travel Route through Thailand
What is the best time to travel to Thailand?
The first important thing to note: You are traveling to the tropics. That means: High humidity or high temperatures (often also at night). It also means that the weather is not always as forecasted. Monsoon rain and thunderstorms could always appear out of nowhere.
Quite generally, Thailand does not have four seasons like in Europe. Instead, it changes between rainy season and dry season or a hot dry season. Now comes the complicated part: The rainy and dry season differ depending on region.
Dry Season = the best travel time: from Nov/Dec to Feb/March
As the name suggests, the climate during the dry season is drier. But as mentioned: It can also rain during this time. However, monsoon-type showers are more of a rarity. Generally speaking, the humidity is lower, which many people find more pleasant.
The dry season usually stretches from November/December from until February/March. In most regions (we will come to the exceptions soon), the weather presents itself as you would expect in Thailand: Lots of sunshine, a calm sea, not too humid. In Northern Thailand it gets cooler in the evening (sweater recommended!), but you would never really freeze.
A small exception is the east coast. It can be fairly rainy between October and December on Koh Samui or Koh Phangan. So if your trip happens to fall within these months, we would look into taking a beach holiday on the west coast.
Hot/humid dry season: March and April/June
The hot dry season follows the end of the classic dry season. At this time the climate slowly becomes more humid and unbearably hot. Anyone who doesn't handle hot temperatures well, should avoid this season.
Rainy season = shoulder season: from June until October
The rainy season begins in June in most parts of Thailand. But what does that mean? Don't worry: Days of continuous rain is the exception. However, it is of course possible.
You generally need to be more wary of monsoon-type rainfall during this season. The humidity is also considerably higher. The sea usually rougher. It is not unusual for ferry connections to also be cancelled due to the rough sea.
Also here again, the east coast (with Koh Samui and Koh Phangan) is a bit of an exception: The weather during Europe's summer is fairly stable here. So anyone planning a beach holiday is in good hands here.
Should you travel to Thailand during the rainy season, you need to consider a little more than in the dry season that an excursion or a beach day could quite literally fall into the water. The advantage of the rainy season: Most places to stay are significantly cheaper and it is less busy.
Conclusion: The best months for a trip around Thailand
You can travel to Thailand all year round. We most highly recommend the months January and February for a round trip because the weather is mostly stable across the country. 
Important: It is very full around Christmas/New Years and shortly after – especially in the tourist hotspots such as Koh Samui or Phuket. If possible, we would definitely skip this time.
Should I book accommodation in advance or spontaneously?
It depends – both come with their advantages and disadvantages. Are you a person who likes to have things fixed in advance and likes to know where you are sleeping the day after tomorrow? Do you perhaps already have specific hotels in mind where you would like to spend the night? Then it could be more relaxing for you to book everything at home in advance.
Anyone who, in contrast, likes to book very spontaneously (one or two days before getting there or even when you arrive), could of course risk that the really great places to stay are booked out or the prices have gone up. The advantages on the other hand: You are much more flexible and can adapt your travel route depending on the weather, what you feel like and your mood.
We personally always choose the middle ground. We almost always book the accommodation for the first one or two stops (and often also the last ones) from home. However, we like to leave room in between for spontaneous decisions.
With a few exceptions, we would definitely recommend you book as early as possible. This applies to special travel periods such as Christmas and New Year, but also Songkran or other important public holidays in Thailand. But even for the full moon party on Koh Phangan, it is better to book your accommodation sooner rather than later.
How do I get from A to B in Thailand?
Thailand is a long stretching country and the distances between each individual stop along the route are not to be underestimated.
Flights in Thailand
We will start with the fastest and most relaxing mode of transport, the airplane. It is of course clear that: Yes, of course the domestic flights are not good for the climate. There is no question that there are more climate-friendly options.
Still: Anyone who has already travelled from the north of Thailand to the south over land knows how much time this takes. In this respect, the airplane is often our transport mode of choice for longer distances.
We personally always feel very safe flying domestically in Thailand, but to be honest we are a bit picky when it comes to choosing an airline. We prefer to fly with Bangkok airways, Thai Airways (Thailand's national airline company) or their subsidiary Thai Smile (a cheap airline) We have also always had good experiences with Air Asia.
It can be very cheap to fly in Thailand (you often pay less than 30 euros for a flight). It is also just as possible that you need to pay 200 euros for a trip. Such high prices are not the norm, but can, for example, occur between main travel destinations (particularly Koh Samui). The earlier you book your flight, the cheaper it usually works out.
You can search for cheap flights here: Skyscanner
Trains in Thailand
Thailand has a very well-developed train network. You can reach many (but of course not all) towns by train. Examples of popular train trips from Bangkok are to Chiang Mai or Surat Thai (depending on where place the boat leaves for the island). Train travel in Thailand tends to be a little more expensive than taking a bus. However we personally find it more comfortable, relaxing and we also feel a little safer in trains.
You can purchase train tickets in a few different ways:
Firstly, it is possible directly at the train station (ideally a few days in advance). You usually get it the cheapest there.
The second very simple option is to purchase it at one of the countless tiny travel offices, which you can find in practically every town in Thailand. Sometimes there can be quite a surcharge there, so it's best to check the prices beforehand.
Last but not least, you can also book a ticket online. There are various third-party platforms – we can recommend the website 12go.asia. Important to know: There you can find many, but not all, connections. And the prices there are usually a little higher than when you buy your ticket at the train station, for instance. If you want to purchase your ticket in advance though (as we would especially recommend for the Thai holidays), then it is a good option.
Over land: Bus trips & private drivers in Thailand
Without a doubt, the cheapest mode of transport (and also one of the most popular) to get from A to B in Thailand is the bus. You can get to practically every corner of Thailand by bus and just about every town has its own bus station.
Often they have large travel buses, which the locals also use. But there are also smaller minibuses. These often bring each traveller directly to their destination of choice (e.g. to the hotel). We personally find that minibus trips are sometimes be quite racy, but you usually reach your destination faster with them.
The most expensive and definitely most comfortable option for travelling over land is a private taxi. However, if you travel with a group of 4 people, for example, then the prices for covering longer distances with a private taxi can be quite reasonable.
You have a few a few options for purchasing a bus ticket:
It is very popular to buy one in the many small travel offices, which you find on every corner in Thailand.
Alternatively, you can also ask at your accommodation. Many hotels sell bus tickers or will assist in organizing a private driver.
Should you want to purchase a ticket online in advance, then you can do so via the website 12go.asia. It is practical there that you can search for possible connections – private transport is also displayed in the search results.
Ferries & boats
Anyone who would like to admire one of Thailand's beautiful islands will need to get on the water sooner or later. Most of the islands (aside from Koh Samui and Phuket) do not have airports.
Many boats and ships operate on the water – everything from small, racy speedboats to large, slow car ferries. 
You can acquire your ticket in the following ways:
The classic: In one of the small travel offices, which you find on every corner. Most will sell you combo-tickets that also include hotel pick-ups or the trip from your chosen island to your hotel.
Some boat companies offer an online shop on their website where you can purchase a ticket. There you will need to know of course which companies operate on which routes. We like to use 12go.asia because you can search for possible connections – and then also book your ticket directly online if you wish.
If you are not going to be traveling right in the main season, then you can also book your ticket directly at the port shortly before departure.
---
Disclaimer: Affiliate Links
This blog article contains our personal recommendations in the form of affiliate links. If you book or buy something through the links, we receive a small commission. This does not change the price for you at all. A million thanks from the both of us!
Have you already been to Thailand? What did your travel itinerary look like? Or are you planning a trip to Thailand and still have some questions about the route? We look forward to your comments!