Koh Yao Noi… Finally a Thai island still untouched by mass tourism! But its location will surprise you and have you guessing otherwise! Koh Yao Noi and its sister island Koh Yao Yai are situated in the middle of the famous and spectacular Phang Nga Bay – at the gates of Phuket and Krabi.
Yet somehow, Koh Yao Noi and Koh Yao Yai have retained their authentic originality. You could say that these two islands are a bit of an insider tip. In any case, we fell in love with this beautiful part of Thailand. Spoiler: Our dream hotel was just one of the many reasons – more on that soon enough!
Are you thinking about spending a few days on Koh Yao Noi or Koh Yao Yai? If so, then you've landed in the right place! In this blog article, we will show you the most beautiful beaches, what to expect on the islands and share with you our personal travel tips for your upcoming trip.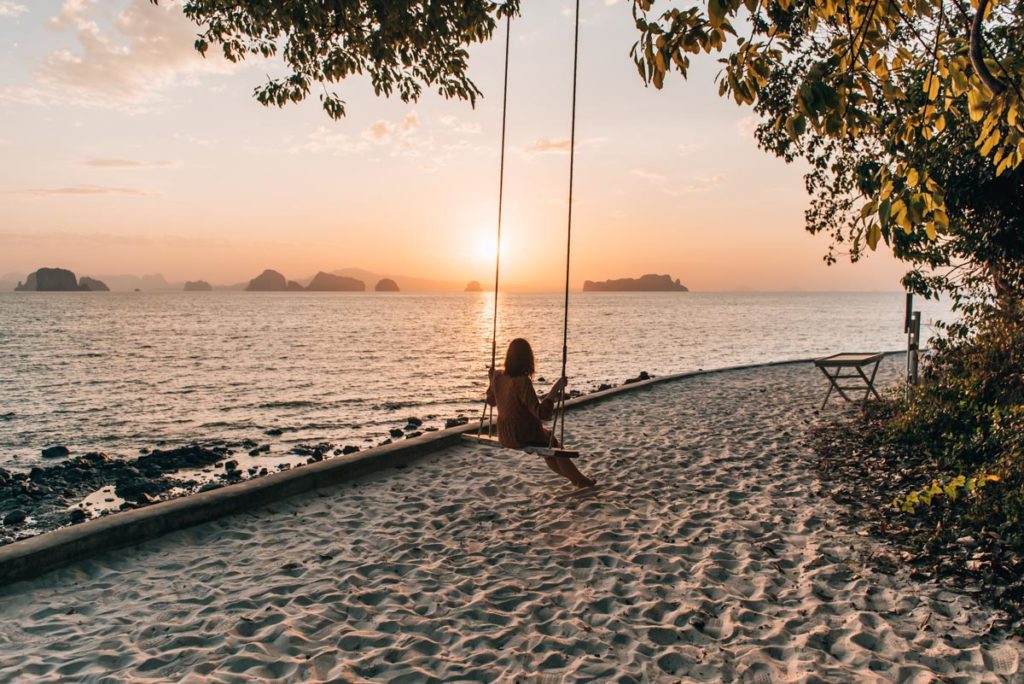 1. Koh Yao Noi & Yai: What to know about these Dream Islands in Thailand
Escape the crowds on Phuket, you say? Is that even possible? If so, tell me! Well, Koh Yao is just 45 minutes by boat from Thailand's most popular island. The holiday hotspot Krabi is also a similar distance away. Crazy but true: Koh Yao is a small quiet oasis in the middle of Thailand's most popular travel destinations and party islands!
North vs South Island: Koh Yao Noi or Koh Yao Yai?
Koh Yao consists of two islands: Koh Yao Noi (North Island) and Koh Yao Yai (South Island). The islands are only a 10 minute boat ride apart, so it makes sense to visit both islands. Koh Yao Noi and Yai are quite similar, but they do have their own subtle differences.
Koh Yao Noi: Situated in the north, this island is the smaller of the two islands, but it's the one with better infrastructure. There are more accommodations and more restaurants here, but don't worry – everything is within limits and it also offers a very cozy vibe.
Koh Yao Yai: This south island is even more remote. There are only a few hotels here and the food options are also manageable. However, we would say that Koh Yao Yai has the nicer beaches of the two.
Our conclusion: We stayed on Koh Yai Noi and did a day trip to the South Island. We wouldn't change a thing about our trip, because it was perfect for us to be able to come back to an island that offered more selection of restaurants in the evening. We really liked the vibe on Koh Yao Noi. While we also found Koh Yao Yai really nice, it was a bit too quiet and non-happening for us to stay overnight.
By the way, what both islands have in common is religion. The locals on Koh Yao Noi and Yai are mostly Muslims, therefore, you will find mosques on both islands. So don't be surprised if you hear the muezzin calling for prayer every now and then. Oh and alcohol is not served in some restaurants.
Who is Koh Yao suitable for as a travel destination?
Koh Yao is the right choice for you if you are looking for a quiet island away from mass tourism. The clocks tick more slowly here and both islands have an incredibly cozy and tranquil flair. Fortunately, touristy parties are nowhere to be found, so you can definitely switch off and relax. But if you don't like doing nothing and much prefer places of action and adventure, then Koh Yao is not the place for you.
There are two main types of visitors on Koh Yao: couples (mostly younger ones) and families with children. The infrastructure is also geared towards these types of guests, meaning that you'll find many hotels with a somewhat higher standard than average. But that doesn't mean there aren't also cheap accommodation options either – so don't worry.
The "disadvantage": Beaches on Koh Yao
Now here is the wee catch (which is not really a huge deal) – but if dreamy soft sandy paradise beaches are important to you, then Koh Yao is perhaps, not the best place to find that. The beaches on Koh Yao would not be considered the most beautiful beaches in Thailand.
Both Koh Yao Noi and Koh Yao Yai are heavily influenced by the tides. At low tide, the water sometimes pulls back so much that swimming is impossible. Beaches that looked beautiful just a few hours ago suddenly seem rather dreary without water. In addition, the beaches of Koh Yao are very natural and therefore you'll find a lot of tidal remains (eg. twigs, coral pieces).
But honestly: that's just nature. We personally had no problem with that, and it's perhaps precisely because of this that Koh Yao has retained its authentic flair. However, if it's important for you to go swimming at any time of day, then you should reconsider your stay on Koh Yao.
How much time should I plan on Koh Yao?
We originally planned 2 nights, but ended up staying on Koh Yao Noi for 4 nights because we liked it so much. We spent a ridiculous amount of time at our hotel pool, but we don't regret it for a second (more information about our hotel further down.) Nevertheless, we had more than enough time to explore the island. A trip to the neighbouring island of Koh Yao Yai was also no problem.
The art of doing nothing, is something that can be perfected on Koh Yao. You could easily stay on Koh Yao for a week or even longer. Therefore, the ideal period to stay really depends on your personal preferences.
2. Koh Yao Noi Travel Guide: The Most Beautiful Beaches
Koh Yao Noi is small and easy to get around. They have a fairly well-developed main road, which takes you more or less in a circle around the island. To give you a feeling of the island's circumference, you could technically ride around the entire island (on a scooter) in just 45 minutes without a break.
The beaches and the majority of the hotels are located in the east of the island. In the west, however, is where the local people live. Mangrove swamps, plantations and inaccessible stretches of coast can be found on the flat west coast. This is also the main town on the island.
Discover the beaches of Koh Yao Noi
Two important pieces of information you need to know first: 1. As already mentioned, Koh Yao is quite heavily influenced by the tides. (You can find more information on this in the first chapter of this blog article.) 2. The beaches are more natural and largely unrefined, meaning the sand is rather coarse-grained and many washed up particles (eg. twigs, coral remains) can also be found.
Our tip: We recommend that you download a tide app before your visit, so you have a good idea of the tidal patterns. This will help you better plan your day and trip.
The main beaches of Koh Yao Noi
All of Koh Yao Noi's beaches stretch along the east coast of the island. The main beaches (Klong Jark Beach and Pasai Beach) are in the southern part, where most of the tourist infrastructure can be found.
These beaches are quite similar and are right next to each other. They are located on the main street, so you can easily park your scooter in front of it and find your favourite place. Depending on the water level, the most beautiful spots can vary. There are also several restaurants and cafés on both beaches.
A little further north you get to the less frequented Thakao Beach. At low tide, you can even walk to the mini island in front (Koh Nui) – how cool is that!? From Thakao Beach you have a particularly beautiful view of the karst rocks on the horizon.
The lesser-known beaches in the north
North of Thakao Beach are some rather well-hidden bays and beaches. The main road leads back inland from here, so you have no choice but to take the dusty off-road paths. Some of them are very hilly and adventurous – so you should be reasonably experienced in riding a scooter.
One of the most famous beaches in the north of the island is Yao Beach (= Yaow Beach). Its name sometimes causes confusion: it is often called Long Beach. Interestingly, "Long Beach" is also often referred to as the Klong Jark Beach on some maps. However, the Long Beach we're talking about is definitely located in the northern part of the island. The sign there is rather poor, but visible.
The further north you get, the more inaccessible the bays become. Some beaches can only be reached by boat. Our tip: If you prefer to take it easy, you could also rent a private long-tail boat and sail the bays with it.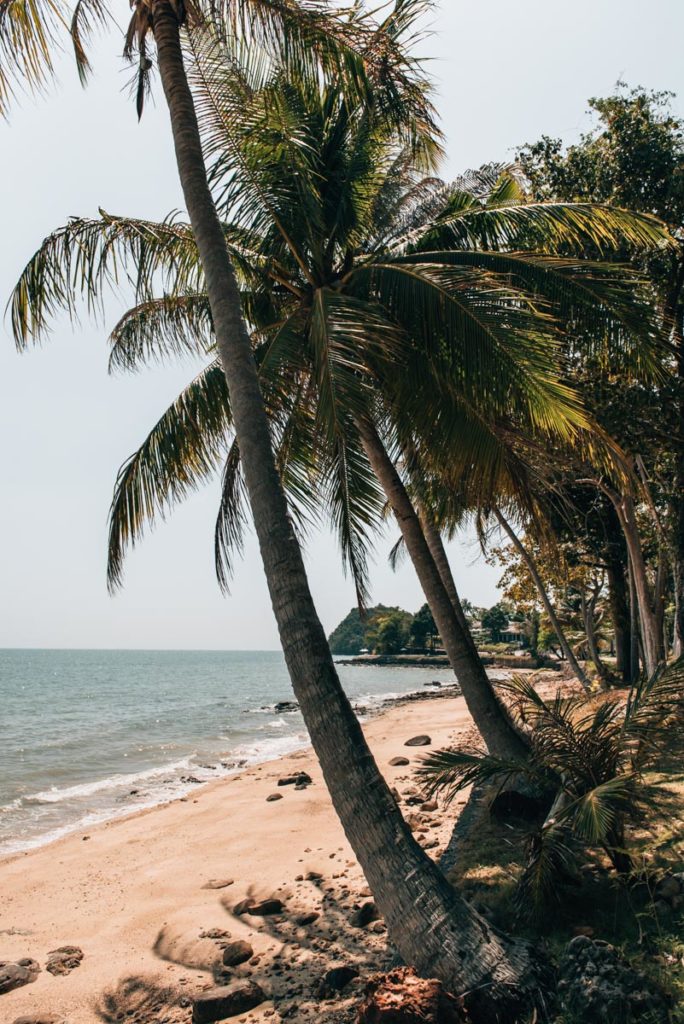 Sunset at Thatondo Pier
In the west of Koh Yao Noi you can watch beautiful sunsets. Since there are no classic sandy beaches here, you have to settle for the piers. You will find two larger ones: we ourselves were at Thatondo Pier, which is a little north of the island's main town.
A footbridge leads past some bars towards the sea. You can go pretty far out here – or ride a scooter, as some locals do. When we were here, there was hardly anyone else about – maybe a handful of people at max. This was a really nice way to end the day!
Island main town: Thakhai Village
West of Koh Yao is the largest village on the island. To call it the "capital" would be an exaggeration, because it's more like network of a few streets. Here you will find the only 7 Eleven on Koh Yao Noi, as well as several restaurants and cafés. There is also a small local market here.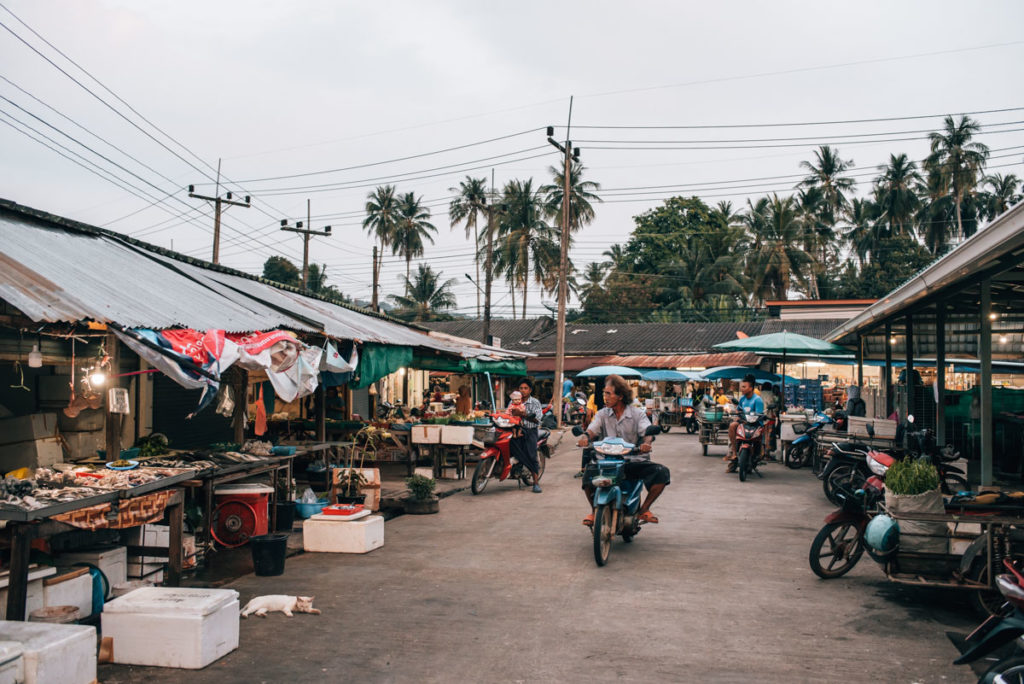 3. Excursion to the neighbour Island of Koh Yao Yai
The south island of Koh Yao Yai looks a little more secluded and original. Personally, we would find it a little too quiet for a longer stay, but it's highly worthwhile making a trip out there. In our opinion, Koh Yao Yai has the nicer beaches, especially Laem Haad Beach in the north of the island.
The crossing from Koh Yao Noi to Koh Yao Yai takes just 10 minutes. Roughly speaking, there is a main road on Koh Yao Yai that runs from north to south. The distances are a bit longer than on Koh Yao Noi. (So ​​as a guide: you can reach the popular Loh Pared Beach by scooter in about 30 minutes from the north pier.)
We'll tell you more about transport, ferries and whether it's worth bringing your scooter with you in the last section of this blog article.
Laem Haad Beach
This beach has you feeling like you're somewhere in the Caribbean! Laem Haad Beach (also called Hua Laem Beach) is undoubtedly the most beautiful beach on the island. It is located in the north of Koh Yao Yai, just a stone's throw away from the pier. Nowhere else on Koh Yao (neither on Noi nor on Yai) is the sand as white and fine as it is here. The long beach stretches out into the sea, fading out in the most beautiful way. Depending on the tide level, parts of the beach will change.
Incidentally, we have heard different opinions as to whether it would be better to visit the beach at low or high tide. At low tide the beach doesn't look very beautiful, but you can at least walk to the offshore island. However, high tide transforms the beach into a dreamy paradise. If in doubt, we would rather come at high tide. The only downside is that maybe a few excursion boats will also head for the beach during high tide, bringing groups of people with them.
There are no accommodation options at Laem Haad Beach. There was a beach bar but unfortunately it is closed. What a gorgeous place, we really hope that the cozy vibes here will be long lived!
One little downer, which we cannot hide: directly behind the beach (on the way there, so to speak) were several small mountains of garbage on the day of our visit. We read that boats often unload their garbage here because it's easy to do so. So disappointed that anyone would trash such a heavenly place.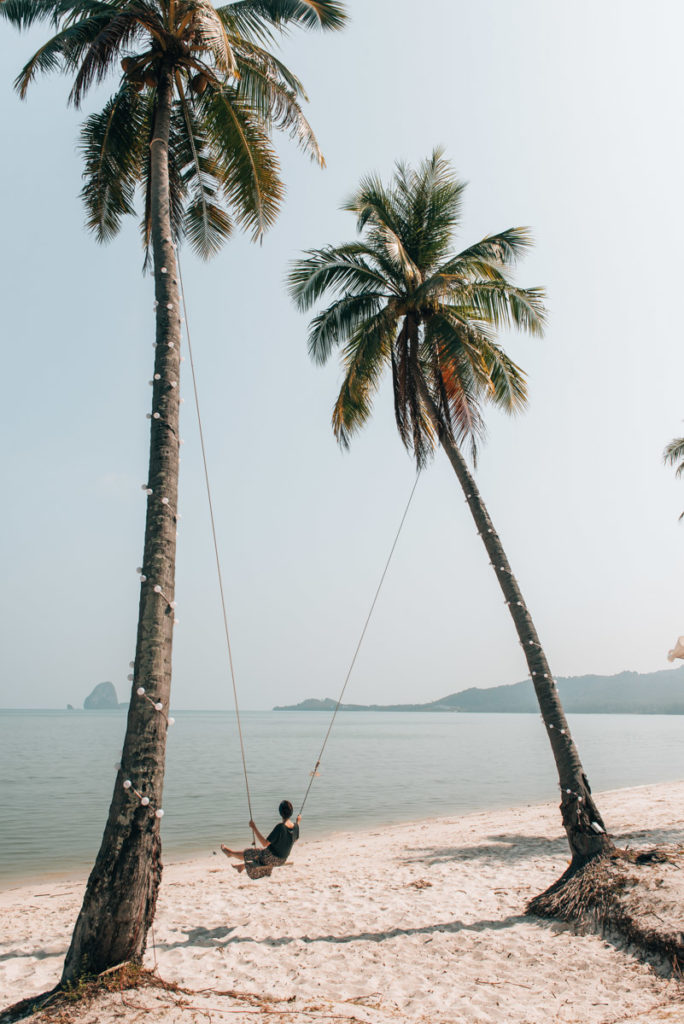 Loh Pared Bay Beach
Loh Pared Bay Beach is located roughly in the middle of the island and is one of the most popular beaches in Koh Yao Yai in terms of tourism.
Here, you will find some accommodation and restaurants. As you can see in our photos, there was hardly anyone on the day of our visit. Bonus: since the beach faces west, you can also see the sunset from here!
4. Tips for Restaurants and Cafes on Koh Yao Noi
Rice Paddy
Our top recommendation! We probably had the best meal in our entire stay, here are Rice Paddy. The restaurant (which is actually run by a German) places great value on quality – and you can taste it.
Their menu features Thai dishes from various parts of the country. The best part was how many vegetarian options they offered and really creative ones too. So if you've had enough of tofu, this is the place for you. The Massaman curry was arguably the best we have ever eaten.
The restaurant has now moved to the coast – conveniently close to our hotel, the Cape Kudu Hotel. It might be a good idea to reserve a table in advance, as the restaurant is quite popular (and for good reason!).
Chaba Café and Gallery
The Chaba Café and Gallery is a really nice place for a lunch snack or a fresh fruit shake. Here, you get to sit in a beautifully landscaped garden and the atmosphere is just great.
We have to admit that we were a little less impressed with the food than we had expected. However, the drinks were very delicious. Best to go try it out yourself and let us know what you thought of it!
More restaurant tips for Koh Yao Noi
Kaya: This highly recommended restaurant is now a small institution on Koh Yao Noi. The restaurant is run by locals who have a knack for making you feel welcome right away. They serve excellent Thai food and we also found the ambience very nice. We would definitely go back!
Koh Yao Bistro by Aon: We enjoyed a great meal in this simple but lovely restaurant, which is located on the beach (behind the street) so you can see the water. You will find all sorts of Thai dishes on the menu and you can also get cocktails at reasonable prices during their happy hour.
5. Where to stay in Koh Yao Noi: Hotel Recommendation
The Cape Kudu Hotel was our temporary home for four nights. And yes, we say home because that's honestly what it felt like to us. Rarely, are we so reluctant to leave a hotel and move on. Sure, the price of the hotel was above our personal travel budget, but honestly: we don't regret a single cent! If you want to treat yourself to a really nice place to stay on Koh Yao, then Cape Kudu is the place for you!
The pool area is an absolute dream. From here you have a fantastic view of the karst rocks of Krabi. Since the hotel faces east, you can marvel at the most beautiful sunrises, which we enjoyed before digging into a delicious breakfast with a view of the water. The food selection was superb and the quality of the dishes were excellent.
The hotel separates the coastal road from the beach. But that's ok, because there is not a lot of traffic. Since the tides are so strong, the hotel's private beach is laid out like a kind of terrace. It's good enough for sunbathing, but just know that this is not a natural beach. However, the sand is very fine and white – just beautiful!
We also booked a room with a sea view. These are located on the upper floors and are highly recommended. The beds were really comfortable and there was nothing more we could have asked for! Our conclusion: highly recommended! The Cape Kudu is a gem of a place to relax.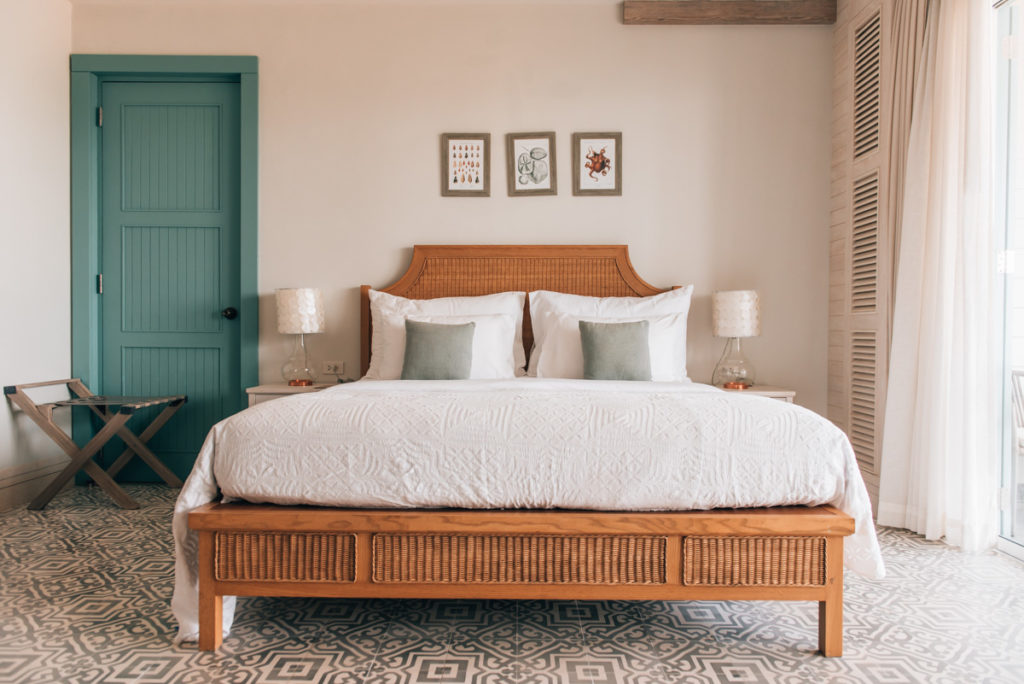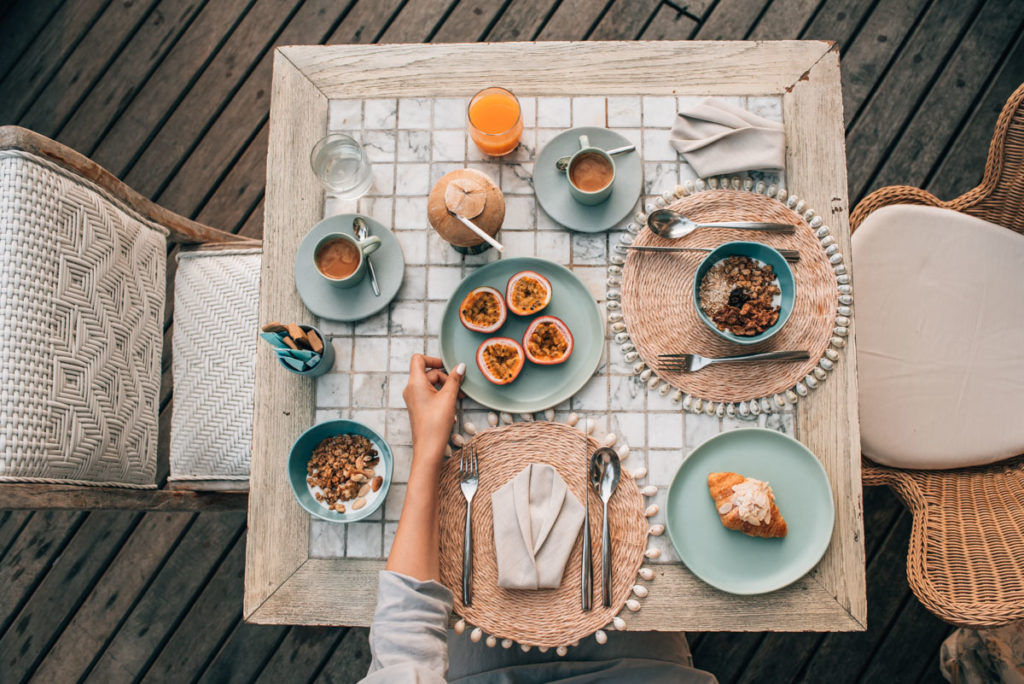 6. Extra Travel Tips for Koh Yao: Transport and How to Get There
Getting to Koh Yao Noi & Koh Yao Yai
The easiest way to get to Koh Yao Noi or Koh Yao Yai is from Phuket or Krabi. The boat trip takes around an hour from both Phuket and Krabi. So it really doesn't matter which side you come from.
The route is operated by both large long-tail-boats and typical speedboats. Of course, speedboat will get you there a little faster, but the long-tail-boat rides are a bit cheaper.
From Phuket to Koh Yao
From Bang Rong Pier in the north of Phuket, boats leave for Koh Yao Noi and Koh Yao Yai between 6:30 am and 6 pm daily. The trip costs 400 Baht by speedboat. We simply took a taxi to the pier and then bought our boat tickets there. Since the boats run regularly all throughout the day, we didn't have any problems with not getting tickets in advance. Once on Koh Yao Noi, you can get a shared taxi to your accommodation for around 100 Baht per person.
If you are in the south of Phuket, then the Thiensin Pier near Phuket Old Town could be an option. From here, they have both passenger and car ferries.
From Krabi to Koh Yao
The most famous pier in the Krabi region to go to Koh Yao is the Thalane Pier. Although being a good distance (around 30 minutes by car) from Ao Nang, it is the closest to the islands. Both Speed boats ​​and long-tail boats run all day from Thalane Pier. This is the route and transport method we took – and since we chose to travel with the long-tail-boat, it cost us just 150 Baht per person.
Alternatively, you can also get a transfer from Nopparat Thara Pier in Ao Nang to Koh Yao. Some speedboats leave from here every day, but they are significantly more expensive.
Boat traffic between Koh Yao Noi and Koh Yao Yai
A long-tail boat runs between the two islands every 10 minutes. The boats leave Koh Yao Noi at Manoh Pier in the south of the island and reach Koh Yao Yai at Chong Lad Pier. The crossing takes only a few minutes. For this short trip, we paid 150 Baht for two people (which works out to be 75 Baht per person).
If you're wondering if it's worth bringing your scooter with you, we would say rather leave it. For just 200 Baht we got a scooter right at the port of Koh Yao Yai. Taking the scooter across with us would have cost 250 Baht.
Scooter riding on Koh Yao Noi & Yai
The quickest and cheapest way to get from A to B on the two islands is by scooter. There is so little traffic on the roads that you don't have to worry if you're not super experienced. You also get used to the whole 'left-hand side traffic' fairly quickly.
You can rent a scooter for around 200 to 300 Baht per day (24 hours). Insurance is not included (like in most places in Thailand). Before departure, we recommend that you check the lights, just in case you get a nasty surprise at night and find out that your lights don't won't! We learnt this lesson the hard way, which is why we're sharing this with you!
The road conditions are ok, at least on the concrete roads. Do prepare yourself for the odd pothole here and there. There are also a few sandy slopes on both islands, which we would only recommend to experienced riders.
By the way: Most tourists ride around Koh Yao without a helmet and this is something we cannot understand from a safety point of view! We would definitely recommend you to wear a helmet – even if it is tempting to go without one in such tropical temperatures.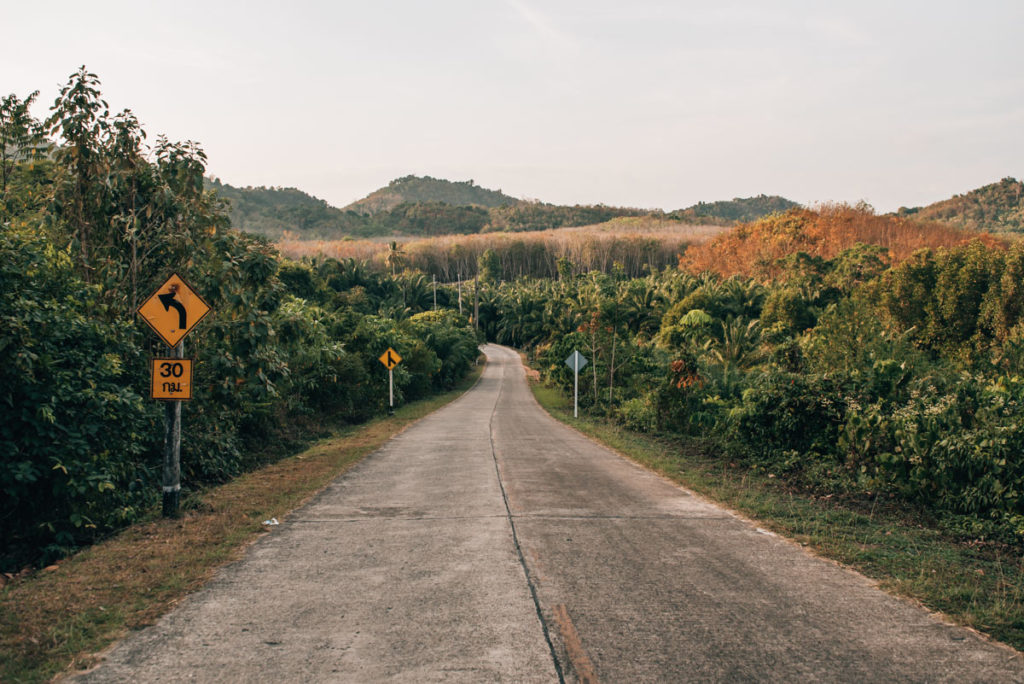 Disclaimer: Affiliate Links
This blog article contains our personal recommendations in the form of affiliate links. If you book or buy something through these links, then we will receive a small commission. However, this will not change the prices for you at all. A million thanks from the both of us!
Have you ever been to Koh Yao Noi or Yai or are you planning a trip there soon? If you have any additional travel tips and experiences you'd like to share, or if you some more questions for us, then leave us a comment below and we look forward to reading and responding to them!