Phuket is mass tourism at its finest. No need to sugar coat anything here because it's become common knowledge that many parts of Phuket is not as paradise-like as you would imagine Thailand to be. Unfortunately, this is something you experience quite early on and cannot really escape – at the latest, you'll see what we mean when you walk through the streets of Patong (the hotspot on Phuket).
Although Phuket is notorious in some places for its headache-inducing tourism, there are also some beautiful lesser-known places – thankfully! We ourselves, have personally been to Phuket twice and our mission was none other than searching for the most beautiful sights and beaches, as well as for secret corners on the island. In this blog article, we will share with you the main highlights in Phuket, as well as our top tips for having a great time on this island.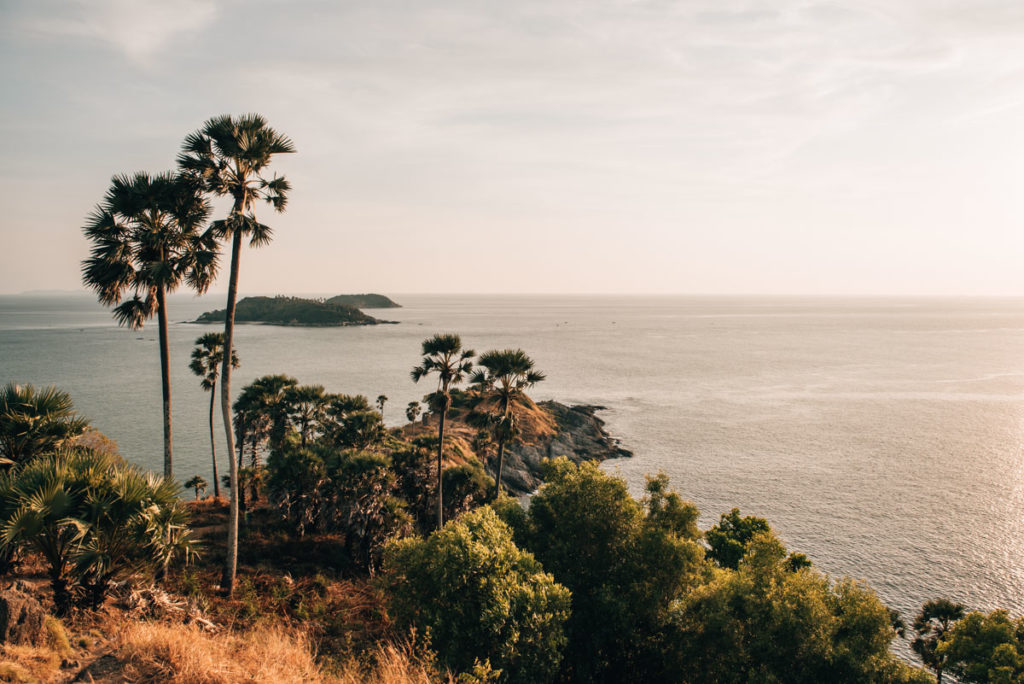 1. Phuket: What to know before you go & Pre-Travel Tips
Phuket is the largest island in Thailand. That's right, it's an island! Phuket is located in the southwest of Thailand in the Andaman Sea. What many people do not know is that Phuket island is connected to the mainland by a bridge.
Is Phuket the right destination for me?
Phuket cannot be generalised into any one category. In other words: Phuket is so big that there is something for everyone to be found on the island. Therefore, you will find all sorts of people on Phuket: from party-goers to couples or families with children. 
However, if you're looking for a quiet beach destination for your holiday, then Phuket would not be first on our list of recommendations. There are far better options like Khao Lak, Koh Lanta or Koh Phangan. However, there are exceptions on Phuket, namely regions or (exclusive) hotels where you don't notice the hustle and bustle.
If you go to Phuket, you have to be aware that the island is almost entirely geared towards tourism. That comes with its many disadvantages, no doubt. But there are also advantages. For example, medical care on Phuket is excellent. This is often not the case in other corners of Thailand. Thanks to the international airport, Phuket is probably (together with Khao Lak) the fastest accessible beach destination in Thailand.
Phuket is understandably an attractive travel destination for people who consider (tourist) infrastructure very important. Alternatively, Khao Lak (which is also located near Phuket Airport), is a great choice too.
Where should I stay on Phuket?
Phuket is much larger than you might think. To put it into perspective, if you travelled from the northern most point to the southern most point, then it would easily take you an hour by scooter – depending on the traffic situation, it can also be significantly longer. Since Phuket is so large and diverse, it is not so easy to find the right area to spend the night.
What we really mean by this is: Avoid Patong! Patong is the most popular place on Phuket, but believe us when we say… you really don't want to stay here. This is the place where party meets sex tourism and it's always busy no matter the time of day. We even dare to say that Patong is worse than you might imagine it to be. Kata is also not a great place to be and reminds us a little of Patong.
The south has the advantage of being quite close to the many sights (e.g. Big Buddha, Phuket Town). There are also some great view points in the south. Cape Panwa is a quiet corner in the southeast, which we can highly recommend. (Our hotel tip here is The Cove. We'll tell you more about this below.)
The beaches in the north tend to be quite calm. So if that's what you are looking for, then you will love the exploring the north (e.g. Bang Tao Beach). In this blog article, we will share with you our top tips and highlights on Phuket island and all our favourite beaches.
In summary: This is what to expect on Phuket
Phuket is spoilt with lush green, hilly landscapes and is home to some really impressive sights such as the Big Buddha.
The sandy beaches on Phuket are beautiful and heavenly, but unfortunately often overcrowded in the high season.
That brings us to the not so nice side: In some corners you will definitely be confronted with over-tourism. Phuket is an extremely popular destination for package travellers from Russia and China – especially in Patong and Kata. Crazy, but true: you'll find a lot of signs in Cyrillic script.
But don't worry: there are also enough places away from the crowds, so you can rest assured that it's possible to have a great time on Phuket!
2. Phuket Travel Guide: Main Sights and Attractions
In this section, we will show you all the main sights and attractions in Phuket that aren't beaches (because we have a whole section dedicated to beaches later on). Most of these highlights we are about to share with you are located (roughly speaking) in the south and southeast of the island.
Phuket's Big Buddha
One of our favourite places on Phuket is the Big Buddha. This 45-meter-high white marble statue is marvellously enthroned on a mountain in the south of Phuket. Not only is the Buddha statue itself already highly worth seeing, but the view from up there is also incredibly stunning.
The Big Buddha is one of the most popular day trip destinations on Phuket. You can expect it to be busy, especially during the day. We have always visited this place during the late afternoon and can highly recommend you to come at this time of day as well. Although you don't have a direct view of the actual sun setting, it does set somewhat behind the Buddha the soft light is still very beautiful. The later it gets, the fewer people there are. On the other hand, sunrise is also a great time to come visit!
Side note: The construction of the Buddha has been underway since 2004 and is still ongoing – the construction is financed by donations. So for this reason, you'll see small marble tiles being sold, on which you can write your wishes (or just your name) – consider your tile a contribution.
Getting there & information for visiting the Big Buddha
The Big Buddha is perched on a small mountain in the south of Phuket. You'll follow a winding road leading up to the Big Buddha, which can be quite steep in places, but is relatively well-maintained. Therefore, you can easily reach the Big Buddha with the scooter if you have experience in riding. What's even more uncomfortable than the mountain roads are the main roads with high traffic! Thankfully, parking is free.
If you don't feel confident enough to ride a scooter (which is totally understandable), then we would recommend booking a private driver. We'll tell you more about our tips and various transport options on Phuket later in this article.
The entry to the Big Buddha is free, however, a small donation is requested. Also, please make sure you dress appropriately – the shoulders and knees should be covered up as much as possible.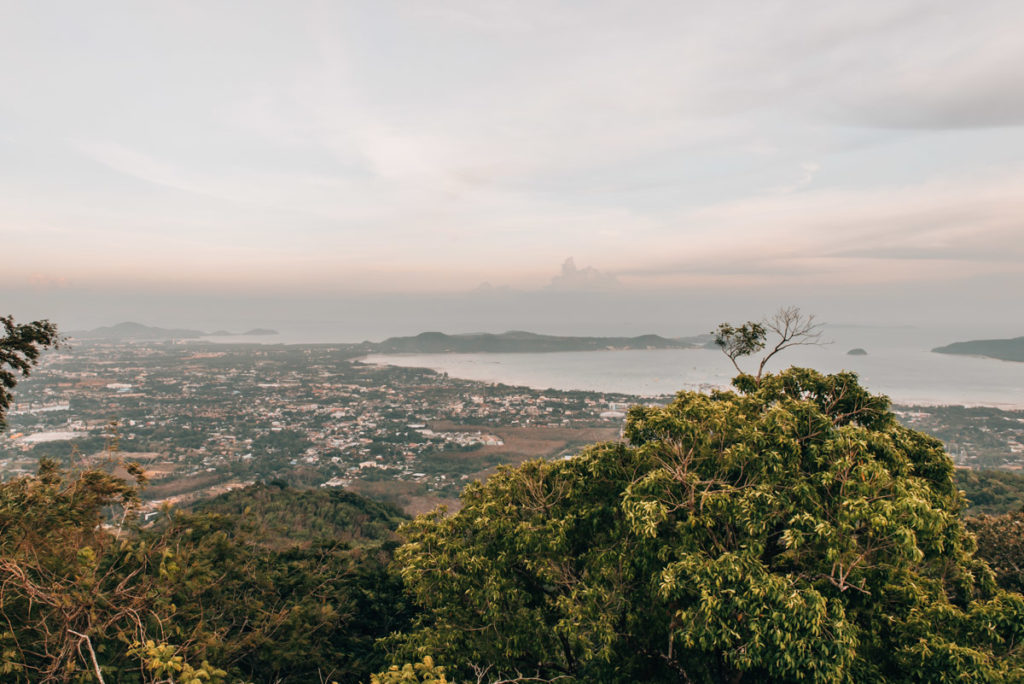 Wat Chalong
Wat Chalong is the most important and most visited temple on Phuket. Since it's quite close to the Big Buddha, we would recommend combining these two places in a single trip. 
As is often the case with Thai temples, Wat Chalong consists of several structures. There are also some green areas around the place, as well as countless stalls where you can buy street food and drinks.
In the building with the large, golden Chedi (shown in the photo on the left), there is a staircase that leads up, and from the top you have a really nice view of the entire temple complex. We visited Wat Chalong at lunchtime, but would actually recommend you avoid coming at this time. Not only is it unbearably hot, but there were simply too many people. It's best to come early in the morning or late in the afternoon around 4 pm. (The temple is open until 5 pm.)
Travel & information about visiting Wat Chalong
Wat Chalong is located in the south of Phuket, at the foot of the mountain on which you'll find the Big Buddha. You can easily reach Wat Chalong by scooter. Alternatively, you can also rent a private car with a personal driver. We will share our tips with you about transport, scooter riding, car rentals and private drivers at the end of this blog article.
The entrance in to Wat Chalong is free. As with every temple in Thailand, you have to make sure you are wearing (or have with you) appropriate clothing before entering Wat Chalong. The knees and shoulders should be covered up as much as possible. However, it's acceptable for men to wear shorts. 
Phuket Town
The old town of Phuket (usually called Phuket Town or Old Phuket Town) is a remarkable mix from the remains of Portuguese colonial architecture and Chinese influence.
Some streets in Phuket Town are really well renovated. We really liked the Soi Romanee (also written Romani). Here you will find some nice cafes, such as the Dou Brew Coffee & Craft or the city's most popular ice cream parlor, Torry's Ice Cream. We get the feeling that there are many great restaurants and cafes in Phuket Town to choose from!
Phuket Town is also known for its variety of street art. Some murals or graffiti have been created with impressive detail on the house walls. The mural, which stood out to us the most, was the one with the former king – you'll find it on Dibuk Road.
Good to know: Phuket Town gets a lot of bus groups during the day. When we arrived around 3 pm there was still a lot going on. But every hour thereafter, it became calmer and quieter. So, if you're going to make a trip here, we can highly recommend you visit in the late afternoon!
3. Beach Guide: The Most Beautiful Beaches on Phuket
There is catch when it comes to beaches on Phuket. While many of them are beautiful in terms of landscape and paradise-like, this dreamy scenery has a price. Some beaches on Phuket are completely overcrowded and these primarily include Patong Beach and Kata Beach. In the high season, you feel like a sardine lying on the beach.
In this section, we will tell you which beaches we would recommend visiting on Phuket. We have listed them from north to south, so hopefully you will find it easy to navigate. Remember that Phuket is big. Very big in fact – and most of the time you will probably be within a short radius of your accommodation. However, the vast majority of the beaches are on Phuket's west coast.
Banana Beach
Banana Beach is still a bit of a secret tip (if you can even say that on Phuket). It is located between Nai Thon and Bang Tao Beach. You can park your scooter on the street and then reach Banana Beach by a small and rather steep trail.
Once at the bottom, a small bay with a beautiful sandy beach awaits you. If you get hungry, there is also a restaurant. There are no accommodation options here though. What's interesting, is that Banana Beach is not yet well known and we hope it will stay that way for a long time!
Bang Tao Beach
Bang Tao Beach is north of Patong Beach, but is the complete opposite. The beach is miles long and surprisingly calm. You will always find a cozy place here without a problem. You can also borrow a lounger for around 100 Baht. There are also some small restaurants along the beach.
Some high-priced hotels are located on Bang Tao Beach. There are also cheaper accommodations nearby. So if you want to stay in the north of Phuket, Bang Tao Beach is a good option.
Kata Noi Beach
Kata Noi Beach was once an insider tip. Unfortunately, it is now extremely crowded during high season. The landscape with the light sand is beautiful, but we didn't last long in January as there were just too many people. We imagine it to be much quieter and more pleasant in the off-season.
Nai Harn Beach & Ao Sane Beach
South of Kata you can reach Nai Harn Beach in about 20 minutes. There is much less going on here than in Kata, although you shouldn't expect an empty beach – especially not in high season. Nevertheless, we liked the sandy beach. You can also watch the sunset from here.
There are some accommodation options at Nai Harn Beach and you will also find everything you need for the day at the beach (loungers, restaurants and even showers).
Our tip: In addition to Nai Harn Beach, there is another beach that is worth a visit: Ao Sane. Ao Sane consists of two small bays. The beach is best known for snorkelling. Because of the stones, the beach is not quite as suitable for swimming as some others.
Yanui Beach
Yanui Beach is located in the very south of Phuket, just a stone's throw away from Nai Harn Beach. It is probably one of the smallest beaches in Phuket. Although we were here in the high season (mid-January) the beach wasn't at all overcrowded. 
There are no showers, loungers or accommodations here, but there is a small restaurant on the other side of the street and a few stands where you can buy something to drink. The beach is not the best for swimming due to the large stones and rocks, but it is definitely possible.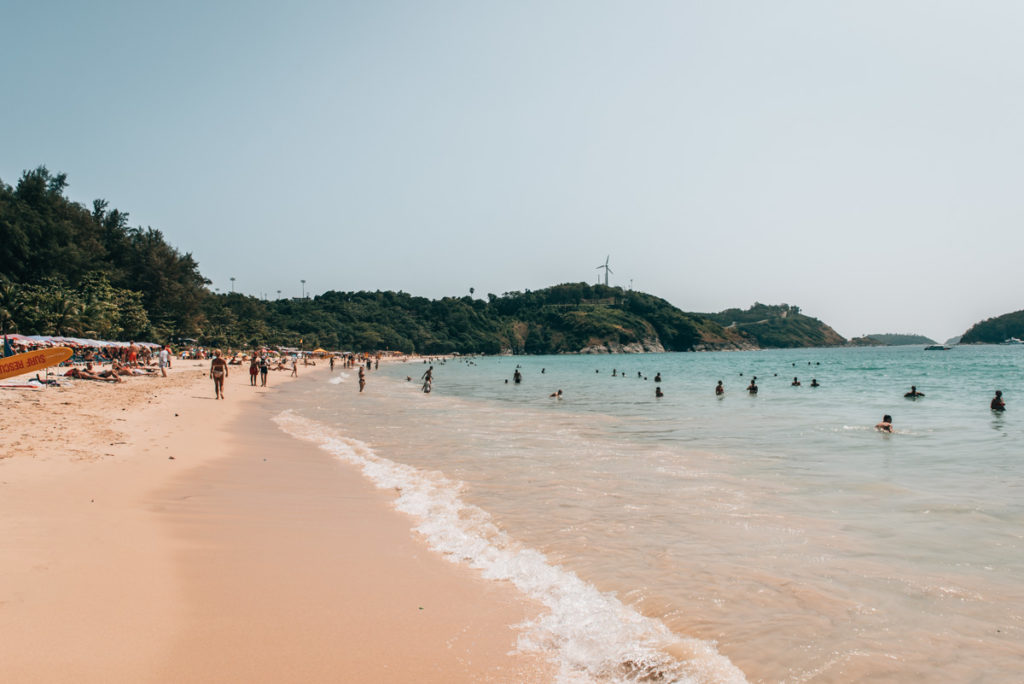 4. The Best View Points on Phuket: Our Tips
Karon View Point
Once a secret lookout point, but now a very popular location. The Karon view point (also called the Kata view point) is one of the most popular view points along the west coast of Phuket. It is located on a hill south of Kata Noi Beach.
From this lookout point you can see three crescent-shaped bays: Kata Noi in the foreground, Kata and Karon in the distance. When we were here for the first time many years ago, the view was a little less "overgrown" – but hey, that's nature and the view is still fantastic! You can even see the Big White Buddha out in the distance.
We highly recommend visiting in the late afternoon. However, if you're after the perfect sunset photo, then we would recommend a different place, as the sun can hide behind the trees (depending on season). 
Getting there & information for visiting the Karon view point
The Karon view point is located directly on the coastal road in the west (4030). You can easily reach the view point with the scooter and there are free parking spaces available. The Karon view point is always open 24/7 and it's free for everyone.
Windmill View Point
A great place to catch the sunset in Phuket is the Windmill view point. However, don't be fooled by the name because there isn't actually a romantic windmill or any windmill for that matter. In fact, the view point was named after the (very unspectacular) wind turbines that are located here.
Be that as it may, the view is still really fantastic – especially at sunset! The Windmill view point is located between Nai Harn Beach and Yanui Beach, directly on the coastal road and is very easily accessible. That probably explains why so many people gather here in the evenings. There is a kiosk where you can buy something to drink, then find a grassy patch to sit on and enjoy the sunset.
Getting there & information for visiting the Windmill View point
The Windmill view point is located in the south of Phuket directly on the coastal road (4030). You can park your scooter for free. The view point is always open 24/7 and it's free for everyone.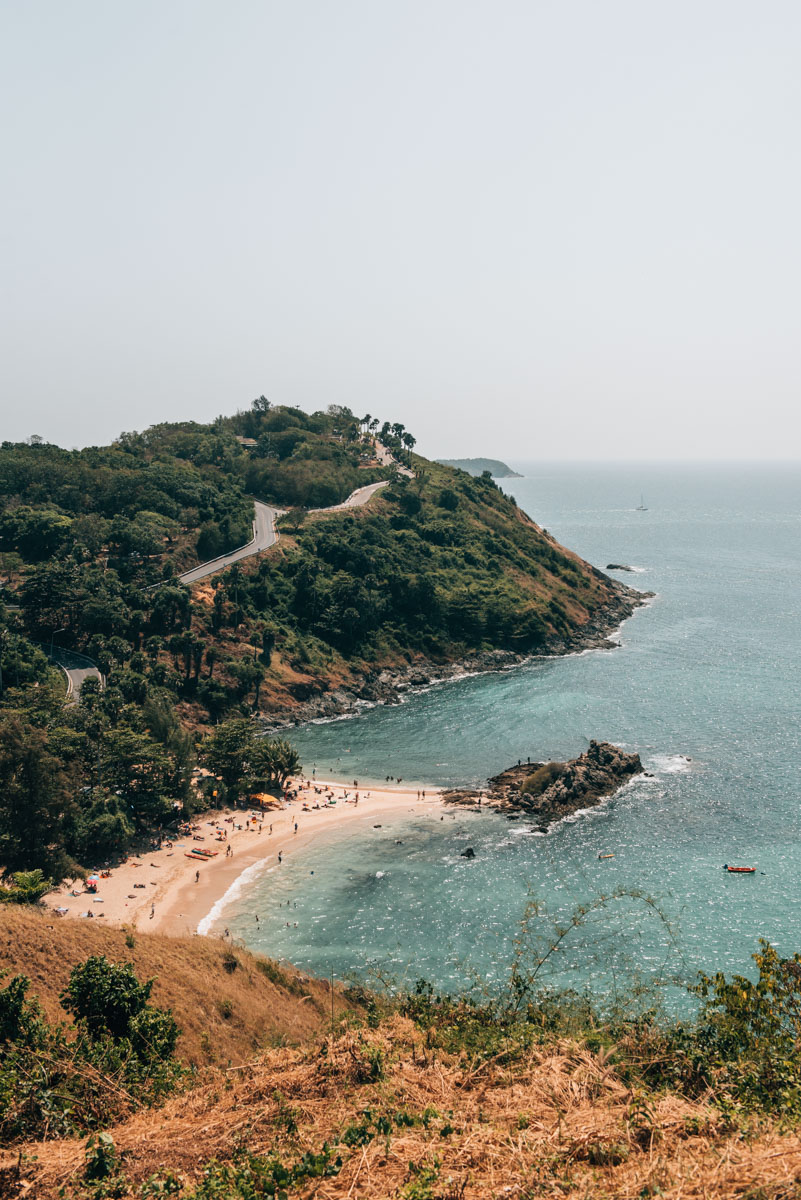 Promthep Cape
One of the most scenic places in the south of Phuket is this cape called Promthep Cape. The nature here is incredibly stunning and the Cape is almost directly on the coastal road, which makes it very easily accessible. With this in mind, don't be surprised at the large crowds during sunset.
The most famous photo spot (shown in our picture) is at the top, right next to the street. From here, you'll find a footpath that leads down to the sea –  we would recommend wearing sturdy shoes. The further you go, the fewer people you'll meet. That means weighing up view from above vs. less crowds and view down by the water.
Although this place is definitely not a secret tip by any means, we would still highly recommend that you come here for at least one sunset. The gorgeous view makes it all worthwhile!
Getting there & information for visiting the Promthep Cape
The Promthep Cape lies on the southernmost tip of Phuket, more or less directly on the coastal road (4030). You can park your scooter on the street for free. From there, it's just a short walk (2 minutes) down to the view point. This area is always open 24/7 and free for everyone.
5. Day Trip: Phuket to Phang Nga & James Bond Island
Our personal highlight on Phuket was our trip to Phang Nga Bay at sunrise. We spent half an eternity thinking about whether we should fork out the money for this tour. After all, the price was around 120 Euros per person. That's a lot of money for Thailand.
Anyway, in the end, we are so glad that we decided to do it! The tour started in the middle of the night (around 4 am), so that you arrive at the view point well before sunrise (after a 15-minute hike). The view of Phang Nga Bay at dawn is breathtakingly beautiful!
After a quick breakfast, we got on the boat towards James Bond Island. The small island with the striking 30 meter high rock needle became famous from the James Bond film "The Man with the Golden Gun" – hence the name. A real hype has arisen around the rock and it is one of the most popular excursion destinations from Phuket.
We have to admit that we find the James Bond Rock itself rather average. We were much more captivated by the boat trip through Phang Nga Bay itself. You float across the water in the most beautiful morning light through the expansive karst landscape.
Later, there are a few more short stops (e.g. for a kayak trip) and lunch. At about 2 pm you will arrive back at your accommodation. Our conclusion: Yes, the price is steep. But for such a unique experience, we think the money is well worth it. We can highly recommend the tour!
If you're interested, you can book the tour here: Sunrise in Phang Nga & James Bond Island
6. Where to Eat: Tips for Restaurants and Cafes on Phuket 
The culinary offer in Phuket is honestly so huge and diverse that it's overwhelming. Many restaurants – especially those near the hotels – are very touristy (which is not always a bad thing). In this section, we share with you our to restaurant recommendations. If you decide to try some of them out, leave us a message and let us know what your experience was like!
Tip for the Vegetarians/Vegans: We can highly recommend the HappyCow app to all vegetarians/vegans. In our opinion, the few Euros it costs are definitely worth the investment. 
Sai Than Boon Vegetarian Restaurant: Our favourite culinary discovery in Phuket! This locally run small restaurant serves only vegetarian Thai dishes. Authentic flair, incredibly friendly owners & super delicious meals – what more could you ask for? Our conclusion: more than recommended!
Wilson's Cafe: Very nice, cozy café in Rawai (in the south of Phuket). They serve western dishes such as smoothie bowls, salads or sandwiches. The breakfast menu is also very extensive.
Dou Brew Coffee & Craft: This little hip cafe serves some very good espresso in the Old Phuket Town.
Rawei Beach Restaurant: Not exactly a local tip, but the beach bars in Rawai still come recommended. In some places, you get to sit on the floor in the traditional cultural way. The Rawai Seafood Market is also worth a visit (daily from 11 am to 9 pm).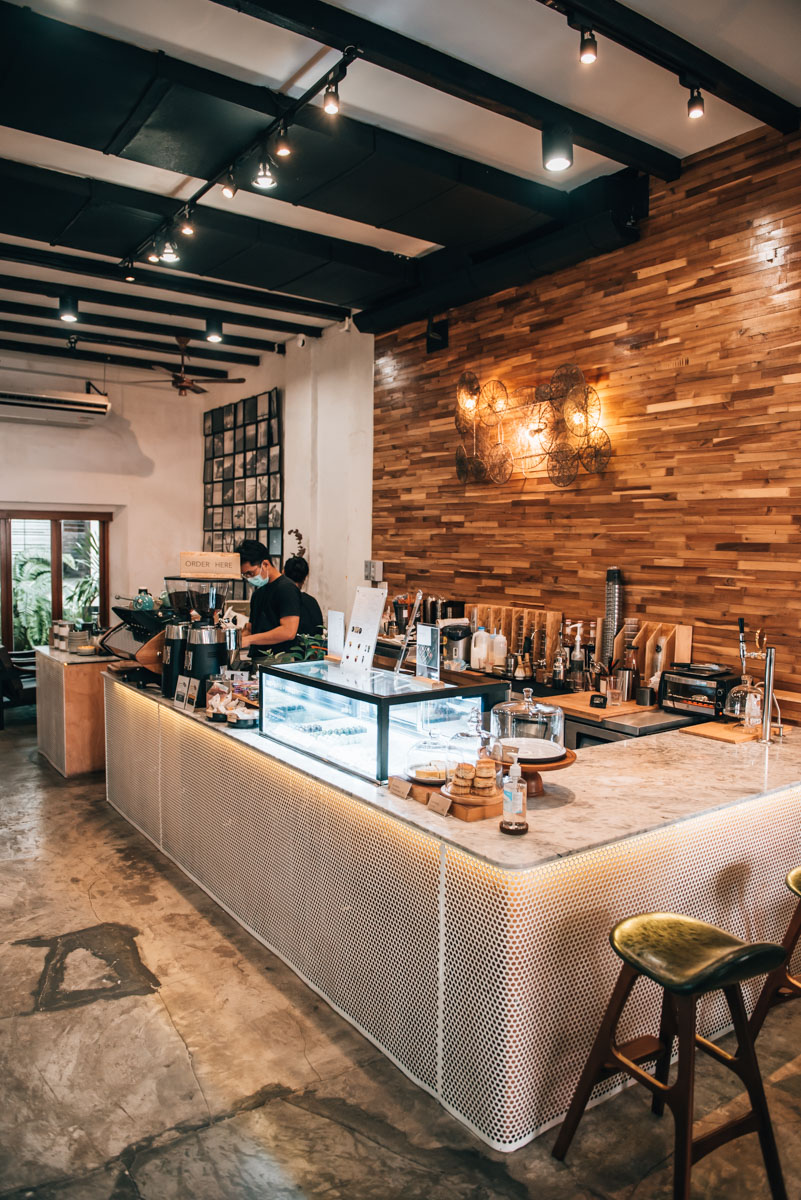 7. Where to Stay on Phuket: Our Hotel Recommendations
For those seeking tranquility: The Cove on Cape Panwa
Looking for relaxation and tranquility on Phuket? Then you'll feel right at home here! Our number one choice for a vacation away from the crowds is this oasis in the southeast of Phuket. The Cove on the Cape Panwa peninsula is beautifully designed and the perfect place to unwind.
The hotel is right on the beach. From some bungalows, you can even see the sea. The rooms (or bungalows) are very spacious and tastefully designed – an absolute dream. The hotel beach is very calm and you will find a few restaurants here too – luckily, without any tourist hustle and bustle.
Perhaps the only downside is that the change in tides at Cape Panwa is a little more prominent than in other parts of Phuket. But that wouldn't stop us from staying here. However, due to the more remote location, the beaches on the west coast are about a 30 minute drive away – but as mentioned before, there is a beach right outside the front door.
Unfortunately the hotel was fully booked during our travel period, otherwise we wouldn't have hesitated for a second. Next time we stay in Phuket, it will definitely be this one!
You can book the hotel here: The Cove
For a low budget: Sugar Ohana Poshtel in Kata
The bad news first: Kata itself is really awful. The place was already not overly spectacular a few years ago, but nowadays, you simply just want to escape. Kata is most definitely Russian central as the vast majority of vacationers come from Russia.
However, Kata is a strategic location to stay in if you want to discover as much of Phuket as you can on your own. Some beaches or bays are located in the south. The most important sights (Big Buddha, Wat Chalong) are not far either.
If you want to stay in Kata and are looking for cheap accommodation, we can recommend the Sugar Ohana Poshtel. The rooms are pretty and you feel very comfortable. However, the accommodation is located directly on the main street (in the middle of the hustle and bustle), you just have to get used to that. We would not stay in Kata again, but if you are looking for something cheap, then this is the place for you.
You can book accommodation here: Sugar Ohana Poshtel
8. Phuket Transport Guide: How to Rent a Scooter
There are three major problems when it comes to transport in Phuket:
1. The island is very large and the distances should not be underestimated.
2. There is also a lot of traffic, so much so that they lead to long traffic jams on some routes.
3. The worst of the worst: taxi prices are horrendous! We were told that Phuket harbours a taxi mafia and judging by the extortionately high prices, it could very well be a possibility!
Unfortunately, there is no well-developed public transport network on Phuket. Some routes (especially the ones towards Phuket Town) can be taken by bus, but unfortunately this is basically the only exception.
So if you want to see more of Phuket than the surroundings of your hotel, then you have no choice but to take care of your own transport. Here are the few options we would suggest:
Option 1: Rent a Scooter on Phuket
Renting a scooter is the cheapest and easiest way to get from A to B on Phuket. You can rent a moped and ride around the island for about 250 Baht per day. Petrol is sold in glass bottles on the side of the road. (1 litre usually costs around 40 Baht.)
Is scooter driving dangerous on Phuket?
Yes! Sorry, but yes! Anyone who claims otherwise are obviously unaware of the statistics. Thailand is one of the countries with the highest traffic fatalities worldwide, and the majority of these cases involve mopeds. Riding a moped around Thailand is always risky and Phuket is no exception.
We ourselves have seen a road accident on Phuket with our own eyes and saw injured people lying on the street. It's awful, but it's also the reality. However, despite being aware of the risks, we still rent scooters in Thailand all the time. Here are some tips we recommend to stay as safe as possible:
We always wear a helmet – always! It's tempting to drive without a helmet, we get that too. But please don't put your safety at risk! On another note, we always buy our own helmet at the beginning of a trip to Thailand because the quality of helmets in Thailand are usually sub-par.
Sand on the road can easily cause your scooter to slide sideways – especially around the turns. So always pay attention to the road and reduce speed if necessary.
We try to avoid driving in the dark (even though we can't always avoid this). Visibility is of course poorer at night, but above all there is a risk that others will drive under the influence of alcohol.
Make sure you don't burn yourself on the exhaust. There is usually a protective cover made of plastic to prevent this, but it is sometimes fragile or non-existent.
What about the traffic on Phuket?
Super important: drive on the left! Thailand has left-hand traffic, which will be a mild shock for many of you – but you'll get used to it faster than you think, so don't worry. There is generally a lot of traffic on the streets of Phuket. However, there are major differences between the main roads and the less busier roads. In any case, be prepared for the fact that there are a lot of cars and minivans on the roads in Phuket.
Do I need an international driver's license?
No – at least not for renting the scooter. A normal driver's license is enough for the rental company. BUT: If you get pulled over by traffic control, then the police will most certainly ask for an international driver's license (more on that in a moment).
Do I need a Class A driver's license?
Yes and no. You can rent a scooter with an ordinary Class B (which is what most people have for driving cars) – the rental companies don't care much. However, it does matter to the police and you may face a fine (more on that in a moment). On an even more serious note: if you were to be involved in an accident and it turns out that you drove the scooter without proper legal license to do so, then you will most likely not be covered by your insurance. 
Is it true that there are regular police checks on Phuket?
Yes, unfortunately it happens very often and they're definitely out to get tourists. Not even 10 minutes after we had just rented our scooter, we got pulled over by road control. Normally they only pull you over in the event of an actual offence (which is fair), however they also set up regular station checks to catch unaware tourists. These are the top offences the police will catch you out for:
Helmet: Helmets are compulsory!
A driver's license with Class A: because in Thailand, the law treats scooters as motorcycles and thus requires all riders to have a motorcycle license (Class A).
International driving license: This is also often asked for.
If they fine you, it's usually 500 Baht per offence. The funny thing about it is that once you've paid the fine, you can continue on your merry way. And they even give you a little present with the 'receipt' from your penalty. It basically gives you right of way to legally ride the scooter for a more few days, so in case you bump into another police control, you can simply show them you've already paid a fine – and they'll let you go, just like that! 
Is there anything else I should consider?
They often require your passport as a form of deposit. We always try to avoid this by alternatively offering our driver's license instead – Kathi's of course, since she won't be driving. It just gives us more peace of mind. 
Before leaving, you should check that the lights work – just in case you're met with an unwelcome surprise after your evening dinner to find out they don't turn on! We made this mistake once and experienced it first hand, so that's why we're telling you this. It is also worthwhile to make a short video or photos of the existing damage (scratches, dents), so you're not liable for extra damages at the end. 
And on a final note: Don't worry too much! Fear and scooter riding don't go well together. Of course, you have to be aware of the dangers, but we don't want to over-exaggerate the risks of riding scooters in Thailand. We always rent a scooter, in fact, every time we visit Thailand. 
Option 2: Rent a car on Phuket
Of course, driving by car is much safer than riding a scooter. You can easily rent a car from Phuket, but unfortunately, it's very expensive when compared a scooter. Expect to pay around 1,500 Baht per day to rent an average car. 
We have also rented a car before in Thailand and can confirm that you can do so without any problems. It's also the better option if you are in a slightly larger group or with children. Since the distances in Phuket are quite large, you'll find it much more comfortable in a car. 
We always book our rental cars through Sunny Cars and have only had positive experiences with this company so far.
Option 3: Private Driver on Phuket
If you only plan to do day trips on a few days max, then a car with a private driver could be worth considering. No brainer that this option is more expensive than a rental car, of course. Expect the prices to start around 85 Euros for 4 hours and 130 Euros for 8 hours.
You can book your driver here: Private drivers on Phuket
9. Extra Travel Tips for Phuket: Getting there, Travel Guides and What to Avoid
Getting to Phuket: From the airport to the hotel
Thanks to the international airport, Phuket is very easy to reach. There are even direct flights to Phuket from Germany. The airport is located in the north of Phuket where planes fly directly over the beach.
Immediately after leaving the airport building, there are plenty of taxi stands waiting for you. The cheapest option is to take a shared taxi. However, you will most likely be brought directly to your hotel in a minibus. The price varies depending on the destination: to Kata, for example, it costs around 200 Baht.
A private taxi is much more expensive, but also faster and more convenient. For comparison, a trip to Kata would cost 1,000 Baht. Some hotels also offer an airport pick-up service. The best thing is to ask around for the prices. 
Travel Guide for Thailand: Our Recommendation
Most likely (and hopefully) your trip will not only take you to Phuket, but also to other regions of Thailand. In this case, we can highly recommend  Lonely planet's Thailand Travel Guide. The  Lonely planet Travel Guides are always our first choice for Southeast Asia. They are aimed at individual travellers and are known for being quite extensive and very well researched.
The Thailand Travel Guide by Lonely planet has been around for decades. The new edition appeared in November 2021 and is therefore, quite up to date. With this travel guide you can really appreciated how experienced the authors are. Our conclusion: highly recommended!
You can buy the travel guide here: Lonely Planet Thailand
What to Avoid in Phuket!
One last but very important thing: Phuket is full of elephant camps where tourists can ride on the elephants' backs on seats especially built for this purpose. Elephant riding and other animal attractions are particularly popular with Russian and Chinese tourists. Please, for the love of animals, do not support these sick businesses. It's nothing but unnecessary cruelty towards animals and the only way we can stop this together, is by raising awareness and decreasing tourist demands. 
Unfortunately, there are also many providers who have made a business out of the growing ethical awareness. Many self-proclaimed "eco camps" where you can bathe and feed elephants are not as 'ethical' as you might think. Since it's extremely difficult for to know what is truly behind these organisations, we recommend that you avoid all animal attractions.
---
Disclaimer: Affiliate Links
This blog article contains our personal recommendations in the form of affiliate links. If you book or buy something through these links, then we will receive a small commission. This will not change the prices for you at all. A million thanks from the both of us!
Have you ever been to Phuket? Perhaps you have some extra tips or recommendations you'd like to share? We look forward to hearing from you in the comments below!