Karimunjawa. Or, as it's known, Indonesia's Maldives. We've never seen water as crystal-clear and turquoise-blue as in the archipelago of the Karimunjawa National Park, anywhere else in Indonesia. Located about 80 kilometers off the coast of Java, you'll find yourself in a true island paradise, a world away from mass tourism.
We'd go as far as to say: Karimunjawa is still something of a hidden gem in Indonesia. Probably because getting there takes quite a bit of time and a little preparation.
Planning a trip to Karimunjawa? Epic! It really is such a gem of a place. In the following article, you'll find our tips for your journey to this island paradise.
1. Karimunjawa: A Glimpse into the Dream Islands & Overview
The Karimunjawa Islands are located about 80 kilometers north of Java's coast in the Java Sea. This archipelago consists of 27 tropical islands, but only a few of them are inhabited.
The main island of the Karimunjawa archipelago is Karimunjawa (or Karimun), which is connected to the second-largest island, Kemujan, by a bridge. When people talk about Karimunjawa, they're referring to both the main island and the entire group of islands.
On the Karimunjawa Islands, you can expect a lot of local flair, lush vegetation with mangroves and palms, and, of course, endless beaches and ocean. The most beautiful beaches aren't so much on the main island, but rather on the tiny, mostly uninhabited islands. Here, you can look forward to a Caribbean vibe with white sandy beaches and light blue water – absolute dream!
Who Are the Karimunjawa Islands Suitable For?
For Explorers: Karimunjawa isn't particularly easy to reach, nor does it offer a luxury vacation. Those traveling to Karimunjawa should be ready for a bit of an adventure.
For Adventurous Families: We've also met families with children and can imagine that it would be quite an experience for the little ones on the island.
For Island Lovers: You're a long way from the mainland and surrounded by the ocean. A bit of a preference for beaches and saltwater would be good if you're planning to travel to Karimunjawa.
In Karimunjawa, there are neither parties, shopping malls, nor luxury resorts – fortunately! Instead, you can look forward to plenty of local flair. Karimunjawa remains very authentic and the island group is especially popular with Indonesian tourists as a weekend getaway.
Travel Guide for Indonesia: Our Tip
Personally, we never travel without a printed guidebook. In Asia, we've got a clear favourite: Lonly Planet. We really like the Lonly Planet travel guides. They're well-researched and perfect for independent travellers.
The Lonly Planet guidebook for Indonesia has been our go-to for several trips. It's (as expected from LP) very detailed and filled with super tips. Karimunjawa also gets a few pages of coverage in this guidebook – impressive considering its remoteness. We definitely recommend it.
Best Time of Year for Karimunjawa
In Indonesia, there are two seasons: dry and rainy. Generally, the dry season lasts from April to October in Indonesia, and that's the period we'd recommend for a trip to Karimunjawa. While the dry season doesn't guarantee good weather (it can still rain!), the weather tends to be more stable.
During the rainy season, especially from December to February, the Java Sea can get extremely rough!! It's not uncommon for boat services to be suspended for days due to strong waves. Besides, experiencing a tropical island in bad weather isn't much fun.
2. Getting to Karimunjawa: Our Tips
The most common way to reach Karimunjawa is by boat from the port town of Jepara. Since the boats leave early in the morning, you'll likely need to spend a night in Jepara. Additionally, since 2019, there's been a flight option from Semarang to Karimunjawa.
By Boat from Jepara: Ferry vs. Speedboat
So there are two ports with boats to Karimunjawa: Jepara and Semarang. However, boat service from Semarang has been gradually stopped or paused, making Jepara the first choice to travel to Karimunjawa. As of April 2020, there are no boats from Semarang!
There are two types of boats: the slower, large ferry (Siginjai) and the speedboat (Express Boat Bahari). We've taken the slow ferry on the way there and the speedboat on the way back, so we can share our experiences with both.
Important: Whichever boat you choose, departure times can always change! Therefore, keep in touch with the respective company or contact your accommodation.
Option 1: With the Slow Ferry (Siginjai)
The local ferry is definitely the more relaxed way to reach Karimunjawa by water. The ferry doesn't operate daily, but only on Monday, Wednesday, Thursday, Friday, and Saturday, and only once a day, early in the morning.
Important: Check the schedule before your trip! It can change depending on the season. There's a website, but it's only in Indonesian: Local Ferry.
We personally felt safer on the ferry than on the speedboat. Sure, the huge ship sways quite a bit, but it's bearable. If you get seasick easily, you should definitely stock up on the appropriate remedies – many people around us were sick.
The departure time was officially around 6:45 AM for us, but from experience, we can confirm that the ferry often leaves earlier if it's full. We were able to reserve our ticket through our wonderful accommodation (Ayu Hotel – more on that later). Otherwise, you have to buy your ticket on the morning of the crossing directly at the harbor. The ticket counter opens at 5 AM. In high season, you should be there no later than 5 AM.
The return trip from Karimunjawa to Jepara leaves every Tuesday and Sunday morning (around 7 AM) or Thursday and Friday at 1:30 PM. (Again, important: Check the schedule in advance to make sure the times are correct!)
Duration: About 5 hours Price: 92,500 IDR per person for Economy Class or 111,000 IDR for VIP Class + a small harbour fee
Option 2: With the Speedboat (Express Boat Bahari)
The faster option is a crossing with the Fast Boat. This operates four times a week from Jepara: Monday, Tuesday, Friday (each at 9 AM), and Saturday at 11 AM. More information on times can be found on the official website, which is unfortunately only available in Indonesian: Express Boat Bahari.
On the day of our crossing, there was quite high wave action, so we don't exactly have the fondest memeories of the speedboat journey.
Heads up: if you get seasick easily, be sure to be prepared. Nice bonus: Plastic bags are included in your ticket and are distributed by the cabin crew in advance.
You can also book tickets for the Fast Boat in advance on this website: Direct Ferries.
Price: 200,000 IDR per person for Executive Class or 230,000 IDR for VIP Class Duration: About 2 hours
Important: Sea Conditions in the Java Sea
Before crossing to Karimunjawa, always keep an eye on the wave conditions. The Java Sea can be quite rough – for example, on our return trip, we were really shaken up. In case of doubt, it's best to contact your accommodation in Karimunjawa.
You can view the forecast here: Wave Forecast (The page is only available in Indonesian – scroll to the section "Prakiraan Tinggi Gelombang" (= "Wave Height Forecast" in English).
By Plane to Karimunjawa
Karimunjawa has a tiny airport, Dewadaru Airport. Until the pandemic, it was served three times a week by Wings Air (a subsidiary of Lion Air) from Semarang: Monday, Friday, and Sunday.
The airport in Karimunjawa is located in the northern part of Kemujan Island, which, as mentioned, is connected by a bridge to the main island of Karimunjawa. It takes about 30 minutes by car from the airport to the main town in the south of the island. We recommend arranging transport to your accommodation in advance, as there is no public bus and taxis are extremely rare.
Currently (as of Autumn 2023), there are NO flights to Karimunjawa! Should Wings Air resume operations, you can book your ticket on the Lion Air website.
3. Getting Around in Karimunjawa
In Karimunjawa, there are no public transport options! So, you'll need a moped. You can rent one for 75,000 IDR per day (or more precisely, per 24 hours). And just a heads-up, there are no helmets available: "No helmet, no police, no problem", as our guesthouse owner put it.
The roads can be a bit rough in certain places, but there's hardly any traffic (apart from the neighbor's kids on their bikes or mopeds). We usually don't recommend learning to ride a moped in Southeast Asia for beginners, but in Karimunjawa, the roads are really quiet.
The biggest hazards are the potholes and gravel roads, but with a bit of practice, it's manageable. Remember, traffic drives on the left in Indonesia. But don't worry: You'll get used to it pretty quickly.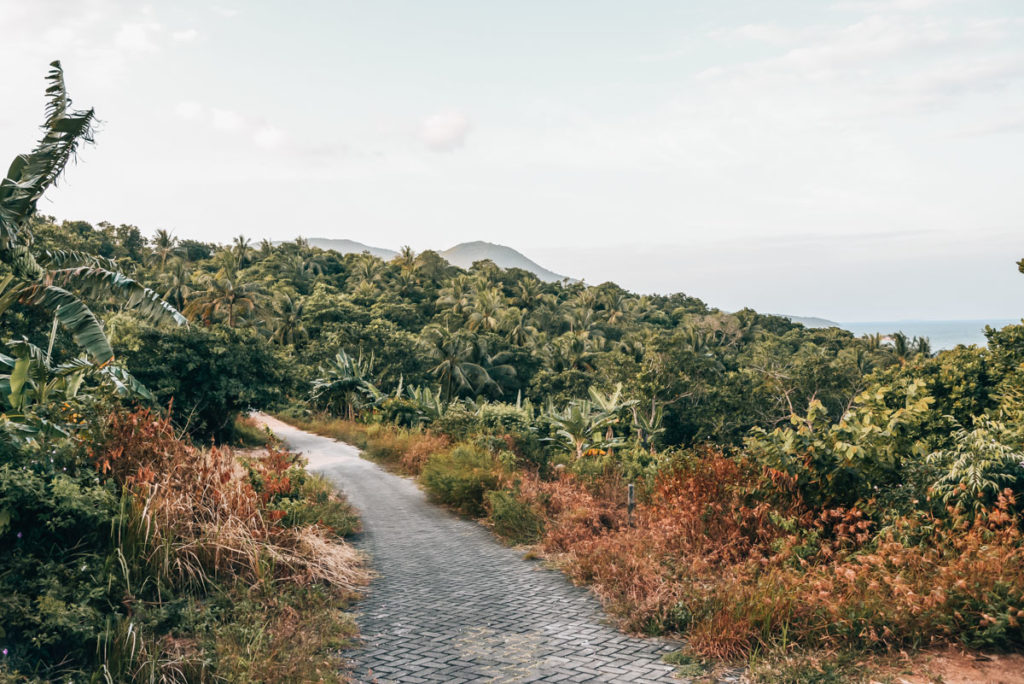 4. Beaches in Karimunjawa
First things first: the beaches in Karimunjawa are pretty pristine. Depending on the currents and time of year, you might find a fair bit of driftwood (branches, coral fragments, etc.) on some of the beaches. Personally, we didn't mind this at all – in fact, we quite liked it!
During our visit, the beaches weren't littered but were actually very clean – although we've read in other travel accounts that sometimes rubbish does wash ashore. This seems to mostly affect the smaller beaches, which are less frequently cleaned, if at all.
While the beaches on the two main islands (Karimunjawa & Kemujan) are stunning, in our opinion, the real dream beaches – with crystal clear, turquoise-blue waters – are found on the smaller neighbouring islands. On our snorkelling trip (which we'll tell you more about shortly), we landed on secluded, paradise-like beaches straight out of a picture book.
Tanjung Gelam Beach (= Pantai Ujung Gelam)
This beach at the western tip of the main island of Karimunjawa is considered one of the most beautiful on the island. A small entry fee is charged here, but in return, the beach is regularly cleaned.
Tanjung Gelam Beach is great for swimming. However, it's most popular at sunset. Because you can watch magnificent sunsets from this beach, Tanjung Gelam Beach is often known as Sunset Beach. There are also a few bars where you can buy drinks.
The beach is quite long – it's worth walking a bit further. We climbed over some rocks and had a small bay all to ourselves.
Barakuda Beach (= Pantai Barakuda)
Barakuda Beach is located in the east of the island, near Ary's Lagoon Bungalow & Hotel. During our visit, we were (almost) the only guests there. We opened a fallen coconut with our bare hands and drank the coconut water – Robinson Crusoe vibes at its best!
White Beach (= Pantai Bobi)
White Beach, also known as Pantai Bobi, is also in the east of Karimunjawa, specifically in the southern part, not too far from the main town of the island. A small entry fee is charged here, but in return, White Beach is one of the cleanest on the island.
If you want to experience the sunrise in Karimunjawa: White Beach is perfect for that, as it faces east. You'll also find a few eateries on the beach where you can buy food and drinks.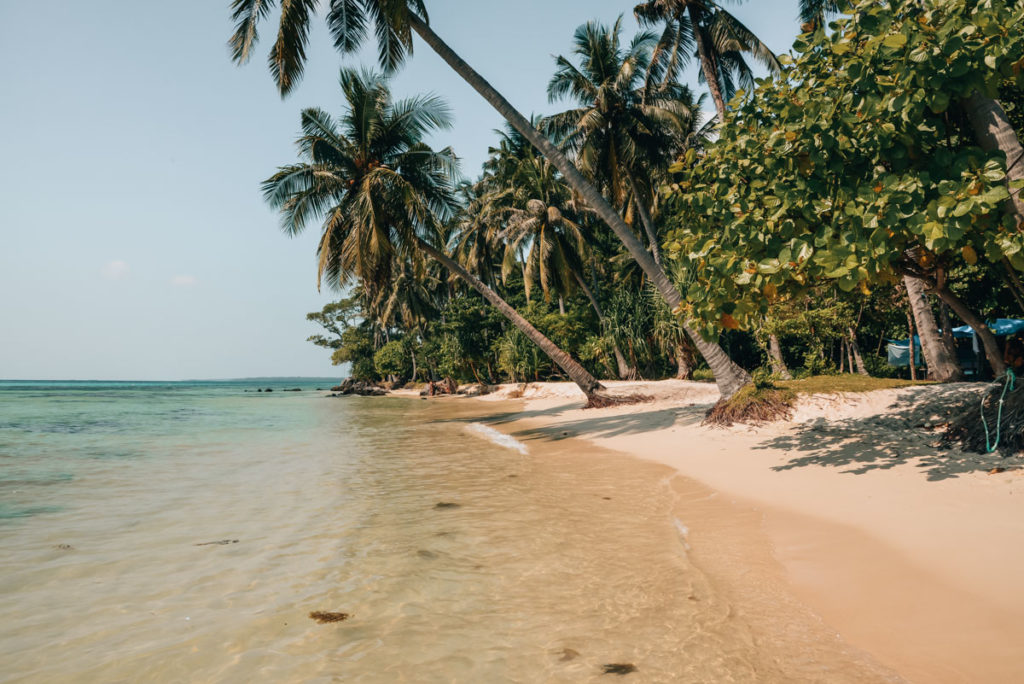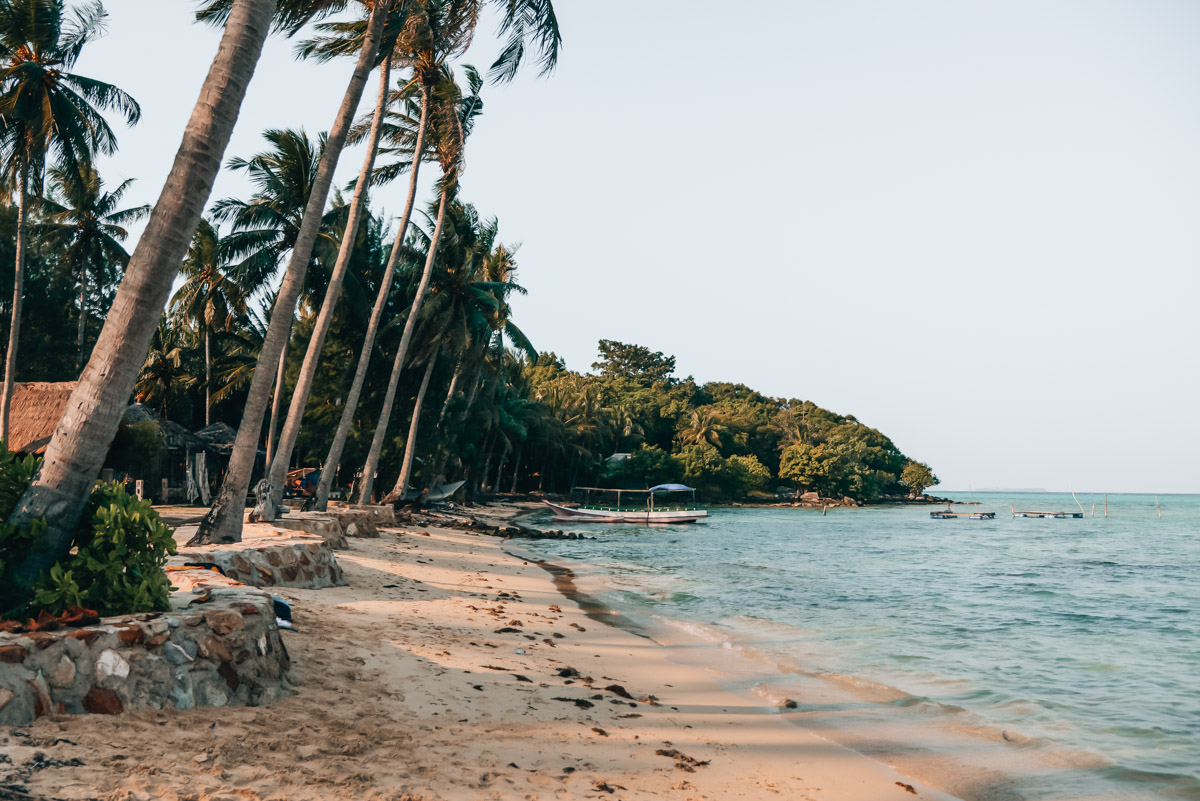 5. Snorkelling in Karimunjawa
Unlike in many other regions of Southeast Asia, the underwater world around the Karimunjawa Archipelago is still relatively intact. So, our tip: Don't miss a snorkelling trip in Karimunjawa! Not to mention, the small islands around Karimunjawa are paradisiacally beautiful. Snow-white sand & turquoise-blue water – it doesn't get much better than this!
We booked our snorkelling day trip directly at our accommodation (more on that soon). The trip takes place in small, manageable groups and starts after breakfast. In the morning, there's plenty of time to explore the underwater world. All the necessary equipment is provided for you. You don't need to bring anything (unless you want to, of course).
Around midday, the fishing boat heads towards a breathtakingly beautiful, tiny, and secluded island. Here, the crew whips up lunch, which you can savour right under the shade of the palm trees. After lunch, you've got some time to yourself on this solitary island – you could go for a swim or just bask in the sunshine. Then, it's time to head back on the boat.
The cost of the day trip varies depending on the size of your group. We were a party of six and paid 250,000 IDR per person. Don't forget: wearing a T-shirt will protect you from the harsh sunrays while snorkelling!
6. Our Accommodation Recommendation for Karimunjawa
Accommodation options in Karimunjawa are still quite limited, mostly ranging from simple to slightly more upscale guesthouses. Thankfully, you won't find any massive hotel complexes here.
Our top pick: Ayu Hotel
We stayed at the stunning Ayu Hotel and wholeheartedly recommend it. The main house, with its lovely design and vast garden, is just the beginning. The rooms and bungalows are beautifully furnished as well.
We had the pleasure of staying in a bungalow with an open-air bathroom – simply marvellous! The entire facility was completely renovated in 2018, making you feel at home from the moment you arrive. This is thanks in no small part to the friendly hosts, Marco and Eryl, who go out of their way to ensure their guests' comfort. The atmosphere is very family-oriented and personal.
The culinary experience was top-notch: the breakfast, prepared and served by Eryl in the main house, varied daily and was delicious. The dinners were equally exceptional. We also thoroughly enjoyed the snorkelling tour they offered. Our verdict: A clear recommendation with great value for money!
Just a heads-up: Many accommodations in Karimunjawa, including the Ayu Hotel, aren't located right by the sea. But you can quickly reach the beaches by scooter. Handy to know – the friendly staff will pick you up directly from the pier upon arrival, which is a real plus after a tiring journey.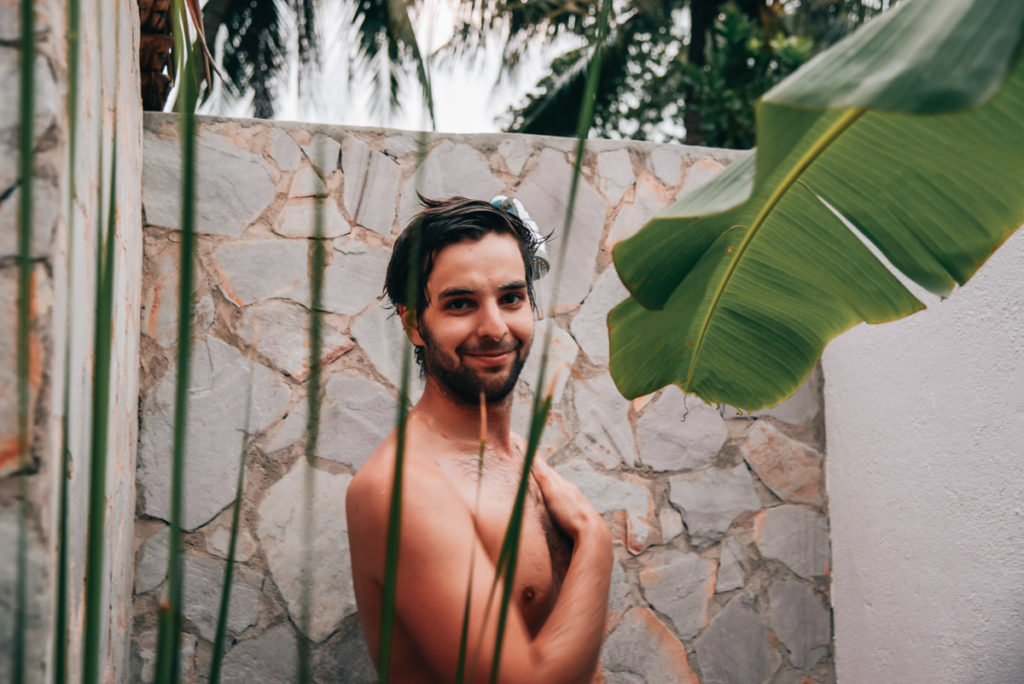 Disclaimer: Affiliate Links
This blog post contains our personal recommendations in the form of affiliate links. Which means if you book or purchase something via these links, you still pay the same (nothing changes for you) — while we receive a small commission for sharing! So it really means a lot to us and we want to say a massive thank you from us both!
Ever heard of Karimunjawa? Or maybe you've been lucky enough to visit and have some more tips or experiences to share? Planning a trip to Karimunjawa and still have a few questions? We'd love to hear from you in the comments below!