Nestled at the foot of Mount Fuji is the lovely region of Hakone. Even though it's only a good hour outside of Tokyo, you will be surprised at how stark the contrast is compared to the big city life. Located on the Lake Ashi surrounded by mountainous landscape, the Hakone region is one of Japan's most scenic destinations.
In this travel guide, we'll share with you all the important things you need to know on a trip to Hakone, such as: what to expect, the most beautiful onsen, sights and highlights in Hakone, and of course, our own personal tips. 
1. What to Expect from Hakone, Japan
Hakone is located approximately 100 kilometres west of Tokyo in the mountains of the very scenic Fuji Hakone-Izu National Park. Hakone is often referred to as a small town, but strictly speaking, it actually encompasses the entire region, which is quite extensive.
Rather than having one big 'city centre', Hakone has several tourist centres instead, which doesn't make orientation any easier. Plus, the distances between the locations are not exactly small either, so you will have to rely on public transport to get around. (More about this at the end of the travel guide.)
Hakone is best known for two things: the first being the traditional Japanese Onsen – Hakone is one of the most famous places in Japan to bathe in these traditional Onsen. The second being the famous view of Mount Fuji – if you're lucky you can see Japan's national monument from Hakone. But the chances of actually seeing Mt Fuji from Hakone is something we will elaborate on soon.
Hakone is a very popular recreational destination for people from Tokyo. Since it's rather quick and easy to get here from the big city, Hakone is usually quite crowded, especially on weekends – something we experienced ourselves, having visited on a weekend. The tourist hotspots were particularly busy.
Seeing Mount Fuji from Hakone: Facts and Info
Although Hakone is not that close to Mount Fuji, you can still get a glimpse of Japan's highest mountain. However, and now we come to the unfortunate BUT: it all depends on the weather, which sadly does not cooperate as often as you might think.
In general, the highest chance of seeing Mt Fuji is during the winter months (December and January), when there are only a few cloudy days that completely obscure the view of Mount Fuji. Compare that to the summer months (especially in July), where the chance are very low due to bad weather and poor visibility. It's very likely that you won't see anything as Mount Fuji is covered up most days.
Another thing to consider is the time of day: the chances of seeing Mount Fuji is much higher in the early morning than in the afternoon.
We would not recommend travelling to Hakone just to get a view of Mount Fuji, as there are better or closer places like the Kawaguchi Lake. Even though we visited in May, Mount Fuji was permanently covered in clouds on both days we were in Hakone.
Onsen in Hakone: Tips and Important Information
Hakone is famous for its hot springs, which are more commonly known as Onsen. These Onsen have history and traditions dating back centuries in Japan, therefore, it's unsurprising to note that there are a few rules or guidelines to abide by.
If you want to enjoy an Onsen in Hakone, you will usually have two options: Either you book an accommodation that has its own Private Onsen or you visit a Public Onsen in Hakone.
Important to note: In a traditional Onsen, men and women bathe separately and without swimwear – ie. naked. So if you're travelling as a couple, we would recommend you to book a Private Onsen. We will tell you more about this later in the travel guide.
2. Hakone Travel Guide: TOP Attractions and Activities in Hakone
Lake Ashi
Hakone is located on the shores of Lake Ashi – Ashinoko in Japanese. This crater lake of Lake Ashi was formed thousands of years ago by an eruption of the Hakone volcano. (Which is still active by the way.)
Naturally, the lake is perfect for boat trips and you can find several companies offering boat trips across Lake Ashi. We would recommend not falling for the sightseeing pirate ships and going with one of the regular ships instead.
The ships are located on the southeastern shore of Lake Ashi, more precisely in Moto-Hakone or Hakonemachi-ko. We combined the boat trip on Lake Ashi with a gondola ride called Hakone Komagatake Ropeway. More information about the gondola later in this travel guide.
Information about the boat trip from Moto-Hakone to the gondola (Hakone Komagatake Ropeway)
Duration: approx. 15 minutes (one-way)
Departure: from the Moto-Hakone pier
Hakone Shrine
The Hakone Shrine is the most famous Shinto shrine in the region. The shrine is famous for one of its red Torii (which is what they call the entrance gates of Japanese Shinto shrines). Perched on the shores of Lake Ashi, the Torii is one of Hakone's most popular photo spots.
The shrine is located on a small hill in the forest directly behind the Torii. While it is certainly worth seeing, it was not one of our biggest highlights. Tip: The shrine closes at 4.30 pm (last entry at 4 pm).
However, the red Torii is open to visitors 24/7. Unfortunately, it gets extremely busy during the high season but as long as we were in Japan, there was always some sort of structural order to be found. Instead of chaos, you get a long line of humans waiting for their photo opportunity – so anyone can pose in front of the Torii and take a picture without other people. If you don't feel like waiting, then you should come either early in the morning or late in the afternoon when most of the day visitors have left Hakone.
Information about visiting the Hakone shrine
Admission: Free
Hours: 9 am to 4:30 pm, last entry at 4 pm (The famous Red Torii by the lakeshore is always open.)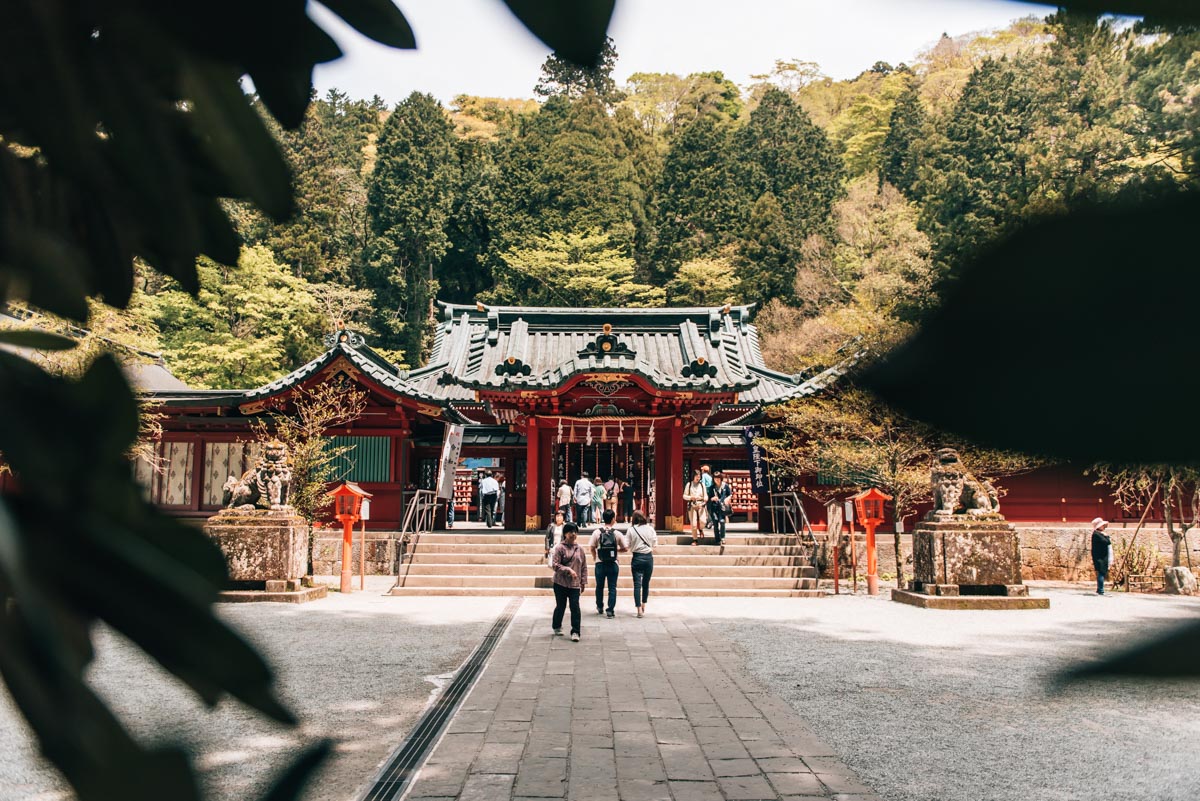 Hakone Komagatake Ropeway
To avoid confusion, there are two gondolas in the Hakone region. In this section, we are referring to the one that takes you from Hakone-en to the Komagatake Summit, one of the peaks of Mount Hakone.
The Hakone Komagatake Ropeway is the lesser known cable car of the two. In about seven minutes, you can get from the shores of Lake Ashi to a mountain station at over 1,300 metres above sea level. The mountain station has seen better days, but that's not the main highlight anyway.
An easy 15 minute hiking trail will take you to the actual summit, where the Hakone Mototsumiya Shrine stands. This shrine was supposedly the original shrine of the Hakone shrine, which is now much more accessible being located on the lakeshore.
On a clear day, you can see Mount Fuji from both the cable car and from the summit. However, that requires some crazy luck – which we unfortunately didn't have. Nevertheless, we found the ambience on the mountain summit very special and mystical. Our tip: take some extra layers to wear at the top. It's a bit cooler up there than by the lakeshore.
Information about the Hakone Komagatake Ropeway
Price: 1,800 Yen (ascent and descent)
Operating hours: 9 am to 4:30 pm
Base station: on the north shore of Lake Ashi in Hakone-en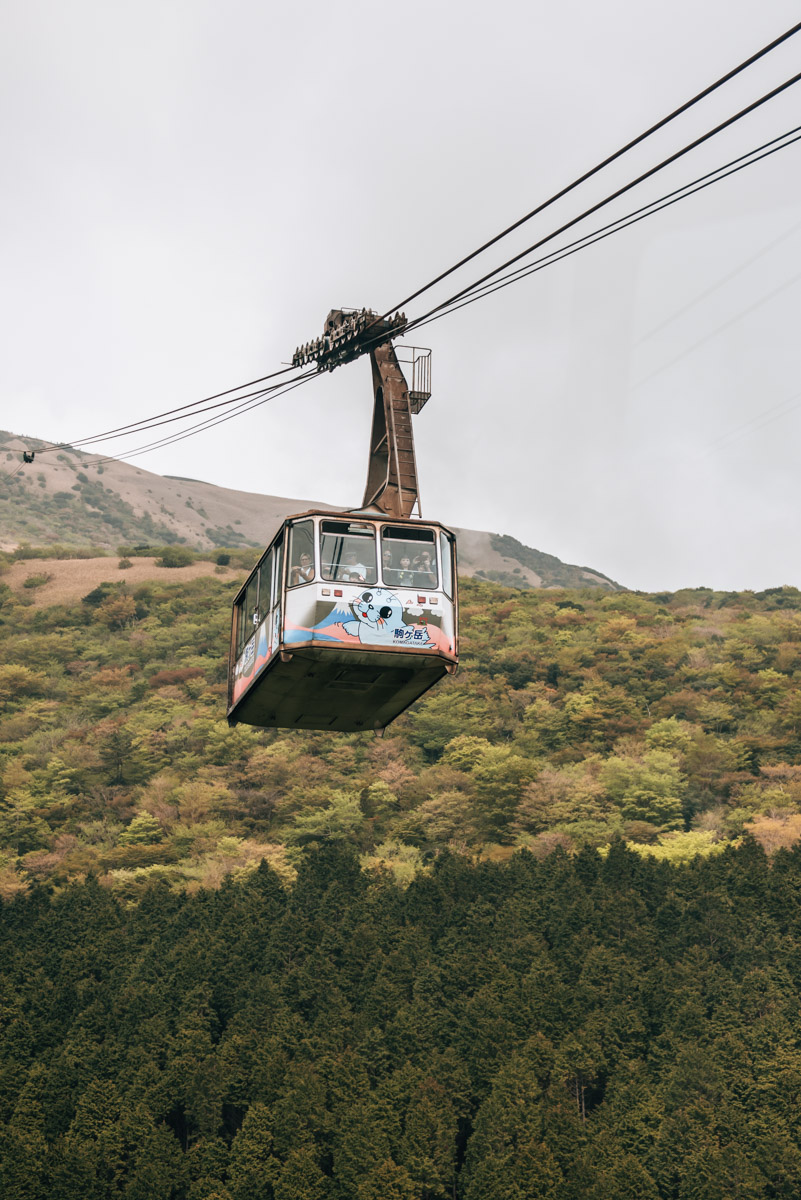 Hakone Ropeway (between Togendai and Gora)
The second and more well-known of the two gondolas in Hakone is the one which starts in Togendai and goes over the volcanic area of Owakudani to Sounzan. This gondola has a total of four stations and requires you to change at Owakudani.
Owakudani is also the visitor centre for the volcanic area. If you've never seen sulphur springs, you should drop by here. This region is also known for their black eggs (Kuro-tamago), which you can buy and eat here. The eggshell turns black due to the high concentration of sulphur.
Important to know: Due to volcanic activity, the Hakone Ropeway is often affected and out of operation for safety reasons. You can find the latest info on their official website: Hakone Ropeway.
Another important tip for orientation: The Hakone Ropeway acts as a link between the shores of Lake Ashi and the backcountry. So it doesn't just lead to a mountain top, but can be climbed from both sides.
Information about the Hakone Ropeway
Price: 2,000 Yen (ascent and descent from Togendai to Owakudani) // 2,550 Yen (ascent and descent from Togendai to the terminus Sounzan)
Operating hours: February to November from 9am to 5pm // December and January from 9am to 4:15 pm
Base station: on the north shore of Lake Ashi in Togendai
Extra Highlights in Hakone
Since we weren't able to cover all the sights Hakone has to offer in the short two days we were there, here are some extra tips and highlights for those who have extra time to explore:
Hakone Open-Air Museum
This open-air art museum is apparently very worthwhile seeing. It's an exhibition of abstract sculptures by Japanese and international artists on display in an open spacious park. Such a pity we missed this!
Price: 1,600 Yen
Opening hours: 9 am to 5 pm (last entry at 4:30 pm)
Getting there: By Hakone Tozan Railway (Chōkokunomori Station) or by bus (several lines)
Public Onsen in Hakone
Since we had a private Onsen in our accommodation, we didn't end up going to any public ones. However, most public Onsen are in Hakone Yumoto and here are two of the better known and recommended Onsen: Yuryo and Tenzan.
Both the Yuryo and Tenzan also offer the option of a Private Onsen. It is important to note that men and women bathe separately in a traditional Onsen. So if you are travelling as a couple, then we would prefer to book a private Onsen. In the Tenzan Onsen, it is also supposedly said to be no problem if you have a tattoo. (Traditionally you are not allowed in an onsen if you have a tattoo.)
Price: approx. 1,500 Yen (regular admission), approx. 5,000 to 6,000 Yen per hour (Private Onsen)
3. Food & Drinks in Hakone: Our Tips
Kaiseki – Japanese haute cuisine
Hakone is the perfect place to try the Kaiseki, which is a traditional Japanese menu served in small portions over several courses (often seven or more). The dishes themselves are artistically put together and the ingredients complement each other well. Appetisers, miso soup, sashimi, fried dishes and desserts are just some of the many dishes served.
Many Ryokans (traditional guest houses) in Hakone also serve dinner as Kaiseki. It's also not uncommon to have this special dinner style served directly on the table of your room. Traditionally, you would sit at a very low table on a so-called Zaisu (a chair without legs). A Kaiseki menu is similar to haute cuisine and is definitely a special culinary experience.
4. Accommodation in Hakone
Where should you stay in Hakone?
The Hakone region encompasses a rather extensive area, so you are spoilt for choice when it comes to accommodation options.
Hakone Yumoto is tourist central and somewhat of the gateway to the Hakone region. You can get here by train from Shinjuku (more information about transport soon). Apart from the guesthouses, you will also find some public Onsen here in Hakone Yumoto.
One of the most popular places to stay is Gora. Gora is higher than Yumoto so you are more surrounded by mountains here. There are also plenty of accommodations here, but the only down side is the price – which tends to be more expensive than in Hakone Yumoto.
If you would like to stay somewhere with more nature, then it might be worth looking into regions like: Ashinoyu, Hatajuku or Sengokuhara. Last but not least, you can also stay by the lakeside in Moto-Hakone, but just be prepared that there are comparatively much fewer accommodation options here.
Tips for accommodation in Hakone
The most popular style of accommodation in Hakone is the well-known Ryokan, which is a traditional Japanese hotel. Usually Ryokans have very minimalistic styles and furnishings, with tatami mats laid out across the rooms, and you sleep on a futon (a Japanese bed). Breakfast and dinner are usually included in the room price and often served directly in the room.
Staying in a Ryokan is a very special experience, which we can highly recommend. Although, we felt that Ryokans in Hakone tend to be on the expensive side. It's not uncommon to find places costing 250 Euros or more for just ONE night (price per person including breakfast and dinner).
Our personal recommendations for places to stay in Hakone
Ryokan Yoshimatsu: Gorgeous Ryokan near Lake Ashi. Some rooms have a private Onsen and you can even enjoy the view of Mount Fuji.
Onsen Guesthouse Hakone Tent: Traditional style accommodation with shared bathrooms. Although not your classic, traditional Ryokan, it was comparatively more affordable and we would still highly recommended.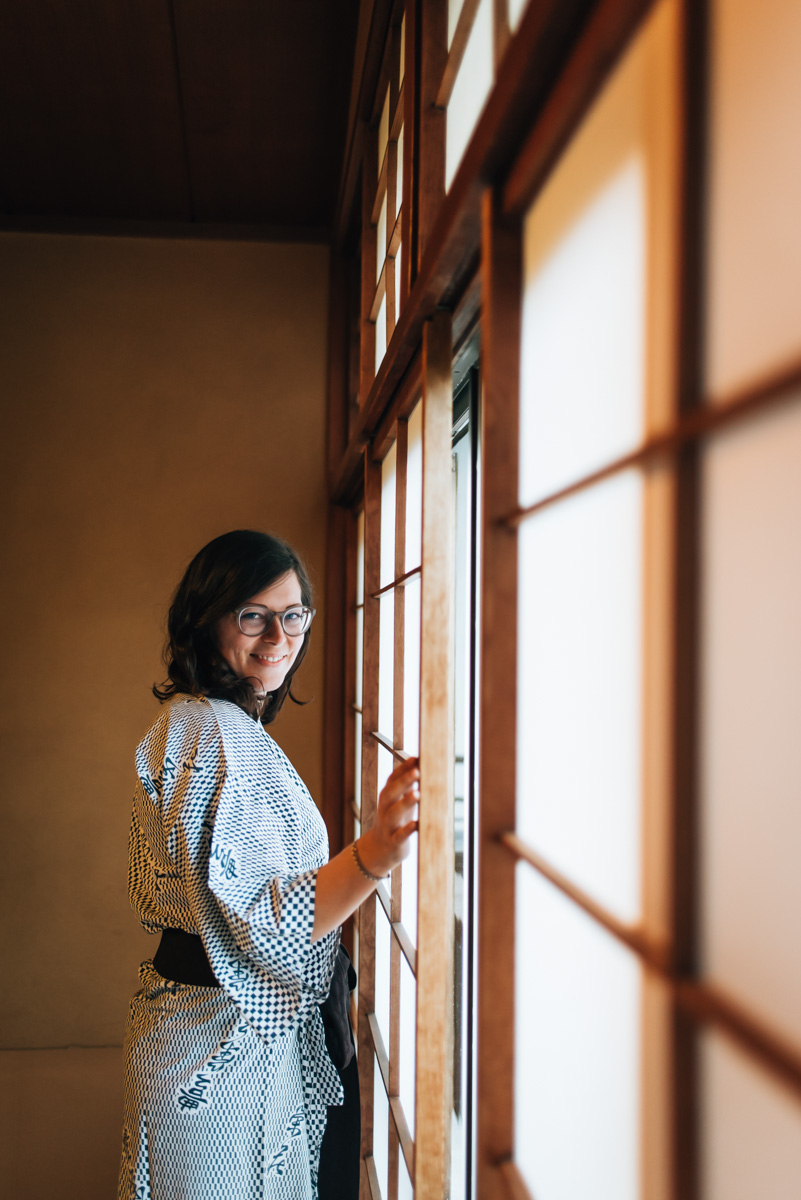 5. Extra Travel Tips for Hakone
Getting from Tokyo to Hakone
With Japan Rail Pass
If you have a Japan Rail Pass, it's best to go from Tokyo Station with a Shinkansen to Odawara Station. The journey only takes 35 minutes and is free with the Japan Rail Pass.
The Odawara Station is located on the eastern edge of the Hakone region. Depending on where your accommodation is located, you can either get there by taxi, or the Odakyu Line, or take a bus from the Odawara Station.
The Hakone Free Pass covers the rest of your travels on public transport, and we will tell you more about the Hakone Free Pass soon.
Without Japan Rail Pass
If you don't have a Japan Rail Pass, then you have two options:
Take a JR train (Shinkansen or one of the slower trains) to Odawara Station. (From there, the rest of the journey is the same as the one described above.)
Travel with the Odakyu Limited Express Romancecar from Tokyo (Shinjuku Station) to Hakone-Yumoto. The journey takes around 85 minutes, but the good thing is that you arrive directly in Hakone-Yumoto, which is more central than Odawara.
Getting Around with Public Transport
The Hakone region is much larger than we expected, making it impossible to get around with transport. Thankfully they have quite an extensive public transport system with buses, train lines and even gondolas and a funicular railway. Extensive is perhaps an understatement because Hakone has a much more comprehensive transport system than in many big cities.
A small tip: the reason why there are so many different types of transport is because it's rather common to do a circuit of the region, passing by all the main attractions, including: the Hakone-Shrine, the Hakone Ropeway, as well as the volcanic Owakudani via a boat trip.
You can start this circuit from anywhere and go in whichever direction you wish. If you head in the clockwise direction starting from Hakone Yumoto, then this is the order of transport you'll use:
bus
boat
Hakone Ropeway
Hakone Tozan Cable Car (Funicular)
and Hakone Tozan Railway
You can find a map with all the transport modes in Hakone here: Hakone Network Map.
Buses in Hakone
The bus network in Hakone is very well developed, but it may take some time to find your way around at first. The most well-known bus company is the Hakone Tozan with several lines around the region.
The buses usually run at 15 or 30 minute intervals. If you are not travelling with the Hakone Free Pass (which we will talk about soon), then you can also buy your tickets directly on the bus.
This is how it works: You get a boarding ticket when you hop on the bus. Make sure you double check the fare to the station you want to get off at, which you should be able to find on board. Try have the money ready to pay at the cashier when hopping off, but there is also a change machine in case you don't have the exact amount.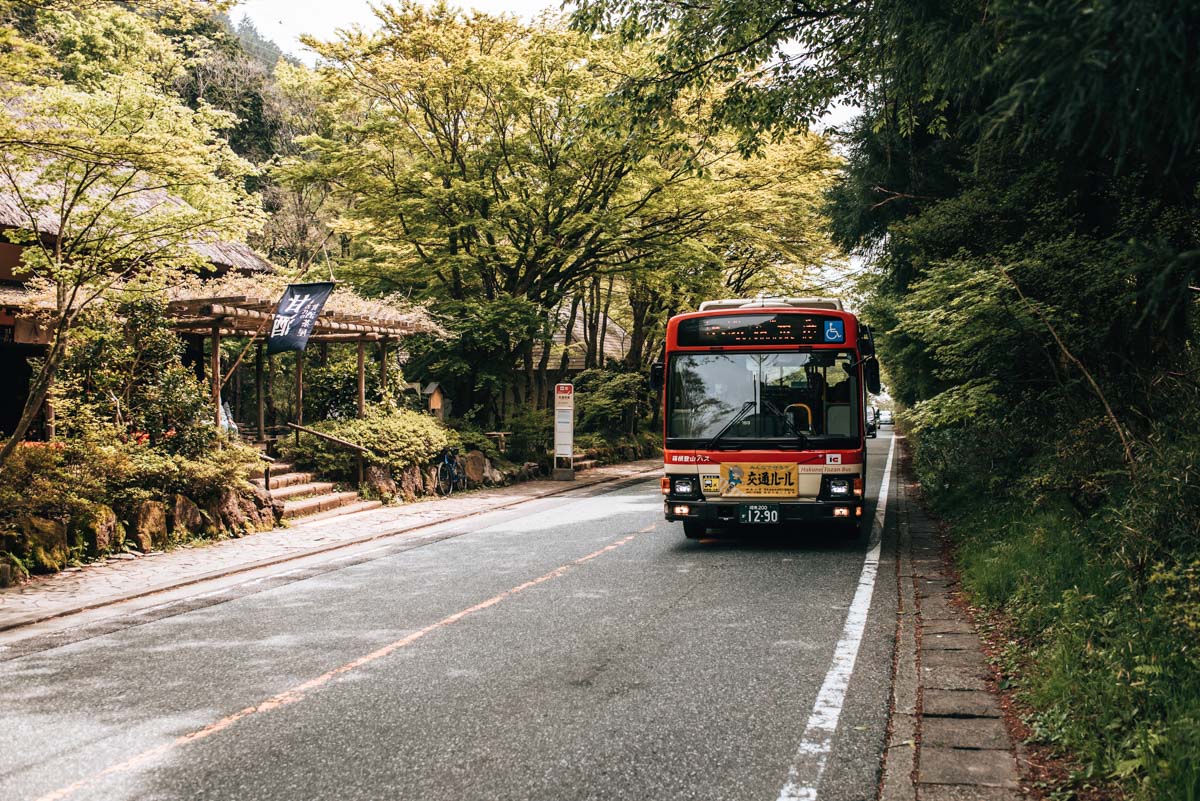 Hakone Free Pass
With the Hakone Free Pass you can use (almost) all public transport in the Hakone region for an unlimited period of time (2 or 3 days). This means that you can also do the sightseeing circuit tour at no extra cost. In addition, you will receive discounted admission at certain attractions.
The Hakone Free Pass is available in several choices. You can buy an all-inclusive round-trip trip from Tokyo (Shinjuku station) or there is also an exclusive transport within Hakone region.
If you have the Japan Rail Pass, then the second option makes more sense as the route from Tokyo to Odawara would be covered by your Japan Rail Pass.
You can purchase the Hakone Free Pass either directly in Tokyo at Shinjuku Station or locally in Hakone at Odawara Station and Hakone-Yumoto Station.
Whether or not it's worth getting the Hakone Free Passes is something you should calculate for yourself. But if you plan to do the classic sightseeing circuit tour, then we would say the pass is most definitely worth it. Money aside, the convenience of using just one ticket for all transport is so practical and saves you the hassle of buying a new ticket every time. You can find more information here: Hakone Free Pass.
Prices for the Hakone Free Pass:
All-inclusive round-trip trip from Tokyo: 6,100 Yen (2 days), 6,500 Yen (3 days)
Exclusive transport within Hakone region: 5,000 Yen (2 days), 5,400 Yen (3 days)
6. Verdict: Is Hakone worth seeing?
If you want to get a good feel for rural Japan without having to travel too far, then we can definitely recommend a trip to Hakone. A relaxing swim in an Onsen, sleeping in a typical ryokan and enjoying a Kaiseki menu is an experience in itself.
But for some reason, out of all the places on our Japan Itinerary, we personally found Hakone to be the least eventful or exciting destination. Honestly speaking, had we left it out, we feel like we would not have 'missed out' on much – however, despite that, we still had a really great time. Perhaps it was simply bad luck with the weather, which meant that, unfortunately, we could not see Mt Fuji.
In our opinion, it's still worth seeing as it's relatively easy to reach Hakone from Tokyo. So if you have enough time to explore, the Japanese Onsen Culture is definitely a special experience.
---
Disclaimer: Invitation & Affiliate Links
This trip to Japan was a collaborative invitation by All Nippon Airways (ANA). For full disclosure of this collaboration: ANA covered the financial costs for our return flights, plus the first five days worth of activities and accommodation (in Tokyo, Hakone, Osaka). We decided to extend our stay in Japan at our own expense.
This travel guide contains our personal recommendations in the form of so-called affiliate links. If you book or buy something through these links, then we will receive a small commission. For you, this does not change the price at all. A million thanks from the both of us!
Have you been to Hakone before? What are some of the places you would recommend? If you have any other tips for Hakone, please share them below! We look forward to reading about your experiences! :)