The good news is that in Thailand, you can't get more scenic than the Krabi region. With its rugged limestone cliffs and bright sandy beaches, this landscape really couldn't be more spectacular. However, this scenic beauty comes at a price and it's called mass tourism. As soon as we arrived in Ao Nang, the tourist hotspot of the Krabi province, we wanted to flee and escape this touristic nightmare!
Luckily, we didn't. Not only did we stay, but we even extended our stay! Who would've thought?! We really owe it our hotel we were staying at, which was located not far from mass tourism, but far enough away from the hustle and bustle that we could enjoy the space all to ourselves. Read on for our insider tips in Krabi!
1. What awaits you in Krabi province
Small Warning: If you plan to follow the tourist routes in Krabi during high season, then your time in Thailand may well be a disappointment. Ao Nang in January is out of this world crazy, completely on the opposite spectrum to the quiet islands of Koh Lanta or Koh Phangan.
The very famous Railay Peninsula is gigantic with its rock formations studding the landscape. In our opinion, nowhere else in Thailand has nature as spectacular as this. But we have to be honest with you: this dreamy landscape is overrun with mass crowds. Sure, we could've chosen a better time, outside of January, for our trip. However, as picturesque as the nature may be, there's no nice way to put the fact that Railay Bay has changed drastically in the past ten years and not in a good way.
However, outside of Ao Nang and off the Railay Peninsula, we can assure you that places still untouched by tourism do exists and are out there to be explored! And some of these secret spots we will share with you here.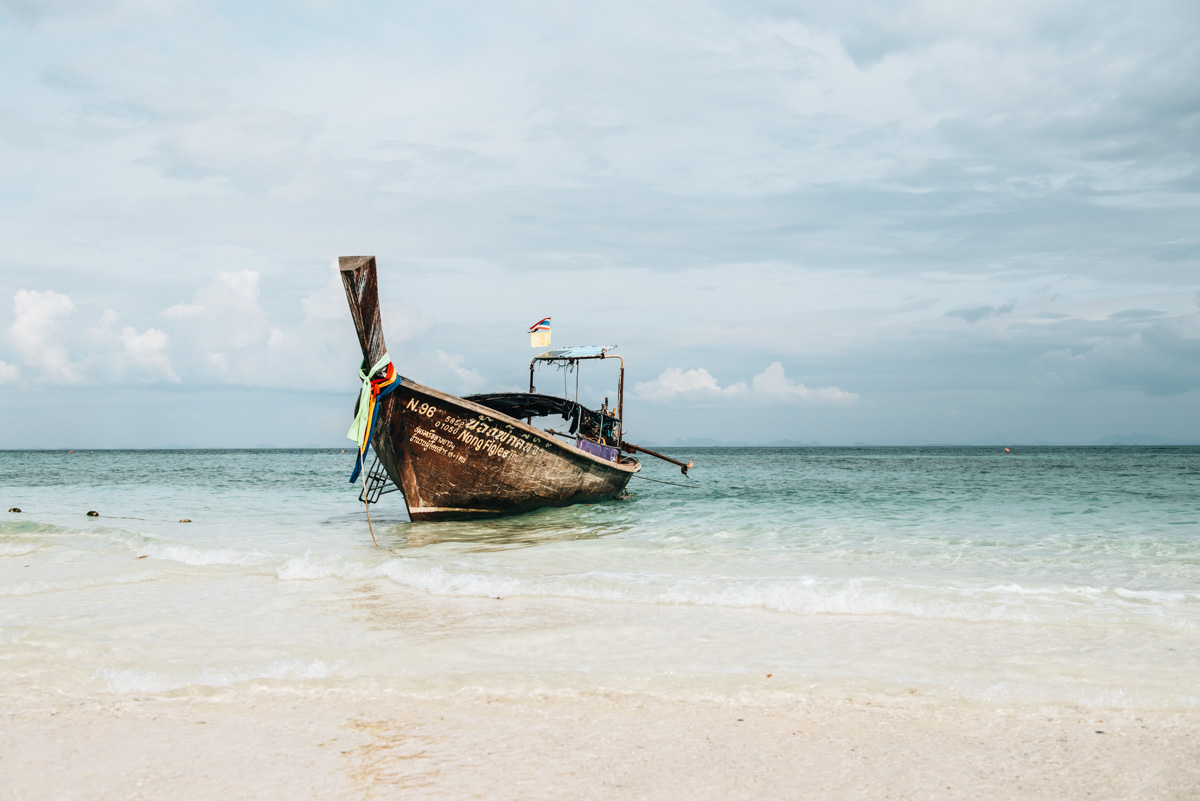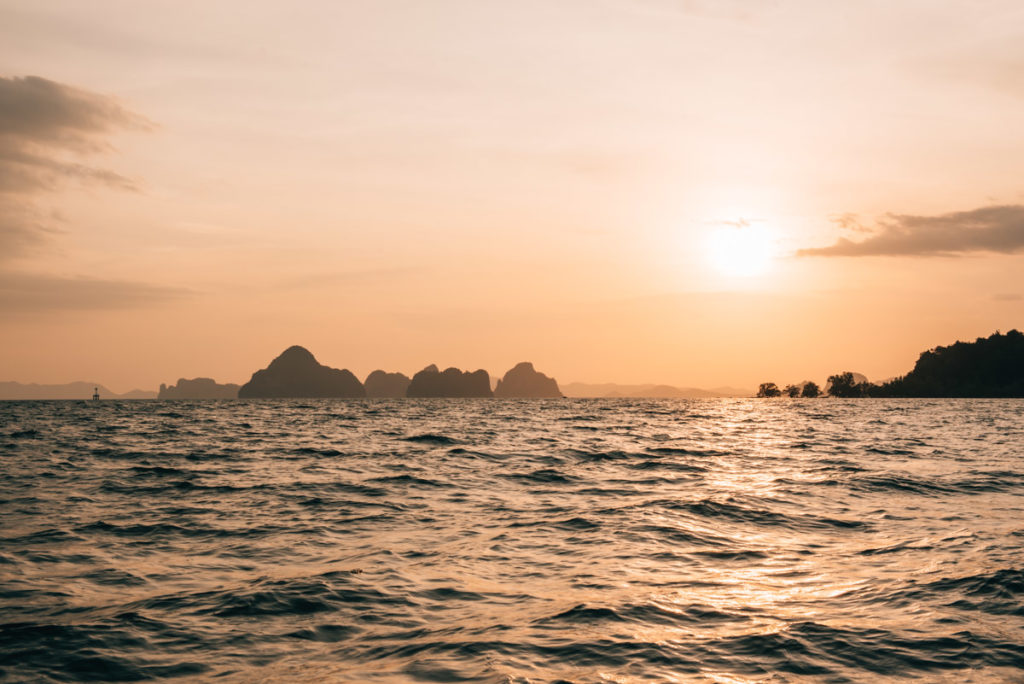 2. The best time to visit Krabi
Optimal travel time in Krabi, and Thailand in general, is something you should consider before arranging your travels. There is a dry season and a rainy season, but the weather doesn't always behave appropriately.
Usually the rainy season in Krabi goes from April to May and again from October to November. From brief day showers to torrential downpours, everything in between is possible. From December, the climate usually calms down. The dry season gradually brings more sun and calmer seas.
Now, it's true that Christmas holidays fall exactly in the period of best weather. A trip around Christmas and New Year's Eve to Krabi, could be recommended but only if you can grin and bear the large crowds of people. When we were there, start of January, we found the province of Krabi and especially the Railay Peninsula to be super packed and chaotic that you end up settling for supposedly lonely sardine-like beaches. (See the "photo proof" further down in the travel guide.)
As we imagine February and March to be less crazy, we would recommend this as the best time to visit.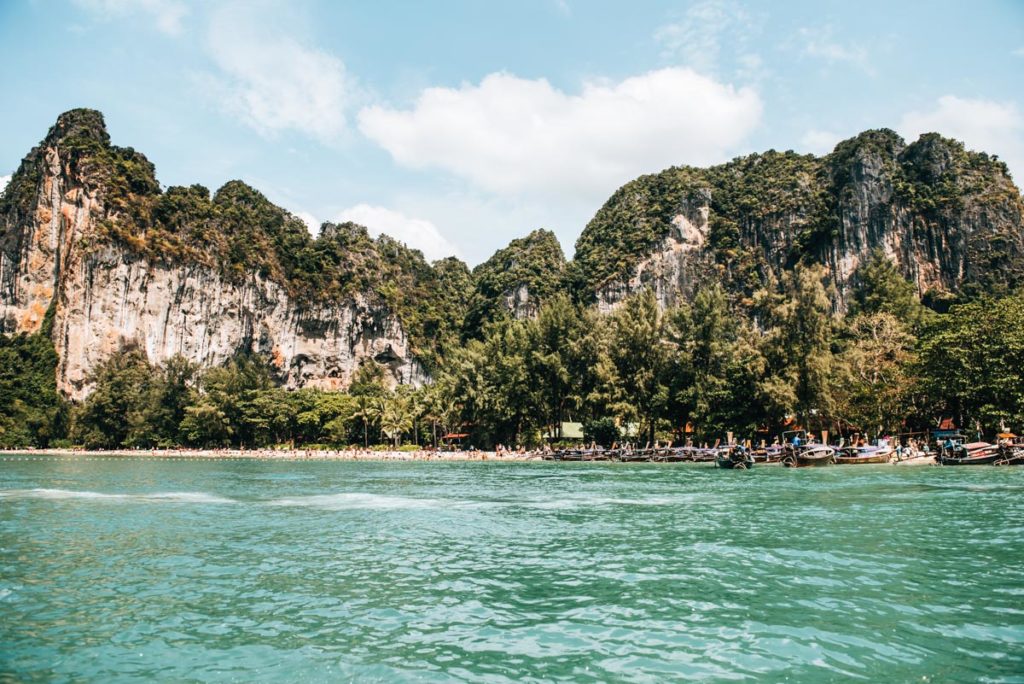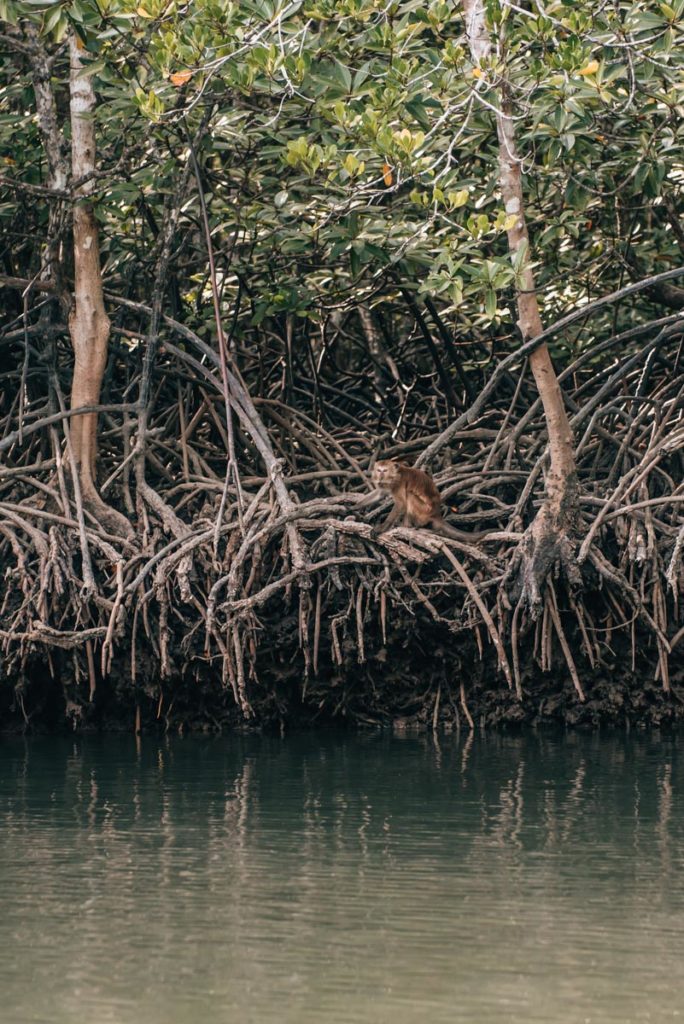 3. Ao Nang and the Railay Peninsula: The Top Thing to See in Krabi
Ao Nang
This is tourist central of Krabi province and you'll find most of the hotels located here. It also has its own beach called Ao Nang Beach, which we don't consider to be a highlight. Among the few reasons why, was the constant traffic of long tailed boats and the crowds that flocked nearby. However, it wasn't surprising as Ao Nang happens to be the ideal base point to venture out to the nearby Railay Peninsula.
What we remember from Ao Nang (and unfortunately not in a good way) is the main street, where you will almost exclusively find: souvenir shops, restaurants, bars, hotels and massage parlours. In the evenings, you'll find the centre is buzzing with people. So unless you're just passing through Ao Nang, we would not recommend staying in the centre unless you have plans to party.
Just outside the centre, everything looks and feels entirely different. Here you can find quiet corners and pretty guesthouses.
The Railay Peninsula
In terms of landscape, the Railay Peninsula with its rugged, green-covered limestone cliffs is one of Thailand's most beautiful spots. Since Romeo first came here about 10 years ago, nothing about the landscape has changed. What has changed, however, is the number of tourists, which has multiplied exponentially.
We knew that such a heavenly place would never be safe from the increase in tourism. Nevertheless, it was sad to see what has become of the former paradise. Our well-intentioned advice would be to save this place for another time outside the Christmas holidays.
The Railay Peninsula can only be reached by boat. Once upon a time, there were just a few simple beach bungalows located on the peninsula, these days, you can find several luxury hotels here, but the prices are in fact higher here than the rest of Krabi. Most people (including us) only visit Railay as a day trip from Ao Nang and usually from late afternoon onwards it will be noticeably quieter.
The following beaches and places on the Railay Peninsula are particularly popular and worth seeing:
Railay Beach West
The boats that head for the Railay Peninsula from Ao Nang are usually docked here. That's why there's so much traffic here on Railay Beach West – especially in high season. In addition, the beach itself is besieged by crowds, which pretty much ruins the dreamy landscape.
Railay Beach East
If you follow the marked path from Railay Beach West through the middle of the peninsula, you will reach the eastern Railay Beach in about 5-10 minutes. The beach is not suitable for swimming, but here are some cafes and restaurants, which overlook the sea.
Phra Nang Beach
Phra Nang Beach is located south of the peninsula. We first got to know this place during the day but after finishing our boat tour, we landed back in this place and found it much more to our liking. When we docked in the afternoon, most of the day trippers had already left and it was comparatively much quieter. Beautiful sunsets can be observed from Phra Nang Beach when the weather is good. There is even a cave you can visit in the far south of the beach, thus it is also commonly called "Phra Nang Cave Beach".
Tonsai Beach
The fourth beach on the Railay Peninsula is north of Railay Beach West. It is a bit quieter and mostly frequented by climbers, as the cliffs of Tonsai Beach are very popular. You can either take the long tail boat from Ao Nang to Tonsai Beach or alternatively walk to the beach from Railay Beach West: There are two ways to Tonsai Beach, the shorter route passes over rocks and is only recommended during low tide.
View Point on the Railay Peninsula
There are two View Points on Railay, but we will be referring mostly to the one near Pincess Lagoon. The hike, or rather the climb, starts on the way between Railay Beach East and Phra Nang Cave Beach – expect the ascent to be rather sweaty! From below, we could see quite well what to expect and so due to the late hour, we decided against going any further. However, from the View Point, you can climb even further to a lagoon, the Pincess Lagoon. If you choose to do this, we strongly recommend that you wear sturdy shoes.
We also hiked to another, much lesser known View Point, which starts in the south of Railay Beach West. The trail is mainly used by climbers who want to get to the start of the rock face. The View Point may not be as spectacular as the more famous one in the East, but we had almost the entire way to ourselves. The photo spot is relatively small (you can tell that the path is mainly for the climbing groups), but the view is still beautiful. Overall, the ascent, which only gets rather steep in the last 50 meters, takes about 20 minutes.
Arrival on the Railay Peninsula
Between Ao Nang and the Railay Peninsula there are boats running non-stop during the day. The long tail boats leave Ao Nang near Burger King. A return ticket between Ao Nang and Railay Beach West costs around 200 baht and the journey takes about 15 minutes.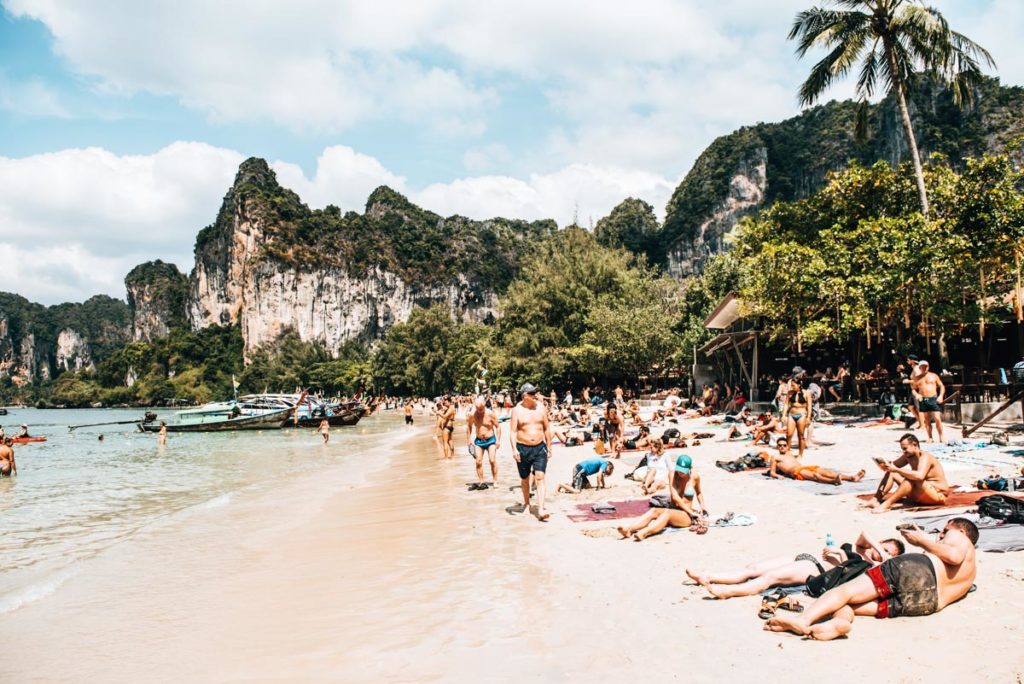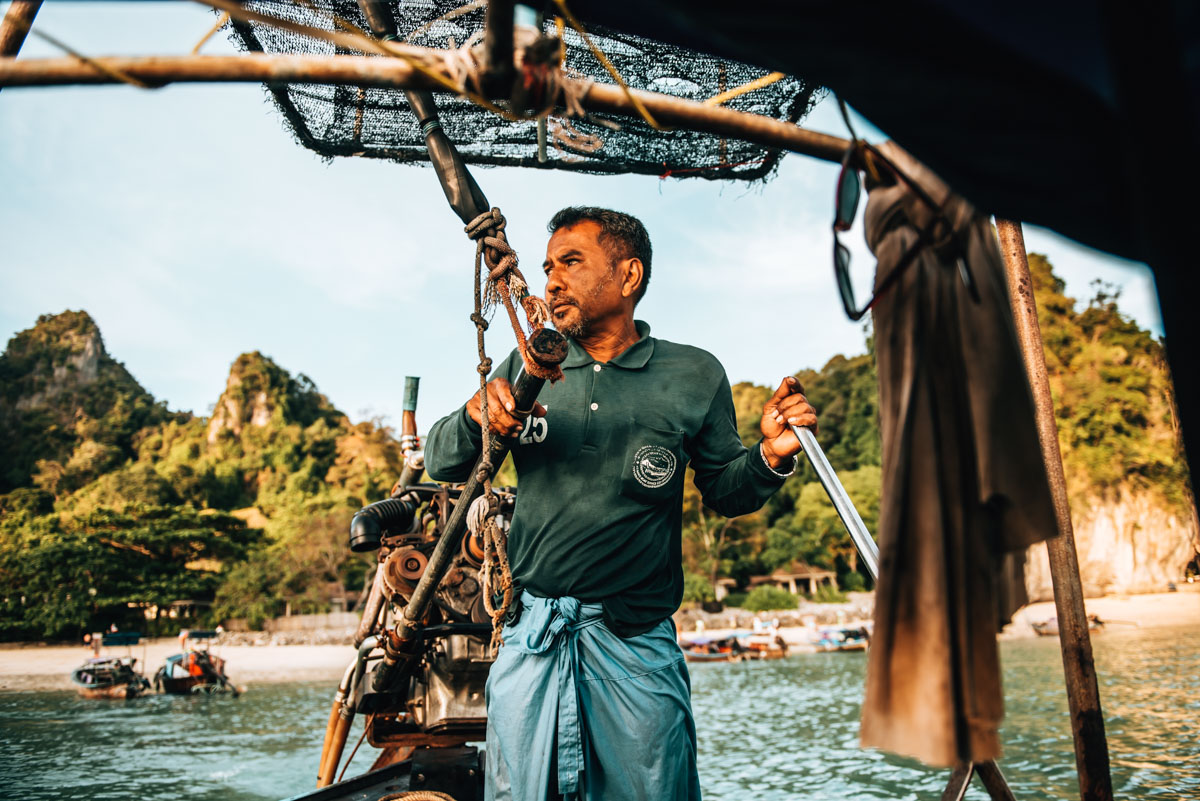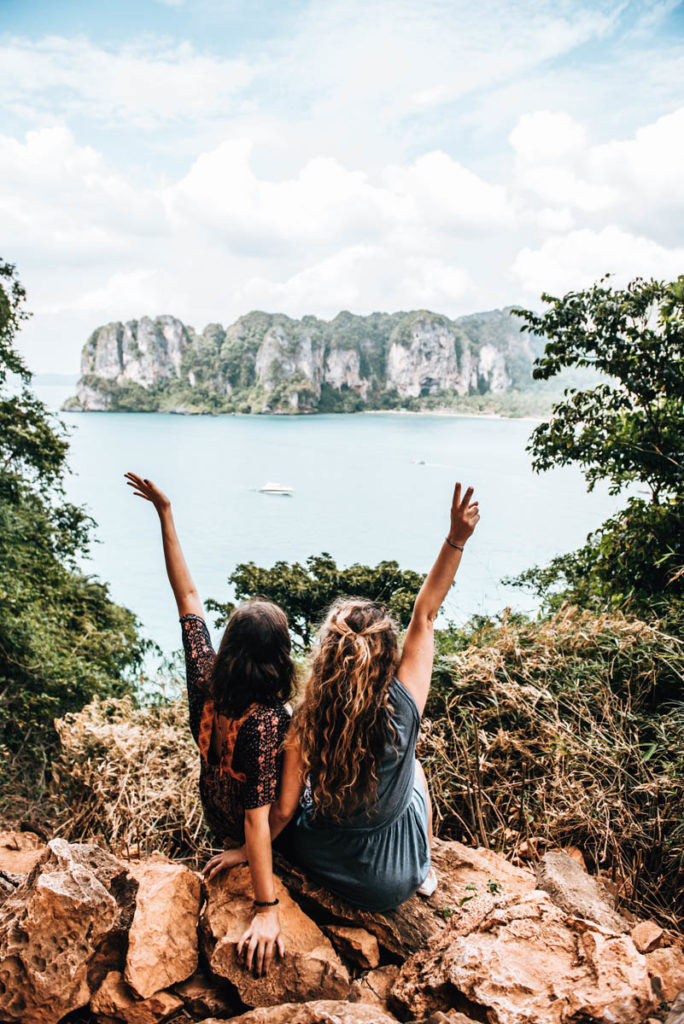 4. Travel Guide Krabi: Other Things To Do in Krabi
Tiger Cave Temple
Don't worry: Contrary to the name, there are no tigers in the Tiger Cave Temple!! Just a gigantic view over the mountainous province of Krabi. You will have to conquer exactly 1237 steps, before you reach the temple on top of the mountain. Sounds like a lot? It is! And not to mention the tropical heat makes the climb even harder.
If you are reasonably fit, then the ascent should be very manageable. We needed about 45 minutes. Make sure that you take enough breaks and above all bring enough water – if necessary, you can buy something to eat and drink in the shops at the parking lot.
Since the Tiger Cave is a Buddhist temple, you have to wear appropriate clothing, covering the shoulders and knees. Admission is completely free.
Another warning: We read about the cheeky monkeys, who cross the paths of visitors and stand in their way. Well, it's true! There are heaps of monkeys around here. We always try to sneak past them as fast as possible and so far we have done well. However, you will also see people posing for photos with these monkeys, so don't be surprised if they start acting aggressive!
How to get there & booking a tour
You can reach Tiger Cave Temple by scooter. The temple is about 35 minutes by car from Ao Nang or about 25 minutes from Krabi. However, the journey takes a little longer with the scooter. A good option to avoid having to drive yourself is a guided tour.
Insider Tip: 4 Islands by private boat
We didn't have to think twice when it came to hiring a private boat to tour around the four famous offshore islands. The tour to the "4 Islands" is one of the most popular day trips in the Krabi area. Because we had read in advance how terribly crowded the tourist boats were, we decided to rent a private long-tail boat. That was hands down the most important tip we could ever give you. Honestly: consider every cent (or baht) as well invested!
With our private boat we could go island hopping with complete freedom. In order to avoid the crowds, we started a little later around 1pm. If we liked a certain spot, we could simply stay longer!
We visited the 4 Islands in the following order:
1. Chicken Island
This island got its name from the fact that it looks like a chicken when viewed at a particular angle. We stopped to take some photos and about 5 mins from here we had a quick snorkel around. You can see a few fishes, however, snorkelling is not exactly the highlight of the 4 islands.
2. Tub Island
We really really liked this Island. The best thing was how most of the boats along with tourists would start their return trip back in the late afternoon so we got a very idyllic experience of this island. As far as we perceive, it should be just as nice in the morning as well. The only drawback for us was that the sandbank, which during low tide you can walk over to an offshore island, was no longer visible in the afternoon. But that was totally ok with us!
3. Koh Poda
Our stay here was relatively short – but not because the island wasn't beautiful, quite the contrary actually! But when we arrived at 16:30, the most beautiful beach was already in the shade. Nevertheless, we really liked it here.
4. Phra Nang Beach
We deliberately chose this as the last stop on our island tour because we wanted to catch the sunset from here. Phra Nang Beach is located on the mainland on the Railay Peninsula, but can only be reached by boat. When we arrived after 5pm, there really wasn't must going on at all. We got some food from one of the kitchen boats and marvelled at the low sun from the beach – just perfect!
Return
If you know Thailand, then you'll know it gets dark pretty quickly here. That's why we decided to head back to Ao Nang before the sun fully set, except that we still ended up riding back in the dark for the last 10mins. Had we known the return trip would take so long, we would've left a lot earlier. Nevertheless, we would not change a thing about our decision to hire a private long-tail boat.
Tips for Booking
We booked the private boat directly at our accommodation. Unfortunately, prices have now skyrocketed. There is now the option to book a private long-tail boat tour in advance via Getyourguide. You can choose between a sunrise and sunset tour. The order of the islands seems to be predetermined, but the locals probably know best anyway.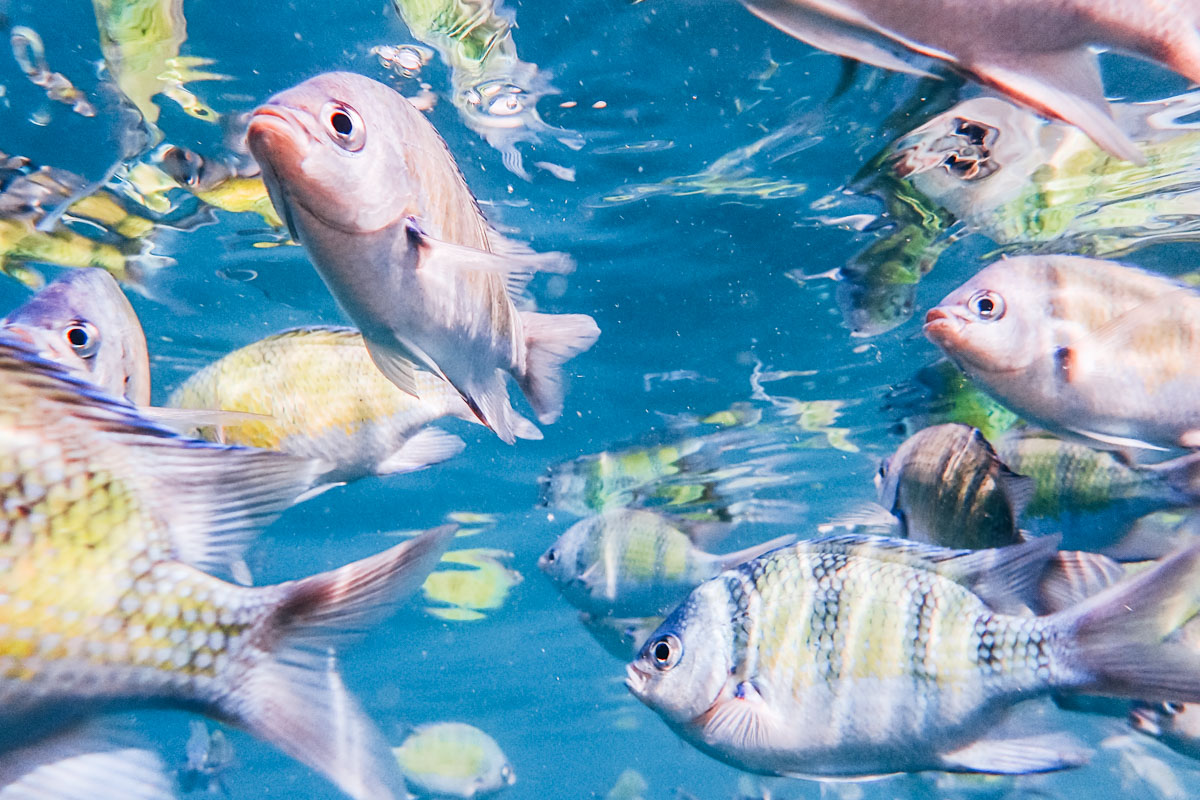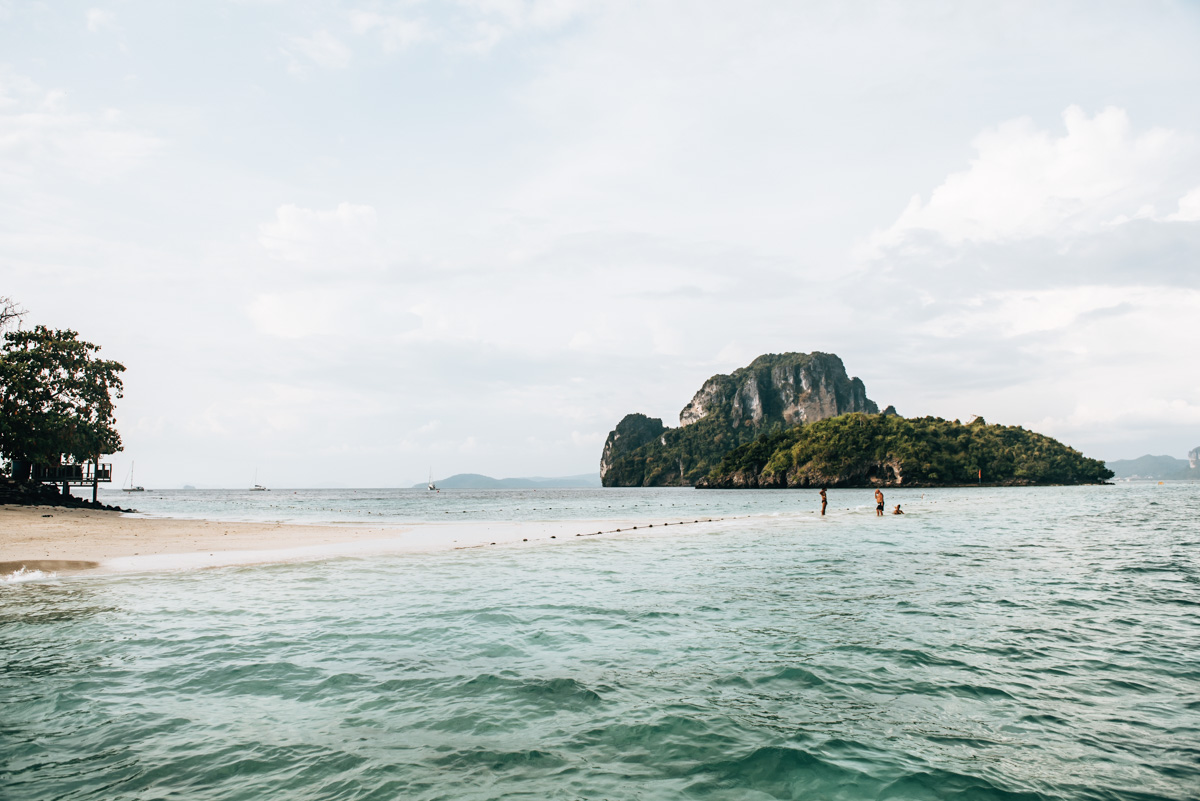 Nong Thale Lake
From the tourist spots to the unknown spots: One of our best experiences in Thailand ever was our morning boat ride on Nong Thale Lake. Quite by chance, our friend Palida (who runs a coffee shop in Krabi) showed us pictures of the place and we knew immediately: we have to go there! So she quickly arranged a boat for the next morning and even accompanied us.
If the word "tip" is appropriate anywhere in Krabi, then let it be here: Apart from the three of us, Palida including her husband and the boat driver, we were the only people as far as we could see. And that's not all: the sunrise from the boat had us speechless. In addition there was freshly brewed coffee and breakfast – an absolute dream!
Price & information about the tour
Important information: Unfortunately there are currently no boat tours! If you "just" want to ride your scooter to the lake for sunrise, that's also possible. But we're afraid that the experience won't be half as great as the boat trip.
This lovely adventure is not cheap (a total of 3,000 Baht for two), but it was more than worth it! You can book the tour through Ms. Kwanta Srimad Pagamad. She is a friend of our friend Palida and takes care of the tour operations on site. Or you can simply drive to 23 Roasters Krabi and speak to Palida there. (The café is open every day except Tuesday.)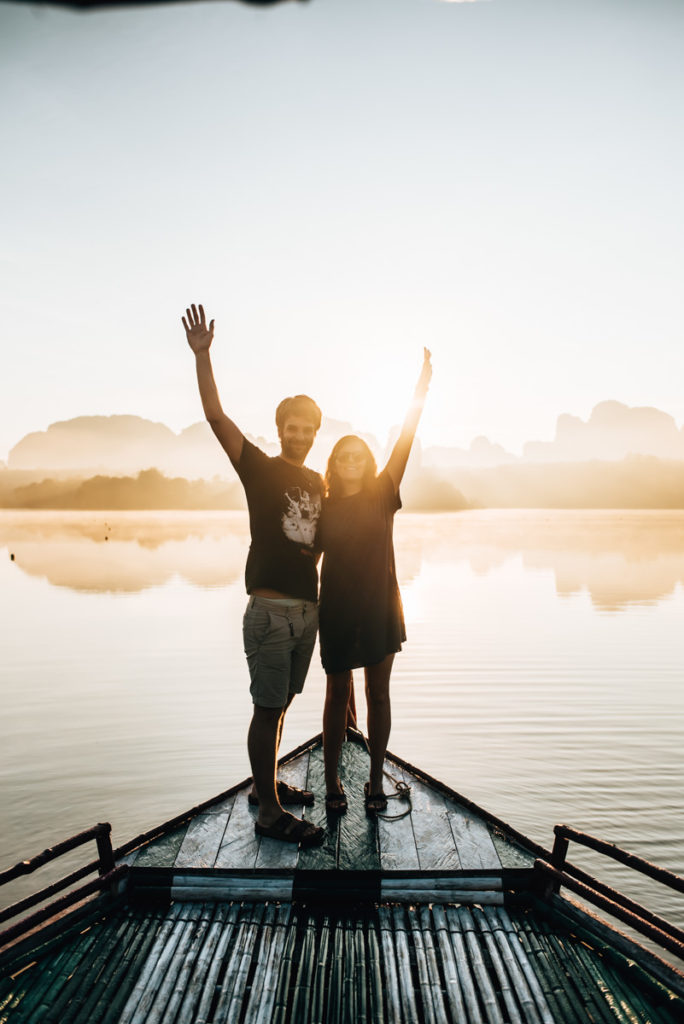 Tha Pom Klong
This mangrove forest is definitely worth a visit. We heard about this place through Palida from 23 Roasters Cafe Krabi. Water channels run through the entire area, some of which are crystal clear and really beautiful.
In some places, you're allowed to swim. This is usually heard from afar, because local families love to use the place for a dip in the cool water.
Information about the visit of Tha Pom Klong
The mangrove forest is about half an hour's drive north of Ao Nang. You can easily go by scooter to Tha Pom Klong, because the roads are quite well developed. For tourists, the entrance fee is 100 Baht.
Emerald Lake "Tham Sa Kaeo"
On the way back from Tha Pom Klong the emerals lake Tham Sa Kaeo is worth a visit. At first glance, this light blue pool may look small but it sinks to an incredible depth of 200m!!
There used to be no signposts there. The entrance fee is 100 Baht. We marked the location on our map when we were there, so that we could find it again in the future.
As a side note: the way between Tha Pom Klong and Emerald Lake, displays a very pretty buddha, which is slightly raised on a ledge.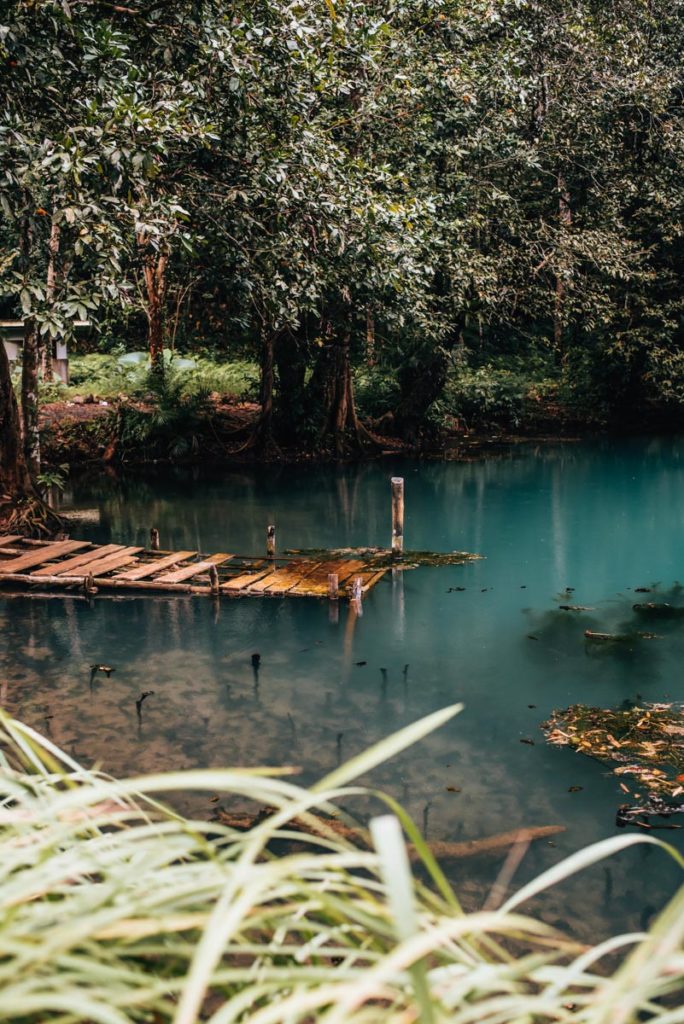 5. Our accommodation in Ao Nang: Where to stay in Krabi
Our absolute favourite find on our most recent trip to Krabi! Anana Ecological Resort Krabi is a dream of a hotel with great vibes and sets an exemplary concept: sustainability is very important and this aspect is integrated into the entire hotel. For example, the hotel grows their own fruit and vegetables in their garden, the hotel shuttle is an electric vehicle, and you won't find any disposable plastic anywhere.
The rooms are beautiful and very thoughtfully decorated, the beds are lovely and the hotel makes you feel so at home from the first minute. The staff were also extremely friendly, which also added to our positive experience. (We also want to say a big thank you to Johan for all the help and awesome tips.)
The Anana Ecological Resort Krabi is located just outside of Ao Nang in a very quiet environment surrounded by lush green landscapes. There is also a free shuttle that takes you to Ao Nang or the hotel's private beach several times a day.
The view from the rooftop bar at sunset is breathtaking. To top it off, the electric long-tail boat trip (see details above) was one of the best we have ever done. You can tell we're pretty impressed with this hotel now, right? Our conclusion: great value for money, great concept, would gladly stay again anytime! We can highly recommend this hotel.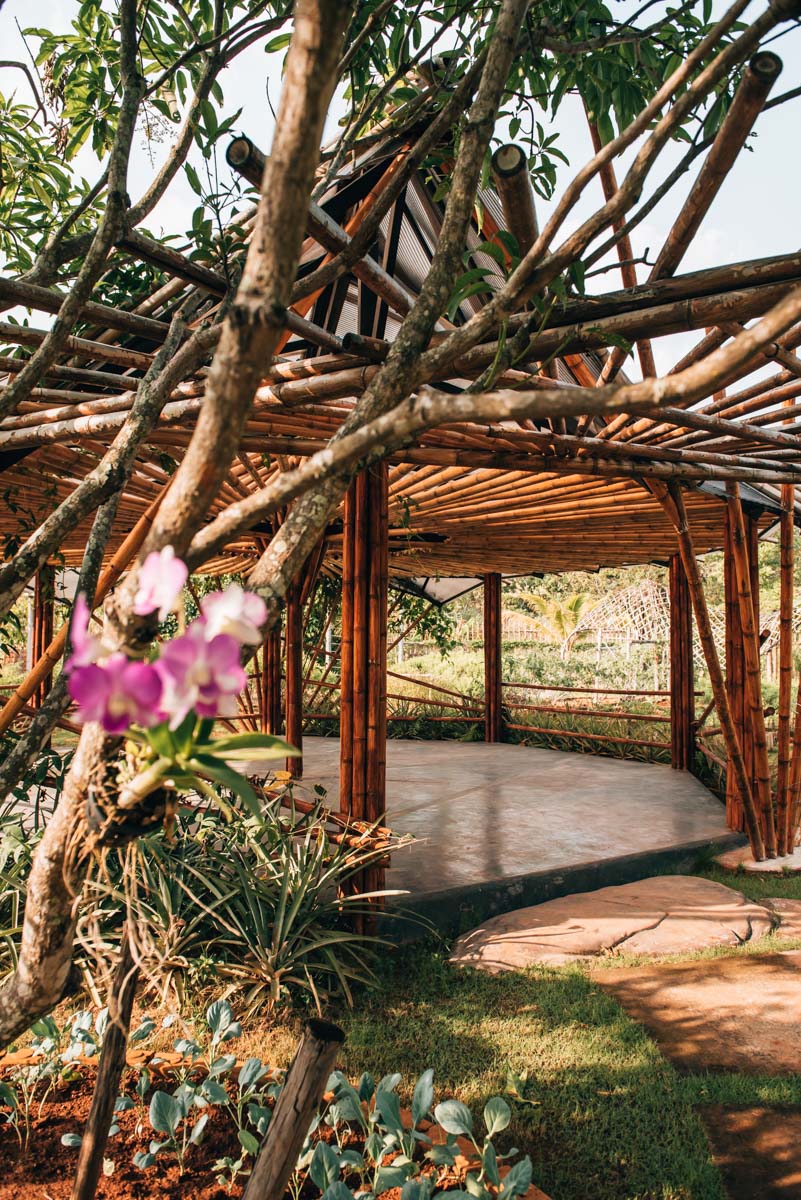 6. Map: All our Travel Guide Tips at a glance
7. Other worthwhile Thailand Beach Destinations
Are you still looking for more beach destinations in Thailand? Then have a browse through these travel guides with our personal tips for you:
All our Thailand articles including tips for Bangkok and the north of the country can be found here: Thailand Travel Tips.
---
Disclaimer: Affiliate Links
This travel guide contains our personal recommendations in the form of so-called affiliate links. If you book (or buy) something through these links, we will get a small commission, while the price doesn't change for you! A million thanks from us for your support!