This cozy little village of Tekapo is one of our favourite places in the South Island of New Zealand. The combination of the deep blue glacial waters of Lake Tekapo and the majestic mountain scenery in the background had us mesmerised the first time we laid eyes on this place back in 2013. Lake Tekapo is a rather sparsely populated area, but that's what makes it so appealing to us and there is so much to discover in terms of nature.
1. What you should know about Lake Tekapo
Lake Tekapo is located almost exactly in the middle of the South Island and lies on route between Christchurch and Queenstown. The region around the glacier lake is very sparsely populated. Here, the focus is clearly on nature.
Tekapo itself is the only area of civilisation on Lake Tekapo. Although Tekapo officially only has a few hundred residents, it experiences a huge influx of tourists during high season. Tekapo will probably become more and more touristic and we can confirm this first hand. Compared to our trip in 2013, our most recent visit in January 2018 saw an unusually high number of Asian tourist groups here.
But don't worry, Tekapo is still a quiet and tranquil place – especially when compared to Queenstown. Best of all, once you've left the township of Tekapo behind, you're all alone. Our favourite activity in Tekapo was to explore cool spots overlooking the lake with our rental car.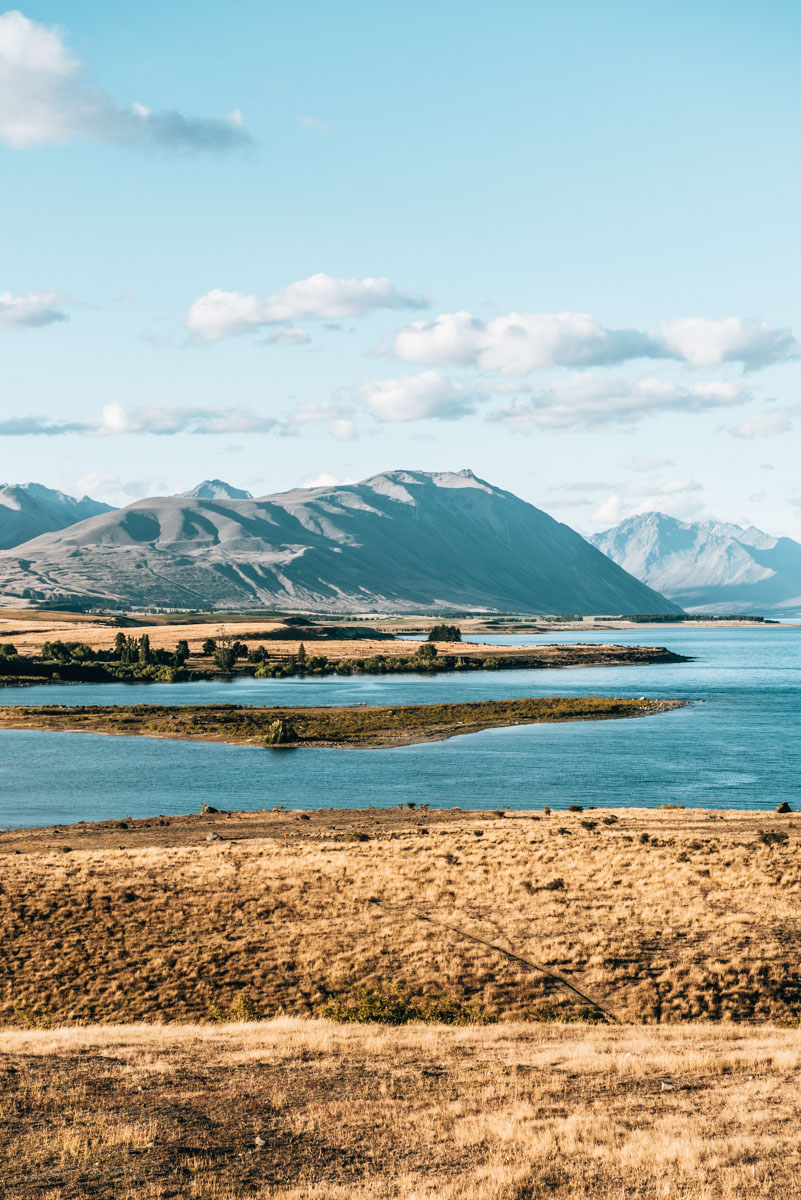 2. Getting to Lake Tekapo
"It's not about the destination, it's about the journey" – it sounds so cheesy, but here in this region, that quote has never hit so soundly. The lake is so stunning that the journey to get here is an incredible experience in itself.
To Tekapo from the north (Christchurch)
If you drive from Christchurch to Lake Tekapo, be sure to choose the route leading inland. Although these routes called "Inland Scenic Route" and takes a good half hour longer, the detour is highly worth it. Perhaps you might even want to make a stopover at the fascinating rock structures of Castle Hill? You can find our tips about that in this article link: A weekend in Christchurch.
The "Inland Scenic Route" will first take you over State Highway 73 and 77. This route will also take you right past the impressive Rakaia Gorge. A bit of a pity that we didn't have enough time to do the "Rakaia Gorge Walkway" here. Instead, we only made a brief stop to enjoy the impressive views from the bridge.
Continue on Highway 72 to Geraldine. The small town offers a nice little coffee break. At the deli store of Barker's of Geraldine, we stocked up on some local produce for the next few weeks. You will find jams, syrups and other delicacies here.
After Geraldine, State Highway 79 brings you directly to Tekapo. For this stretch we needed another hour. Overall, you need to plan at least 4 hours from Christchurch to get to Tekapo, especially if you want to make a few stops. If you also want to visit Castle Hill, you should get up super early from Christchurch because this little side trip will cost you an extra hour of driving.
To Tekapo from the south (Queenstown)
If you are travelling from the south to Lake Tekapo, you will probably start in Wanaka or Queenstown. This route is incredibly scenic. From Queenstown you can either drive on State Highway 6 or on the Crown Range Road. The latter route takes a little longer but is highly impressive in terms of scenery. Once again we flew our drone to catch the famous winding 'hairpin' road from above.
Wanaka itself is also worth a few days of exploring. From Wanaka, State Highway 8 will take you to Tekapo in about 2.5 hours. We can recommend a stopover in Twizel. The place is known for its salmon farms. We enjoyed a delicious lunch at "High Country Salmon" and took a piece of fish with us for dinner. (Our recommendation: Hot Smoked Salmon!)
To Tekapo from the south (Dunedin)
The route from Dunedin to Tekapo is not quite as scenic, but there are worthwhile stopovers here as well. The route initially leads over State Highway 1. Here you can stop by the Moeraki Boulders, the famous spherical rock formations. From the car park, a short walk leads directly to the beach with the Moeraki Boulders. Little warning: you will not be alone as this is a very popular stopover. But if you pass by, you should definitely take a look.
Shortly before Moeraki Boulders lies Katiki Point. If you have a little more time available, a stopover here is very worthwhile. A 10-minute walk will take you along the rugged coastline and we can say with a high level of certainty that there will be countless seals, sea lions and with luck even penguins, for you to observe.
Shortly before Oamaru, the route will then head inland (State Highway 83) towards Lake Pukaki. This lake has such a stunning backdrop that we preferred this route, which leads you over the inner countryside towards Timaru. At Twizel, we recommend a stopover at "High Country Salmon". At this popular salmon farm you can have lunch and take fresh fish with you.
Our rental car
As you can probably already tell, we would definitely recommend you to visit New Zealand with your own car or camper. We booked our car through Sunny Cars. Sunny Cars acts as an intermediary, which means you will be directed to a local car rental company (eg Hertz, Europcar etc.). The great thing about Sunny Cars is that, in the case of damage or accident, Sunny Cars actually take over the deductible.
For example, if you somehow get a scratch on the car, through no fault of your own (this happened to us at a parking lot in New Zealand a few years ago), and there is no culprit for them to chase after – then you have to pay the deductible yourselves. But if you book a car where the deductible is refunded (which is the case with Sunny Cars), then there are no extra costs for you. All our tips on renting a car in New Zealand can be found in our next article on our blog.
3. Best Activities and Sights & Trip to Mt Cook
Mount John Observatory
We are always on the lookout for cool photo spots when travelling, so we did not want to miss the Mount John Observatory. It is located on the south west side of Lake Tekapo.
As the name suggests, this spot is one of the best for observing stars. Due to the fact that the region is so sparsely populated, there is minimal light pollution so it is pitch black in the evening during the new moon phase and the stars sparkle like studded gems the sky. If you are interested in astronomy and star gazing, you can book a tour with the observatory in advance through this link: Dark Sky Projekt.
However, we decided to visit the observatory during the day as the Astro Café is open for you to enjoy the breathtaking view of the lake with a flat white and a piece of cake. A little heads up: The cafe can be quite full on a good day, but even if you just take a short walk along the trail around the cafe, you will have the view all to yourself.
More about Mount John Observatory
How to get there: From the centre of Tekapo it takes about 15 minutes by car via Godley Peaks Road. Access to the mountain is via a private road for which 8 NZD are to be paid upon entrance. Note: This road is only accessible during the café opening hours. Alternatively, you can climb Mount John by foot. The starting point of the "Mount John Summit Circuit Track" is by the Tekapo Springs. Park your car there and start hiking!
Opening hours Astro Café: daily 9am to 6pm (summer), 9am to 5pm (winter)
Star Gazing
Has it ever hit you, just how spectacular this universe is? How lucky are we to live on a planet that by night we can observe all the far away galaxies that shimmer light years away? We had this awe inspiring moment in Tekapo, as we sat on the balcony of our apartment and looked up to the sky… we could hardly believe our eyes. In moments like that, you can't help but feel an overwhelming sense of connection to our universe.
Only then did we realise that it's because Tekapo is so sparsely populated which contributes to the minimal light pollution and makes the stars seem even more stunning. We very spontaneously packed our camera equipment and drove to the town centre at 11 pm.
Our destination was the "Church of the Good Shepard". In front of the church, a few dozen people gather each night in clear skies to shoot the famous photo scene with the church and the glittering starry sky.
We too tried our luck. Unfortunately, we did not bring our big tripod on our 3 month trip. It would have been worthwhile in such moments, but even without the perfect equipment, we managed to get some nice shots.
Star Gazing at the "Church of the Good Shepard"
Address: Pioneer Drive, Tekapo
Note: Be prepared to be surrounded by lots of people – on our visit, there were mostly Asian travel groups who can be quite insensitive shining their lights in your face or ruining that long exposure shot. We were there around 11pm.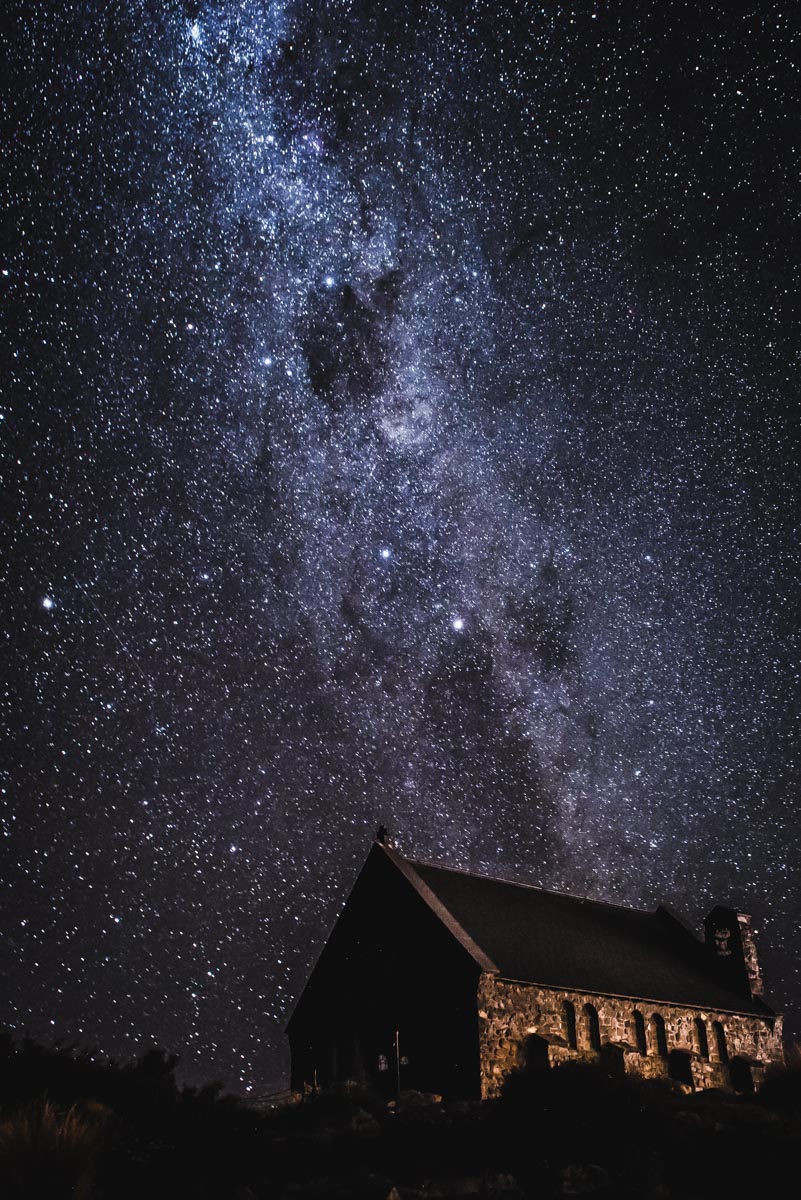 Explore the area
What is our favourite thing to do when surrounded by amazing nature? Just get in the car and explore! Especially here in Tekapo, it's so perfect because there are countless deserted places all with impressive views of the lake. One of our favourite spots was found on the west side along Godley Peaks Road. We were here in the late afternoon and the light created the perfect dreamy scene.
Mount Cook National Park
Tekapo is the perfect base for a hike through Mount Cook National Park. From Tekapo it's about 1 hour and 20 minutes drive to Mount Cook Village. From there you can find numerous tracks to hike. Of course, you can also stay in the Mount Cook Village, but the choices are very limited, plus we prefer to spend several days in one place and use that as our base, instead of moving daily. So we decided to explore Mount Cook as a side day trip from Tekapo.
Hooker Valley Track
The most popular day hike through the Mount Cook National Park is the Hooker Valley Track and if you include travel time to and from Tekapo, this can easily be done as a one day trip. The hike is almost exclusively flat with well maintained tracks and takes only three hours return. Thus, it is also ideal for families with children or elderly people.
Nevertheless, the Hooker Valley Track is incredibly varied: You will pass several suspension bridges traversing raging rivers, marvel at the gigantic mountain peaks above and in the distance. You will also find one of the most popular photo opportunities here: the wooden board walk with a mountain backdrop. At the end of the hike, you will reach the lake, where ice bergs break off from the glacier above and drift in large chunks. Depending on the season, there will be varying amounts of 'ice'.
The fact that this hike is so easy to access has its price: On nice days, the Hooker Valley Track is like a migratory trail of humans. The other catch is that it's not a loop track, so you come back the same way you came. However, we can recommend the track, even if just for the photo opportunities.
If you're feeling adventurous, you can attempt the Mueller Hut track which is much more strenuous but offers some very rewarding views!
4. Accommodation in Tekapo
The only drawback of the beautiful Tekapo is the highly inflated prices for accommodation. New Zealand is generally not a very cheap country in the first place, but Tekapo takes that one step further.
We had to therefore close our eyes as we booked our (very nice) apartment for the two nights. Despite the over inflated price of almost 400 Euros for the two nights – we would still highly recommend!
The property is called Starview 88 Apartment and is located off the town of Tekapo on a hill. The apartment is very bright and modern, also very comfortable – The kitchen is perfectly equipped, so unfortunately we don't have many restaurant tips for you as we decided to use the kitchen and cook our own meals.
From the terrace you can see the lake, but the view is a little obscured by other houses. By the way, the bed was super comfortable (and we are very particular when it comes to beds).
Here is the link to the apartment: Starview 88 Apartment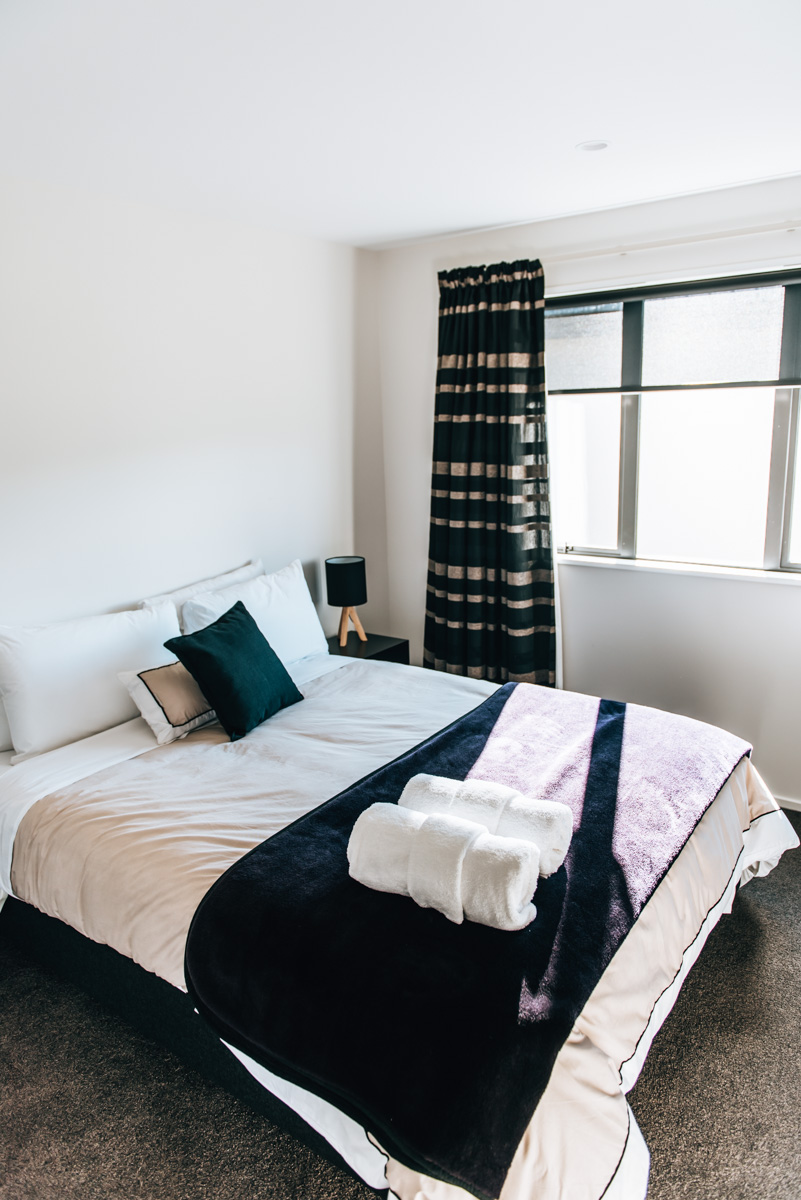 5. More Travel Articles from New Zealand
---
Disclaimer: Affiliate Links
This blog article contains our personal recommendations in the form of so-called affiliate links. If you book or buy something via the links, we will get a small commission. For you, this does not change the price at all. Cool thing, right? For our rental car in New Zealand, we received a discount from Sunny Cars – huge thanks to them! This however, doesn't change or influence our opinions at all. We have booked through Sunny Cars on several occasions (whilst paying full price) and always had good experiences.
Have you ever been to Lake Tekapo? Perhaps you have more tips to share or if you're planning your NZ vacation and have some questions for us, pop them down below. We always look forward to your comments!