New Zealand is a paradise for nature-lovers who want to spend their time outdoors. There are suitable hiking trails for every level of fitness, every type of traveller and for all ages, whether you are a family with young children or a solo experienced hiker, you will find something for everyone! The best thing about New Zealand is that the landscapes and nature are incredibly diverse. One day you could be wandering in lush green jungle forests, the next day you could be on the pristine coastline and again a day later perhaps on a barren volcanic landscape!
In this blog article we will introduce you to our favourite day hikes and short scenic walks on both islands. We have been to New Zealand twice already and over this time we have had explored some fantastic hiking trails.
1. New Zealand's Hiking Network
New Zealand's hiking network is very impressive. We have never been to a country where hiking was such a major focus of our journey.
In fact, it is the nine Great Walks that attracts so much attention to New Zealand and in turn what New Zealand uses to promote and attract outdoor lovers from all over the world. The Great Walks are like the celebrities of New Zealand hikes and they venture through particularly impressive nature. Managed by the New Zealand Nature Conservation Union, the DOC (Department of Conservation), the Great Walks are designed as multi-day hikes, some are one way tracks while others loop back to the start point. Along the way you can spend the nights in very well managed huts with cooking stoves, or bring your own tent and camping gear to avoid the hefty hut fees.
The good thing about the Great Walks is that you can easily choose to do only a part of the track. Some of the walks we mention in this article are indeed just a small section of the Great Walks.
Apart from the Great Walks there are endless beautiful hikes in New Zealand. And by "endless" we mean close to infinity… there are so many tracks in New Zealand that aren't even mapped or have a proper trail, a large portion of New Zealand's wilderness involves bush bashing and very expertise skill in navigation. However, most of the marked trails are in fact outlined and can be found on the DOC website, including hut fees.
DOC spends a lot of money ensuring the main tracks, such as the Great Walks, are well maintained and safe for hikers in large numbers. However, just beware that many of New Zealand's hikes also go through private property, which means you will occasionally see large flocks of sheep! But main thing is to always be respectful of this beautiful country, take all your rubbish with you and don't leave a single trace behind!
2. Day Hikes and Short Scenic Walks in the South Island
Hooker Valley Track
Located in Mount Cook National Park on the South Island, Hooker Valley Track is one of New Zealand's most popular trails. The track is a bit of a general one, but definitely New Zealand's nature is at its best. In just a few hours, you'll cross three suspension bridges, find yourself in the middle of snow-capped peaks, and end up at the glacier lake, where ice bergs usually break off from above and drift in large chunks.
However, being so easily accessible and rather flat, this comes at the price of mass tourism. Especially on a beautiful day, the trail is like a mini migration of tiny humans. If you're looking for a trail where you're all alone in nature, then you're best to attempt the very steep hike up to Mueller Hut. The fact that we managed to capture this popular photo of the snow-capped Mount Cook in the background without humans was solely due to our patience. Nevertheless: We have actually done this track twice on both our visits and in our opinion, the natural scenery is so impressive that we would still highly recommend this track to you.
Getting to the Hooker Valley Track
For our hike through the Mount Cook National Park we stayed in Tekapo. Although the resort is an hour and a half from the starting point of the hike in Mount Cook Village, the hike can easily be completed in one day. There is enough parking on site.
Information about the Hooker Valley Track
Difficulty: Easy
Suitable for: Families, less experienced hikers
Terrain: relatively flat with a few barely noticeable gradients
Walking time: about 3 hours return (ie 1.5 hrs there and 1.5 hrs back)


Roy's Peak Track
Do you want one of the most impressive panoramic views in NZ and are willing to shed a huge amount of sweat to get there? Then the Roys Peak Track in Wanaka is guaranteed to astound you. Nowhere else in New Zealand have we seen such incredible views and the best part is the view keeps getting better, the higher up you go!
The Roys Peak Track is a huge lot of very steep, never ending zig-zags leading up to the mountain summit. You have bee warned: this track is not for the faint hearted, as it is very very steep, covering more than 1,200 vertical meters from the starting point to the summit, it's no surprise you run out of breath rather quickly. On a sunny day, make sure you bring lots of water as there is no water stop along the way.
About half an hour before the summit you reach the famous Lookout Point: a narrow path exposed along the ridge. What you don't see in those viral photos of Roy's Peak is that unfortunately, you have to share this view with a crowd of people. In order for everyone to get their 'famous' shot, a long wait time is often inevitable. On most days, a human snake forms in front of the photo spot.
This also brings us to the next point: the hike to Roys Peak is not an insider tip. Although we were there at the end of the main season, we were still surprised at the amount of people doing the track. The actual trail itself is not really a highlight, it's the views and the famous look out point people really come here for – although there are sooo many other stunning trails in this area!
How to get to Roys Peak Track
The track is only about 10 minutes drive from the centre of Wanaka. The number of parking spaces is manageable. Best to get there before 9am. We ourselves came during high season at about 10am and we were still able to get a space.
Information about the Roys Peak Track
Difficulty: Medium – physically demanding but not technically demanding – it requires a certain level of fitness to tackle the steep mountain.
Suitable for: people looking for great views while hiking
Terrain: well maintained track, steady but steep uphill (1,200 vertical metres from the starting point to the summit)
Walking time: about 6 hours return (no loop, down the same way you came)
Attention: The path is closed every year between 1st October and 10th November because of lambing season. Note that this entire walk is actually through private property and if not respected, could result in future restriction of hikers. So please be respectful and pick up all your rubbish. During New Zealand winter (June-September) expect to hike the upper section in snow and it's not recommended unless you have experience in alpine conditions and with alpine equipment.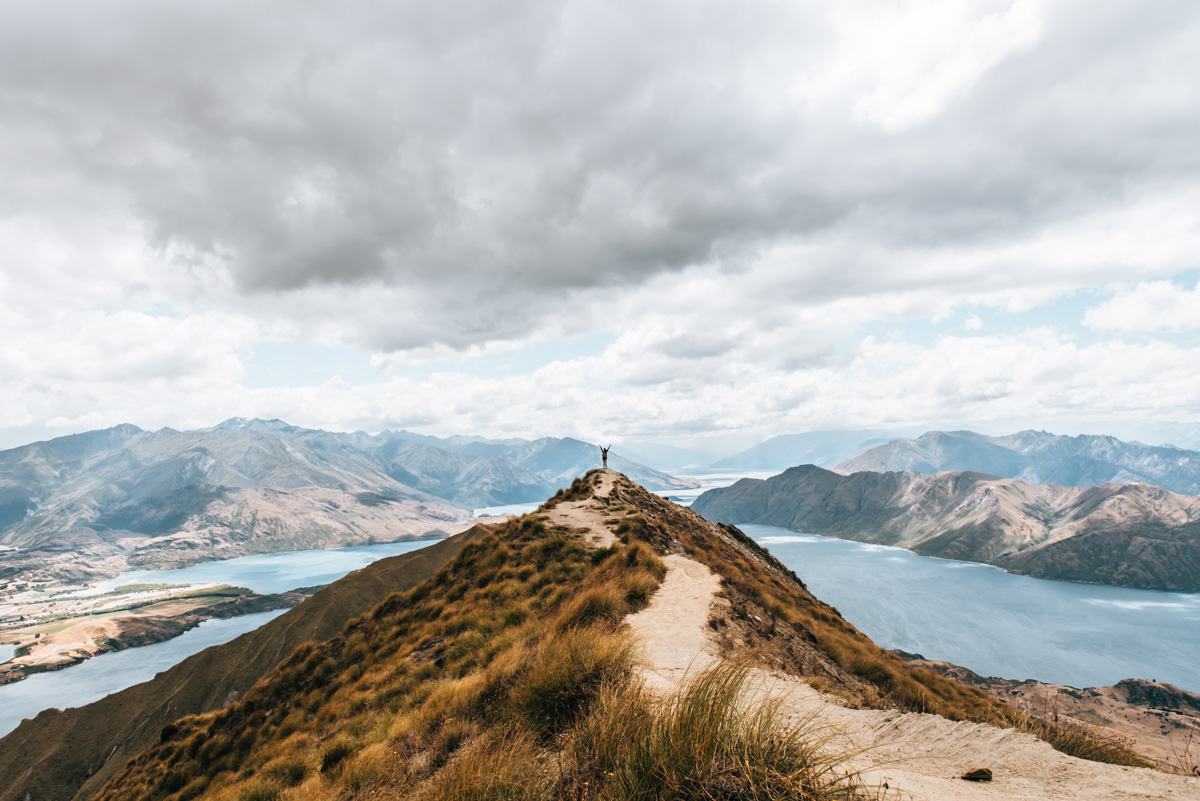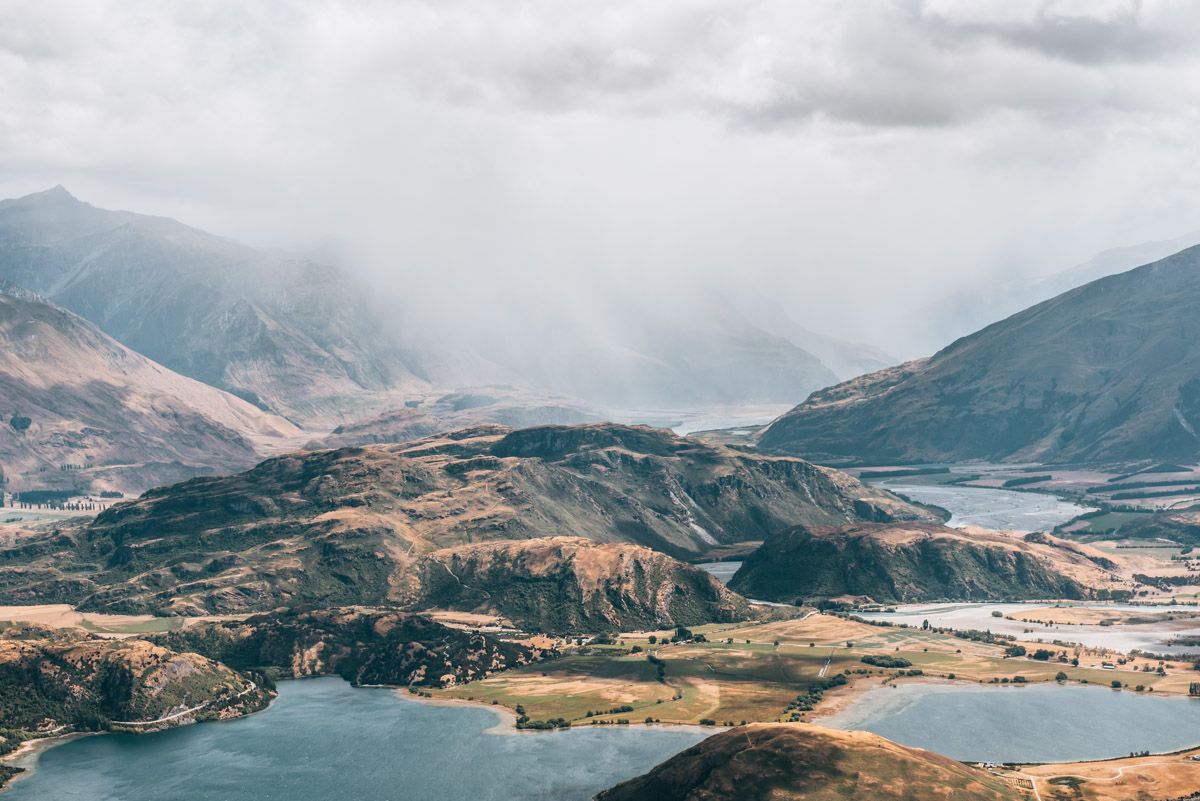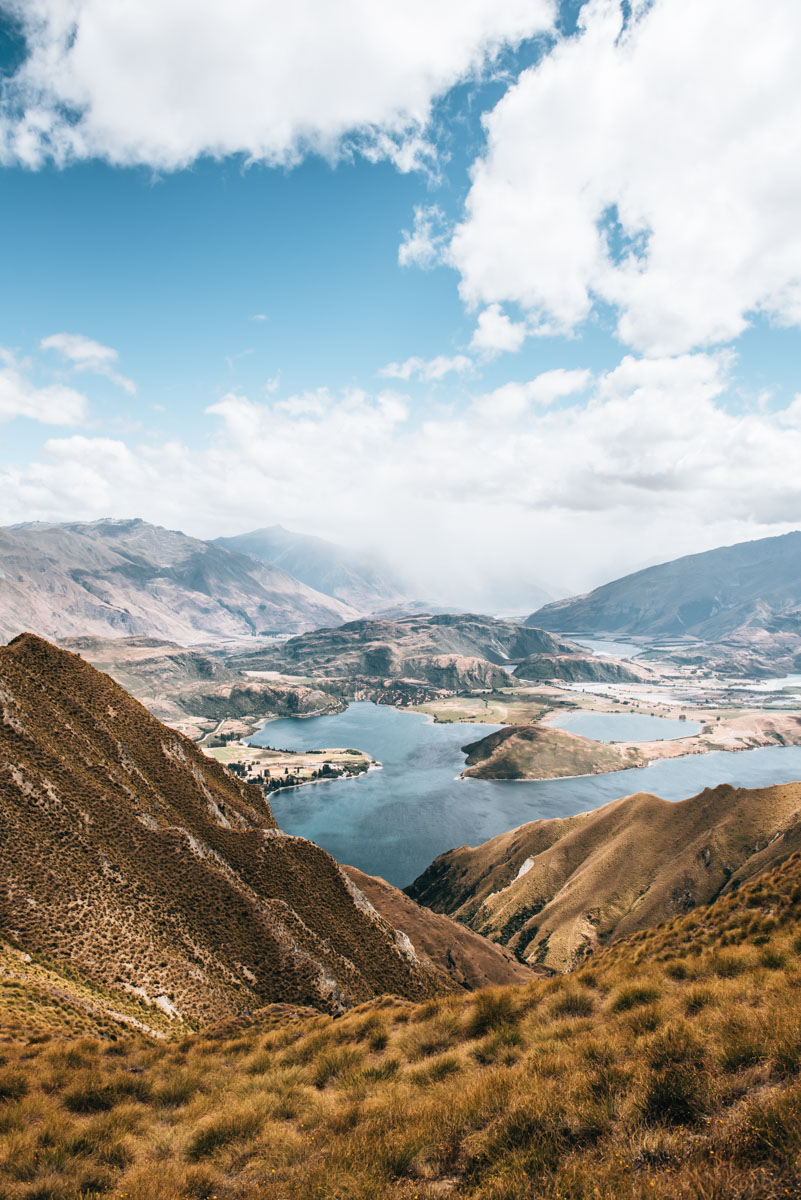 Queenstown Hill
A little insider tip in Queenstown is the hike up Queenstown Hill. Whilst looking for a nice sunset spot, our motel owner gave us this tip. And what can we say? It was the best decision we could have made that day.
The trail on Queenstown Hill leads through a forest and then over open terrain above the tree line. You will be tackling a 500m change in altitude, but this is very manageable if you have an adequate level of fitness and can tackle the steep incline. Once you're out of the woods, the views are truly magnificent.
After a good hour you will reach a viewing platform with a sculpture called "Basket of Dreams". We would highly recommend you to push yourself for one last 25 minute stretch to reach the summit. Seriously… it is SO worth it. At the top you will be rewarded with a dreamy panoramic view of Lake Wakatipu and the "Remarkables" mountain range.
In our opinion, the best time for a hike on Queenstown Hill is around sunset. We stayed until the sun disappeared behind the hills, which meant we had to scurry the last part of the track back in the dark, but that was easily manageable.
Getting to Queenstown Hill
Technically, you can start the Queenstown Hill hike directly in the village centre. To shorten the walking time and something we would recommend, is to drive along the Belfast Terrace until you reach the small parking lot. This will save you about 25 minutes and 100 meters in altitude. This trail is not to be confused with the Ben Lomond track, which leads to the neighbouring mountain.
Information about Queenstown Hill
Difficulty: Medium – A certain level of fitness is required, but the path itself is not demanding
Suitable for: leisurely hikers who want to work up a sweat; Hiking enthusiastic families
Terrain: uphill, but quite feasible (500 altitude difference from the starting point to the summit)
Walking time: approx. 2 to 3 hours (round trip)


Abel Tasman Coast Track
No matter who you ask on the way: Almost all travellers stop off in the Abel Tasman National Park. This National Park on the north coast of the South Island harbours one of the famous Great Walks, the so-called Abel Tasman Coast Track. There are no significant steep sections, so the track is one of the easier Great Walks. You can look forward to great panoramic views, tiny bays and crystal blue water here.
The track covers more than 60 kilometres along the coast, but it is also easy to do a day hike through the park. As the track is located in the National Park, you cannot simply decide to start in the middle of the track and drive to it. So for those who want to do a specific section of the walk, far from the start and end point, you will have to arrange a water taxi to reach your desired start point. However, if you only want to do a short stretch of the Abel Tasman walk and don't really want to fork out the extra money on water taxi, you can park your car either at Marahau, Wainui or Totaranui car park and start from there. They have detailed trail maps at the start of the tracks and you can reach a few nice beaches in no time.
Our Day Trip Route: from Torrent Bay to Bark Bay
For day trippers, the water taxis offer special "tours" where you can decide to get dropped off at certain points and picked up again a few hours later at another point. We decided on the provider AquaTaxi and more specifically on their "Falls River" tour.
It was not easy to decide on a section of the Abel Tasman Coast track, as the whole route is supposed to be very scenic. The suspension bridge "Falls River Bridge", which you cross on this route, ultimately led to our final decision.
Getting to the Abel Tasman Coast Track
The track starts in Marahau, which is accessible by car. From there, the water taxis bring you to the desired starting point of your hike. We used the provider AquaTaxi and were very satisfied with it. The most popular place to stay near the Abel Tasman Coast Track is Kaiteriteri. Here you'll find both accommodations and campgrounds, a boardwalk, supermarket and quite a few travellers as well as many local kiwis who come to enjoy the sunshine and pristine beaches here. We were surprised how crowded the place was during high season, but this is the sunniest region in all of NZ so… don't be surprised. 
Alternatively, we decided to spend the night in Nelson and drive from there to the Abel Tasman Coast Track in the morning. With a travel time of just over an hour to Marahau, this is easily achievable.
About Torrent Bay – Bark Bay
Difficulty: simple, no significant gradients
Suitable for: Families, less experienced and / or leisurely hikers
Terrain: relatively level
Walking time: approx. 3 hours




3. Day Hikes and Short Scenic Walks in the North Island
Tongariro Alpine Crossing
The day hike through Tongariro National Park is considered by many to be the most spectacular hike in New Zealand. Whether or not that's actually true, is open for question. But one thing is for certain: the hike is unbelievably impressive… and incredibly demanding!
Altogether you will cover 20km, an incline of 800m and decline of 1100m. What's so fascinating about the Tongariro Alpine Crossing is that the terrain is incredibly diverse. You start surrounded by green vegetation, but a few hours later you come face to face with a volcanic crater and turquoise-blue lakes of former volcanic craters! Plus if you're a Lord of the Rings fan… You will come face to face with the real Mt Doom that is Mount Ngauruhoe!! If you are looking for the rough wilderness of New Zealand – you will most certainly find it here!
Despite this hike being one of the most popular walks in the entire country (mainly due to the popularity of Lord of the Rings and Mt Doom), we ask that you don't underestimate the route. For us, the wind (or rather, the storm) was a huge problem. In addition, the terrain is often slippery due to the mountain of loose rubble. Sturdy shoes with strong grips are therefore absolutely necessary! In winter, when there is snow and ice, we would only attempt this with an experienced mountain guide.
Getting to Tongariro Alpine Crossing
The hiking trail is a one-way route. Usually people start in Mangatepopo and end in Ketetahi due to the lesser altitude incline. You can also go the reverse route, but then you have to cover more altitude. We stayed in Ohakune. From there, shuttle buses run daily and will often drop you off at Mangatepopo and pick you up a few hours later in Ketetahi.
Information about the Tongariro Alpine Crossing
Difficulty: demanding. Shoes with a good grip are absolutely necessary
Suitable for: medium fit hikers and those in search of great views
Terrain: volcanic landscape; a total of 800 meters uphill and 1100 downhill to cover
Walking time: approx. 7-8 hours
Lake Waikaremoana
In a fairly secluded area to the east of the North Island is one of the lessor known Great Walks, the trail along Lake Waikaremoana. The trail stretches for a total of 46 kilometres and meanders through the imposing Te Urewera National Park, the largest virgin forest on the North Island.
Since the lake is located in a sparsely populated area and the journey from all major towns is relatively far, the track sees far fewer tourists compared to the other Great Walks.
The path does not lead completely around the lake, therefore, it is not a loop, but rather you must choose to go from south to north or from north to south. Unlike the Abel Tasman National Park, the water taxi network is far from well developed here. So we decided to take the first and supposedly most spectacular stretch of the walk: from the car park in Onepoto to the Panekire Bluff.
Our Day Trip Route: From Onepoto Bay Shelter to Panekire Bluff
The route runs steadily uphill through the forest. Again and again there are small glades, through which you can enjoy a great view of the lake. The most impressive viewpoint can be reached after about an hour. It is a bit off the beaten track but relatively easy to find.
If necessary, you can also hike on to the scenic, more impressive Bald Knob. This route takes about 2-3 hours (from Onepoto).
Getting to Lake Waikaremoana
Lake Waikaremoana is fairly secluded in the Te Urewera National Park in the east of New Zealand's North Island. There are no big cities nearby, but we decided to visit the lake on a day trip from Napier. However, be warned that this entails a 5 hour return drive by car.
The hike begins in the south at the car park of Onepoto Bay Shelter. It takes about 2.5 hours by car from Napier to the car park in Onepoto. The last township you pass would be Frasertown. From here, the route runs on the State Highway 38, but just be warned, during our visit in February 2018, a few kilometres of the state highway was actually still a gravel road… typical New Zealand! Lake Waikaremoana also offers a few accommodation options if you want to stay a night and do a longer hike.
Route information Onepoto Bay Shelter – Panekire Bluff
Difficulty: steady uphill through forest (which can be quite slippery in bad weather)
Suitable for: rather leisurely hikers who want to work up a sweat
Terrain: uphill, but quite feasible
Walking time: approx. 2 hours return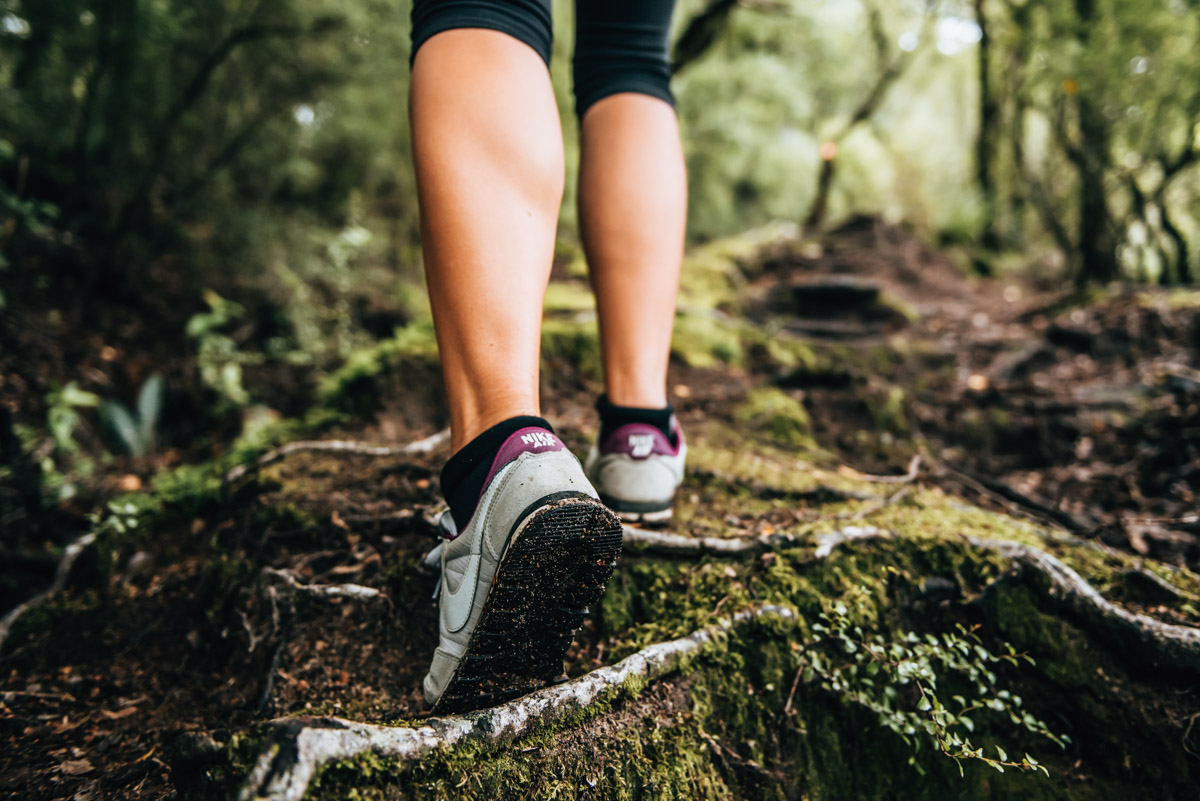 4. More New Zealand Travel Reports from us
---
Do you have any more tips or suggestions for day hikes or short scenic walks in New Zealand? We look forward to hearing about your hiking experiences!