Lake Taupo on New Zealand's North Island is actually the largest lake in the country. Taupo itself isn't exactly buzzing, but it's a very comfortable town. However, the true highlights lie outside the town centre, such as the sparkling blue water of the impressive Huka Falls.
If you are travelling through the North Island, then there is a very high chance that you will pass by Taupo as it is very centrally located. In this blog article, we'll share with you what you can experience in and around Taupo. Without further ado, here are our top tips for Taupo.
1. Lake Taupo: New Zealand's Largest Lake
To be honest, although Lake Taupo is a beautiful lake, it is not one of the most spectacular places in New Zealand. Taupo itself lacks the buzz and energy that makes lively places such as Queenstown so attractive. Plus you simply cannot compare the rugged mountain ranges around Lake Wanaka to those in Taupo.
Despite the differences in landscapes, Taupo does have its own charms to make up for the above. This region is particularly renowned for its very fascinating geothermal activity. If you have good weather, then Lake Taupo is perfect for swimming and if you want to do a little bit of cliff jumping then Bulli point is where the locals hang. On top of that, the stunning Huka Falls is just around the corner and it's one of the most spectacular waterfalls in New Zealand.
About 1.5 hours south of Taupo, you will pass through a volcanic area, where the most famous day hike in New Zealand is located: the Tongariro Alpine Crossing. Next to it is the local ski resort and active volcano – Mount Ruapehu, which you can also hike up. We would not recommend making Taupo your base if you plan to do the Tongariro Alpine Crossing, as there are better and closer options such as Ohakune. But if you are planning to just have a leisurely stop by then it's a comfortable place to relax and top up on some shopping and grocery supplies.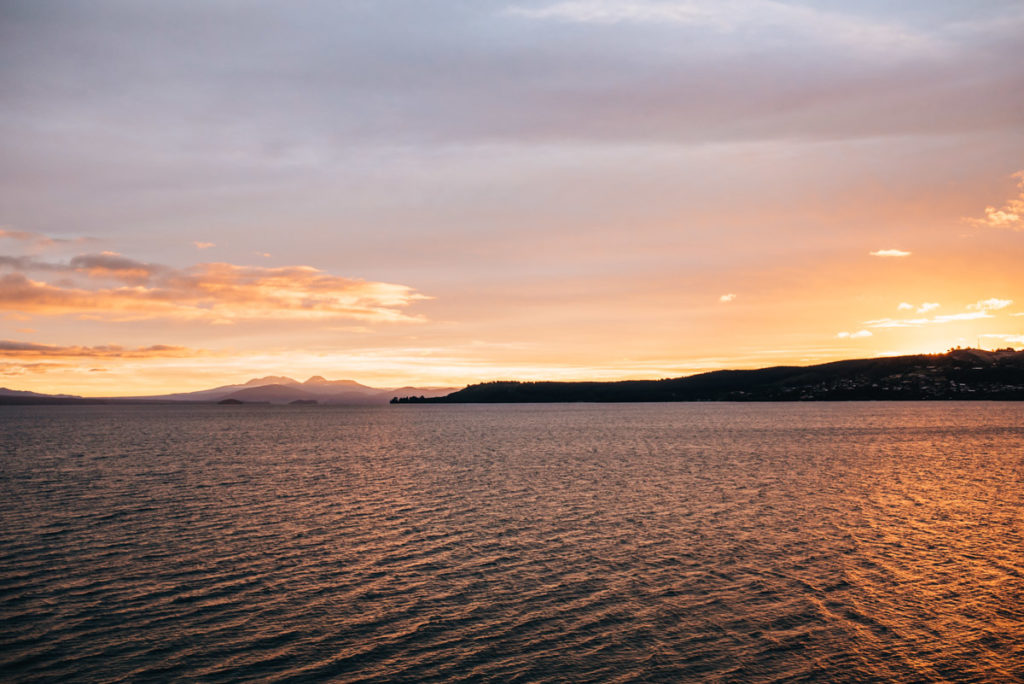 2. Attractions in and around Taupo
Huka Falls
We could watch the clear, pale blue waters of Huka Falls for hours, as they gush down through the gorge and crash with such a thunderous roar into the sunken depths. The spectacular Huka Falls is one of the most photographed attractions in New Zealand and rightly so.
They are located just outside the centre of Taupo and you can easily reach Huka Falls by car. From the car park, it's just a short walk to the waterfalls. If you feel like a more exciting and varied adventure, you can take the trail from Taupo to Huka Falls (takes about 1 hour).
By the way, you will most likely see a few jet boats zooming around and getting a very close encounter with the falls. We skipped this adventure ourselves, however, something to consider if you are interested in these adrenaline rushing activities.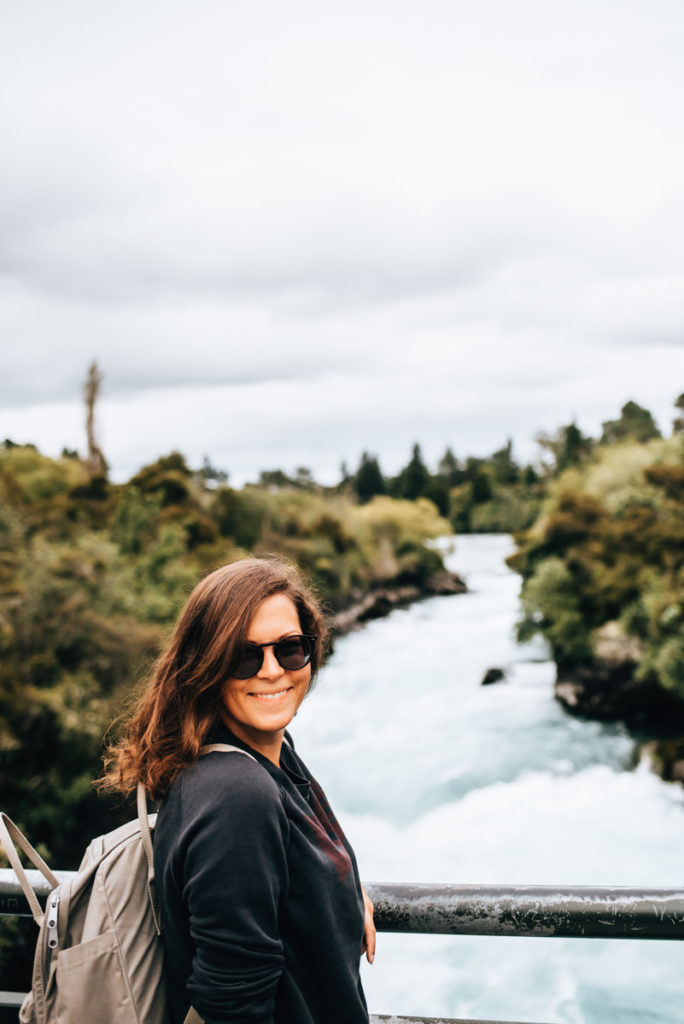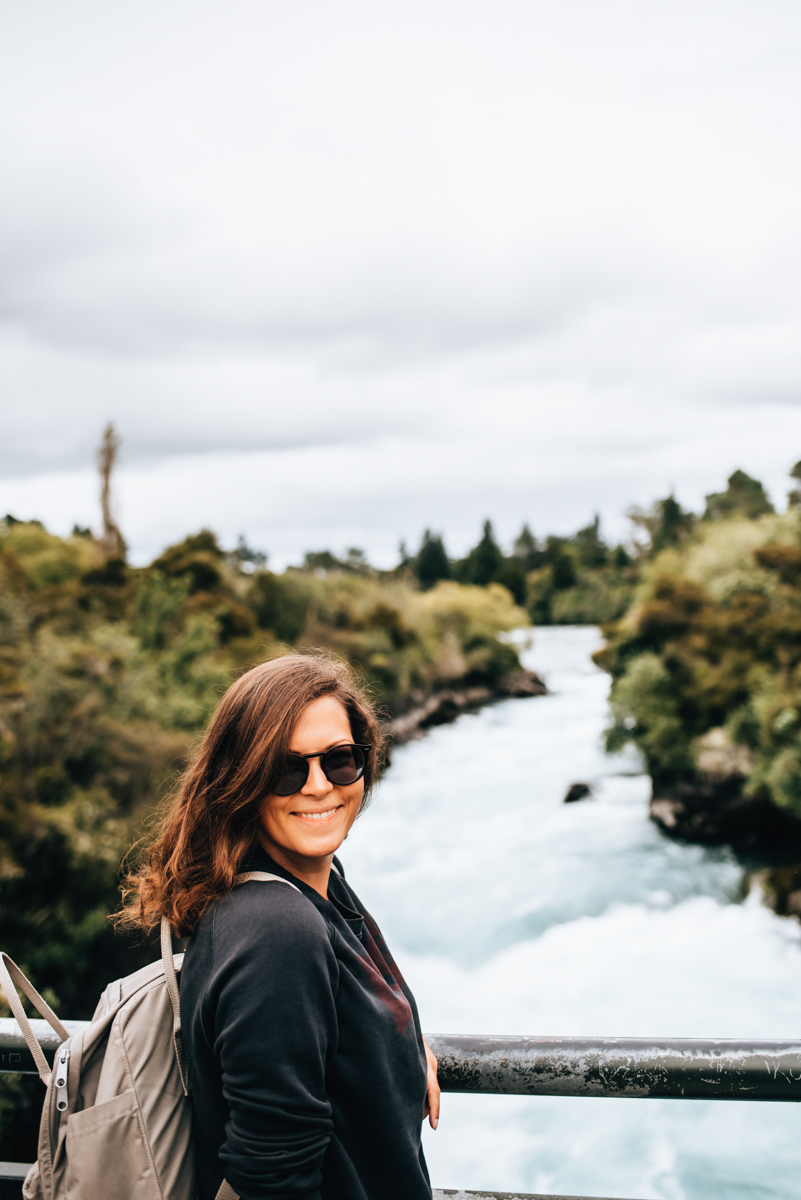 Orakei Korako
The region around Taupo is well known for its geothermal activity. There are several places where you can see the whole range of geysers, hot springs and mud ponds. Since we visited the famous "Wai-O-Tapu Thermal Wonderland" from our last trip to New Zealand, we decided to visit the lesser known "Orakei Korako" the second time.
We did not have super high expectations but we ended up very pleasantly surprised. The well signposted circuit through the area takes about 1.5 hours to complete. The nature here is so impressive and so unique. If you've never been to a ​​geothermal active region, then we would highly recommend you to visit Orakei Korako! The only downside is the relatively steep entrance fee at 36 NZD.
Information about the visit of Orakei Korako
Arrival: approx. 30 minutes by car from the centre of Taupo. The actual area requires a short 3-minute boat trip, included in the entrance fee
Admission: 39 NZD per person (15 NZD for children under 16)
Tour: takes about 1.5 hours (depending on how fast you go)
Sunset on Lake Taupo
We got very lucky one evening, after days of rather overcast weather during our time in Taupo, the skies were pulled apart to show off a spectacular sunset on the lake. If you are looking to photograph the huge sign for Taupo, you can hardly miss it as it's located on the beach promenade along the "Lake Terrace". There is also the world's coolest McDonalds, which can be found inside a decommissioned DC3 vintage plane!
Tongariro & Mount Ruapehu
Just a short 1.5-hour drive south of Taupo is a spectacular volcanic area that leads through New Zealand's most famous day hike: the Tongariro Alpine Crossing. For us personally, Taupo would be a bit too far away as a base for the hike, but it is quite common to start from there. They do offer some shuttle providers from Taupo as well.
We stopped for a few hours at Mount Ruapehu on our way from Wellington to Taupo on our last trip to New Zealand. In winter, Mount Ruapehu is a ski resort and in summer a stunning hiking area.
We parked our car at the car park by the chairlift in Whakapapa. Unfortunately during our visit the second and longer of the two chairlifts ("Waterfall Express"), which leads to the Knoll Ridge Café, was out of service. That would have brought us to 1800 meters in just a short space of time. With the first chairlift ("Rangatira Express") we could have theoretically driven, but the staff there did not recommend that, plus it only takes half an hour on foot. Therefore, we simply wandered around and within a short time we were completely alone in the middle of a crazy volcanic landscape.
We would have preferred to hike to the summit (or crater lake), but the clouds were incredibly dark that day and the weather forecast brought only bad news. We can confirm however, that the trails are hardly (or not at all) signposted – we would only recommend hiking to the crater lake in good weather. If your visit involves the second chairlift that leads to the Knoll Ridge Café, then you can comfortably and very quickly make the high altitude return trip. It's said to be very spectacular up there!
3. Eating & Drinking in Taupo: Our Tips
Spoon & Paddle
A great place for delicious breakfast or lunch is the Spoon & Paddle. There are different breakfast dishes like Eggs Benedict, but also delicious salads and cakes. The family-friendly café is very idyllic and also has a pretty garden out the front.
Address: 101 Heuheu Street, Taupo
Pauly's Diner
Probably the best burger in Taupo is at Pauly's Diner. The burger restaurant was founded by two young New Zealanders and you can tell immediately that there is a lot of passion here. The small shop is inconspicuous, but the burgers are really delicious. And best of all, there is also a vegetarian alternative.
Address: 3 Paora Hapi Street, Taupo
4. Our Accommodation in Taupo
We got lucky with our accommodation again in Taupo and spent two nights in the beautiful A Loft with a View. The small apartment is connected to the house of a young family. Nevertheless, guests have complete privacy here and the apartment is beautifully decorated – we felt right at home from the first moment.
It is located just outside the centre, so you do need a car. It's also up a little hill so you even have a view of Lake Taupo. The so called "Breakfast" is limited to just cornflakes, milk, toast and jam. You prepare your own breakfast in the apartment, but that wasn't a bother. Our conclusion: Absolutely recommend!
Here you can book the apartment: A Loft with a View
5. More New Zealand Travel Reports
---
Disclaimer: Affiliate Links
This blog article contains our personal recommendations in the form of so-called affiliate links. If you book or buy something via the links, we will get a small commission. For you, this does not change the price at all. Cool thing, right? A million thanks from the both of us!
Have you been to Taupo and its surroundings? Perhaps you have some other interesting tips for things to do and see around Taupo? As always, we look forward to reading and replying to your comments below!