To be completely honest, Napier was actually nothing more than a little detour on our New Zealand trip. It was thanks to the high rain forecast that we quickly chose a random place in the North Island that had the most hours of sunshine predicted. So this was all very spontaneous and we had no plans and zero expectations in Napier.
After a difficult and rainy start came the turnaround: Napier really surprised us – in a good way. We have not come across any other city quite like Napier. The city centre is like reminiscent of a movie set from the 1930s with its Art Deco elements. In this travel guide we share with you the top things to do we discovered in and around Napier.
1. Napier: New Zealand's Art Deco City
A devastating earthquake is responsible for making the walk through Napier feel like you've travelled back in time. In the 1930s, the city was destroyed and left in rubbles, but slowly built itself back up in the Art Deco style of the time.
Downtown Napier resembles a movie set from the 1930s. We did not expect the buildings to be so well preserved. From the street lamps to the lettering on the buildings: Art Deco is omnipresent in Napier.
Around Napier is also one of New Zealand's most important wine regions: Hawke's Bay. Since we were here, we didn't want to miss this opportunity so we paid a visit to one of the famous wineries. This is not one of the cheapest activities, as alcohol is very expensive in New Zealand, but for us it was an experience we were happy to have had.
In terms of landscape scenery around Napier, Te Mata Peak was the most impressive by far. Watching sunset from the summit is without a doubt one of the most beautiful moments for us in New Zealand.
2. Napier Travel Guide: Top Things to Do & See
Art Deco in Napier: The Highlights
The great thing is, you don't actually have to actively look for Art Deco buildings because you'll come across these historic buildings as you walk around the town centre anyway! Especially if you explore the area around Emerson Street, you will notice that the 30's flair is particularly predominant in that area of the city centre.
Napier's most famous Art Deco building is just outside the centre: The National Tobacco Company Building is probably the most photographed house in the city. Also worth seeing is the "Daily Telegraph Building", which is located on Tennyson Street.
If you want to drink coffee in a historic atmosphere, then you are in good hands at the Emporium. If you are looking for souvenirs, "The Art Deco Shop" is a good place to go. Here you will find Art Deco souvenirs and a lot of memorabilia from the old days.
Marine Parade
You should definitely plan a walk along the Marine Parade. Although there are admittedly more impressive beach promenades, the Marine Parade with the sometimes very bizarre structures (including "The Colonnade") is very worth seeing.
Unfortunately, you can't go swimming here because the currents are a bit too strong. However, you can watch the breaking waves from the dock.
Bluff Hill Lookout
Bluff Hill Lookout overlooks Napier Harbour and has sweeping views of the beach and surrounding areas. We personally found it rather interesting to watch the movements of the port harbour containers below, but there are certainly more spectacular viewpoints in New Zealand.
You can reach the Bluff Hill Lookout quite comfortably by car, it takes less than 10 minutes by car from the centre. Alternatively, you can get up the hill by foot. It will take you about 30 minutes to trudge up this short but relatively steep hike.
3. Excursions around Napier: Our Travel Tips
Te Mata Peak
Our personal highlight in Napier was experiencing a magical sunset from Te Mata Peak. If you're lucky with the weather, the low setting sun will cast a fiery glow across the hilly landscapes. We would never have imagined that such a breathtaking backdrop existed in what is otherwise a very flat Napier.
We can highly recommend a trip to Te Mata Peak. If you are a bit tired from a day of exploring (like we were), then you can easily drive to the summit. Alternatively, you can climb the Te Mata Peak by foot.
Our tip: Take a blanket and your favourite drink with you so that when you get to the summit, you can snuggle up and enjoy your beverage while watching the sun go down. For us, this was one of the most magical and beautiful moments on the North Island.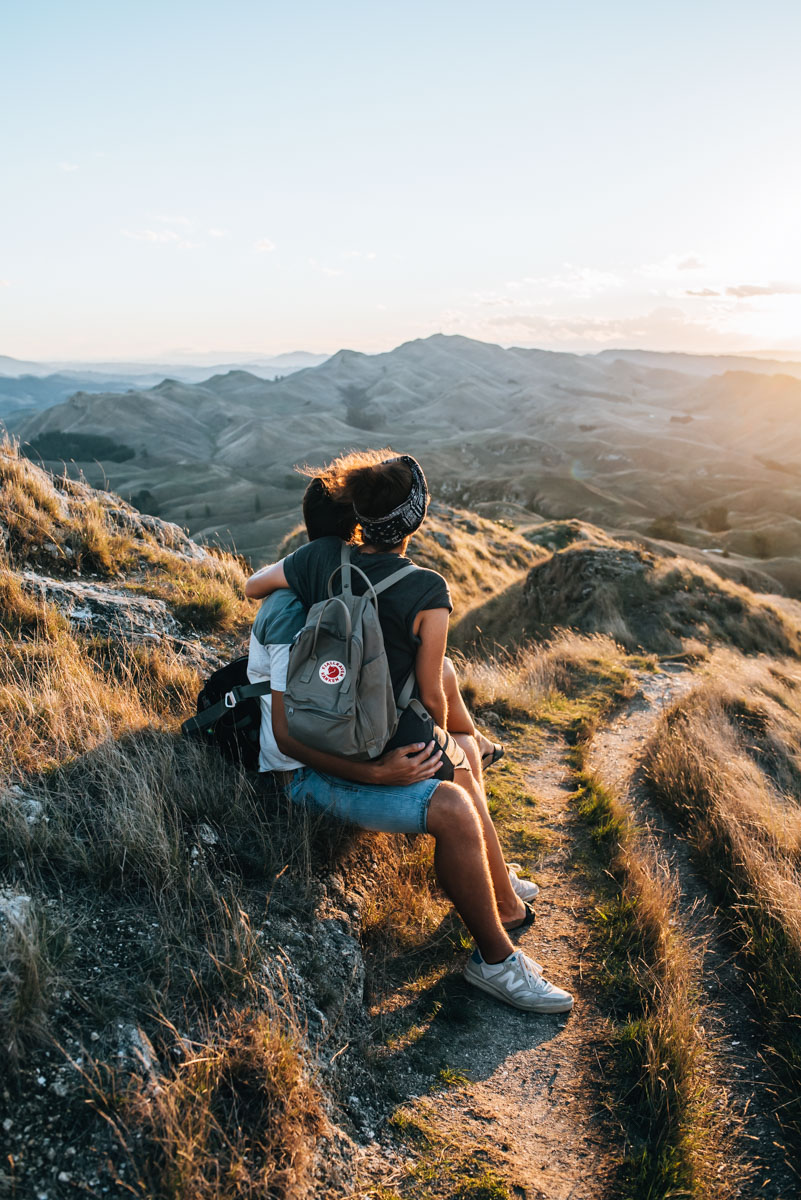 Wineries in Hawke's Bay
Napier is located in the middle of Hawke's Bay, one of New Zealand's most important wine regions. So needless to say, most the travellers passing by will usually stop in one of the many wineries located here and sample a glass of white wine or two.
We certainly weren't about to let this experience slip us by, so we decided to visit the Black Barn Vineyard, a well-known and beautifully located winery just south of Napier. Alcohol is relatively expensive in New Zealand, so expect to pay about 12 NZD for a glass of wine.
Our tip: We combined our visit to Black Barn Vineyard with the trip to Te Mata Peak. It was perfect that the Black Barn Vineyard happens to be located at the foot of Te Mata Peak.
Lake Waikaremoana
A somewhat unusual tip, but if you know us – then you know we love going off the beaten track and Lake Waikaremoana is one of those places. To get there from Napier requires a 2.5 hour drive and it certainly does not count as one of our typical destinations. 
On the west coast of Lake Waikaremoana runs one of the more unknown "Great Walks" (there are nine of these famous Great Walks in total). You need several days to complete the entire route, however you can decide to just do a small stretch and get a feel for the landscape. Fortunately, in this case, the most spectacular section of the track is actually right at the beginning.
Only one hour of strenuous uphill hike and you will be rewarded with stunning views over Lake Waikaremoana. We didn't have the best weather for the occasion, but even that could not take away the mystical beauty  of this place. More information about this hike can be found in this travel guide: The most beautiful day hikes in New Zealand.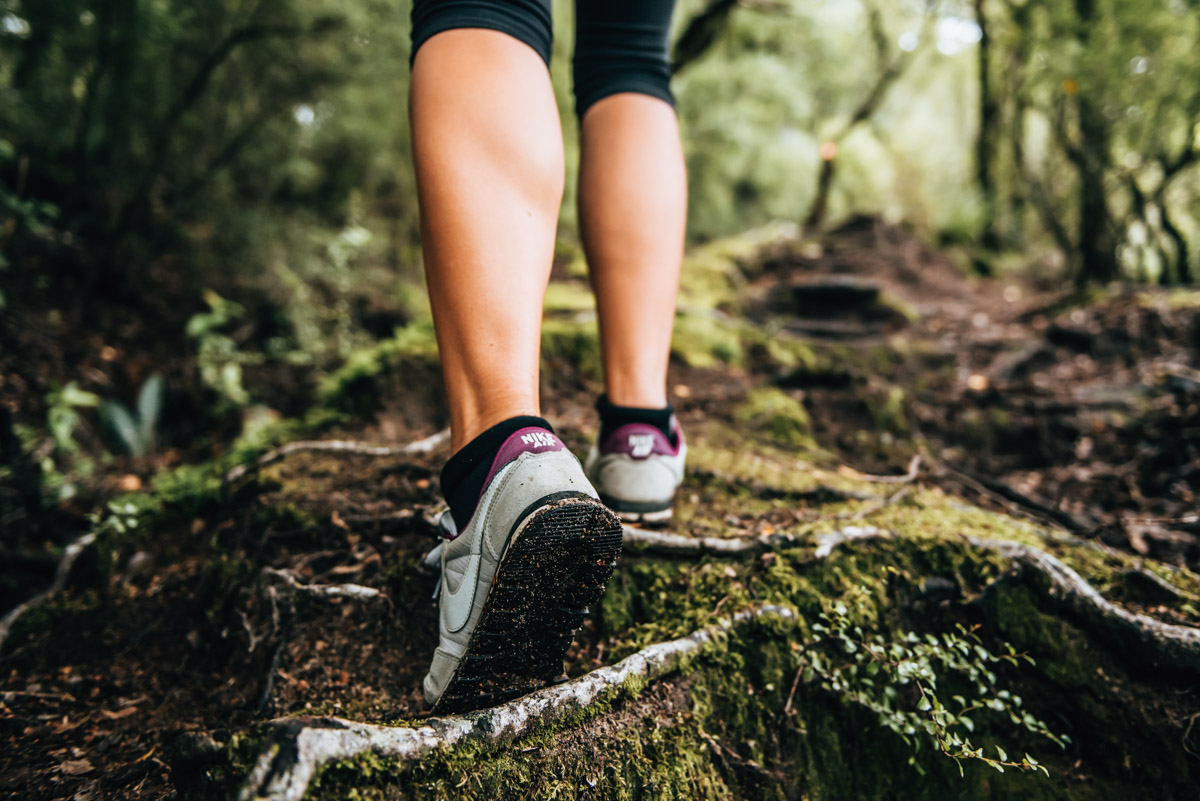 Cape Kidnappers
Unfortunately, we did not manage to walk to Cape Kidnappers due to tidal constraints. The route there is only accessible at low tide, which did not coincide very well with the time we visited. Low Tide happened to be either very very early in the morning or again after nightfall.
Cape Kidnappers is home to the world's largest gannet colony, a very special species of bird. It is only possibly to visit Cape Kidnappers by foot or as part of a guided tour. If you are going on a jeep tour with Gannet Beach Adventure, you are also dependent on the tides, as you drive along the beach. However, overland tours with Gannet Safaris start every day at the same time.
Hastings
Like Napier, the small town of Hastings is often referred to as Art Deco City. To be honest, if you've seen Napier, visiting Hastings is pretty unnecessary. Napier is much nicer and just has more to offer.
If you're rushing to Hastings, you can visit the region's most famous ice cream parlour just outside the city centre: ice cream has been produced at Rush Monro's Icecream Gardens for generations. We tested it: It was very good, but not as good as our Stammeissalon (Ice Cream) in Vienna!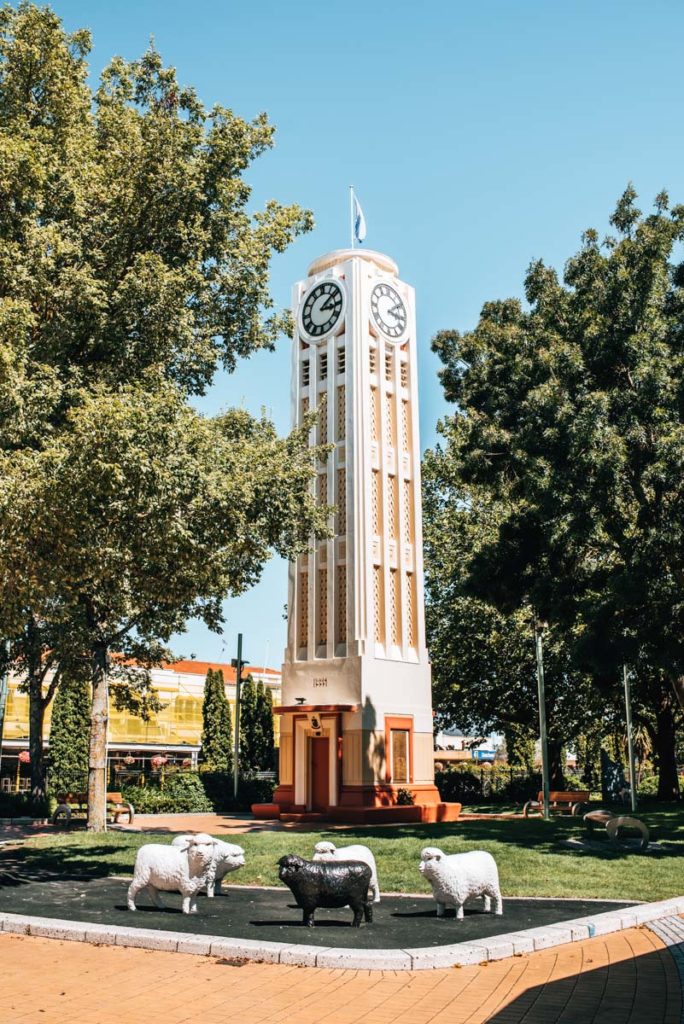 4. Food & Drinks in Napier: Culinary Tips
Organic Shop at Chantal Organics
This rather peculiar place comes highly recommended from us. Located in the same health food store is the Chantal Cafe. You choose your food directly from the cabinet and they offer a great selection of healthy dishes including salads, quiches and even a soup of the day. Then you simply take a seat at one of the large tables.
Apart from us, the majority of the guests were mainly pensioners and local families. We possibly ordered more than we could handle but everything just looked so tempting! In the end we settle on three dishes (shared between the two of us) and cleaned everything except the last bit of crumb. The food was fantastic and easily a clear recommendation!
Address: 45 Hastings Street, Napier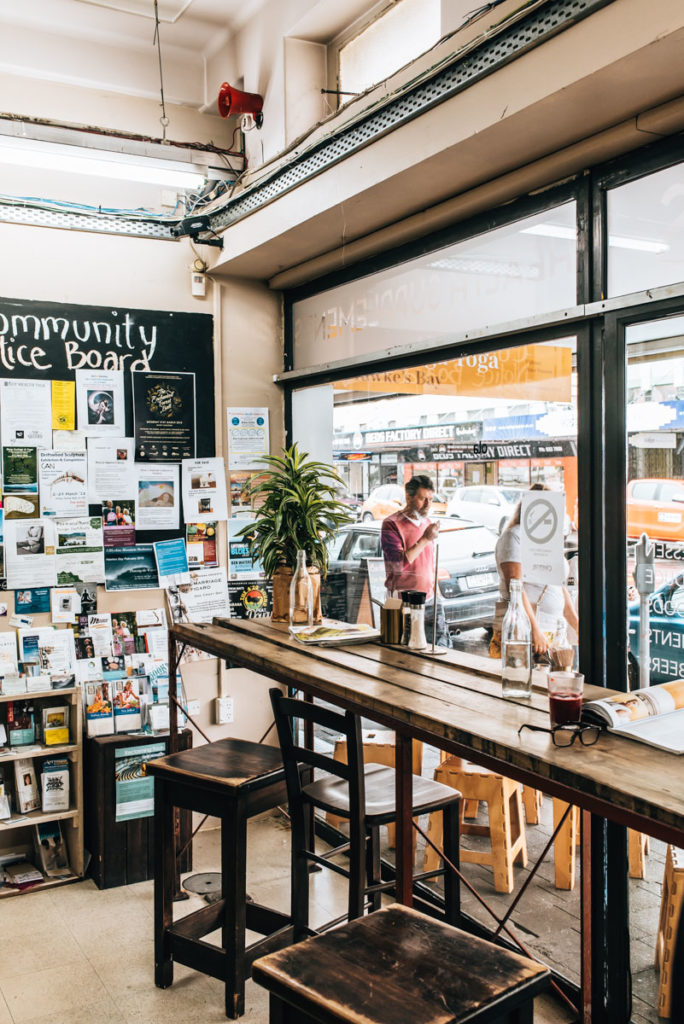 Hapī Clean Kai Co-op
In search of a snack, we landed at Café Hapī. The tiny little hipster cafe is mostly visited by young people and families. They serve mainly vegan food, healthy dishes and drinks.
You can choose from sandwiches, salads and cakes. There are also plenty of smoothies, freshly squeezed juices and different drinks made from alternative milk (such as almond). We went there for lunch, but it's also well suited for a healthy breakfast. Oh yes, a big plus: the coffee is excellent.
Note: Like many cafés in New Zealand, Café Hapī closes very early. Every day at 4 pm!
Address: 89 Hastings Street, Napier
5. Our Hotel Tip for Napier New Zealand
Are still looking for the perfect hotel for your time in Napier? Then we can warmly recommend the 415 Marine Parade. A historic villa has been restored and now houses a gorgeous boutique hotel.
The rooms are very tastefully furnished and luxuriously equipped. There is really nothing missing here. The hosts are incredibly welcoming and have great tips.
Our conclusion: A feel-good place to stay! Great location, great breakfast, wonderful hospitality. It doesn't get any better than that.
You can book the hotel here: 415 Marine Parade
6. More New Zealand Travel Guides
---
Disclaimer: Affiliate Links
This travel guide contains our personal recommendations in the form of affiliate links. If you book or buy something via the links, we will receive a small commission. This will not change the price for you at all. A million thanks from the both of us! 
Have you been to Napier before? What are your top things to do in Napier? Or are you considering traveling to Napier at some point? We look forward to hearing about your experiences or any questions you may have for us in the comment section below!