Auckland, the largest city in New Zealand and home to more than a third of the entire country's population. Before you arrive, you will hear many contrasting opinions about Auckland: while many prefer to flee the hectic city in search for the quiet tranquility of nature, we found ourselves totally in love with Auckland and everything it had to offer.
We really like the combination of skyscrapers, the harbour, the diverse restaurant scene and the quiet suburbs. In this blog article, we'll help you make the most of your time in NZ's largest city and if you're looking to take a break from the city, we'll share our tips on a day trip to Waiheke Island.
1. Auckland: New Zealand's Unofficial Capital
If you asked us about the capital of New Zealand a few years ago, we would have said Auckland. In fact, many people do think this and for good reason! It's the largest, most populated, international and financial hub  with the highest number of flight connections! Nowadays, of course, we know that Wellington is the capital.
With Auckland home to over a third of NZ's entire population, it really goes to show how sparsely populated the rest of NZ is. In fact, there are more people in Auckland than there are in the entire South Island! How crazy, is that?
Auckland is a bustling port city with all the advantages and disadvantages of a big city: The restaurant scene is huge here with countless bars all across the city and a long shopping street that is the main central hub – Queens Street. At the same time, nowhere in New Zealand have we seen so much poverty and so many homeless people.
Our favourite place in Auckland is definitely the harbour area. An incredible number of people gather on summer evenings to dine in the restaurants here around the Viaduct Harbour.
How many days should you plan for Auckland?
It really depends on what you're searching for and what kind of atmosphere you like. Auckland is the first stop for most travellers on their journey through New Zealand. If that's the case with you and you suffer from bad jet lag, then we recommend staying at least three nights, so you can rest a little and visit the main attractions of the city.
If you're not a big city fan and prefer to explore the outdoor nature in New Zealand, then you can see the main attractions in Auckland with just a one night stay. We have personally been to Auckland on two occasions, both for a duration of three nights and wouldn't have it any other way.
2. Sights & Activities in Auckland: Things to do & see
Sky Tower
Auckland's landmark – the Sky Tower. At 220 meters in the sky, it is one of the most visible landmarks in the city, even from a distance away. From the observation deck of the TV tower you have a 360 ​​degree panoramic view of the city beneath you and it is truly spectacular.
Those of you who know us, can probably guess what time of day we decided to go up… none other than our favourite golden hour – sunset! The view you get from up here is really worth seeing for yourself. Although the entrance to the viewing platform is unfortunately not cheap.
Information about visiting the Sky Tower
Admission: 32 NZD
Address: On the corner of Victoria and Federal Street (within walking distance of the city centre)
Hours: varies depending on the season and the day of week; in summer, between 8:30 am and 10:30 pm (weekdays) or 11:30 pm (weekend), the ticket sale ends half an hour before closing time
You can book the ticket in advance here: Sky Tower Auckland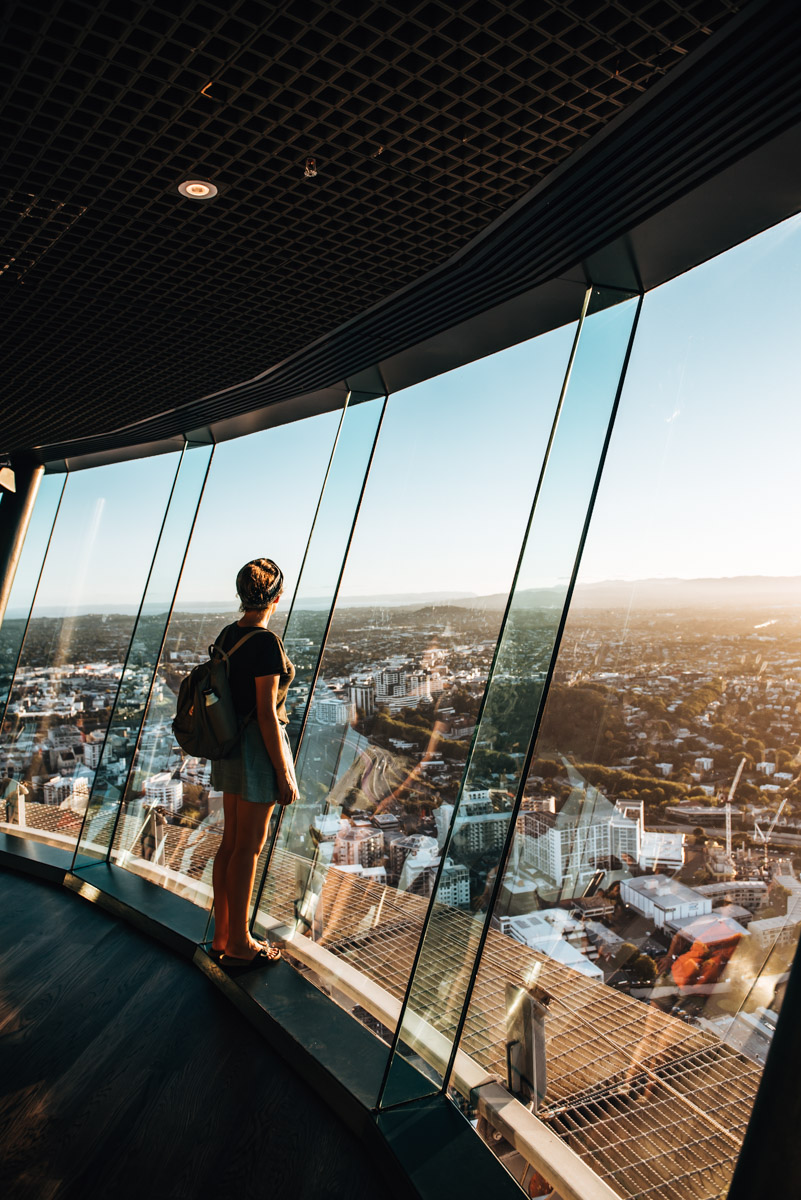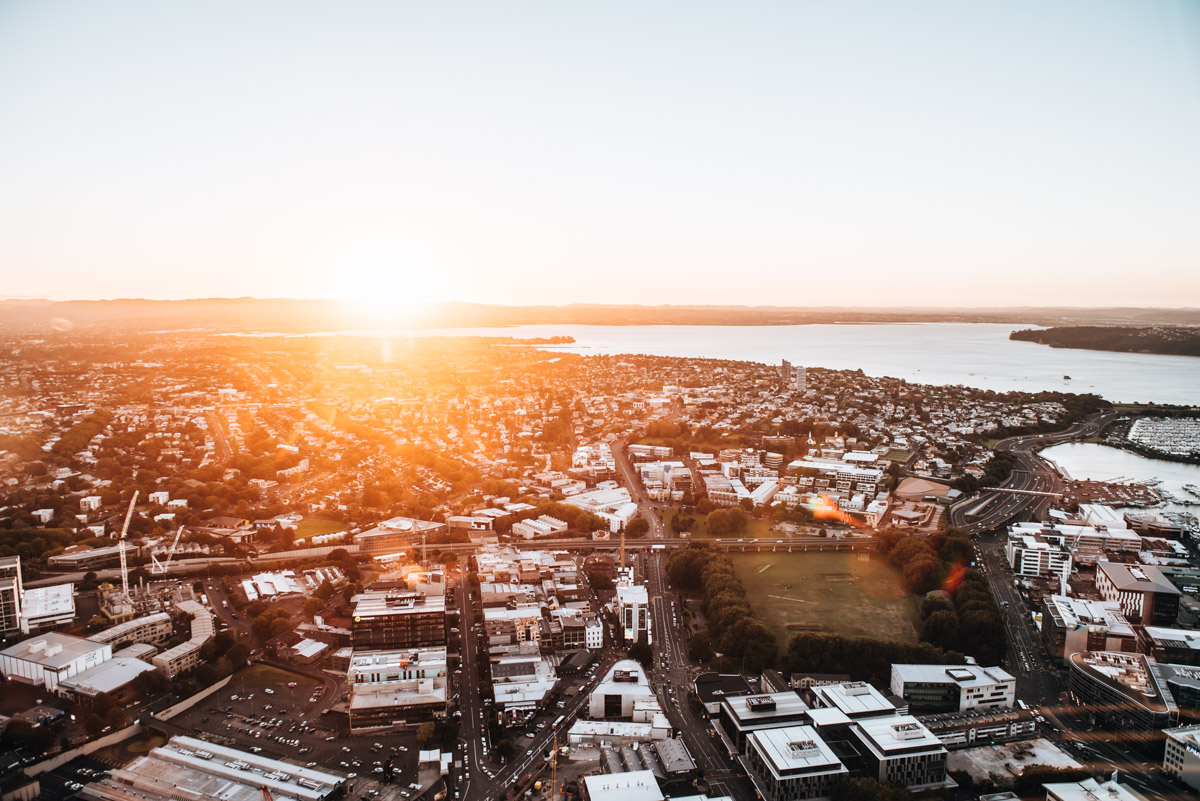 Sailing in the Harbour of Auckland
What may sound a bit strange to you, actually turned out to be one of the best spontaneous decisions on our trip through New Zealand. As we walked along the harbour, we noticed some sailboats touring the port of Auckland. We found ourselves standing before the "Explore" booth and contemplating this decision until someone asked us whether we had plans for the next 1.5 hours. The next boat would start in exactly 5 minutes.
So it came to be, that we spend the next hour and a half on a sailboat with forecasts of rain but it was in fact the most entertaining experience we have ever had here in Auckland. At 99 NZD per person, a sailing trip is not exactly a cheap experience, but it's certainly one that will be remembered for a long time.
We were particularly lucky, because we only had two other passengers along with us on board. So not only did we talk about sailing with the two skippers, but we were even allowed to steer the boat for most of the journey! When you suddenly pass under the Auckland Harbour Bridge as a sail newbie, that's a pretty epic feeling.
Information about Auckland Sailing Trip
Provider: Our chosen trip was the Harbour Sailing Cruise (1.5 hours) and it was with the "Explore" company.
Price: 99 NZD per person (60 NZD for children)
Departure: In the Viaduct Harbour (The ticket office is on the level of the bar called "Dr Rudi's")
You can book the Sailing Trip in advance here: Harbour Sailing Cruise with the "Explore" company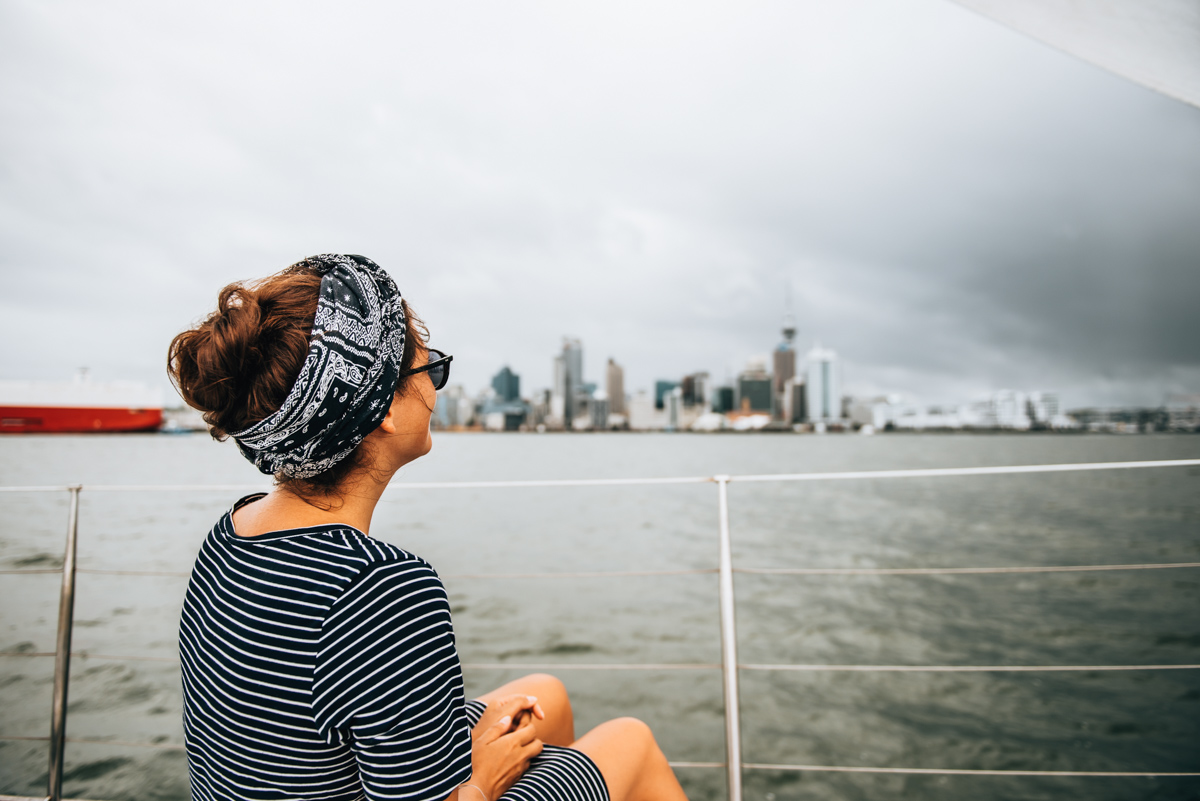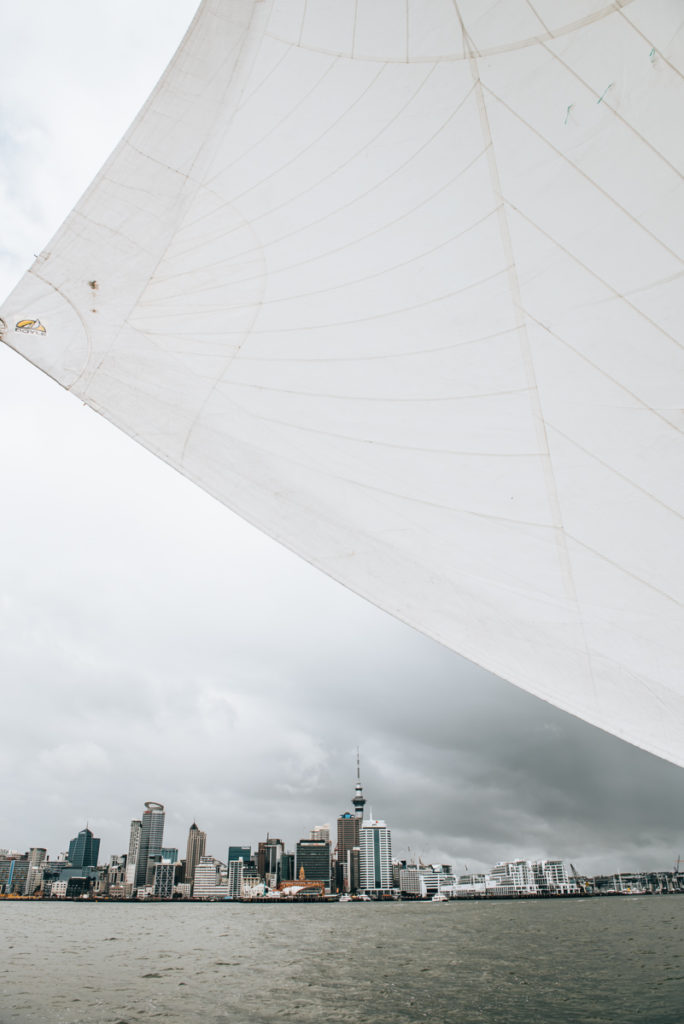 Devonport
Devonport is a quiet neighbourhood located in the north of Auckland. The fastest way to reach Devonport is by boat: the ferry (Fullers Ferries) runs every 15 to 30 minutes. The ride takes just 10 minutes.
If Auckland's bustling downtown is too much for you, then a trip to Devonport might be in order. We had our Airbnb in Devonport and at first we were actually a little frustrated that we could not find anything more central. In hindsight, we are so grateful we didn't! Because Devonport is such a quiet and authentic district.
You will find some nice cafes and restaurants in Devonport, near the harbour. The 15-minute walk to Mount Victoria is especially worthwhile, from the Lookout you have a great view of Auckland.
Travel to Devonport
From Auckland Harbour (99 Quay Street) the best and most efficient way is with Fullers Ferries. The boats leave every 15 to 30 minutes. The ride takes about 10 minutes and costs 15 NZD (round trip).
Viaduct Harbor
As Auckland is a city surrounded by the ocean, it's not surprising that the hippest and liveliest area is in fact a harbour – Viaduct Harbour to be precise. There are some relatively expensive restaurants located here but on warm summer evenings, these places are much sought after. We decided to just walk along the harbour and admire the very pretty boats and yachts.
3. Excursion tip: Waiheke Island
No matter who we asked in advance for tips around Auckland: Each and everyone has said that Waiheke Island is a must-see. The island is located approximately 18 km east of Auckland and is probably the most popular holiday and weekend destination for the inhabitants of Auckland. On Waiheke you will find many beaches and countless wineries.
Day trip to Waiheke
For our trip to Waiheke Island we took a full day. Fuller Ferries boats sail from Auckland to Waiheke Island as regular as once every hour and the journey takes about 40 minutes. A return ticket will cost you 45 NZD.
Waiheke Island itself is bigger than you might think. Without transport it is quite hard to see the whole island. You can choose between public buses and tourist hop-on hop-off buses. There are separate tickets for both providers. Alternatively, you can borrow a scooter, which of course gives you most flexibility.
After our arrival, the first thing we did was drive down to the largest town on the island called Oneroa. Not only are there long sandy beaches but also many cafes, restaurants and shops. We had our breakfast in the 'Delight Cafe' with a view of the sea.
After a short walk along the beach and a delicious stop by the ice cream parlour "Island Gelato Company", we decided to move on. Our plan was to find a nice beach for swimming and we ended up in Palm Beach, which was a very beautiful bay. There were a lot more people than we'd expected, but still less than that in Oneroa.
In the afternoon we took our time to visit a winery. Our choice fell on the very famous Cable Bay Vineyards. The view from there is really fantastic, especially with the low afternoon sun. As long as you can grin and bear the steep prices here, you're in for a wonderful time.
From the Cable Bay Vineyards we walked back via a path leading through a forest and over a field back to the harbour. It only took 20 minutes.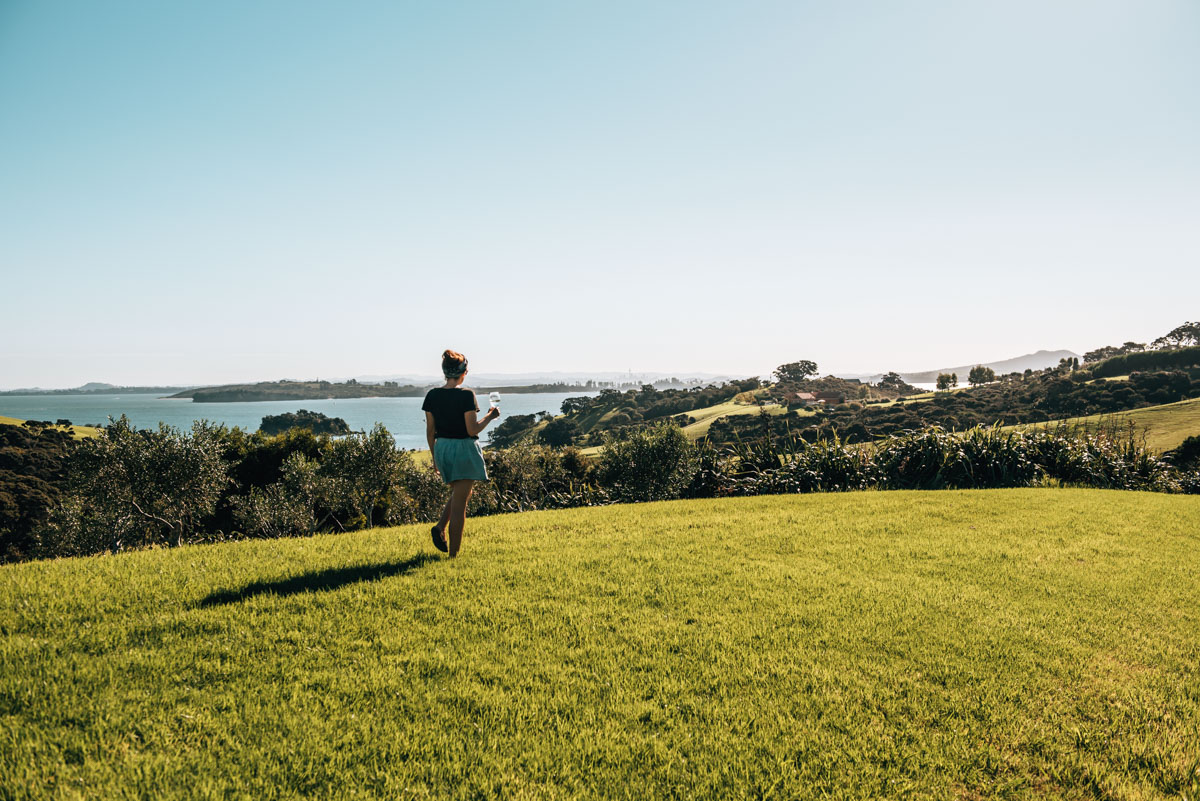 4. Food & Drink in Auckland
Best Ugly Bagels
Probably the best and most famous bagels in Auckland are prepared here in Best Ugly Bagels. This very hip shop is located in a kind of container city in the northern part of the city centre.
We were here for a quick lunch snack and decided upon the Avocado and the Salmon Bagels. Both tasted delicious and despite a rather steep price of 10 to 15 NZD, we would still recommend you swing by "Best Ugly Bagels" if you happen to be in this area.
Address: 90 Wellesley Street W, Auckland
Opening hours: 7 am to 3 pm daily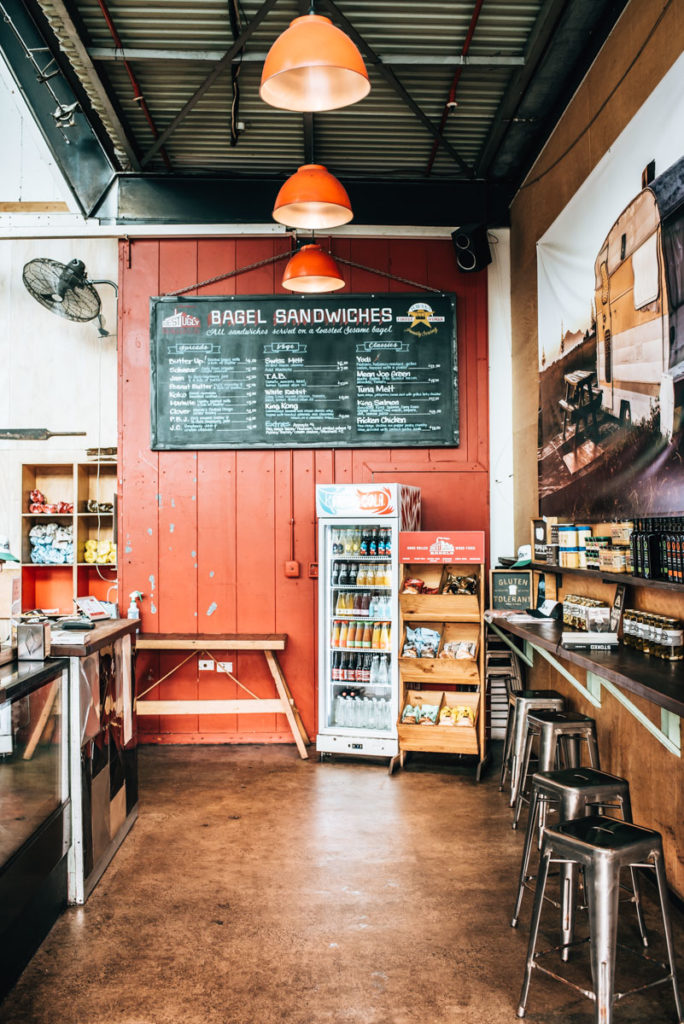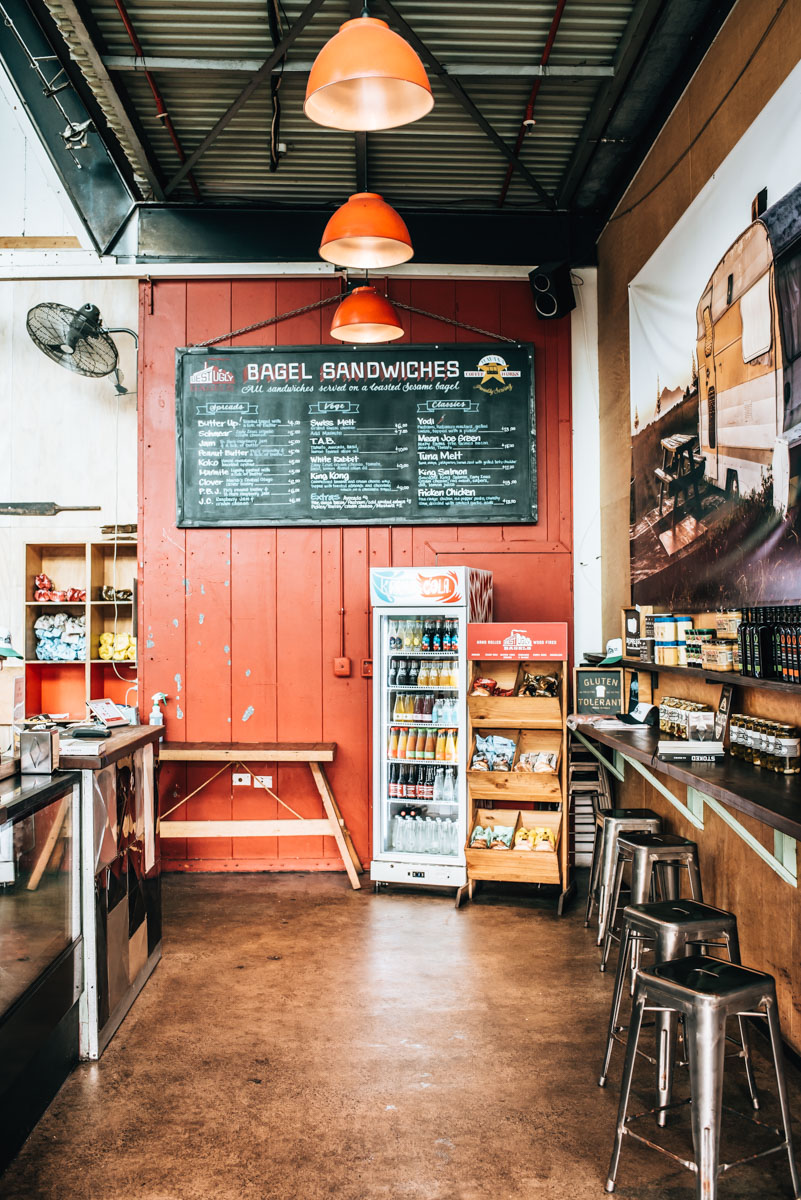 Altezano Brothers
Fantastic coffee with a modern-cool atmosphere can be found in the espresso bar of the Altezano Brothers on Snickel Lane. Here even roasted beans are processed into coffee specialties. There is also a small selection of cakes and sweet snacks. The prices are very fair: A flat white costs just over 4 NZD.
Address: In a small alleyway ("Snickel Lane") between Fort Lane and Commerce Street
Opening hours: 7 am until 3:30 (weekdays) and 8:30 am until 3 pm (Saturday)
Vondel
If you stay in the Devonport area like us, then we highly recommend the Vondel Restaurant. We found the food really good and the prices very reasonable. The menu serves mainly Tapas sized dishes, so we ended up ordering 4 dishes for the two of us. We would certainly come back!
Address: 8 Victoria Rd, Devonport, Auckland
5. Where to from Auckland?
If your New Zealand trip starts in Auckland, you're probably wondering how best to travel onwards from Auckland. Check out our entire itinerary here in this blog post for some ideas: New Zealand Itinerary.
Heading North
In the north of Auckland lies the "Northland". There are many beautiful places here such as the well-known beach resorts in Bay of Islands, the Waipoua Forest with some of the oldest kauri trees in the country and of course the impressive Cape Reinga. If you plan to travel north, then check out our blog article: From Auckland to Cape Reinga.
Heading South
Since the journey to the north is quite a detour, many people decide to just start travelling south. Possible destinations are the Coromandel Peninsula or the small town of Rotorua. Among other things, you can admire the hot springs and visit the Hobbiton movie set from Lord of the Rings. Another very popular destination on the way south is Lake Taupo. You can find more information in our blog article: Taupo: Huka Falls & Surrounds.
Transport for the onward journey
We strongly recommend you to either own or rent a vehicle because public transport in New Zealand is rather cumbersome and inefficient. We booked our car through Sunny Cars. If you book with Sunny Cars, your deductible will be taken over in case of damage. If you are booking with other companies or third party companies, then make sure you read and fully understand the terms and conditions, otherwise you will be liable in case of damage.
6. More New Zealand Travel Reports
---
Disclaimer: Affiliate Links
This blog article contains our personal recommendations in the form of so-called affiliate links. If you book or buy something via the links, we will get a small commission but it doesn't change the price for you at all. Cool thing, right? For our rental car in New Zealand, we received a discount from Sunny Cars, which we are very grateful for! We have had several private bookings with Sunny Cars (at full price) and always had good experiences.
What are your tips and experiences in Auckland? Are you an Auckland Fan or not? We look forward to reading your comments!