The North Island is far more populated than the South Island. The most northern tip of New Zealand might be less hustle bustle compared to the rest of the country, but certainly no less impressive.
From Auckland to Bay of Islands to Cape Reinga and back over the Waipoua Forest in a week – here are our highlights and tips for a road trip through New Zealand's Northland.
1. Northland Road Trip Itinerary: The Best Destinations from Auckland to Cape Reinga
Auckland: cozy town, easy to get around.
Despite the fact that Auckland is by far the largest city in New Zealand, it is surprisingly quiet, at least, to non-kiwis. Auckland is super easy to get around, we've covered all the places we wanted to see on foot. And on that note, we realised that we never once used public transport! If you're lucky with the weather, like we were, Auckland is a really pleasant city to be in. It didn't take us long to break in to this place! 
We found the harbour to be particularly beautiful. It was incredibly windy, but we really liked the atmosphere and vibes, especially when passing the various restaurants at "Viaduct Harbour". We admired the Skytower, Auckland's landmark, only from the outside, although you can do crazy things like Sky Jumping from there. Generally speaking, you get the feeling that in New Zealand, young people love indulging in adrenaline rushing activities to compensate for their otherwise chill, laid back slower pace of life and lack of big city entertainment. We'll elaborate on that further down in the section about Queenstown. 
If you're wanting to take a stroll through the city first and perhaps go shopping, Queen Street is your best bet. It's Auckland's largest, but not necessarily the most beautiful, shopping street. We found a really nice area on the intersection of Chancery Street and High Street, near the harbour. There you can find some interesting local shops and heaps of cool pubs and restaurants.
More detailed blog article: Auckland Travel Guide
Our accommodation in Auckland: M Social Auckland (very modern rooms, great location next to the harbour)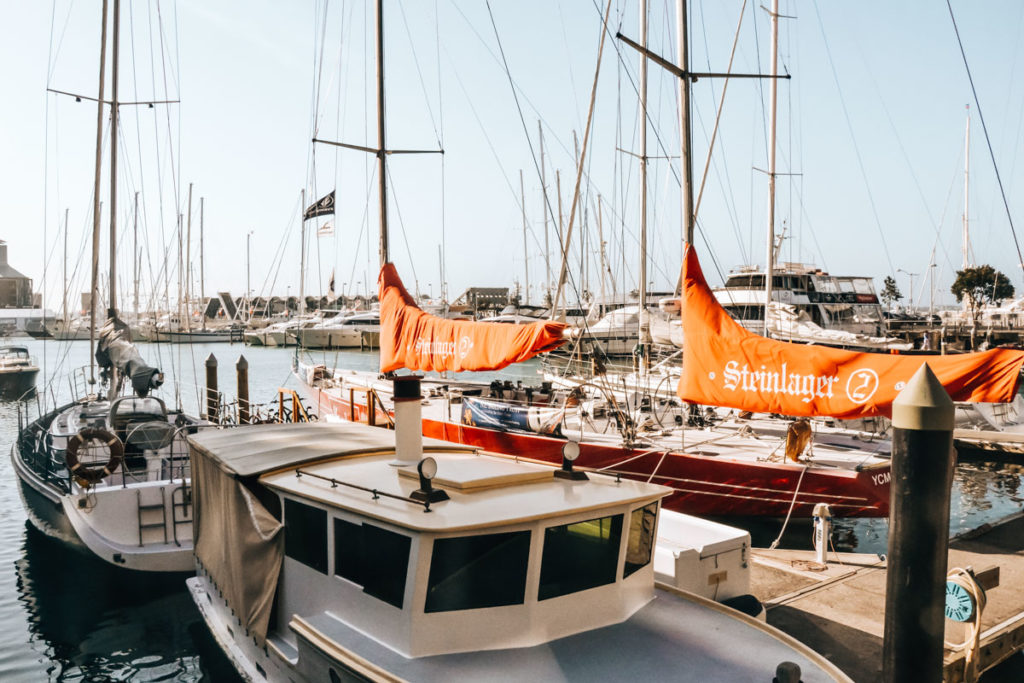 Bay of Islands / Paihia
About 3 hours drive north of Auckland lies the Bay of Islands, a stunning stretch of coastline studded with coves and offshore islands. However, it seems like we got caught in the peak holiday season because it was a lot more crowded than the rest of NZ. It appears that every year around this time, many kiwis vacate their regions and flock to this sunny coastal region.
The main street of Paihia is probably the town's most well known and touristic place. Here, you will find hotels and motels lined up one after another with your typical eateries in between (such as pizza, fish and chips, and pasta) to satisfy the masses of people.
If we were to come back here with what we know now, common sense would have told us to pitch our tents somewhere els. Nevertheless, the Bay of Islands is well worth a visit, even if just for the off-chance of seeing dolphins in the wild.
We did this as part of the Dolphin Discoveries Tour, which cost just under $ 100 per person and we were led aboard on a squeaky, over crowded boat (you can tell how much this place is tailored for tourists). But what does that really matter? We got to watch dozens of dolphins leaping into the air!!
The landscape we saw on the boat tour was rather stunning and you really only get to experience the real 'Bay of Islands' out on the crystal blue waters, scattered with rolling green hills upon desolate islands and patches of soft sandy beaches. This was definitely the second biggest highlight of this area after the dolphins! 
You can book the tour here: Dolfin Cruise
Our accommodation in Bay of Islands: Changing Tides BnB (great accomodation, highly recommended!)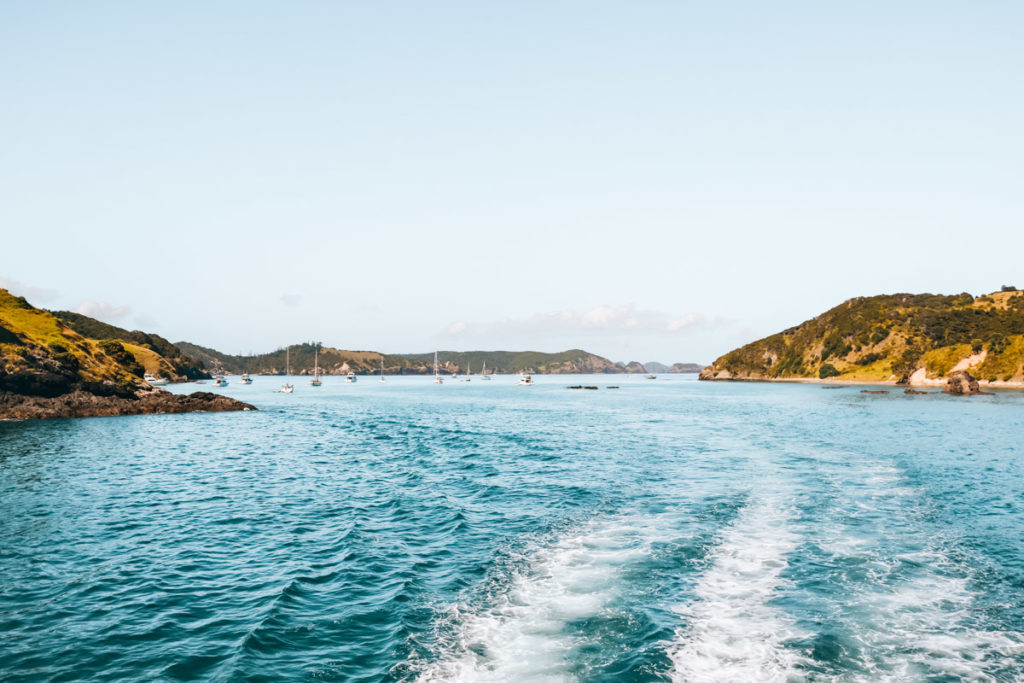 Cape Reinga
For a long time we had contemplated whether or not it was worth making a long journey up to the most northern tip, just to visit a lonesome, far away lighthouse. Once we got there, we can say for certain, YES! Definitely do it if you can, the journey is totally worth it!
Had we not gone there, we would've felt like we'd missed something out! The further north you go, the more remote and secluded the area becomes.
Roughly in the last hundred kilometres, you'll notice there are hardly any houses and rarely would you encounter another human being – apart from a few rental cars and campers making their way up the peaceful, undisturbed landscape. The drive up to Cape Reinga itself was already worth it, the views and the atmosphere just topped it off. Our tip: don't skip it!
Allow yourselves about 2.5 hours from Bay of Islands to Cape Reinga. Once you get to the carpark, there is a track that leads directly to the lighthouse. This is often the case in NZ, once you get to the carpark, the last leg of the journey is often a 10-20 minute walk there and back.
The misty sea sprays, the powerful rush of the ocean, coupled with the crashing waves against the lighthouse cliff, the thundering echoes in the silence of this secluded haven. We will never forget these impressions and the emotions it stirred. Even the air smelt amazing. Like freedom, so clean and so refreshing. 
The 90 mile Beach & Waipoua Forest
A little to the south of the west coast lies the 90 mile beach, which, contrary to popular belief, is actually only 55 miles long and beach is well known for being accessible by car, provided you have four-wheel drive.
A little heads up: driving on the beach with rental cars and rental vans is actually stated as forbidden in your rental contract. The reason for this is that there's been a few incidences where tides have washed away idle vehicles.
Although we would've liked to have driven down the beach, in the end we decided it wasn't worth the risk and so we just drove down the paved road. The sand dunes there were very photogenic, no doubt the actual beach itself would've been even more so.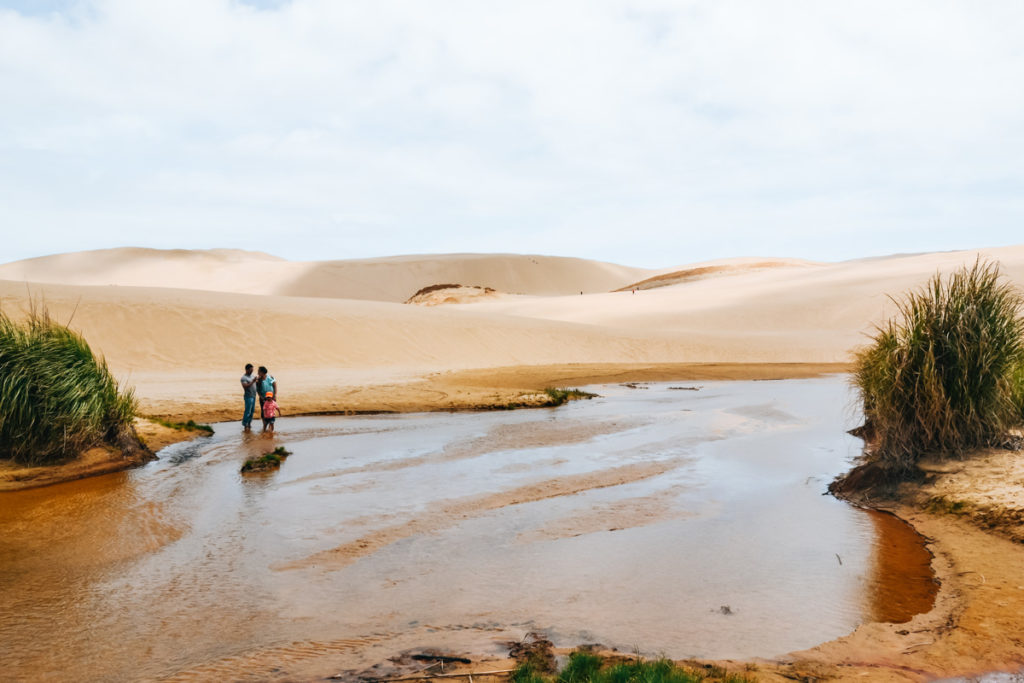 Back to Auckland: Mangonui & Waipoua Forest
On our way back to Auckland, we stayed a night in the small town of Mangonui, since the entire route through Bay of Islands to Cape Reinga and back to Auckland would have been far too long to drive in one day.
Plus, we also wanted the chance to marvel at New Zealand's largest Kauri tree, Tane Mahuta, which lies in the Waipoua Forest. Estimated to be about 1250-2500 years old, Tane Mahuta is named after the Maori God of the Forest. The tree is simply gigantic and the forest carpark has its own little picnic lawn, making it well suited for a stopover, but best to pack your own food because there are no food stands or supermarkets near the Kauri Forest.
Our accommodation in Mangonui: Acacia Lodge Mangonui (very basic rooms with kitchen, nice terrace)
2. Overview of Useful Info for your Northland Road Trip & FAQs
How much time should I plan for a Road Trip across New Zealand's Northland?
Although New Zealand's Northland is somewhat slightly less dramatic compared to the rest of the country, you can still experience some truly wonderful things here. Our road trip took us about a week for the itinerary above including a couple of days in Auckland.
Driving time from Auckland to Cape Reinga is over 5 hours. It is therefore hardly possible or recommended to do the route as a day trip. We would recommend at least (!) one night. However, in our opinion, the long distance is only worthwhile if you plan on spending around three nights on the route.
Which travel guide can you recommend?
We have already tested several travel guides for New Zealand and can highly recommend Lonely Planet Travel Guide New Zealand. The travel guide is (as usual from Lonely Planet) well researched.
You can buy the travel guide here: Lonely Planet Travel Guide New Zealand
Where should I book the rental car?
We ourselves always book our rentals through Sunny Cars. Sunny Cars is a platform that compares the offers from various rental car companies. You book through Sunny Cars and then pick up your car at the local company (e.g. Hertz).
The big benefit of Sunny Cars (apart from the cheap price): You always have fully comprehensive insurance. More precisely, in the event of damage, Sunny Cars will reimburse the deductible. That way, according to experience, you can travel a lot more relaxed. 
You can search for cheap rental cars here: Sunny Cars 
3. More New Zealand Travel Tips
---
Dislcaimer: Affiliate Links
This blog article contains our personal recommendations in the form of affiliate links. If you book or buy something through the links, we receive a small commission. This does not change the price for you at all. A million thanks from the both of us!
Have you ever been to the north of New Zealand and do you have some tips or experiences you'd like to share? Tell us in the comments below – we'd love to hear from you! In the meantime, feel free to read more about our travels in New Zealand, here.