Sometimes you just need to give places a second chance. That was our relationship with Wellington. In short: We had stopped in Wellington on our first trip through New Zealand but the spark wasn't quite there. So on our second visit a few years later, we decided to give the capital city a second chance and it was nothing short of fantastic! 
New Zealand's capital is a cozy one but it also lives up to the nickname of "Windy Welly" as it really is one of the windiest cities in the world thanks to its exposed geographical location. In this article we will share with you the most beautiful sights and some of our own personal travel tips for exploring Wellington. Discover the best things to do and see in Wellington.
1. Wellington: New Zealands's Capital
With just 200,000 inhabitants Wellington appears to be a rather modest and well-managed capital. In terms of size, Wellington cannot compete with Christchurch and certainly not with Auckland. Despite having an international airport, almost all international flights end up in Auckland or Christchurch. The reason it doesn't end up in Wellington is in fact due to its nickname "Windy Welly" and its high predisposition to strong gales and storms. While Wellington city itself is rather small, it does extend out to a much larger area including Lower Hutt, Upper Hutt and Porirua in the Wellington Region. 
A city situated by the sea usually means there's a harbour and along with it a beautiful esplanade to stroll around. Due to its exposed location by the ocean and strait, Wellington has the reputation of hosting the most extreme gale winds in the whole country. Although we can not dispute this, we have heard that the winds here can be quite destructive!
Wellington is not only the political centre of New Zealand, but many large companies are also located here. So it did not surprise us that a large number of business people could be seen in the streets. On the contrary, Wellington actually has the highest population of young, artistic students and a very hipster like vibe, especially along the popular "Cuba Street".
How many days should I spend in Wellington?
Perhaps you're wondering how many days you should spend to really experience Wellington? If you want to explore at a leisurely pace and perhaps drive out to Petone in Lower Hutt or Porirua to discover the outer, more local Wellington, then we would recommend you stay at least two nights. But since Wellington city is not that big, you can see most of the city with just a one night stay.
2. Best Sights in Wellington: Top Things to do
Wellington Cable Car
A ride on the funicular up to the Kelburn district is simply part of a Wellington experience. However, what most people don't tell you is that you can also walk up to the top and save the ticket fare. The cable car is of course very touristic, but this doesn't stop a few locals who use this transport method of getting back to their house.
Once at the top you can enjoy the beautiful harbour view of Wellington. We definitely didn't regret our decision to take the cable car up here, it's quite a unique experience in itself. We would then however, recommend you to walk back down to the city via the path, so that you also have the opportunity to walk through the beautiful botanical garden. (More information about the Botanical Garden below)
Information about the cable car
Location: 280 Lambton Quay, Wellington
Price: NZD 4 (one way), NZ $ 7.50 (round trip)
Operating times: every 10 minutes between 7am (weekdays) and 8:30am (weekends) until 10pm (or 9pm on Sundays)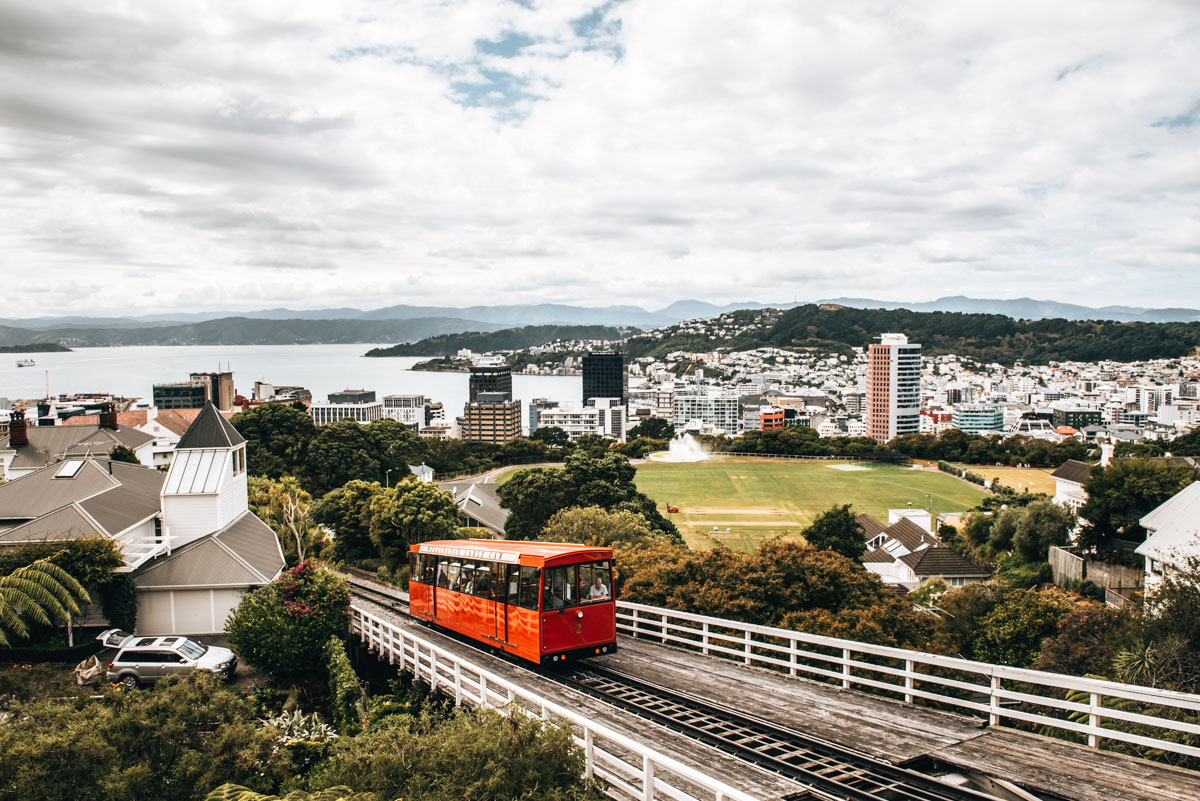 Wellington's Botanical Garden
If you are planning a trip with the cable car, then it makes sense to combine your visit with a stroll through the lovely Botanical Garden, which is situated on the hill right where the funicular drops you off. "Garden" is an understatement as it's more like a large park with many green areas and cafes.
There are several tracks you could take through the Botanical Garden. They lead you in all sorts of directions, but we opted for the one that winds back down towards the city called "Te Araroa National Walkway". Don't worry about getting lost as the trail is marked on the ground with a symbol, so you always know if you're on the right path.
This trails takes you to some very beautiful places through the Botanical Garden, among them very old, ancient trees. Once at the bottom of the Main Gate, you have to change directions if you want to see the well-known Rose Garden ("Lady Norwood Rose Garden"). Just follow the hilly path number 18. It will take you first to the herb gardens and then finally you will end up at the rose garden.
Mount Victoria Lookout
One of our favourite places in Wellington! The Mount Victoria Lookout is not a classic attraction, but from here you have a beautiful view of Wellington and the strait.
The sunset is especially nice to watch from up here. Although you have to share the magnificent view with others, we just sat down on the grass and enjoyed the golden hour. Our tip for you: if there was anything that could have made this moment even better, it would be to have a nice cold drink with us! So bring a beverage to enjoy :) 
You can either reach Mount Victoria on foot or by car. Within half an hour, the walking trail will lead you from the city centre through a forest up to the top. Alternatively, you can travel more comfortably by car: there are a few car parks near the lookout point. Another option is to take the bus number 20 which will drop you off at the Lookout Point.
Cuba Street
One of the best known and certainly the most hipster street in Wellington is Cuba Street. Cuba Street is a district for the trendy, the bohemian and a meeting point for all kinds of cultures to gather and mingle. The street is lined with restaurants, bars, cafes, galleries and small shops.
If you get hungry, then Cuba Street is definitely a good place to start. Our favourite restaurant was Fidel's – you'll find our review below in this article.


The Esplanade: Wellington Waterfront
What you should not expect is the ordinary, green, plant-lined waterfront. However, this didn't quite seem to matter because somehow, despite that, the Wellington Esplanade has a lot of charm, even if it may not seem so at first… you just have to give it some time.
Many restaurants are located around Queens Wharf. If you follow the waterfront further south, you will reach the most famous museum in Wellington: Te Papa Tongarewa. It is the National Museum of New Zealand. Apparently it's very much worth a visit, but unfortunately we didn't have enough time to explore the museum. If you do visit, allow a good half day to wander around the whole museum. 
On the way there, we passed some great pop-up stores as well, which are only temporarily there and is dependent on seasons, but perhaps you might get lucky.

Wellywood & Shelly Bay
On the Miramar Peninsula, you can see a Wellington – Hollywood imitation in oversized white letters perched upon a hill. "Wellywood" is in fact a synonym for the movie city Wellington. You can visit a mini-movie museum called Weta Cave near the sign (we couldn't due to time constraints).
We were particularly lucky on another note. During our visit, we spotted dozens of dolphins in the bay just in front of the lettering at Shelly Bay. Such a magical spectacle certainly does not happen every day.


3. Restaurant Tip: Where to eat in Wellington
Fidel's
Among all the restaurants along Cuba Street, Fidel's enjoys cult status. With its dimly lit atmosphere and Cuban memorabilia on the wall, the charm takes some getting used to, yet unique and very hip. We loved the small garden at the back too! They serve breakfast, lunch and dinner.
We happened to be there for dinner and there were some good vegetarian and even vegan dishes on the menu. We paid 50 NZD for two dishes and two drinks. Conclusion: very good value for money – we would come back in a heartbeat!
Address: 234 Cuba Street, Wellington


4. Accommodation in Wellington
We stumbled across a great deal and stayed for two nights at the Novotel Wellington. It was quite reasonably priced and the hotel is very centrally located, if you take the lift down then you'll reach the city centre of Lambton Quay in just a few seconds.
The Novotel is a classic city hotel. The rooms are a bit small, but very comfortable. We have can't think of any negatives expect for the slightly tricky parking situation. There are parking spaces in the neighbouring building but they are not cheap and the way there is a bit misleading.
This link takes you to their booking page: Novotel Wellington
5. Getting to Wellington from the South Island
In Wellington there is the Cook Strait, which is the stretch of ocean that connects the North and the South Island of New Zealand. You're probably going to stop in Wellington because you're either coming from the South Island right now or you're planning on traveling from the North Island to the South Island.
The ferry ride itself is already a scenic highlight. If you're coming from the South Island, then the ferry leaves from Picton and leads through the Marlborough Sounds and the Cook Strait in just over three hours to Wellington. Don't be surprise if there are hardly any people on the deck due to strong winds. Cook Strait is one of the roughest and stormiest sea routes in the world as both the Tasman Sea and the Pacific Ocean collide head on.
The route between Picton and Wellington is served by two providers: the Interislander and Bluebridge Ferry. We chose the Interislander Ferries on both New Zealand trips as we found cheaper rates with them when we booked. That can vary however, both providers are great and of similar quality in terms of the food, comfort and entertainment they offer.
If you're travelling New Zealand with a rental car, then most likely you'll leave your current car on one island and receive a new one once you touch down on the other island. It works out pretty smoothly and you are back on the road almost immediately. Plus you don't need to pay for having a vehicle aboard the ferry, which can be very expensive.


6. Other New Zealand Travel Articles
---
Disclaimer: Affiliate Links

This blog article contains our personal recommendations in the form of so-called affiliate links. If you book or buy something via these links, we will get a small commission. For you, this does not change the price at all. Cool thing, right? A million thanks from the both of us!
Have you ever been to Wellington? How did you like it? Or if you have any further questions – leave us a comment! We look forward to hearing from you!